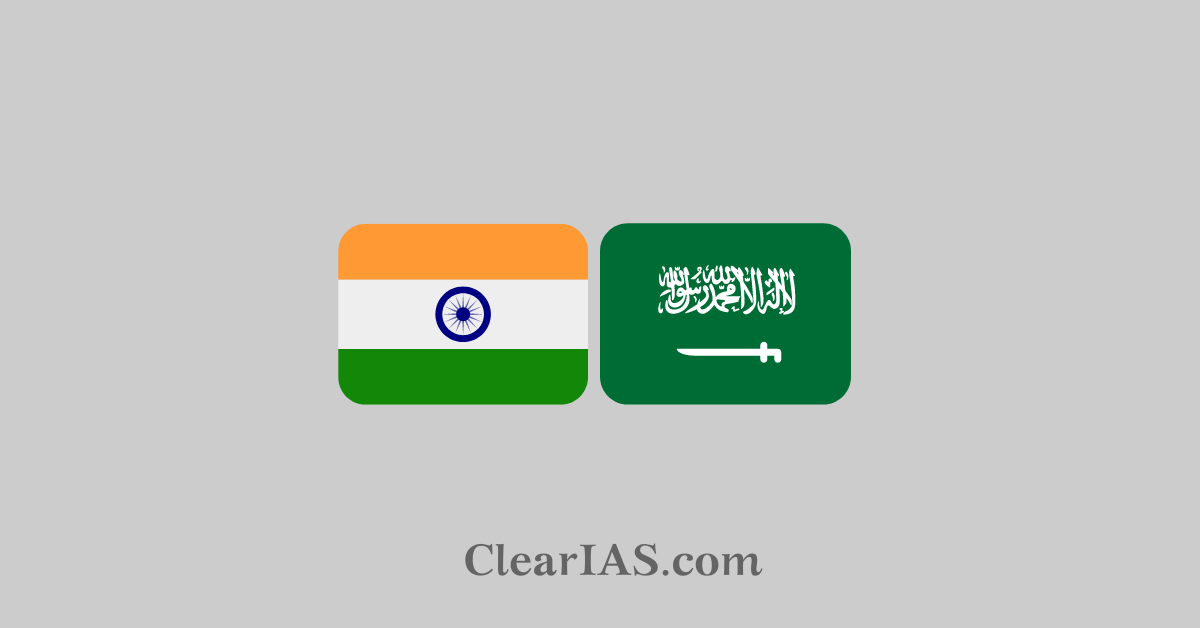 India-Saudi Arabia enjoys cordial and friendly relations reflecting the centuries-old economic and socio-cultural ties. The recent Strategic Partnership Council has taken the bilateral tie further by discussing diverse arenas of cooperation. Read here to know more about the bilateral ties.
In September 2022, the Union Minister of Commerce and Industry, Consumer Affairs, Food, and Public Distribution and Textiles visited Saudi Arabia to attend the Ministerial meeting of the India-Saudi Arabia Strategic Partnership Council.
India-Saudi Strategic Partnership Council
The Strategic Partnership Council was instituted in October 2019 during the visit of the Prime Minister of India to the Kingdom of Saudi Arabia and has two main pillars:
Political, Security, Social and Cultural Committee
Committee on Economy and Investments
Outcomes of the meeting:
Streamlining efforts to realize Saudi's investments worth USD 100 Billion in India.
Endorsement of the 41 areas of cooperation identified by the technical teams under the 4 broad domains of Agriculture & Food Security; Energy; Technology & IT; and Industry & Infrastructure.
Agreement to undertake the implementation of the priority projects in a time-bound manner.
Priority areas of cooperation include:
Collaboration in the digital fintech sector through operationalization of UPI and Rupay Card in the Kingdom of Saudi Arabia.
Re-affirmation of continued cooperation in joint projects including the West coast refinery, LNG infrastructure investment, and development of strategic petroleum storage facilities in India
History of India-Saudi Arabia Relations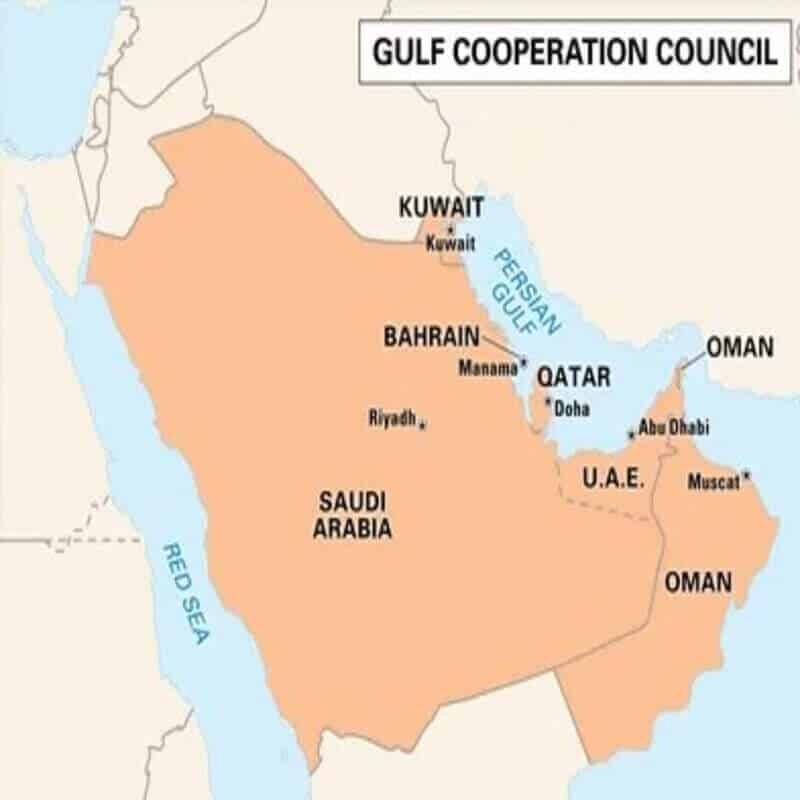 The third millennium BC marks the beginning of trade and cultural ties between ancient India and Arabia.
By the year 1000 AD, commercial ties between Arabia and southern India were thriving and served as the foundation of the Arabian economy.
Before the development of European imperialist powers, Arab traders had a monopoly on the spice trade between India and Europe.
One of the first countries to forge ties with the Third Saudi State was India.
The establishment of diplomatic relations in 1947 was followed by high-level visits from both sides. King Saud visited India in 1955 and Prime Minister Jawaharlal Nehru visited the Kingdom in 1956.
The year 2021-22 commemorates 75 years of India's independence as 'Azadi ka Amrit Mahotsav'. This celebration also coincides with 75 years of establishment of diplomatic relations between India and Saudi Arabia.
The visit of Prime Minister Indira Gandhi to Saudi Arabia in 1982 further consolidated bilateral relations.
In 2006, the 'Delhi Declaration' was signed during the visit of King Abdullah to India, imparting fresh momentum to the bilateral relationship.
The reciprocal visit by Prime Minister Dr. Manmohan Singh to Saudi Arabia in 2010 and the 'Riyadh Declaration' signed during the visit raised the level of bilateral engagement to a 'Strategic Partnership'.
Trade and economic relations
Saudi Arabia is India's fourth largest trade partner (after China, the USA, and Japan) and a major source of energy as India imports around 18% of its crude oil requirement from the Kingdom.
Saudi Arabia is currently India's second-largest supplier of crude oil (Iraq has been India's top supplier).
Saudi Arabia is also a major source of LPG for India.
Major exports India to Saudi Arabia are:
Cereals, Spices, Machinery, Iron or steel products, Organic chemicals, Meat, Vehicles, Ceramic products, electronic equipment, and Clothing (not knit or crochet).
Major imports from Saudi to India:
Oil, organic chemicals, plastics, fertilizers, gems, precious metals, aircraft, spacecraft, inorganic chemicals, aluminum, copper, other chemical goods.
Other proposed major investments include:
'West Coast Refinery & Petrochemicals Project' in Maharashtra, which is being jointly built by Saudi Aramco, Abu Dhabi National Oil Company, and an Indian consortium, which includes Indian Oil Corporation, Hindustan Petroleum Corporation, and Bharat Petroleum Corporation.
In the renewable energy sector, Saudi Company Al- Fanar has a controlling stake in 600MW Wind Power projects in India.
Saudi Aramco is also in discussions with Reliance Industries to acquire a 20% stake in its oil-to-chemicals business.
India-Saudi Arabia Cultural relations
In 2021, an MoU on Yoga Cooperation was signed between the Saudi Ministry of Sports and India's Ministry of AYUSH, which paved the way for the establishment of formal Yoga standards and courses in the Kingdom, marking the first time such standards were being implemented by any country in the Gulf region.
Approximately 2.2 million strong Indian community is the largest expatriate community in the Kingdom.
The annual Hajj pilgrimage is another important component of Indo-Saudi bilateral relations.
In 2019, it was announced that India's Hajj quota would be increased by 24,975 in 2019, enabling 2,00,000 Indians to perform Hajj in August 2019.
India has also digitized the Hajj process by providing the Hajj mobile app, health facility – e-MASIHA, e-luggage pre-tagging, and linking the HGOs (Hajj Group Organizers) with the digital system, which has simplified the procedures for pilgrims.
India-Saudi Arabia collaboration during Covid-19
Both countries used the G20 platform to discuss strategies to combat the Covid-19 pandemic.
In February and March 2021, in two separate consignments, India provided 4.5 million COVISHIELD vaccines to the Kingdom, whereas, during the second wave, the latter provided India with COVID-relief material, particularly liquid oxygen.
Way forward
Saudi Arabia is an important country to strengthen India's 'Look west policy'. It also plays an important role in encouraging India's long-term plans of economic cooperation with the GCC.
India should promote its exports in various sectors to Saudi to balance the trade deficit currently in place.
Good relations between India-Saudi Arabia will also help India to engage with Pakistan in terms of controlling terrorism, and the issue of Afghanistan.
The joint efforts of India-Saudi Arabia have the power to empower and transform southwest Asian geopolitics, trade, and commerce.
-Article written by Swathi Satish