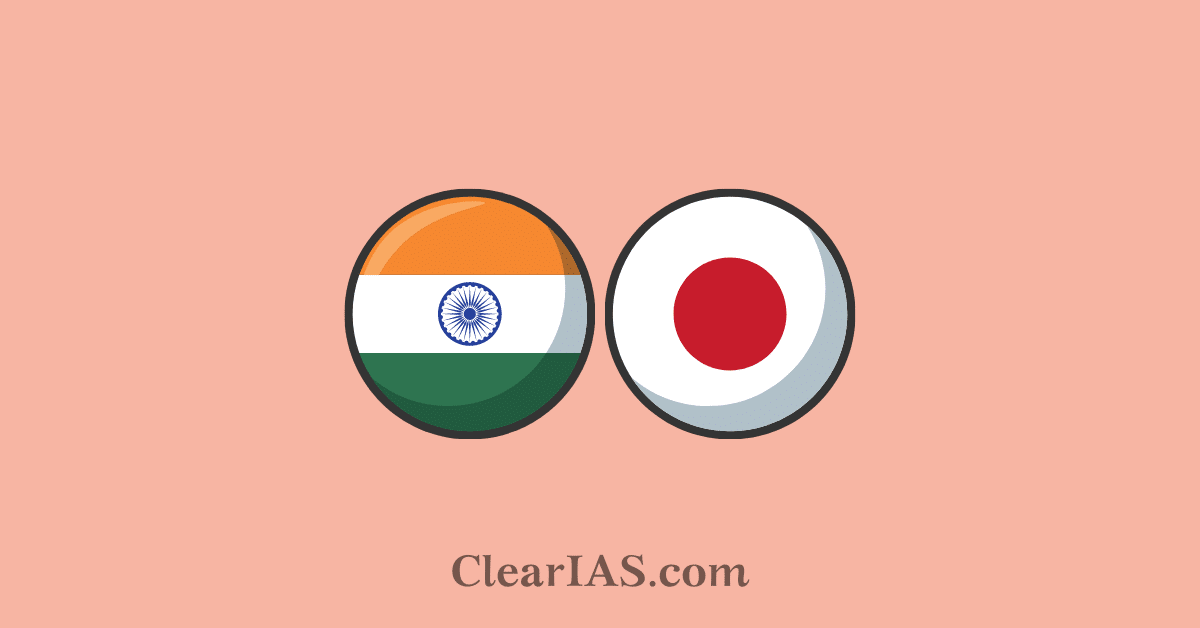 India-Japan has shared a cordial and crucial relationship over the years. Read here to know the past, present, and future of the bilateral ties. 
The Japanese Prime Minister was on an official visit to India for the 14th India-Japan Annual Summit between the two countries.
Earlier, the Indian PM virtually inaugurated a Japanese 'Zen Garden – Kaizen Academy' at the Ahmedabad Management Association (AMA) in Gujarat.
The Summit took place at a time when the two countries were celebrating the 70th anniversary of the establishment of diplomatic relations and India was celebrating its 75th anniversary of Independence.
History of India-Japan relations
The friendship between India and Japan has a long history rooted in spiritual affinity and strong cultural and civilization ties dating back to the visit of Indian monk Bodhisena in 752 AD. The exchange between Japan and India is said to have begun in the 6th century when Buddhism was introduced to Japan. Indian culture, filtered through Buddhism, has had a great impact on Japanese culture, and this is the source of the Japanese people's sense of closeness to India.
Many prominent Indians have been associated with Japan like Swami Vivekananda, Nobel laureate Rabindranath Tagore, entrepreneur JRD Tata, freedom fighter Netaji Subhash Chandra Bose, and Judge Radha Binod Pal.
Post Second World War, India did not attend the San Francisco Conference but decided to conclude a separate peace treaty with Japan in 1952 after its sovereignty was fully restored marking a defining moment in the bilateral relations and setting the tone for the future.
India and Japan established diplomatic relations on 28 April 1952. In the first decade after diplomatic ties were established, several high-level exchanges took place, including Japanese Prime Minister Nobusuke Kishi's visit to India in 1957, Prime Minister Jawaharlal Nehru's return visit to Tokyo the same year, and President Rajendra Prasad's visit in 1958.
The prime ministers, as well as a royal couple of japan, have visited India and over the years the global and strategic partnership has strengthened.
Japan also announced its joining of the International Solar Alliance (ISA) and signed numerous bilateral MoUs with India.
Apart from the Annual Summits, the annual Foreign Minister level Strategic Dialogue, Defense Ministers Meeting, NSA-level Dialogue, Ministerial level 2+2 and FOC Consultations and other bilateral dialogue mechanisms ensure regular high level and functional engagements.
Other MEA led-bilateral dialogues: The Act East Forum, established in 2017, aims to provide a platform for India-Japan collaboration under the rubric of India's "Act East Policy" and Japan's "Free and Open Indo-Pacific Vision".
Defense relations:
India-Japan exchanges have strengthened due to growing convergence on strategic matters; and its significance is growing from the common outlook on issues of peace, security, and stability of the Indo-Pacific Region.
The Tri-Service Exchanges between Japan and India have been institutionalized completing the triad. Coast Guards have had regular annual exchanges since 2006.
Malabar 2019 was conducted off Western Kyushu in the Sea of Japan in September 2019. INS Sahyadri and INS Kiltan participated in the exercise
Economic relations:
Japan is regarded as a key partner in India's economic transformation. In the recent past, the India-Japan relationship has transformed into a partnership of great substance and purpose.
Japan's interest in India is increasing due to a variety of reasons including India's large and growing market and its resources, especially the human resources. Japan's bilateral trade with India reached US$ 17.63 billion in FY 2018-19.
India's primary exports to Japan have been petroleum products, chemicals, elements, compounds, non-metallic mineral ware, fish & fish preparations, metalliferous ores & scrap, clothing & accessories, iron & steel products, textile yarn, fabrics, and machinery, etc.
India's primary imports from Japan are machinery, electrical machinery, iron and steel products, plastic materials, non-ferrous metals, parts of motor vehicles, organic chemicals, manufacturers of metals, etc.
India-Japan Digital Partnership (I-JDP) was launched during the visit of PM Modi to Japan in October 2018 furthering existing areas of cooperation as well as new initiatives within the scope of cooperation in S&T/ICT, focusing more on "Digital ICT Technologies".
Key features of India-Japan Summit 2022
Reaffirming the Special Strategic and Global Partnership between India and Japan, the Prime Ministers concurred that the shared values and principles enunciated in the India-Japan Vision Statement issued in 2018 are particularly relevant in the present context, where global cooperation is required more than ever to address challenges that have become more acute.
Partnership for a free and open Indo-Pacific underpinned by Inclusiveness and Rules-based order:
Continuing bilateral and multilateral exercises including "Dharma Guardian" and "Malabar" respectively, while welcoming the participation of Japan for the first time in exercise MILAN, as well as making efforts to increase their complexity in the future.
Both countries affirmed the importance of bilateral and plurilateral partnerships among like-minded countries of the region, including the quadrilateral cooperation among Australia, India, Japan, and the United States (QUAD).
Japan welcomed the Indo-Pacific Oceans' Initiative (IPOI) announced by Prime Minister Modi in 2019.
The Prime Ministers acknowledged the growing space for cooperation between the IPOI and Free and Open Indo-Pacific (FOIP).
India appreciated Japan's participation as a lead partner on the connectivity pillar of IPOI.
They reiterated their strong support for ASEAN's unity and centrality and their full support for the "ASEAN Outlook on the Indo-Pacific (AOIP)" which upholds the principles such as the rule of law, openness, freedom, transparency, and inclusiveness
Relations with other countries:
North Korea: India-Japan condemned North Korea's destabilizing ballistic missile launches in violation of United Nations Security Council resolutions (UNSCRs). They reaffirmed their commitment to the complete denuclearization of North Korea consistent with the relevant UNSCRs and the importance of addressing concerns related to North Korea's proliferation linkages
Afghanistan: Both countries agreed to collaborate closely to realize peace and stability in Afghanistan, and stressed the importance of addressing humanitarian crisis, promoting human rights, and ensuring the establishment of a truly representative and inclusive political system.
They concurred to strengthen counter-terrorism efforts in the multilateral forums and to work together on the early adoption of the Comprehensive Convention on International Terrorism (CCIT) in the United Nations.
Myanmar: Support for ASEAN efforts to seek a solution in Myanmar, and welcomed Cambodia's active engagement as ASEAN chair to break the deadlock. They called on Myanmar to urgently implement ASEAN's Five-Point Consensus.
Ukraine: The contemporary global order has been built on the UN Charter, international law, and respect for sovereignty and territorial integrity of states. They underscored the importance of the safety and security of nuclear facilities in Ukraine and acknowledged the active efforts of the IAEA towards it.
They called for an immediate commencement and early conclusion of negotiations on a non-discriminatory, multilateral, and internationally and effectively verifiable Fissile Material Cut-off Treaty (FMCT) in the Conference on Disarmament based on Shannon Mandate
Sustainable Growth in a post-COVID World:
Progress made under the Quad Vaccine Partnership to enhance equitable access to safe and effective vaccines in the Indo-Pacific and beyond was appreciated.
Sustainable Development Initiative for the North Eastern Region of India has been launched with an eye on India's infrastructure development in the Northeast and includes ongoing projects and possible future cooperation in connectivity, healthcare, new and renewable energy, as well as an initiative for strengthening bamboo value chain.
India-Japan Clean Energy Partnership (CEP) was launched for cooperation towards achieving sustainable economic growth, addressing climate change, and ensuring energy security, in areas such as electric vehicles (EV), storage systems including batteries, electric vehicle charging infrastructure (EVCI), solar energy, clean including green hydrogen/ammonia, wind energy, exchange of views on respective energy transition plans, energy efficiency, CCUS (Carbon dioxide Capturing, Utilization, and Storage) and Carbon Recycling.
India-Japan Digital Partnership saw increased cooperation to enhance the digital economy through promotion of joint projects for digital transformation, support to provide opportunities for Indian IT professionals to work in Japan and Japanese companies, and collaboration made in the area of IoT, AI, and other emerging technologies.
The progress made in Japanese language education and training in India and decided to expand this initiative through the Japan Overseas Cooperation Volunteers (JOCV) scheme was also mentioned.
India appreciated Japan's cooperation on the MAHSR and various Metro projects in India and looked forward to the planned preparatory survey for the Patna Metro.
Other India-Japan initiatives
Supply Chain Resilience Initiative (SCRI): Launched by India, Japan, and Australia to counter China's dominance of the supply chain in the Indo-Pacific region.
Acquisition and Cross-Servicing Agreement (ACSA): India-Japan logistics agreement signed in 2020 for armed forces of both countries to coordinate closely in services and supplies.
Special Strategic and Global Partnership: Upgradation of India-Japan relation in 2014.
Comprehensive Economic Partnership Agreement (CEPA): India is the largest recipient of Japanese aid and Japan is India's 12th largest trading partner.
India and Japan are common members of G 20, G 4, and the International Thermonuclear Experimental Reactor (ITER).
Defence exercises:
JIMEX- bilateral naval exercise
SHINYU Maitri- bilateral air force exercise
Dharma Guardian- bilateral army exercise
Malabar- QUAD naval exercise
Way forward
Japan and India cultivate and maintain relationships with other countries to support their position in the global community. In today's perilous world, the two countries are bound to one another by common interests, especially where foreign policy is concerned.
India and Japan have a lot of mutual interests in the fields of digital technology- Japan has the tech and India has the labor with raw materials.
The close cooperation is advantageous for both the countries to tackle hostile neighbors like China as well.