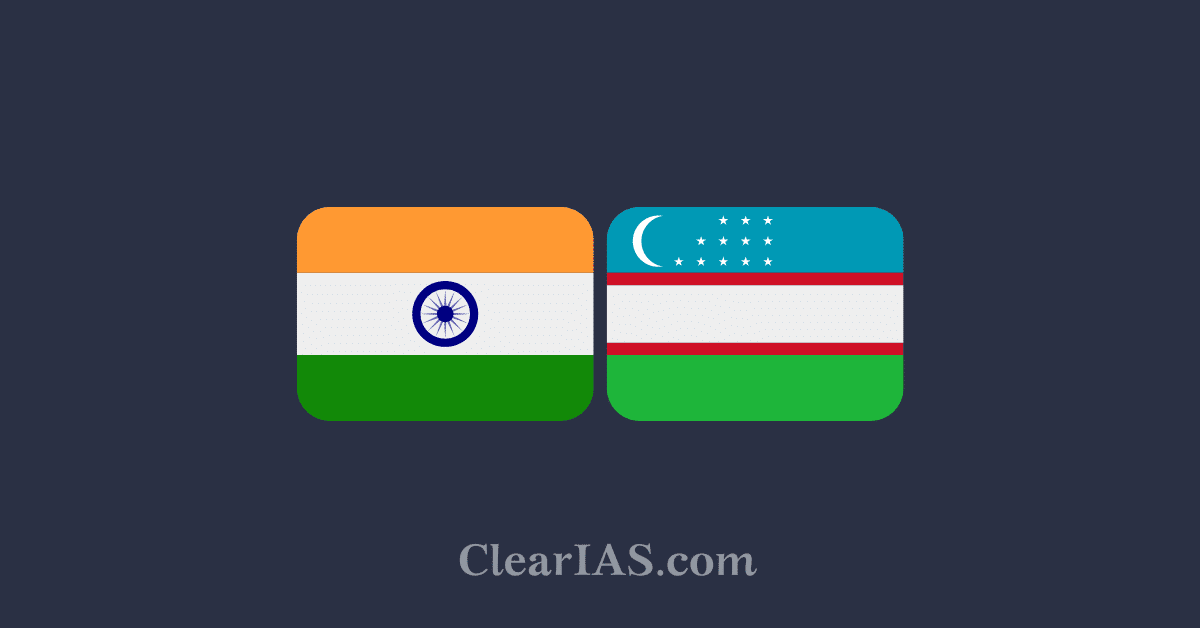 India-Uzbekistan Relations are deep-rooted in history and progressing well over the years. Read here to know more.
India was one of the first countries to acknowledge the state sovereignty of Uzbekistan after its independence in 1991.
The bilateral relations encompass political and strategic issues, defence and security, trade and investment, energy, agriculture, Science & technology, education, and people-to-people ties.
The diplomatic relations between the two nations have completed 30 years in 2022.
History of India-Uzbekistan Relations
Relations between Uzbekistan and India have their roots deep in history.
There are frequent references to Kamboja in Sanskrit and Pali literature, which is stated to include parts of present-day Uzbekistan.
Sakas participated in Mahabharata on the side of Kauravas.
The ancient trade route uttarpath passed through Uzbekistan.
At various times the Saka / Scythian, Macedonian, Greco-Bactrian, and Kushan Kingdoms included parts of both India and present-day Uzbekistan, and at other times they were part of neighboring empires.
In later years, Fergana, Samarkand, and Bukhara in Uzbekistan emerged as major towns on the trade routes linking India with Europe and China.
Buddhism is said to have traveled to China through Uzbekistan and Central Asia.
Amir Timur was born near Shahrisabz and Babur came from Fergana in Uzbekistan.
Indian merchants based in Samarkand and Bukhara were an integral part of the local economy.
Interactions over thousands of years contributed to close cultural linkages in architecture, dance, music, and cuisine.
Mirza Ghalib and Amir Khusro are notable Indians of Uzbek parentage.
Indian movies have traditionally been popular in Uzbekistan.
India had close interaction with the Uzbek SSR during the Soviet times. Indian leaders often visited Tashkent and other places.
Prime Minister, Shri Lal Bahadur Shastri passed away in Tashkent on 11 January 1966 after signing the Tashkent declaration with Pakistan.
In August 1991, as the events leading to the disintegration of the USSR unfolded, the then Chairman of the Supreme Soviet of Uzbekistan was visiting India.
Uzbekistan became independent on 1st September 1991.
Political and Bilateral relations
Bilateral relations are managed through a robust mechanism including an Intergovernmental Commission, which oversees trade and economic relations and Foreign Office Consultations.
Uzbekistan and India have signed Agreements/MOUs/ Protocols/Joint Statements in areas such as trade, investment, education, civil aviation, tourism, science & technology, telecommunications, agriculture, and IT.
India-Uzbekistan Investments and Trade relations
Trade relations between India and Uzbekistan are governed by the Agreement on Trade and Economic Cooperation signed in May 1993.
Despite Covid-19, interactions & trade have increased in the last few years. Trade has increased from $247 mn in 2019-20 to $342 mn in 2021-22, a growth of 38.5%.
India's exports to Uzbekistan include Pharmaceutical products, mechanical equipment, vehicles, service, optical instruments, and equipment.
India's imports from Uzbekistan are Fruit and vegetable products, services, fertilizers, juice products, extracts, and lubricants.
Indian investments by companies are mostly in the field of pharmaceuticals, amusement parks, automobile components, and the hospitality industry.
Amity University and Sharda University have opened campuses in Tashkent and Andijan respectively.
Indian institutions like iCreate are actively cooperating with Uzbek counterparts for promoting a start-up ecosystem in Uzbekistan and training entrepreneurs in setting up incubators.
India-Uzbekistan Defence and Security Cooperation
India-Uzbekistan shares a common perspective on several security issues like terrorism, trans-national organized crime, illegal trafficking, smuggling, etc.
The main focus has been to assist Uzbek security agencies through training and capacity building.
The first-ever joint military exercise held between India and Uzbekistan was named Dustlik.
India has also assisted in setting up an India Room at the Armed Forces Academy of Uzbekistan in Tashkent.
Multilateral engagements
India-Central Asia Business Council: The dialogue brought together Business Councils of all five Central Asian countries to take the trade and investment partnership forward with a special focus on energy, pharmaceuticals, automotive, agro-processing, education, urban infrastructure, transport, civil aviation, IT and tourism.
India- Central Asia Dialogue: It enables the issues of further strengthening ties between India and the countries of Central Asia in the spheres of politics, economics, digitalization, and cultural and humanitarian direction.
Other engagements
The 13th Session of the India-Uzbekistan Inter-Governmental Commission (IGC) was held in New Delhi. IGC meeting is an important platform to deliberate on ideas, discuss issues & strengthen bilateral relations esp. in the field of trade & investment.
The 2nd India-Uzbekistan JWG on Economic Cooperation was held on 22nd June'22 wherein a wide range of issues was discussed.
Way forward
India-Uzbekistan relations are key to India's vision of an integrated extended neighborhood.
There is a need to identify new drivers for ambitious growth in bilateral trade between India and Uzbekistan.
Both the countries need to take the trade relation forward in newer areas like technology, digital payment solutions, and investment in start-ups.
As mentioned in the IGC meeting, there is a need for an integrated approach to regional connectivity and cooperation.
The following seven can be emerging areas of cooperation between both nations:
Digital Payments, Space Cooperation, Agriculture and Dairy, Pharmaceutical, Gems and Jewellery, MSME, and Inter-regional cooperation.
Uzbekistan has expressed interest in joining the International Solar Alliance, which should be actively pursued by India.
The countries should also consider Uzbekistan joining the International North-South Transport Corridor (INSTC). Along with Iran, the addition of Uzbekistan will push the inter-regional connectivity to newer levels.