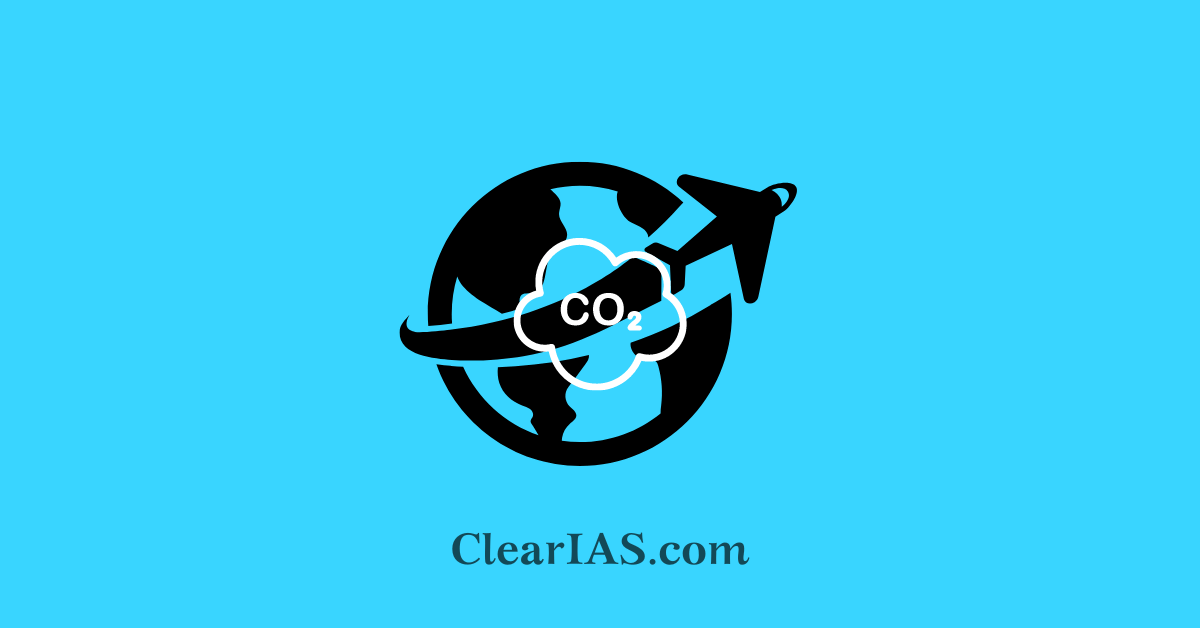 India is set to join the International Climate Action in Civil Aviation in 2027. This is part of the agenda of the International Civil Aviation Organization (ICAO) to reduce carbon emissions from international civil aviation. Read here to know more about carbon emissions in civil aviation.
India will start participating in the International Civil Aviation Organisation's (ICAO) Carbon Offsetting and Reduction Scheme for International Aviation (CORSIA) and the Long-Term Aspirational Goals (LTAG) in 2027.
One of the ICAO's main objectives is to minimize carbon emissions from international civil aviation.
The international organization has established several important aspirational goals to reduce carbon emissions from aviation and its effects on climate change.
Carbon emissions by civil aviation
Aviation is responsible for around 2.5% of global CO2 emissions, with most aircraft powered by jet gasoline.
Global aviation (including domestic and international; passenger and freight) accounts for:
9% of greenhouse gas emissions (which includes all greenhouse gases, not only CO2)
5% of CO2 emissions
5% of 'effective radiative forcing' – a closer measure of its impact on warming.
The European Commission predicts that by the middle of the 21st century, demand for flying could increase aviation's greenhouse gas emissions by upwards of 300% over 2005 levels if no drastic measures are taken to reduce them.
CO2 emissions from domestic flights are counted in a country's emission accounts.
International flights are not – instead, they are counted in their category: 'bunker fuels'. The fact that they don't count towards the emissions of any country means there are few incentives for countries to reduce them.
It's also important to note that unlike the most common greenhouse gases – carbon dioxide, methane, or nitrous oxide – non-CO2 forcings from aviation are not included in the Paris Agreement.
International Climate Action in Civil Aviation
To minimize the adverse effects of international civil aviation on the global climate, ICAO formulates policies, develops and updates Standards and Recommended Practices (SARPs) on aircraft emissions, and conducts outreach activities.
These activities are conducted by the Secretariat and the Committee on Aviation and Environmental Protection (CAEP).
In pursuing its activities, ICAO also cooperates with other United Nations bodies and international organizations.
To achieve the global aspirational goals and to promote sustainable growth of international aviation, ICAO is pursuing a basket of measures including aircraft technology improvements, operational improvements, sustainable aviation fuels, and market-based measures (CORSIA).
The aviation industry has adopted the goal of reaching net-zero carbon emissions by 2050.
ICAO initiatives for International Climate Action in Civil Aviation
ICAO has adopted the aspirational goals, viz. 2% annual fuel efficiency improvement through 2050, Carbon Neutral Growth from 2020 onwards, and net zero by 2050.
A basket of measures has also been identified by ICAO to achieve these goals which include the Carbon Offsetting and Reduction Scheme for International Aviation (CORSIA) and the Long-Term Aspirational Goals (LTAG).
CORSIA
CORSIA is implemented in three phases, out of which participation is voluntary in the first two phases (2021-2026).
CORSIA applies to international flights originating from one country to another.
Financial implications due to offsetting will be borne by individual airlines depending upon their international operations as and when applicable.
LTAG
ICAO Assembly adopted a long-term global aspirational goal (LTAG) for international aviation of net-zero carbon emissions by 2050 in support of the UNFCCC Paris Agreement's temperature goal.
The LTAG does not attribute specific obligations or commitments in the form of emissions reduction goals to individual States.
It recognizes that each State's special circumstances and respective capabilities (e.g., the level of development, maturity of aviation markets, sustainable growth of its international aviation, just transition, and national priorities of air transport development) will inform the ability of each State to contribute to the LTAG within its national timeframe.
Each State will contribute to achieving the goal in a socially, economically, and environmentally sustainable manner and in accordance with its national circumstances.
ICAO is spearheading several other initiatives on a global scale to address climate change-
To foster technology development, ICAO regularly sets technology goals, to provide stretch yet reasonable targets for industry R&D to aim at, in cooperation with States.
A new technology standard is part of the ICAO "Basket of measures" to reduce greenhouse gas emissions from the air transport system, and it is the first global technology Standard for CO2 emissions for any sector to encourage more fuel-efficient technologies in airplane designs.
Sustainable aviation fuels (SAF) are defined as renewable or waste-derived aviation fuels that meet sustainability criteria1. Technical analysis done at ICAO shows that SAF has the greatest potential to reduce CO2 emissions from International Aviation.
India and International Climate Action in Civil Aviation
India has decided not to participate in the voluntary phases of CORSIA. The offsetting requirement under the CORSIA for Indian careers will start in 2027.
This will enable airlines of developing countries like India to get time to grow more and not face any financial consequences due to CORSIA by joining voluntary phases.
India has committed to net zero by 2070 at COP26 to the United Nations Framework Convention on Climate Change (UNFCCC).
The Ministry of Petroleum & Natural Gas (MoPNG) has notified a National Policy on Bio Fuels 2018 to realize the goal of de-carbonization of the aviation sector.
MoPNG constituted the Bio-Aviation Turbine Fuel Programme Committee to take forward the Bio-ATF Programme in the country to promote the use of clean fuel in aviation.
India has also taken several steps to join ICAO's Assistance Capacity Building & Training for Sustainable Aviation Fuels Programme. The Bureau of Indian Standards issued Indian Standard for Bio-Jet ATF in January 2019.
Also read: Aviation Infrastructure
Way forward
Aviation's contribution to climate change – 3.5% of warming, or 2.5% of CO2 emissions – is often less than people think. It's currently a relatively small part of emissions compared to other sectors.  The key challenge is that this sector is particularly hard to decarbonize.
Numerous efforts are being taken globally by ICAO and other entities as part of the International Climate Action in Civil Aviation.
Sustainable Aviation Fuels can reduce emissions by 80% according to the International Air Transport Association (IATA). SAF can be made from several sources ranging from agricultural waste to carbon captured from the air.
With short-haul flights of fewer than 600 miles accounting for more than 17% of airline emissions, new technologies like electric and hydrogen-powered aircraft are also being developed.
European aviation giant Airbus is developing three types of hydrogen-fuelled zero-emission commercial aircraft which it says could enter service from 2035.
The Clean Skies for Tomorrow Coalition is a global initiative to facilitate the transition to net-zero flying by 2050 by accelerating the deployment of sustainable aviation fuel.
Co-led by the World Economic Forum, the coalition of more than 100 companies is aiming to power global aviation with 10% SAF by 2030.
-Article written by Swathi Satish