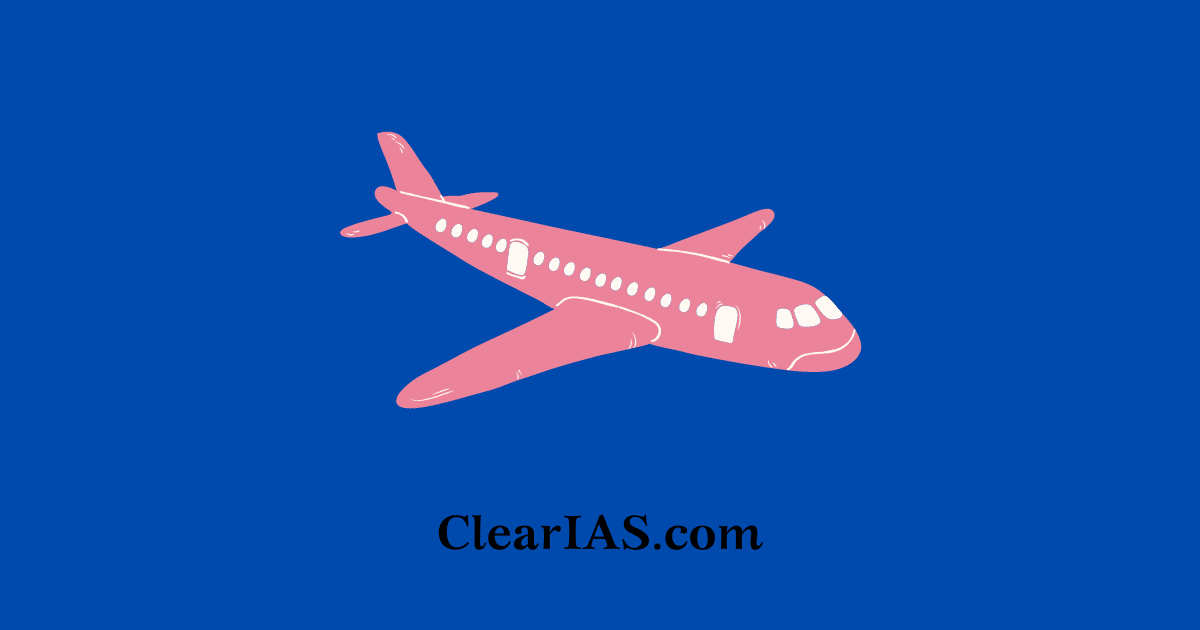 India is currently the world's seventh-largest civil aviation market and third-largest domestic aviation market in the world. It is predicted to become the third-largest air passenger market by 2024. However, there are still many challenges left. What are those challenges? Why does civil aviation infrastructure hold so much importance? To answer these questions, read further.
India's civil aviation industry has the potential to become one of the largest in the world.
Airways play an important role as a modern means of transportation. They are vital for the country's economic growth and to be globally competitive.
The Airways contribute to the trade and commerce of a nation and thus are critical for development.
The aviation sector is managed by the Airports Authority of India (AAI). AAI was founded in 1994 under the Airports Authority Act. All government airports in India must be developed, financed, operated, and maintained by AAI. The remaining airports are governed by the Aircraft Act (1934).
Significance of Aviation Infrastructure
In India, there are large plains that make for good landing sites. It provides an excellent transition from railways
Compared to other forms of transportation, it is the fastest way to move both people and cargo.
Transporting expensive, light, and perishable items that cannot be moved by road or rail is made simple by the availability of air transportation.
Physical impediments, such as rivers, mountains, and valleys, are absent in air transport, thus allowing for smooth movement around the world.
It improves connectivity to smaller cities and the northeastern states. Thus increasing regional connectivity.
Air travel is widely used during earthquakes, floods, accidents, and starvation while trains and roads are not very useful for rescue operations.
It has significant strategic implications. It can be used to advance both internal and external security.
Challenges of Aviation Infrastructure
There is a problem of unavailability of space and land to expand the airports.
The government approval processes frequently cause delays in the development of airport infrastructure.
Lack of funds is a challenge the government is currently dealing with. Therefore, the development of the infrastructure is moving in the direction of PPP models.
When airline ticket prices will increase, customers often might turn to trains and other modes of transportation.
According to an audit undertaken by the International Civil Aviation Organization, India's air safety oversight is weaker than that of Bangladesh, the Maldives, Pakistan, Nepal, Sri Lanka, and North Korea.
Ineffective administration of air navigation, air traffic, airline slots waiting, etc. is some of the other issues.
There is a shortage of pilots as well as there are gaps in the skills of pilots, crew members, and ground handling personnel.
In India, the cost of fuel accounts for 45% of operating expenses, compared to a global average of 30%.
Due to heavy central and state taxation, India's aviation fuel prices are higher than those of ASEAN and the Middle East nations.
Due to heavy central and state taxation, India's aviation fuel prices are higher than those of ASEAN and the Middle East nations.
The UDAN Scheme is not operating well because many planned routes have not yet become operational, leaving the country's hinterland partially disconnected from the aviation industry.
India constructs airports only when there is a need, which slows the expansion of the aviation sector.
Despite India's status as a "Unilateral Open Sky" nation, cargo mobility is still in its youth.
Government Initiatives
Ude Desh ka Aam Nagrik (UDAN) Plan: To develop regional routes that are both inexpensive and profitable, so that even in small communities, the average person can afford to fly.
100% FDI is allowed in non-scheduled air transport services, flying schools, helicopter services, and seaplane services through an automated route.
DigiSky: Online site that complies with the civil aviation rules for using drones for commercial purposes.
The 2016 National Civil Aviation Policy: The policy is covering 22 areas of the aviation sector. Airlines must deploy 20 aircraft or 20% of their total capacity for domestic operations, whichever is higher. This will expand the reach of Indian airline services abroad.
e-Sahaj: The Civil Aviation Ministry's online platform e-Sahaj offers 100% of security clearances.
Digi Yatra Platform: Biometric digital processing technology to save travelers from multiple airport security procedures.
Way Forward
Complete the worldwide UDAN program. It will increase the current capacity of international airports while also completing the ongoing initiatives under the UDAN initiative in a timely manner.
Aircraft powered by solar energy and biofuels are the need of the hour.
Cities with multiple airports will help to reduce traffic.
Developing a manufacturing ecosystem in the nation through long-term initiatives to support advanced research in aviation technologies.
There is a need for cutting-edge technology for the effective operation of the air traffic control and navigation system.
The aviation industry has to think about the "Start-up India" project. Young entrepreneurs are the backbone of high-tech firms and are revolutionizing many traditional industries.
To stay up with modern aircraft technology, industry expansion, and passenger demand, it is important to amend India's 1934 Aircraft Act and 1937 Aircraft Rules.
Vacant land around the Airports Authority of India (AAI) airports in all major cities should be monetized to boost non-aeronautical earnings and management techniques. It will lead to the effective utilization of AAI resources.
To address the skilled labor shortage, businesses and educational institutions should work together to integrate the latest technology.
Airlines that perform poorly may switch to cargo transport.
Make India a transshipment hub by creating digital business enablers like e-contracting, e-multimodal transportation, e-compliances, and an e-grievance redressal module.
Conclusion
There is a significant untapped market for aviation in India. The government must continue to promote this industry with effective policy measures. This would boost the home economy and India's aviation sector's global presence in terms of both passenger and freight traffic.
The major part of countries GDP is mostly derived from the travel and aviation industries, hence it is essential to assure economic growth and development. For this sector to flourish at a good rate, the Central Government and the State Governments should work together.
Article written by Chetna Yadav.