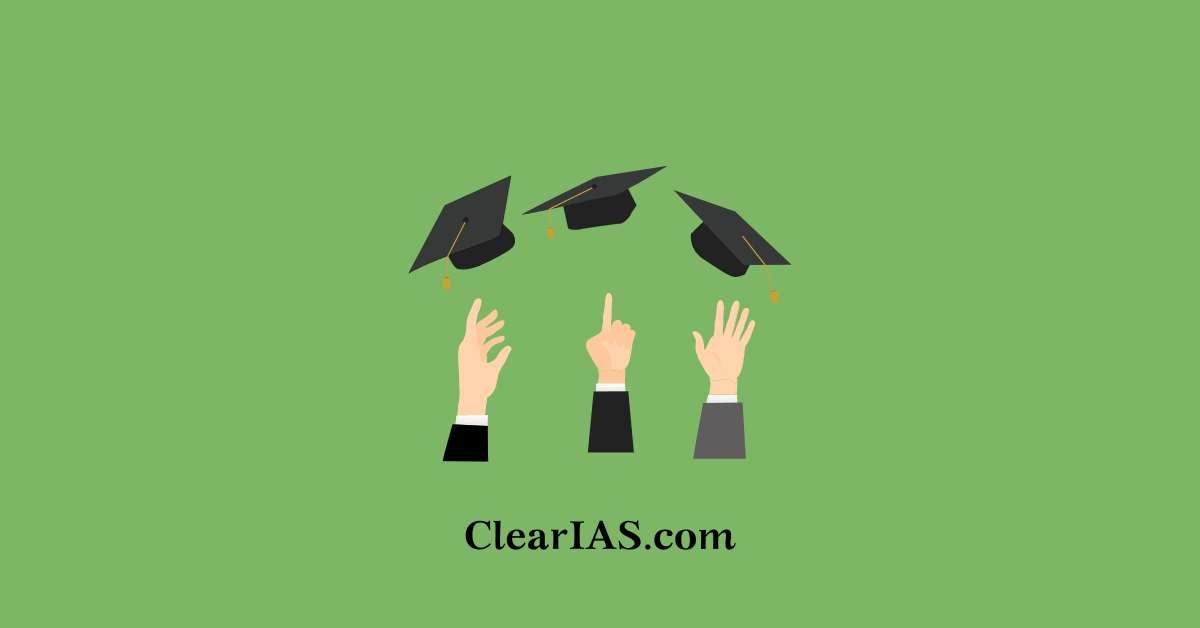 Is it important to have a strong academic background for UPSC CSE (Civil Services Examination) preparation? What are the benefits of having a good academic background?
The UPSC (Union Public Service Commission) Civil Services Examination is a prestigious exam that clears the way to get entry into various central government services.
While many aspirants focus on dedicated preparation strategies, it often comes to mind that is it important to have a good academic background for UPSC.
In this article, we will understand the importance of academic background in this prestigious examination.
Is It Important to Have a Strong Academic Background for UPSC CSE?
A strong academic background will not go unnoticed in this examination but what's remarkable about this exam is that it recognizes the potential in every individual, irrespective of their academic background.
Though having a good academic background will help any person better in any field, not having a strong background will not hold you back in this examination. Let's understand how.
Merit Over Background
The beauty of the UPSC Civil Services Exam lies in its inclusivity. By mandating a graduation degree or its equivalent from any recognized university as its eligibility criteria, the exam embraces diversity and opens its doors to individuals from various educational backgrounds.
UPSC's eligibility criteria reflect its commitment to evaluate candidates based on their capabilities and hard work for this exam rather than just their academic excellence.
UPSC's approach completely states the idea that anyone willing to work hard with dedication on the right path can clear this exam.
Breaking Barriers and Overcoming Challenges
UPSC's focus on equal eligibility criteria sets the stage for candidates to overcome societal barriers and preconceived notions. It sends a powerful message that an individual's potential is not confined by their educational background.
This approach encourages those who might have not performed well in their academics for some reason.
A Level Playing Field for All
Candidates coming from diverse academic backgrounds contribute to the dynamic exchange of ideas within civil services.
When engineers, doctors, humanities graduates, and scientists converge, they bring their unique viewpoints to the table, fostering innovative solutions and well-rounded policies.
UPSC IAS recognizes this strength and encourages candidates from all fields to participate.
The Role of Hard Work and Dedication
UPSC's eligibility criteria clearly state that hard work and dedication as the keys to success.
No matter your academic background, the exam requires meticulous preparation, a thorough understanding of subjects, and the ability to apply knowledge effectively.
This focus on dedication makes things fairer and provides success to those who work hard and do really well. So, while preparing for the IAS exam remember to avoid the common mistakes.
Utilizing Academic Knowledge
Candidates with graduation degrees in political science, history, arts, economics, and related fields possess certain degrees of advantages. They may find certain portions of the syllabus aligned with their academic background.
For example, someone with a political science background might naturally understand topics related to governance, policies, and constitutional matters.
But, the beauty of this exam is the diversity of its syllabus. As, every stream holds a little share to a certain degree, in that way, it does not provide leverage to one background over another greatly.
Preparation: The Equalizer
While academic background doesn't define your worthiness for UPSC, preparation does.
Aspirants, regardless of their degrees, need to engage in rigorous studies, stay updated with current affairs, practice answer writing, and embrace a well-rounded approach to learning.
Benefits of a Good Academic Background in the UPSC Exam
However, UPSC does not favor persons with strong academic backgrounds over others. But a strong background provides aspirants certain advantages in this exam.
Comprehensive Understanding of Subjects: Aspirant with a background related to the subjects important for the UPSC exam helps save their time and effort over those subjects.
Strong Analytical Skills: Academic education involves problem-solving and critical thinking. These skills are essential for cracking the UPSC examination as well.
Enhanced Reading and Comprehension: The UPSC exam demands reading and understanding complex topics. A strong academic background cultivates excellent reading habits and comprehension skills, making it easier to understand the vast UPSC CSE Syllabus.
Building a Foundation for Optional Subjects: UPSC aspirants must choose an optional subject for the mains examination. A good academic background in that optional subject can be immensely advantageous, as familiarity allows for deeper engagement with the subject matter.
How to Improve UPSC CSE Preparation
It's important to remember that UPSC preparation involves a lot more than academics. So aspirants should:
Stay Updated: Current affairs play a significant role in the UPSC exam. Regularly reading newspapers, magazines, and online sources like ClearIAS Current Affairs Capsules (CCC) are ebooks (in PDF format) published by ClearIAS that cover Monthly MCQs prepared from government websites like PIB, DDNEWS, NEWSONAIR, etc. help UPSC CSE aspirants to cover and keep informed about the latest events and developments quickly within a short span of time.
Practice Answer Writing: UPSC exams require well-structured and concise answers. Only regular practice of answer writing can refine your skills and help you present your knowledge effectively on paper within the word limits.
Mock Tests and Previous Papers: Solving mock tests and UPSC Civil Services Exam Previous Year Question Papers.  Question papers provide valuable insights into the exam pattern and help manage time during the actual test.
Revision and Consistency: Continuously revise what you've studied to reinforce your memory. Consistency is key to success in this examination.
Also read: 8 Myths About UPSC Interview
Conclusion
While a good academic background is not the only factor determining success in the UPSC exam, it undoubtedly provides a strong foundation for effective preparation.
It enhances subject knowledge, analytical skills, and confidence, which are important for tackling the challenging UPSC examination. Remember, with the right mix of academic knowledge, practical skills, strategies, and dedicated preparation, the path to success at UPSC becomes more achievable.
Also read: Educational Qualification Requirement for IAS Exam
Article Written By: Priti Raj