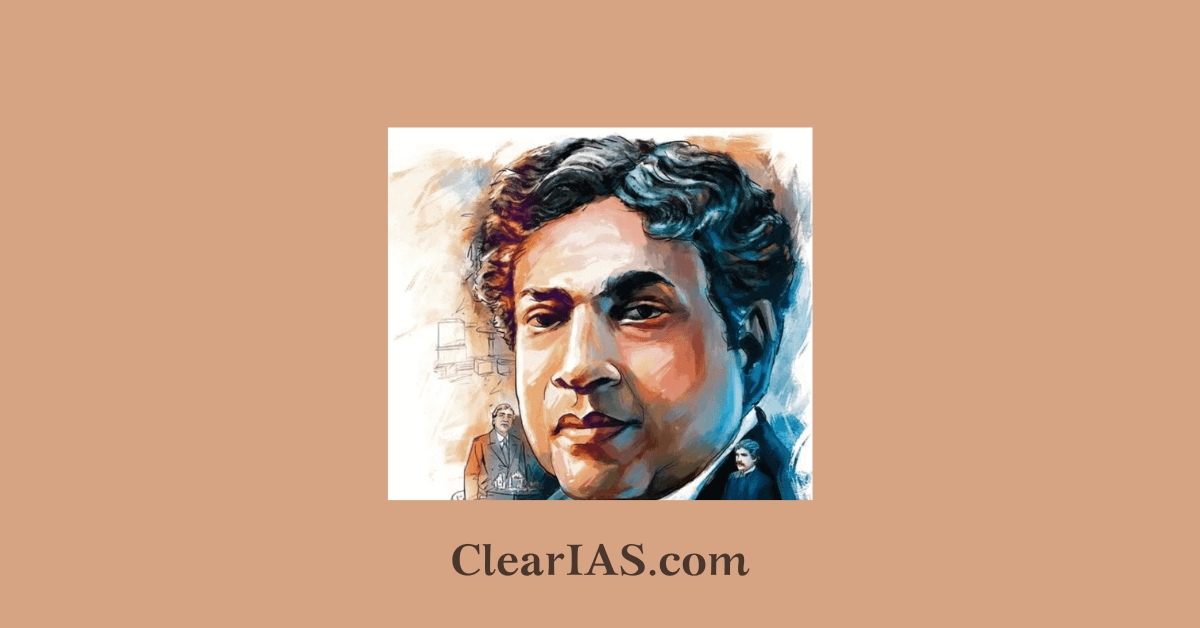 Sir Jagadish Chandra Bose is one of the most prominent first Indian scientists. He was a biologist, physicist, botanist, and writer of science fiction. He is known as the father of Radio science as well. Read here to learn more about the multi-faceted life of J.C Bose.
Sir Jagadish Chandra Bose was an eminent Indian scientist who was way ahead of his time concerning his work and scientific endeavours.
The founder of Bengali science fiction is regarded as Bose. He created the crescograph, a tool for gauging plant growth. In his honour, a moon crater was named.
The unheard contributions of Acharya Jagadish Chandra Bose are immense in the walks of the pre-independence era as a scientist and a freedom fighter.
J C Bose discovered wireless communication and was named the Father of Radio Science by the Institute of Electrical and Electronics Engineering.
He was responsible for the expansion of experimental science in India. From his contribution to biophysics to his contribution to the freedom struggle, numerous facets of his life are undiscovered.
The early life of Jagadish Chandra Bose
On November 30, 1858, Jagadish Chandra Bose was born to Bama Sundari Bose and Bhagawan Chandra Bose into a Bengali Kayastha household in Munsiganj (Bikrampur), Bengal Presidency (modern-day Bangladesh).
His father served as a civil official with the titles of Deputy Magistrate and Assistant Commissioner of Police (ACP) in several locations, including Faridpur and Bardhaman, and was a prominent member of the Brahmo Samaj.
Bose's father believed his son needed to learn in his home language and culture before moving on to study English, therefore he sent Bose to a Bengali language school for his early schooling.
In 1869, Bose enrolled at Kolkata's Hare School before transferring to St. Xavier's School.
He got accepted to St. Xavier's College in Kolkata after passing the University of Calcutta's admission exam in 1875. He met Jesuit Father Eugene Lafont there, and he credits him with greatly influencing the growth of his interest in the natural sciences.
In 1879, he graduated with a BA from the University of Calcutta.
Bose was admitted to Christ's College, Cambridge, to study natural sciences on the advice of Anandamohan Bose, his brother-in-law and the first Indian Wrangler at the University of Cambridge.
He earned a BSc from University College London, which was connected with the University of London in 1883, and a BA (Natural Sciences Tripos) from the University of Cambridge in 1884.
In 1887, Bose married feminist and social worker Abala Bose.
Scientific journey of Jagadish Chandra Bose
Bose was appointed as an officiating professor of physics at Presidency College, Kolkata in 1885. In those days, such posts in were mostly given to Europeans, and Indians were only appointed temporarily with 1/3rd of the pay.
Bose was popular among the students for his teaching style and demonstration of experiments. After three years of work in this temporary post, the value of his professorial work was recognized and the administration made Bose's appointment permanent, with retrospective effect.
Bose invented the Mercury Coherer which is a radio wave receiver. This device was used by Guglielmo Marconi to build a radio. Bose was thus a key figure in the invention of the modern radio and also in sonic technology.
Following is a brief timeline of his scientific activities.
1894-1899: Jagadish Chandra Bose Created radio waves as short as 5mm.
Such waves are now better known as microwaves and are used in radars, ground and satellite communication, remote sensing, and microwave ovens.
Also devised a portable apparatus (10″ x 12″) for the study of their optical properties.
It had the earliest waveguide and horn antenna of today's microwave engineering.
1895: He was the first to demonstrate the wireless transmission and reception of electromagnetic waves at Presidency College (now Presidency University), Kolkata.
These waves had a frequency of 60 GHz and traveled a distance of over 23 meters.
A plaque from IEEE, immortalizing this landmark achievement exists today at Presidency University, Kolkata.
Bose was a pioneer of multimedia communication in every way.
Bose made improvements on another instrument called 'the coherer', for detecting the radio waves.
1899-1902: Initiated detailed study of coherer leading to his discovery of the common nature of the electrical response to all forms of stimulation, in animal and plant tissues as well as in some inorganic models.
In 1900, his paper titled "On the Similarity of Responses in Inorganic and Living Matter" at the International Congress of Physics, Paris garnered huge appreciation.
1902-1907: He continued efforts to devise inorganic models of the biophysical phenomena underlying electrical and mechanical responses to stimulation, the transmission of excitation in plant and animal tissues, and vision and memory.
1907-1933: During this period he devoted himself mainly to the study of response phenomena in plants, the complexity of whose responses lies intermediate between those of inorganic matter and animals.
Jagadish Chandra Bose contrived a very sophisticated instrument called the crescograph, which could record and observe plants' minute responses to external stimulants.
It was capable of magnifying the motion of plant tissues to about 10,000 times their actual size and, in doing so, found many similarities between plants and other living organisms.
Inspired by nationalistic ideals, on 30th November 1917, he founded the Bose Institute in Calcutta.
On this occasion, he delivered his famous address "The voice of life" and dedicated the institute to the service of the nation.
Swami Vivekananda, Sister Nivedita (whose influence is reflected in the institute's emblem of vajra), Sara Chapman Bull (whose generous philanthropy was significant in setting up the Institute), and Rabindranath Tagore were among those who inspired and supported J. C. Bose in his endeavors.
At the institute, he continued efforts to devise inorganic models of the biophysical phenomena underlying electrical and mechanical responses to stimulation, the transmission of excitation in plant and animal tissues, and of vision and memory.
Later Life and Death
Jagadish Chandra Bose authored two illustrious books; 'Response in the Living and Non-living' (1902) and 'The Nervous Mechanism of Plants (1926).
He was knighted in 1917 and elected the Fellow of the Royal Society in 1920 for his amazing contributions and achievements.
He died aged 78, on 23 November in 1937, in Giridih, India.
Legacy of Jagadish Chandra Bose
On the occasion of the 164th birth anniversary of legendary Indian scientist Acharya Jagadish Chandra Bose and as part of Azadi Ka Amrit Mahotsava, Vijnana Bharati and Ministry of Culture, Govt. of India organized an "International conference on the contributions of J C Bose: A Satyagrahi Scientist", at Inter-University Accelerator Centre, New Delhi.
Bose holds the first patent in the world for a solid-state diode detector used to detect electromagnetic waves. He was averse to all forms of patenting and patented the diode only due to pressure from his colleagues.
In 1896, Jagadish Chandra Bose wrote Niruddesher Kahini (The Story of the Missing One), a short story that was later expanded and added to the Abyakta collection in 1921 with the new title Palatak Tuphan (Runaway Cyclone). It was one of the first works of Bengali science fiction.
-Article written by Swathi Satish