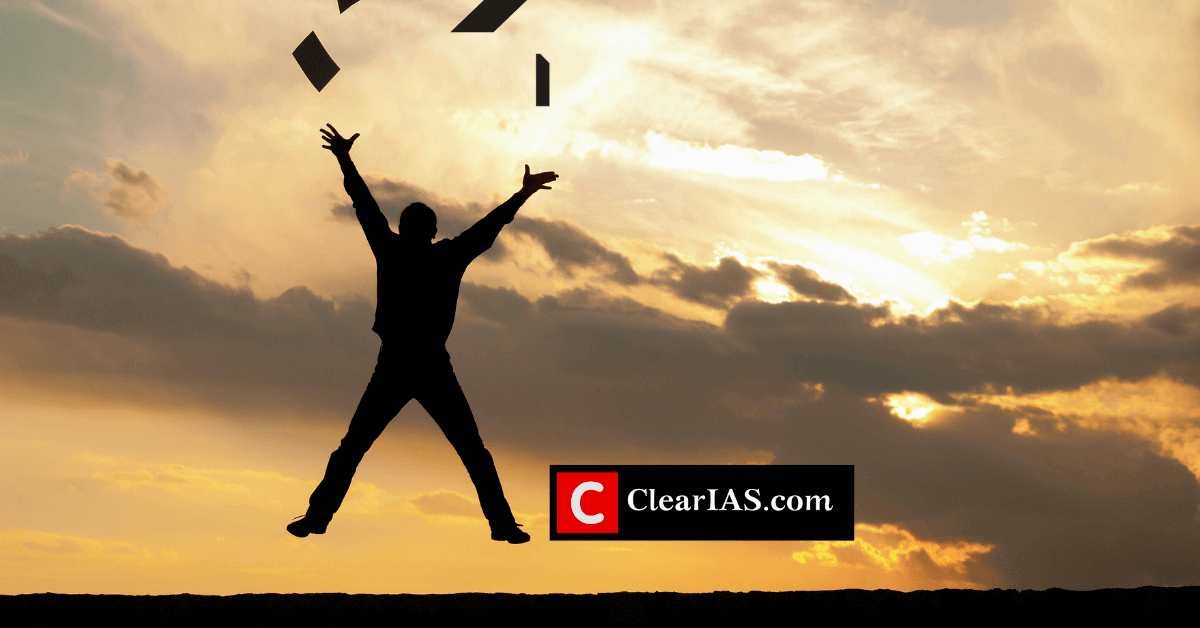 Do you know that the highest fee ClearIAS charges for any of the product or service are just Rs.4999 (for a limited period)? 😲
Yes, with just Rs.4999 you can prepare online and clear various stages of the UPSC Civil Services Examination by self-study!
The bundle of products provided by ClearIAS is unmatched in the UPSC Test-Prep sector, not only for its high quality but also for the value of money it offers.
ClearIAS Prelims Test Series (Rs.9000 Rs.4999)
You will get immediate access to ClearIAS Prelims Online Mock Test Series, once you pay the fees online.
There are 40 online mock exams in the ClearIAS Prelims Test Series. The duration of the program is about 1-year until the date of the next UPSC Prelims.
The method adopted by ClearIAS is a test-based approach, in which aspirants learn the concepts faster by taking ClearIAS online mock exams based on a specially curated timetable and book-list (TTT approach).
Value-added services provided FREE for ClearIAS Prelims Test Series subscribers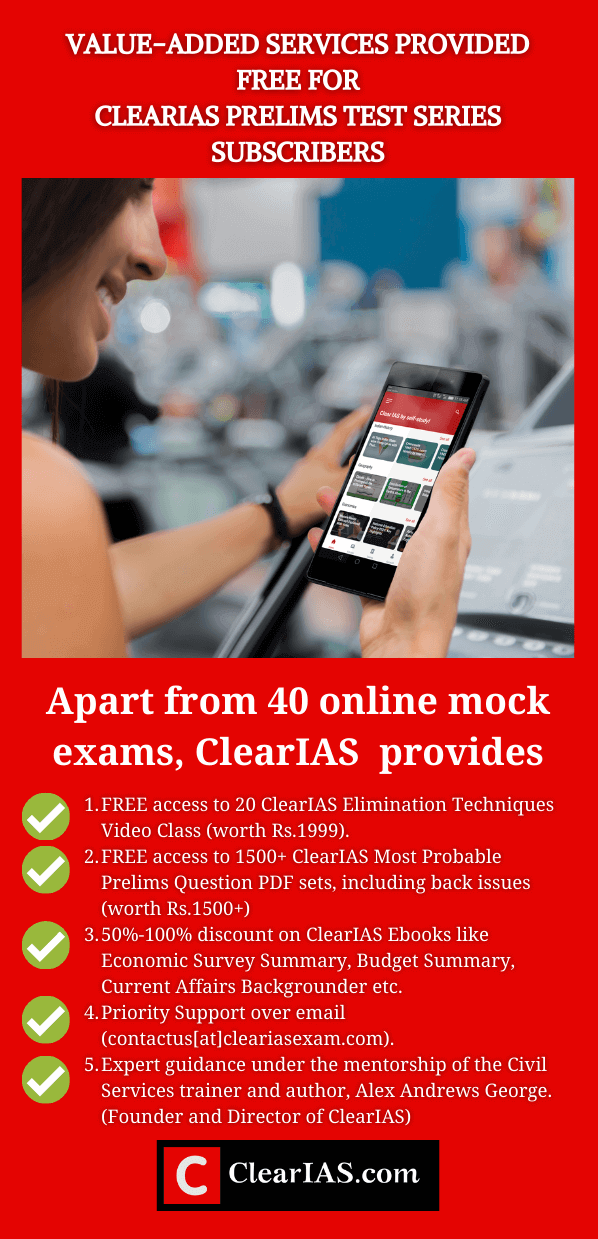 We also provide a lot of value-added services for FREE to ClearIAS Prelims Test Series subscribers (premium users). Our aim is to help you score 130+ marks in Prelims, no matter how difficult UPSC sets the question paper.
Value-added services/products for ClearIAS Prelims Test Series subscribers include:
FREE access to 20 ClearIAS Elimination Techniques Video Class (worth Rs.1999).
FREE access to 1500+ ClearIAS Most Probable Prelims Question PDF sets, including back issues (worth Rs.1500+)
50%-100% discount on ClearIAS Ebooks like Economic Survey Summary, Budget Summary, Current Affairs Backgrounder etc.
Priority Support over email (contactus[at]cleariasexam.com).
Expert guidance under the mentorship of the Civil Services trainer and author, Alex Andrews George. (Founder and Director of ClearIAS)
FREE Resources of ClearIAS
Also, as free resources ClearIAS provides:
Value for Money
We are not sure if any other test-prep players offer the same value and quality as ClearIAS offers by keeping the highest priced product as affordable as ClearIAS does.
Our expenses (server, email, rent, human resources etc) has been increasing tremendously over the years. However, ClearIAS has not increased the fees of our premium test series in the last 4 years.
As you may understand, we cannot continue to keep the Rs.4999 price tag for long. This is a limited period offer. If UPSC Prelims is your weak area, and if you need ClearIAS support to succeed, we recommend you not to wait further.
Best Adapted to the Latest Trends
ClearIAS is one platform that continuously adapts to the changing requirements of UPSC.
Our Programs (mock exams and study materials) are designed by giving the right weightage to static and current topics. Traditional and new areas are covered by analysing the latest pattern of questions set by UPSC. In this way, we ensure that whatever way UPSC try to surprise aspirants, serious followers of ClearIAS remain equipped to face the challenges.
Scoring 130+ is possible!
Our mission is to help any follower of ClearIAS (who seriously follow our materials and mock exams) to score high marks and thus clear UPSC Prelims well above the cut-off score. Many toppers have done that. You too can do it.
Join ClearIAS Prelims Test Series and take UPSC CSE Prelims seriously.
Tip: If you are already a registered user on the ClearIAS Mock Exam platform, you can use the same email id (or username). If you forgot your password, click on this link to reset the password.