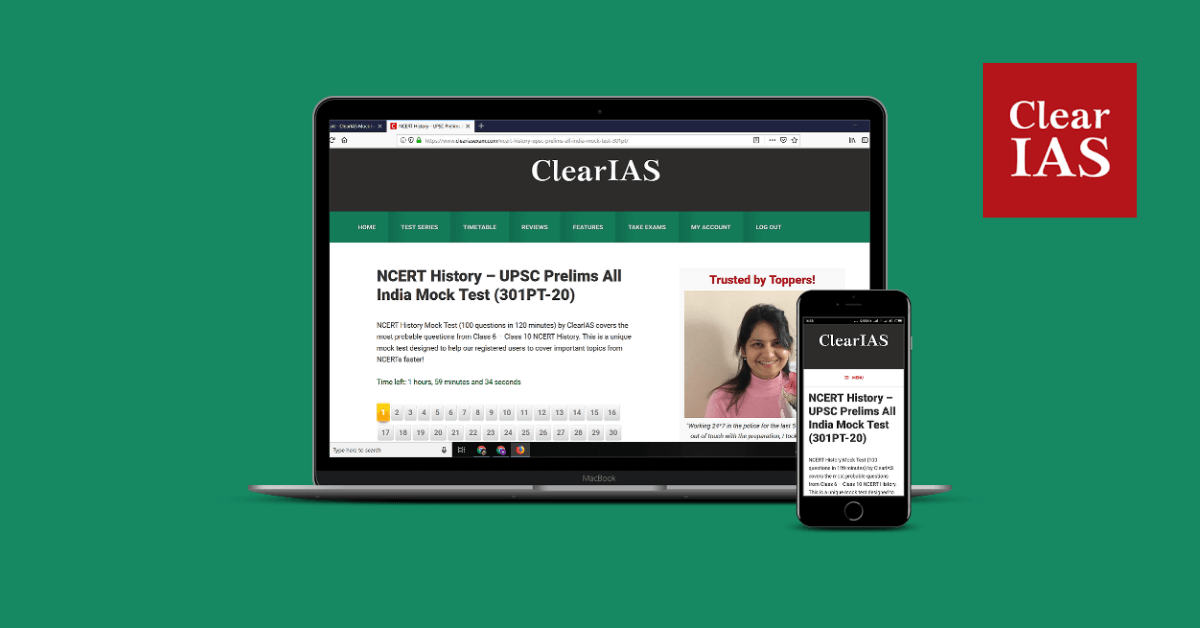 ClearIAS is one of the pioneers who come up with a test-based approach to clear the UPSC Civil Services Exam.
Today, let me start with the story of two IAS aspirants – candidate 'A' and candidate 'B'.
Both candidates have a deep desire to become IAS officers. However, their approach to succeeding in the exam is different.
Candidate 'A' believes that what one needs to crack the UPSC exam is 'knowledge'. He follows a highly bookish approach. He spends most of the time trying to finish books, coaching materials, and thousands of PDFs he collected from the internet.
However, the approach of candidate 'B' is different.
Candidate 'B' feels that not just 'knowledge' but also 'exam skills' are equally important to succeed in the UPSC Civil Services Exam. He too refers to quality text-books, however, he thinks bigger and follows a TTT approach – integrating Textbooks, Test series, and Techniques. He starts his IAS preparation by solving model question papers of the IAS exam – in a time-bound manner with negative marking. He joins a quality mock test series and makes test-taking a regular part of his preparation. He gets an early understanding of the requirements of the UPSC exam, the type of questions asked, and the priority areas from which questions are repeated.
Considering that there are only limited vacancies, who do you think has a better chance to succeed in the IAS exam – Candidate 'A' who followed a 'textbook' based approach OR Candidate 'B' who followed a 'test series based approach?
Clearly, Candidate B has a higher chance of success!
Why?
Because candidate B is better equipped to solve the UPSC questions.
Since candidate B has practised model questions in an exam-simulated environment with a timer and negative marking, he is highly adapted to the UPSC exam requirements. When he sees questions in the actual UPSC exam, he will not panic. He even might feel many questions in the exam similar to the question he practised earlier. That is not the case with Candidate A!
What is the best strategy by ClearIAS for a candidate to succeed in UPSC CSE?
If you ask any ClearIAS mentor about the best strategy he/ she can suggest for an aspirant which offers the maximum Return on Investment (RoI), the immediate reply will be the ClearIAS Prelims cum Mains (PCM) Program.
ClearIAS Prelims cum Mains (PCM) course is an umbrella program which offers most of the resources of ClearIAS like video classes, mock exams, study materials etc in a single package.
The PCM Course of ClearIAS offers almost everything you need to crack the UPSC CSE like:
Instant access to 700+ Hours of Expert Classes (recorded) which cover the entire UPSC CSE GS syllabus of Prelims and Mains
Automatic Access to the latest Current Affairs Classes (Live or Recorded)
Doubt Clearing Sessions
Personal Mentorship
Easy-to-learn Study Materials (PDF)
ClearIAS UPSC Prelims Online Mock Test Series
ClearIAS UPSC Previous Year Re-Take Exams
Interview Guidance etc.
We also offer sub-sets of the PCM Programs to those aspirants who wish to subscribe to smaller packages. The popular sub-packages are the PMB Program and the PMB+ Program.
The ClearIAS TTT Approach (3 Tools)
For those students, who cannot afford ClearIAS PCM, PMB, or PMB+ Programs, ClearIAS has conceptualised the TTT Approach to clear IAS – which includes 3 Ts (tools) – Textbooks, Test Series, and Techniques.
The shift from Text-based learning to Test-based learning!
The text-book only approach is the traditional method of preparation. Now, most smart aspirants prefer the test-based learning approach – as that is more efficient and exam-focused.
ClearIAS Test-based learning does not mean a full-stop to Text-Books.
No. Never.
In fact, ClearIAS has always suggested a 'TTT approach' – which is a mix of Text-Books, Test-series, and Techniques.
What I am intending to say in this article is to change the way you learn. Don't limit your learning to just textbooks. Include practice in your preparation right from the early days.
Can you learn to swim by just reading a book?
No! You need proper practice in water to be a good swimmer.
The same principle is true with respect to succeeding in exams.
Exam skills are equally important as knowledge to clear the IAS exam. You won't get it from textbooks. You need proper practice to get it!
That's why ClearIAS suggest an exam-oriented approach!
What is ClearIAS Test-based approach to clear IAS?
By ClearIAS Test-based approach, we mean integrating learning with test-taking in an innovative manner as we did in ClearIAS mock exam platform.
In ClearIAS Test-based approach you learn by taking mock exams.
There are 40 online mock exams in ClearIAS Prelims Test Series. Besides, there are about 10 re-take exams of previous year UPSC questions.
ClearIAS Prelims Test Series covers textbooks and techniques – the two 'T's in the TTT approach.
All important topics in the UPSC syllabus are covered via 40 mock exams based on a top-notch timetable that is easy to follow.
By practising 4000 model questions in these 40 mock exams, you cover the most probable questions for UPSC Prelims.
This method is faster and more efficient than conventional learning!
Think in the reverse direction
What is the formula to succeed in a highly competitive exam like UPSC Civil Services Exam (CSE)?
If you ask me, I would suggest you think in the reverse direction.
Imagine that you are sitting in the exam hall.
How many questions should you correctly answer to succeed in the exam?
My answer – 70 questions out of 100 questions.
This idea makes the whole process easy and simple.
You just need to get 70 questions correct to clear the cut-off. You can go wrong with 30 questions. Even after deducting the negative marks for 30 questions, you will end up in net 120 marks – which is well above the cut-off score in the last 5 years.
How to get 70 questions correct in UPSC CSE Prelims?
Practice maximum questions provided by ClearIAS.
Don't you think that if you practice 4000 questions in ClearIAS Prelims Online Mock Test Series, you get 40-50 questions directly or indirectly from the same? You may get even more. No textbook can guarantee such a Return on Investment (ROI)!
Now, apart from ClearIAS Prelims Test Series and UPSC Previous Year Re-Take Exams, we also release two types of high-utility PDFs (ebooks).
ClearIAS Current Affairs Capsules (CCC) – Monthly MCQs PDF (Red)
ClearIAS Most Probable Prelims Questions (CMPPQ) – Daily MCQs PDF (Green)
These PDF sets are available for download from ClearIAS Learning App.
You can learn about 3000 additional MCQs from CCC and CMPPQ sets – which further increase your chance of getting 70 questions correct.
Last but not least, practice ClearIAS Intelligent Elimination Techniques and ClearIAS Question Paper Solving Techniques to boost your marks.