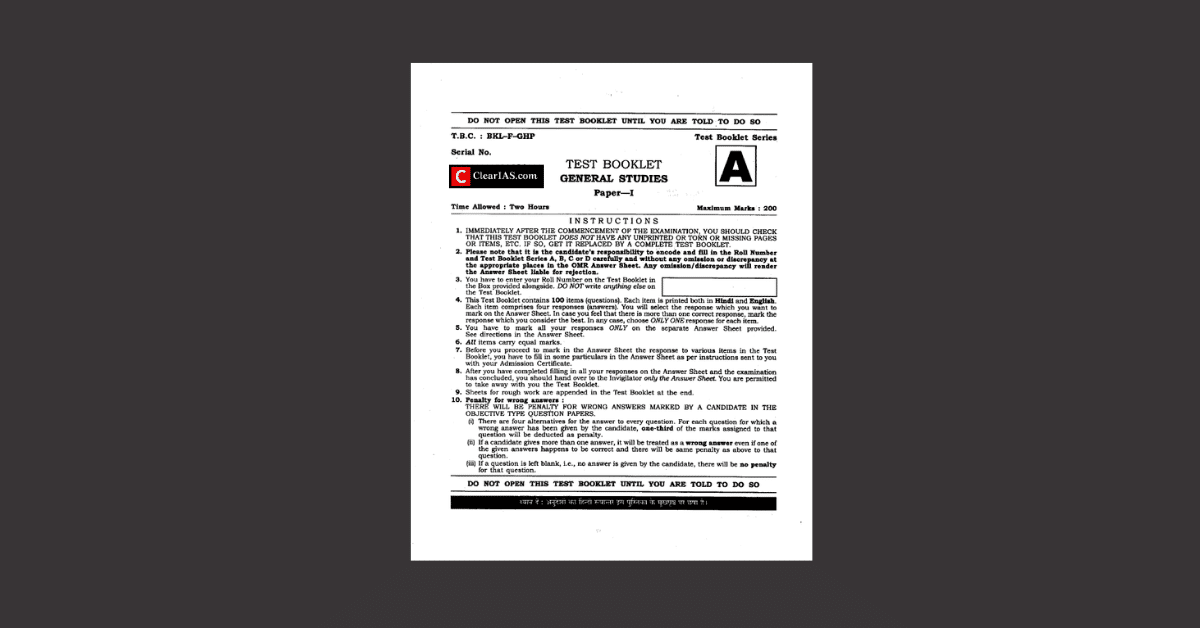 What were the UPSC Civil Services Preliminary Exam 2020 Question Topics? What were the 100 areas from which the Commission set questions this year?
UPSC successfully conducted Civil Services Examination 2020 (Prelims) across the country on October 04, 2020.
As usual, the questions in the IAS exam surprised many candidates. However, many of the questions were from the areas pinpointed by ClearIAS in our earlier posts. ClearIAS Intelligent Elimination Techniques (IETs) were also highly helpful to answer several questions.
From which areas did UPSC frame questions for this year IAS exam?
The experts who set the question-paper setting did a great job this year, by including questions from diverse areas. Most of the questions were worth including – generating interest in a well-educated youth.
Out of the 100 questions, 6 questions were related to the provisions from various Acts enacted by the Indian Parliament. Another prominent theme was National Parks and Wild Life Sanctuaries. Question on Buddhism too found a place.
Click here to watch the video in which I do a quick analysis of the 100 Question Topics in UPSC Prelims 2020.
Here are the question areas from which UPSC asked the 100 questions in Prelims 2020.
100 Topics from which UPSC framed Questions in UPSC Prelims 2020
Aadhar – The Aadhar Act and its provisions
Rajya Sabha and Loksabha
Fundamental Rights – Protection against untouchability
Separation of Judiciary from Executive
Budget – FRBM Act and its provisions
A constitutional government
Universal Declaration of Human Rights
Legal Services Authority – Legal Services Authorities Act 1987 and its provisions
Internationtional Agreement – Subject
Parliamentary System of Government
Welfare State
Basic Structure/Judicial Review – Important Judgments
Gandhism and Marxism
Bureaucracy
The preamble of Indian Constitution – Important Judgments—
The Gold Trance/Reserve Tranche
Part IV of the Indian Constitution
Representation of People Act 1951
Parliament Sessions
Ancient/Medieval India – Tileles and Jobs
Religious History of India – Buddhism
Industrial Revolution and Indian History
Ancient India – Chronology
Ancient India – Post Harsha – Hundi
Freedom Striuggke – Deshar Kadha
Gandhi Irvin Pact
Vital Vidhvansak – Journal
Kulyavapa and Drona vapa
Inscription
Cultural History of India – Parmita
Rakmabhai case of 1884
Indigo cultivation
Fort William College – Wellesley
Ulgulan or Great Tremult
Scholars and Rulers—
Human Reproductive Technology – Pro Nuclear Transfer
Artificial Intelligence
VLC Technology
Carbon Nanotubes
Drones – Recent Technology
Evolved LISA*
Genetic Engineering
Pneumococcal Conjugate Vaccines
Public Key Infrasctture
Difference between Plant and Animal Cells
Benzene Pollution—–
Global Financial Crisis
Aggregate Money Supply
Foreign Direct Investment
International Trade of India
West Texas Intermediate
Non-Financial Debt
Nuclear Reactors and IAEA safeguards
Trade-Related Investment Measure (TRIMS)
Expansionist Monetary Policy
Post-1991 liberation and workforce
District Central Cooperative Banks and Credit
Cyber Insurance
Public Investment in agriculture
Interest Coverage Ratio
Policies affecting the price of rice in India
Trade between India and other countries
G20
Kisan Credit Card Scheme
CPI and WPI—–
River Flows Into
Cereals Pulses and MSP
Commercial Paper, Certificate of Deposit, Call Money, Zero-Coupon Bonds
Cultural History of India – Upasaka—-
Indian Elephants
Protected Areas and Cauvery Basin
India's Biodiversity examples
Indian Swamp Deer Protected Area
Steel Slag
Musk deer natural habitat
Road construction and carbon footprint
Coal ash and coal-fired power plants
Biochar
The Wildlife Protection Act and its provisions
Gupta towns
Zero Tillage in Agriculture
India's National Policy on Biofuels
Social Cost of Carbon
Pulse Production in India
SubTropical Crop
Solar water pumps
Current trends in the cultivation of sugar cane in India
Eco-friendly agriculture
Fertigation in agriculture
Major minerals
Ocean Mean Temperature
Chemical Fertilizers
India's Desert National Park
Siachin Glacier Location
Famous Place- Present State
Central Ground Water Authority – Environment Protection Act and its provisions
Jet stream
Tiger Reserve – Critical Tiger Habitat
Do you wish to refer UPSC CSE Prelims 2020 question paper?
The above mentioned are the question topics or areas.
If you need to go through the actual questions, refer the link – UPSC Civil Services Preliminary Exam 2020 Question Paper.
Re-think: Is your preparation in the right direction?
If you are unable to clear Prelims time and again, it's time to re-think.
Is it your fault or the fault of the method adopted by your online/offline trainers (coaching institutes)?
Are the methods of teaching adopted by most coaching institutes (and some popular websites or youtube channels) relevant for UPSC?
Are the teachers or trainers adapting themselves to the new trends set by UPSC?
Do they have a clear understanding of the new (and constantly changing) priorities of the UPSC?
We don't want to comment on others at this point, we just want our performance to do the talk.
We will be posting questions asked by UPSC similar to those provided by ClearIAS in the coming days.