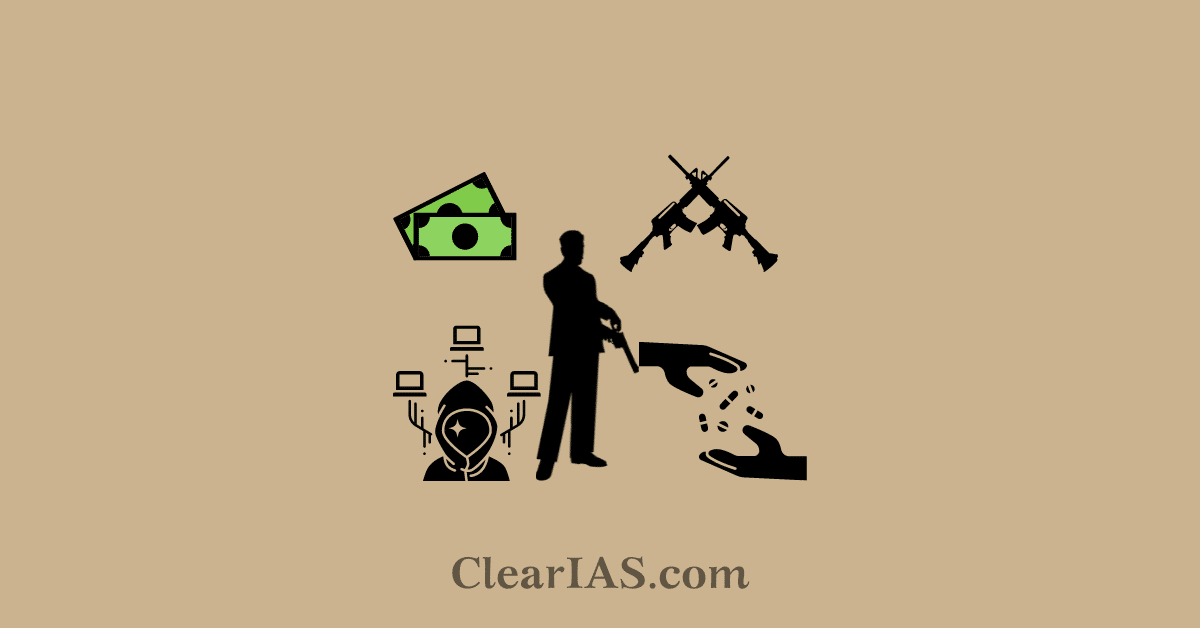 What do the linkages of organized crimes with terrorism mean? Read here to understand the connection and its consequences.
Linkages between organized crimes and terrorism are multidimensionally resulting in a serious threat to national and international peace, security, and harmony.
What are organized crimes?
Organized crime is a local, national or transnational group of centralized organizations run by criminals to carry out illegal activities for money. Organized crime can be motivated by political agendas as well apart from terrorist groups, rebel forces, and separatists.
There are various terms used for criminal organizations like a gang, mafia, mob, ring, or syndicate. There have been sociological studies on the oldest Sicilian mafia along with the economic studies of organized crime groups like the Russian mafia, the Chinese triads, the Hong Kong Triads, and the Japanese Yakuza.
Organized crime is considered to be a changing and flexible phenomenon. Many of the benefits of globalization such as easier and faster communication, movement of finances, and international travel, have also created opportunities for transnational organized criminal groups to flourish, diversify and expand their activities.
Traditional, territorial-based criminal groups have evolved or have been partially replaced by smaller and more flexible networks with branches across several jurisdictions. In the course of an investigation, victims, suspects, organized criminal groups, and proceeds of crime may be located in many States.
Moreover, organized crime affects all States, whether as countries of supply, transit, or demand. As such, modern organized crime constitutes a global challenge that must be met with a concerted, global response.
Terrorism
According to Interpol, terrorism encompasses a range of complex threats: organized terrorism in conflict zones, foreign terrorist fighters, radicalized 'lone wolves, and attacks using chemical, biological, radiological, nuclear (CBRN), and explosive materials.
International terrorism: Violent, criminal acts committed by individuals and/or groups who are inspired by, or associated with, designated foreign terrorist organizations or nations (state-sponsored).
Domestic terrorism: Violent, criminal acts committed by individuals and/or groups to further ideological goals stemming from domestic influences, such as those of a political, religious, social, racial, or environmental nature.
Many factors have contributed to the evolution of the terrorism threat on both the international and domestic fronts, such as:
Lone offenders: Terrorist threats have evolved from large-group conspiracies toward lone-offender attacks. These individuals often radicalize online and mobilize to violence quickly. Without a clear group affiliation or guidance, lone offenders are challenging to identify, investigate, and disrupt.
The Internet and social media: International and domestic violent extremists have developed an extensive presence on the Internet through messaging platforms and online images, videos, and publications. These facilitate the groups' ability to radicalize and recruit individuals who are receptive to extremist messaging. Social media has also allowed both international and domestic terrorists to gain unprecedented, virtual access to people.
Differences between organized crimes and terrorism:
The differences between them rest on means and ends:
Terrorism aims to overthrow the existing government by altering the status quo. Organized crime, on the other hand, aims to form a parallel government while coexisting with the existing one.
Secondly, terrorism primarily uses violent means, whereas theoretically organized crime prefers to be non-violent but not always.
Third, terrorism is driven purely by political objectives despite the exploitation of regional, national and religious sentiments to achieve their ends; while, economic objectives are the core of operations of organized crime.
Linkages of organized crimes with terrorism
Organized crimes and terrorism exist because of ineffective governance and weak law and order set up in a country.
Terrorists can benefit from organized crime as a source of financing or logistical support through the illicit trafficking of arms, persons, drugs, artifacts, and cultural property.
But terrorist groups can also benefit from the illicit trade in natural resources and wildlife, the abuse of legitimate commercial enterprise, donations, and proceeds of criminal activity, including kidnapping for ransom, extortion, and bank robbery, as well as piracy.
Transnational organized criminal groups seek to exploit legitimate activities for criminal purposes. How they are reaping profit is becoming more creative.
As organized crime groups join ever more complex networks spanning the globe, the crimes become increasingly transnational and the types of crime they can commit become diversified.
New threats to global security are emerging, meaning that people can fall victim to organized crime in an increasing number of ways, in an increasing number of places.
Many factors help the growth of organized crime which eventually aids the larger realm of terrorism-
Increasing demands for illegal goods in the global market like the trade of Human organs, endangered wildlife, drugs, etc.
Geographical terrain and open borders.
Globalization had brought new opportunities and markets for illegal activities of such groups.
Illegal relations between politicians, bureaucrats, and criminals
The criminalization of politics.
Technology also helped them to operate safely.
The globalization of the economy has helped crime syndicates carry out their illegal activities across the borders with great ease. This has been further facilitated by the phenomenon of digital money. Such organizations, very conveniently find safe havens outside the country.
Linkages between organized crimes and terrorism in India
In India, the linkages between the two exist at national and transnational levels. At the national level, both terrorists and those involved in organized crime are within India. At the international level, collaboration exists between transnational syndicates and terrorists from inside and outside India.
India's proximity to drug-producing regions like Golden Crescent in the West and Golden Triangle in the East has always been a cause of worry.
In the Northeast, extortion is the fundamental basis for funding all forms of terrorism. In addition to this, kidnapping has been used extensively for spreading terror and raising funds. Human trafficking, drug trafficking, and gun-running are some of the other criminal activities that have been common in these areas.
In J&K, counterfeit currency has been a major source of funding for terrorism.
In the Maoist terror movements, extortion is yet again a common phenomenon. They have also indulged in robberies of banks to fund their movement. There have also been reports of cuts being enforced on drug-yielding crops in the region.
The Indian Mujahideen have also resorted to crime to raise funds. This includes robberies, kidnappings, etc.
There are also several insurgent groups that over some time have morphed into crime syndicates. What began as an ideological movement is now merely a means of generating profit. This is especially the case with insurgent groups in Northeast India.
Another significant relationship between organized crime and terrorism, especially in Kashmir, is through the spread of counterfeit currency. Terrorists are the main couriers of Indian counterfeit currency inside Kashmir, which then spreads all over India. Even guides for the militants from across the border are paid with counterfeit money.
Global efforts to curb organized crimes and terrorism
The Conference of the Parties to the United Nations Convention on Transnational Organized Crime (UNTOC) identified cybercrime, identity-related crimes, trafficking in cultural property, environmental crime, piracy, organ trafficking, and fraudulent medicine as new and emerging crimes of concern. The emergence of these new crime types gives rise to the need for law enforcement response to adapt its efforts and capacities accordingly.
The Convention represents a major step forward in the fight against transnational organized crime and signifies the recognition by the Member States of the seriousness of the problems posed by it, as well as the need to foster and enhance close international cooperation to tackle those problems.
States that ratify this instrument commit themselves to take a series of measures against transnational organized crime, including the creation of domestic criminal offenses (participation in an organized criminal group, money laundering, corruption, and obstruction of justice);
The adoption of new and sweeping frameworks for extradition, mutual legal assistance, and law enforcement cooperation;
And the promotion of training and technical assistance for building or upgrading the necessary capacity of national authorities.
Addressing the linkages between organized crime and terrorism has become an increasing priority for the international community. The UN has adopted several resolutions focused on addressing the links between terrorism and various forms of organized crime.
UNODC supports links between organized crime and terrorism through a variety of projects. This includes initiatives on improving border management, such as profiling high-risk passengers and cargo, facilitating international cooperation, and combating the financing of terrorism.
In 2019, the Security Council adopted resolution 2482, which urged Member States to address the links between terrorism and organized crime, by adopting policy measures.
Great strides have been made to better understand the linkages between terrorists and organized criminal groups owing to the adoption of Resolution 2482 with the emphasis on the following measures:
Ratifying relevant legal instruments, including the global counter-terrorism instruments, the Convention against Transnational Organized Crime, and the international drug control conventions;
Fighting money-laundering, terrorist financing, and corruption by firming up Financial Intelligence Units, following relevant United Nations instruments and resolutions and Financial Action Task Force (FATF) recommendations, as well as building public-private partnerships;
Strengthening border security and international coordination, for example by collecting and analysing API/PNR passenger data;
Implementing comprehensive responses to drug demand and illicit drug trafficking;
Improving prison management, to prevent radicalization to violence and recidivism; and
Developing strategies incorporating whole-of-society approaches to prevent and counter violent extremism.
These can facilitate the legislative, policy, and operational responses.
Challenges
India has no legal framework to punish organized crimes in  India,  some of the states have but that is not sufficient enough.
The existing general conspiracy laws and Act are inadequate as it targets individual only, we don't have laws for criminal groups.
It is very difficult to find proof, that organized crime groups are structured hierarchically,  it is not possible to have the actual perpetrators, and there is no legal backing for witnesses, as there is no law for the protection of witnesses against these organized gangs.
The witness doesn't provide the actual details of the incident, there is a lack of details and training for the police officers to catch hold of these gangs we have a lack of staff in the police stations.
We have a poor criminal justice system, and most of the states don't have enough resources to fund the agencies, there is no power agency for the investigation of organized crimes.
Moreover, India doesn't have any national-level organization to coordinate the work of the state, city police as well as central executive agencies, there is also no agency to gather,  accumulate, or investigate,  documents related to organized crimes, and lack of exchange of information, followed by lack of corporate framework, there is problems of coordination between the central and the state government or between states, viewpoint clashes, etc.
Conclusion and Way forward
The linkages between organized crimes and terrorism are not absolute as in most developed nations organized crimes thrive with few or are independent of terrorist activities.
The linkages exist in regions of poor governance and order. While organized crime involves many activities, its linkages with terrorism stem from the illegal trafficking of drugs, arms, and human beings and money laundering. Terrorist groups, whether indigenous or sponsored by outside states, need arms and money for their fight against the security forces.
Organized crime is not only a national-level threat but has emerged as an international threat, where all the countries must come together and globally respond to it. The police department should be well equipped with trained staff, modern weapons, and increased manpower, we need to increase our cyber security safety,  along with increasing coastal security, with registration on wooden boats which is an easy way for terrorists to enter  India.
The government should introduce hi-tech software to track organized crime groups. Technology, Manpower, and intelligence must work together to organized crime in India, and especially agencies should be formed for this matter.