UPSC published the marksheet of all candidates who took Civil Services Preliminary and Main exam 2015. ClearIAS in this post has included a brief analysis of the trends in UPSC marks for different papers in last few years too. Candidates who took CSE 2015 Prelims/Mains/Interview can post their marks and views in the comment section below.
Download the marksheet of UPSC Civil Services Preliminary Exam 2015
Step 1: Check the upsconline.nic.in marksheet link.
Step 2: Enter Your UPSC Civil Services Preliminary Exam 2015 Roll Number.
Step 3: Select your Date Of Birth.
Step 4: Select if your applied for CSE(P), IFoS or both.
Step 5: Confirm random image and submit.
Note: Marks for UPSC CSE Prelims that would have fetched a mains call is as below. (Marks out of 200).
General – 107.34, OBC – 106.00, SC – 94.00, ST – 91.34, PH1 – 90.66, PH2 – 76.66 and PH3 – 40.00.
In addition to the minimum qualifying marks stated above for GS Paper 1 (marks out of 200), the candidate has to score above 33% marks for GS Paper 2.
Download the marksheet of UPSC Civil Services Main Exam 2015 – Those who didn't qualify the mains (written) exam
Download the marksheet of UPSC Civil Services Main Exam 2015 – Those who qualified mains (written) 
exam
Note: UPSC would not have indicated the marks of compulsory papers in the mark-sheet of those who qualified the written exam.
Trend Analysis – Marksheet of UPSC Civil Services Main Exam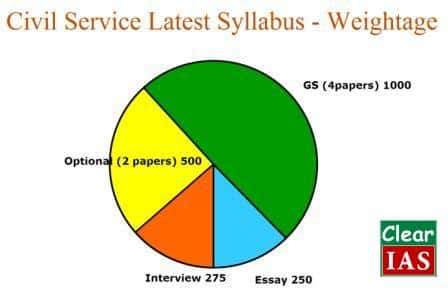 As we have seen in the post about cut-off marks for UPSC CSE 2015, the mains cut-off marks for various categories is as follows: General – 676, OBC – 630, SC – 622, ST – 617, PH1 – 580, PH2 – 627 and PH3 – 504. Marks needed to be included in the final rank list for UPSC CSE 2015 is as below (Marks out of 2025) were General – 877, OBC – 834, SC – 810, ST – 801, PH1 – 802, PH2 – 830 and PH3 – 697.
Essay marks:
UPSC shifted to the pattern of 2 essays per paper from 2014. As we go through the marks of various aspirants and students in 2015, we see a much wider variation in essay marks, when compared to the performance of essay paper in 2014. A score above 120 plus seems good this year and 140+ exceptional.
GS Paper 1 marks
The valuation was sort of liberal with GS Paper 1, just like last year, with many aspirants scoring above 90 marks.
GS Paper 2 marks
GS Paper 2, was low scoring compared to last year. Many aspirants who scored 90+ marks in the other three GS papers, failed to replicate the same feat in GS Paper 2, possibly due to tight evaluation. As per this year standards, any mark above 85 for GS paper 2 is exceptional.
GS Paper 3 marks
Defying the trends for last 2 years, GS Paper 3 brought relief to most candidates. This paper was high scoring, and many candidates crossed the 100-mark barrier.
GS Paper 4 marks
Compared to 2014, 2015 ethics paper was evaluated on higher standards. Though 100+ marks not uncommon, the frequency is not as high as in 2014. On the negative side, ethics paper spoiled that chances of many, as the average marks came down in the 80's.
Optional papers
We need more data to analyse the performance/success ratio of different optional subjects (you can add your marks in comments section below), but many promising candidates got only double-digit marks in optionals like Pub Ad, Geography, etc. Literature papers too seem to be badly affected, with poor conversion rate and low marks. Overall, in 2015 CSE, most toppers failed to replicate the success of 2014 by securing 300+ marks. This may be because of the standards set for evaluation or because of the normalization (scaling) effect. UPSC seems to want those who score high for GS to join civil services. They might not want optional paper to be the decider, but General Studies (GS).
Interview
Interview evaluation too was on a tigher side. This year UPSC board members seem to restrict themselves from awarding very high marks. This is evident from the fact that the highest mark awarded for the interview this year is 209 out of 275, and not 220 like last year. Also, the minimum qualifying marks for selection of general category candidates came down by 22 marks to 877.
Overall trend summary
2013 CSE was very low scoring for both GS and optional paper. Then, those who scored high on optional paper easily secured top ranks. 2014 CSE results surprised many as both GS and optional paper turned high scoring. 2015 results seem to be a mix of both – GS remained high scoring, but optional paper marks came down to 2013 standards! Nobody knows what surprise UPSC has been keeping for coming years!
What should you do: Practice, Practice, Practice!
If you didn't make it this time, don't lose heart! Don't blame UPSC or your bad luck. No human made system is perfect. As it is clear from the above trends, the UPSC question/evaluation standards keep changing. To taste success, a lot of factors have to come together. You may need to re-invent strategies. Don't worry about the things that are out of your control. Just focus on things that are under your control. Make sure your fundamentals are strong. Take mock tests. Do smart work. Success will be yours!