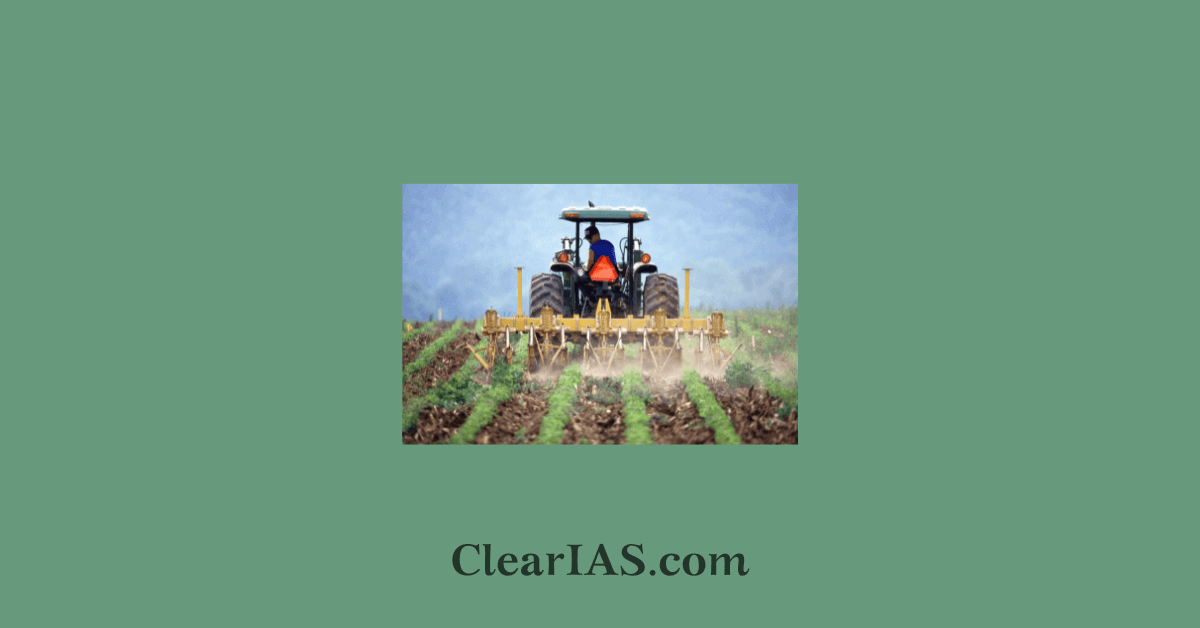 Mechanization of Indian Agriculture depends on various factors such as socioeconomic conditions, geographical conditions, crops grown, and irrigation facilities. For the promotion of agricultural mechanization in the country, a Centrally Sponsored Scheme 'Sub-Mission on Agricultural Mechanization' (SMAM) is being implemented through the State Governments since 2014-15. Read here to learn more about the status of agricultural mechanization in India.
Agriculture and allied sectors contribute approximately 14 percent to GDP and 49.6 percent to the labor force. The importance of agriculture is higher in rural areas with 57 percent of the rural population employed in the sector and 60 percent of the household dependent on it.
The agricultural sector is facing several challenges small farm holdings, which are continuing to decrease in size, decreasing farm labor (estimated to drop to approximately 26 percent of the labor force by 2050), and a future water scarcity crisis to name a few.
Farmers' income has not been able to keep pace, such as to cater to increasing costs of production including that of rising labor wages. Hence, there is a strong case for labor-substituting farm/agriculture machinery.
Parallelly, it is also important to note, that several activities are highly time-bound, and unless executed as per schedule, the farmer is likely to suffer loss. Agriculture mechanization is an appropriate answer to such challenges.
Mechanization of Indian Agriculture
The farm mechanization levels assessed by the Indian Council of Agricultural Research (ICAR) for major cereals, pulses, oil seeds, millets, and cash crops indicate that:
The seedbed preparation operation is highly mechanized (more than 70%) for major crops
Harvesting and threshing operation is the least mechanized (lower than 32%) for major crops except for rice and wheat crops.
In seedbed preparation, the mechanization level is higher in rice and wheat crops as compared to other crops.
However, the mechanization level for sowing operations is the highest for wheat crops (65%).
The mechanization levels in planting/transplanting operations for sugarcane and rice crops are 20% and 30%, respectively.
In the case of harvesting and threshing, the mechanization levels in rice and wheat crops are more than 60% and very less in cotton crops.
Farm power availability in India is estimated at 2.02 kW/hectare. Mechanization level in India is about 40-45 percent with states such as UP, Haryana, and Punjab having very high mechanization levels but north-eastern states having negligible mechanization.
In the dairy and livestock sector, which is largely integrated with an associated industry, the adoption of mechanization has been more common.
In the fisheries sector, the adoption of mechanization has been even more, and it has reaped major benefits.
The use of improved implements has the potential to increase productivity by up to 30 percent and reduce the cost of cultivation by up to 20 percent. At present, Indian farmers are adopting farm mechanization at a faster rate in comparison to the recent past.
According to the World Bank estimates, half of the Indian population would be urban by the year 2050.
It is estimated that the percentage of agricultural workers in the total workforce would drop to 25.7% by 2050 from 58.2% in 2001.
Thus, there is a need to enhance the level of farm mechanization in the country. Due to the intensive involvement of labor in different farm operations, the cost of production of many crops is quite high.
Advantages of mechanization of Indian agriculture
Farm mechanization or more appropriately agriculture mechanization will have a positive impact in numerous ways-
It will let off the wage labor as also the farmer of the drudgery involved in manual operations.
enhanced manpower productivity since skills is integral to machine-based operations.
Effective use of agriculture machinery helps to increase productivity & production of output, undertake timely farm operations, and enable the farmers to quickly rotate crops on the same land.
Mechanization also helps in animal husbandry, dairying, and fisheries.
Farm mechanization not only provides optimal utilization of resources e.g., land, labor, and water but helps farmers to save valuable time and also reduces drudgery.
Mechanization results in a shift from 'subsistence farming' to 'commercial agriculture. This shift occurs mainly due to the need for more land and capital to be associated with farmers to reap the full technological benefits.
It results in a significant modification of the social structure in rural areas. It frees the farmers from much of the laborious, tedious, hard work on the farms. The pressure on land decreases and the status of the farmers improves.
Limitations for mechanization of Indian agriculture
Farm mechanization and crop productivity have a direct correlation as farm mechanization saves time and labor, reduces drudgery, cut down production costs in the long run, reduces postharvest losses, and boosts crop output and farm income.
However, given the scale of India's agricultural sub-sectors, mechanization is yet to penetrate all across regions and farm types
Lack of access to farm power is one of the primary reasons for the slow uptake of farm mechanization and hence the non-intensification of farm productivity, particularly among small and marginal farmers.
One of the main limitations to deploying farming machines is the capacity of a farm to efficiently own such equipment.
Farm equipment is capital-intensive, making it a major investment for small and marginal farmers.
Quality of after-sale service is another concern due to the inadequacy of proper maintenance in remote regions of rural areas.
The unwillingness of commercial banks to finance farm equipment is one of the biggest impediments to the increase in mechanization level in India.
The basic defect of mechanization is that it will result in too many agricultural workers becoming surplus. Millions of farmers will be thrown out of land and will have to be provided alternative sources of employment.
Initiatives of the Government of India to Promote Farm Mechanization
Agricultural mechanization is crucial in the agriculture sector as it contributes towards improving the efficiency and effectiveness of the inputs used in crop production thereby also increasing the productivity of crops. This also reduces the drudgery associated with various farm operations.
Sub Mission on Agricultural Mechanization (SMAM)
To boost farm mechanization in the country, a special dedicated Centrally Sponsored scheme 'Sub Mission on Agricultural Mechanization (SMAM)' has been introduced by the Government of India in 2014-15.
The scheme aims at 'reaching the unreached' by making farm machines accessible and affordable for small and marginal farmers (SMFs) through the establishment of Custom Hiring Centers (CHCs), creating Hubs for hi-tech & high-value farm equipment, and Farm Machinery Banks.
Distribution of various subsidized agricultural equipment and machines to the individual farmer is also one of the activities under the scheme.
Purchasing farm machines for SMFs is not financially feasible therefore custom hiring institutions provide hiring options for machines to SMFs.
Creating awareness among stakeholders through the demonstration of machine operations and skill development of farmers and youth and others are also components of SMAM.
The performance testing and certification of machines at designated testing centers located all over the country are ensuring farm machinery qualitatively, effectively, and efficiently.
Under this scheme, financial assistance at 40% to 50% of the cost of machines depending on the categories of farmers, is provided for the purchase of agricultural machines.
Financial assistance at 40% of the project cost is also provided to rural youth & farmers as an entrepreneur, Cooperative Societies of Farmers, Registered Farmers Societies, Farmer Producer Organizations (FPOs), and Panchayats for the establishment of Custom Hiring Centres (CHCs), and Hi-tech hubs of high-value agricultural machine.
Way forward
Better mechanization of Indian Agriculture requires more establishment of custom hiring centers and the development of an institutional framework for these centers are essential steps that need to be taken.
Make In India can be used to support local manufacturing of farm implements currently being imported.
Corporate Social Responsibility funds can be used for the capacity-building initiative in the farm equipment space as well as promoting a sustainable agricultural ecosystem.
It is pertinent to devise a framework that would strengthen the credit policy for farm machinery in India. Credit guarantee fund currently facilitates loans for micro, small, and medium enterprises (MSMEs). Similar models should be devised for the farm machinery sector as well.
-Article written by Swathi Satish