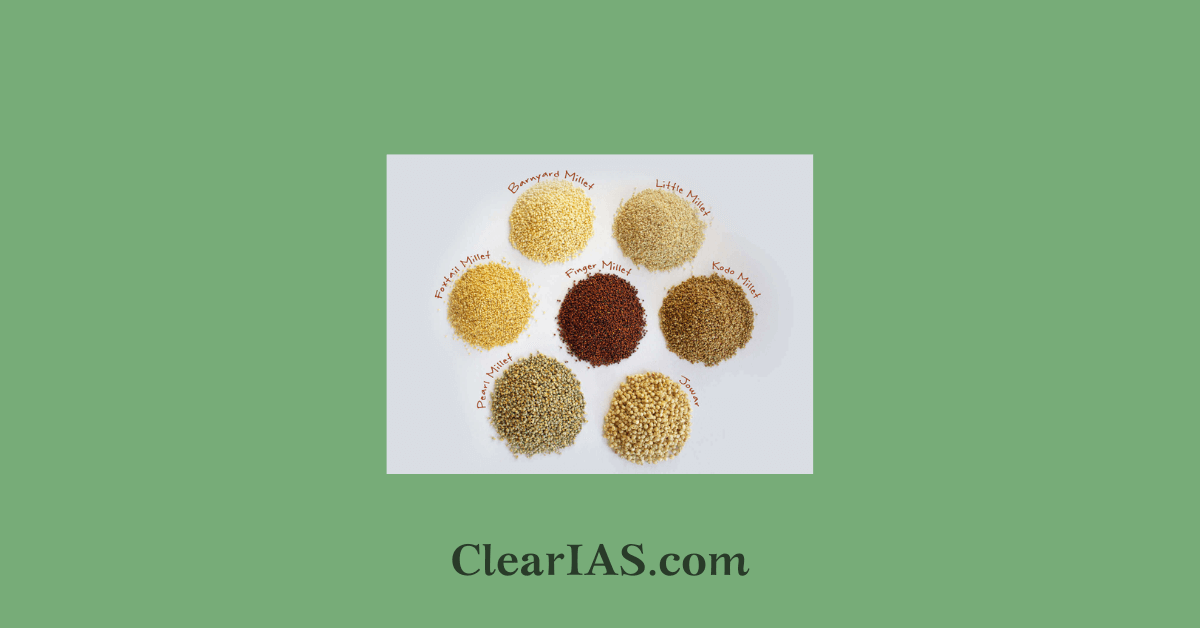 The United Nations declared the year 2023 as the International Year of the Millet, following a proposal by India, which wants to position itself as a global hub for millet. Millets have historically been part of the Indian subcontinent for centuries. Read here to know more about it.
As the global agrifood systems face challenges to feed an ever-growing global population, resilient cereals like millets provide an affordable and nutritious option, and efforts need to be scaled up to promote their cultivation.
The United Nations General Assembly at its 75th session in March 2021 declared 2023 the International Year of Millets (IYM 2023).
UN Food and Agriculture Organization (FAO) is the lead agency for celebrating the Year in collaboration with other relevant stakeholders.
International year of millets 2023
International year of millets 2023 will be an opportunity to raise awareness of, and direct policy attention to the nutritional and health benefits of millets and their suitability for cultivation under adverse and changing climatic conditions.
The Year will also promote the sustainable production of millets while highlighting their potential to provide new sustainable market opportunities for producers and consumers.
International Year of millets provides a unique opportunity to:
raise awareness of, and direct policy attention to the nutritional and health benefits of millet consumption
the suitability of millets for cultivation under adverse and changing climatic conditions
creating sustainable and innovative market opportunities for many countries around the work for millets to benefit farmers and consumers globally.
IYM 2023 hopes to galvanize interest in millets among various stakeholders like farmers, the youth, and civil society and push governments and policymakers to prioritize the production and trade of these cereals.
Millets
Millets encompass a diverse group of cereals including pearl, proso, foxtail, barnyard, little, kodo, browntop, finger, and Guinea millets, as well as fonio, sorghum (or great millet), and teff.
They are an important source of nourishment for millions of people in sub-Saharan Africa and Asia.
They are deeply rooted in Indigenous Peoples' culture and traditions and help guarantee food security in areas where they are culturally relevant.
India, Nigeria, and China are the largest producers of millet in the world, accounting for more than 55% of global production.
Significance of millets
Millets can grow on arid lands with minimal inputs and are resilient to changes in climate. They are therefore an ideal solution for countries to increase self-sufficiency and reduce reliance on imported cereal grains.
Millets can play an important role and contribute to our collective efforts to empower smallholder farmers, achieve sustainable development, eliminate hunger, adapt to climate change, promote biodiversity, and transform agri-food systems.
Greater millet production can support the livelihoods of smallholder farmers and can provide decent jobs for women and youth.
The revenue created can boost economic growth. With the possibility of a healthy cereal alternative with millet, the risks associated with production shocks can be mitigated.
Millets include various nutrients and minerals essential for the human body, hence increasing intake will aid in enhancing people's health in India and worldwide.
Dietary fiber found in millet helps regulate blood pressure and sugar levels.
Millets are hardy crops against disease/pests and are also grown as trap crops in Oilseed and Pulses for control of disease and pest management. Therefore, they require lesser support for chemicals, fertilizers, and pesticides.
Even though there has been an increase in millet's popularity since Covid, there is still a long way to go. Millets must be produced more to increase their consumption and satisfy future demand.
India for International Year of Millets
Millets were among the first crops to be domesticated in India with several evidence of its consumption during the Indus valley civilization.
Being grown in more than 130 countries at present, Millet is considered traditional food for more than half a billion people across Asia and Africa.
In India, millets are primarily a Kharif crop, requiring less water and agricultural inputs than other similar staples.
India produces all the nine commonly known millets and is the largest producer and fifth-largest exporter of millets in the world.
Rajasthan, Uttar Pradesh, Haryana, Gujarat, Madhya Pradesh, Maharashtra, Karnataka, Tamil Nadu, Andhra Pradesh, and Telangana are the major millets producing states.
Before the Green Revolution, millets made up around 40 percent of all cultivated grains, which has dropped to around 20 percent over the years.
Millets are important by the virtue of their mammoth potential to generate livelihoods, increase farmers' income and ensure food & nutritional security worldwide.
Recognizing the enormous potential of Millets, which also aligns with several UN Sustainable Development Goals (SDGs), the Government of India has prioritized Millets.
In April 2018, Millets were rebranded as "Nutri Cereals", followed by the year 2018 being declared as the National Year of Millets, aiming at larger promotion and demand generation.
The global millets market is projected to register a CAGR of 4.5% during the forecast period between 2021-2026.
The Department of Agriculture & Farmers Welfare has taken a proactive multi-stakeholder engagement approach (engaging all the central government ministries, states/UTs, farmers, start-ups, exporters, retail businesses, hotels, Indian Embassies, etc.) to achieve the aim of International Year of millets 2023 and taking Indian millets globally.
Ministries, states, and Indian embassies have been allocated focused months in 2023 to carry out various activities for the promotion of IYM and increase awareness about the benefits of millets for the Consumer, Cultivator, and Climate.
Embassies of India across more than 140 countries will be participating in the celebration of the International Year of Millets during 2023 by conducting side events on IYM involving the Indian Diaspora through exhibitions, seminars, talks, panel discussions, etc.
Millets are also an integral part of the G-20 meetings and delegates will be given a true millet experience through tasting, meeting farmers, and interactive sessions with start-ups and FPOs.
Initiative for Nutritional Security through Intensive Millets Promotion (INSIMP) was launched in 2011-12 to demonstrate improved production and post-harvest technologies in an integrated manner.
The government also has hiked the Minimum Support Price of Millet, which came as a big price incentive for farmers.
Way forward
Over the years, the consumption of millets has declined, and the area under production has been replaced with commercial crops, oilseeds, pulses, and maize.
Commercial crops are profitable, and their production is supported by several policies through subsidized inputs, incentivized procurement, and inclusion in the Public Distribution System.
This has resulted in changes in dietary patterns with preferential consumption of fine-calorie-rich cereal.
But the time has come to recognize the importance of millet and create a domestic and global demand along with providing nutritious food to the community.
Previous year question
Concerning 'Initiative for Nutritional Security through Intensive Millets Promotion', which of the following statements is/are correct? (2016)
This initiative aims to demonstrate the improved production and post-harvest technologies and to demonstrate value addition techniques, in an integrated manner, with a cluster approach.
Poor, small, marginal, and tribal farmers have a larger stake in this scheme.
An important objective of the scheme is to encourage farmers of commercial crops to shift to millet cultivation by offering them free kits of critical inputs of nutrients and micro irrigation Equipment.
Select the correct answer using the code given below:
(a) 1 only
(b) 2 and 3 only
(c) 1 and 2 only
(d) 1, 2 and 3
-Article written by Swathi Satish