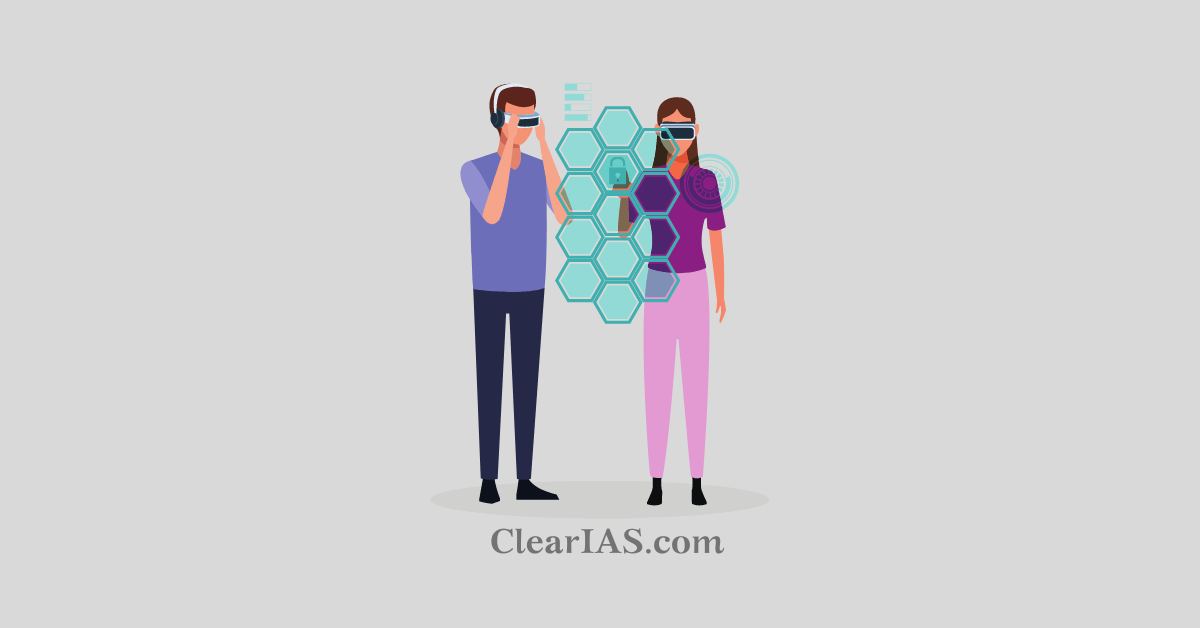 If you are wondering what will be the future of the internet, the answer may be Metaverse. What is metaverse? Who is creating metaverse? Read to know more.
Have you ever visited any amusement park or shopping mall that offers 3D Virtual Reality?
Have you ever played video games with your digital avatars?
If yes, you may be able to understand the concept of Metaverse quite easily.
Metaverse is an elaborated version of these virtual reality platforms with personalized digital avatars.
Metaverse: A virtual universe
Instead of sitting at the game console and watching the game unfold on the screen, what if you can participate as the player inside the game?
What if you sitting in Delhi can take dinner with your family living in Mumbai at a restaurant table located in Kolkatta?
Yes, the metaverse is a virtual world where people interact via their digital avatars!
In that virtual world, people will be able to do almost anything – go shopping, attend meetings, play with their friends and so on.
This virtual universe can be accessed from devices like smartphones, or computers. However, to get the complete immersion experience – specific hardware devices like virtual reality headsets, augmented reality glasses, gaming consoles etc are recommended.
So, what is metaverse?
You can call it a platform, environment, ecosystem, world, or universe.
We call it a futuristic virtual universe.
Need a more elaborate definition?
Metaverse is a futuristic digital world where people get chances to immerse in virtual and augmented versions of reality through their digital avatars.
Metaverse: The Word Meaning
Metaverse is a combination of the words 'meta' and 'universe'.
'Meta' means 'Beyond'.
So metaverse is a universe that is beyond the universe as we know it. It exists in the virtual realm but feels just as real.
Where did the idea of metaverse originate?
The term 'metaverse' was first mentioned in the 1992 science fiction novel 'Snow Crash' by Neal Stephenson.
The novel is set in a dystopian world where the governments have ceded power to the private corporations and have references to many present-day aspects of the modern world such as virtual reality, digital currency, etc.
Many movies have explored this concept such as 'The Matrix', 'Ready Player One', 'The Tron Legacy' etc.
Why Metaverse is in news?
Multiple companies investing in metaverse-related technologies.
Facebook recently changed its name to 'Meta' to align the company with its ambitions to build the 'metaverse'.
Microsoft has come up with its 'Mesh' platform which has mixed reality capabilities.
Nvidia is working on their own versions of the virtual universe.
Epic, the company behind the video game phenomenon Fortnite, has moved beyond games to social experiences like dance parties and virtual music concerts.
Metaverse: The future of the internet?
The metaverse is not yet a reality, it is still a work in progress.
However, metaverse could be the next evolution of the internet.
Many are hypothesising that metaverse will be the next iteration of the internet.
How is Metaverse different from the present form of the Internet?
The present form of the Internet is two-dimensional ie 2D.
If you are browsing Facebook, you are seeing your social connections on a 2D screen as 2D images, right?
2D to 3D is the next move.
So Metaverse is internet rendered in 3D! OR Internet brought to life!
Metaverse: Everything you need to know
Metaverse will include elements from both physical and virtual worlds.
The metaverse will be decentralized (just like the internet).
Nobody owns the metaverse like how nobody owns the internet. It is an open platform.
There will be many companies and individuals that will operate their own spaces within the virtual world.
A metaverse is a form of mixed reality ie a combination of augmented and virtual reality.
Metaverse will introduce digital elements in the real world.
Metaverse will support 3-D virtual spaces.
3D spaces in the virtual world will let you socialize, learn, collaborate and play in ways that go beyond what we can imagine.
As per Facebook, the metaverse is the next evolution of social connection.
Metaverse is expected to expand the internet to combine digital spaces like online gaming, social media, cryptocurrency, virtual reality, and augmented reality.
Examples of a Meta-Verse 3D Space
Scenario 1: Meet your friend living in New York City in a local coffee shop in Mumbai – in a virtual environment in real-time via digital avatars.
Scenario 2: Shop with your friend living in Australia in a shopping mall in Delhi – in a virtual environment in real-time via digital avatars.
Scenario 3: Land and walk on the moon – in a virtual environment.
What is the present state of Metaverse?
Gaming: As of now, many gaming platforms have successfully used the metaverse concept. For example, Epic Games, creator of Fortnite, recently held a music concert by pop singer Ariana Grande in their game.
Crypto-currency: Cryptocurrency is another aspect of a virtual universe that has been successfully realized, and it will be part of the new metaverse world order where all services will be offered in exchange for crypto.
The Potential of Metaverse:
Hardware Sales: Facebook CEO Mark Zuckerberg believes augmented reality glasses will eventually be as widespread as smartphones. If that is the case, this will be a very big market.
Sofware Sales: Huge scope in the development of software applications to support the meta-verse ecosystem.
Gaming: Facebook's gaming platform Oculus VR is expected to be the gateway into the metaverse.
Physical Sales: Sales of physical goods and services will be linked to the virtual ecosystem in the future.
Immersive Learning: Immersive Learning is a training methodology that uses Virtual Reality (VR) to simulate real-world scenarios and train students in a safe and engaging immersive training environment.
decentralized commerce (dCommerce): in-world transactions to happen peer-to-peer.
Non-Fungible Tokens (NFTs): NFTs – the claim of ownership for a unique, non-interchangeable digital asset that is stored on a blockchain – may be widely adopted.
What are the challenges at present?
At this moment, no one is sure about the final form of Metaverse. There are also questions about who will finally have control over this virtual environment.
This mixed reality space will represent an entire ecosystem of various virtual realities that cannot be built by just one company hence building one is likely to take decades and require thousands of companies to pool in resources, including hardware, software, and content.
The metaverse requires technologies and infrastructure that currently does not exist. The current form of the Internet and its bandwidth is limited in their design to hold the 3D digital space.
The space will need a broader and more complex set of standards and protocols than the traditional Internet. This means large technology companies like Amazon, Google, and Facebook will need to prepare for cross integrating their systems.
The interoperable virtual environment could also raise questions of data protection in the industry as wide consensus on data security and persistence will be harder to establish.
This virtual universe will need altogether new rules for censorship, control of communications, regulatory enforcement, tax reporting, the prevention of online radicalization, and many more challenges that are still unresolved today.
Criticisms
Many criticise 'Metaverse' as an over-hyped concept based on existing technology. Such critics argue that technologies like AR, and VR are existing for quite some time. Even the term 'Metaverse' is not new.
Experts point out that VR data is biometric. In such a case, all personal and behavioural characteristics of the people will be recorded making them susceptible to cyber-crimes.
User addiction is a concern for the development of virtual reality.
The metaverse may distort users' perceptions of reality with biased content to keep them engaged.
Concepts to focus on in this article
Metaverse
Virtual Reality (VR)
Augmented Reality (AR)
Mixed Reality (MR)
Extended Reality (XR)
Immersive Learning
3D spaces
decentralized commerce (dCommerce)
non-fungible tokens (NFTs)