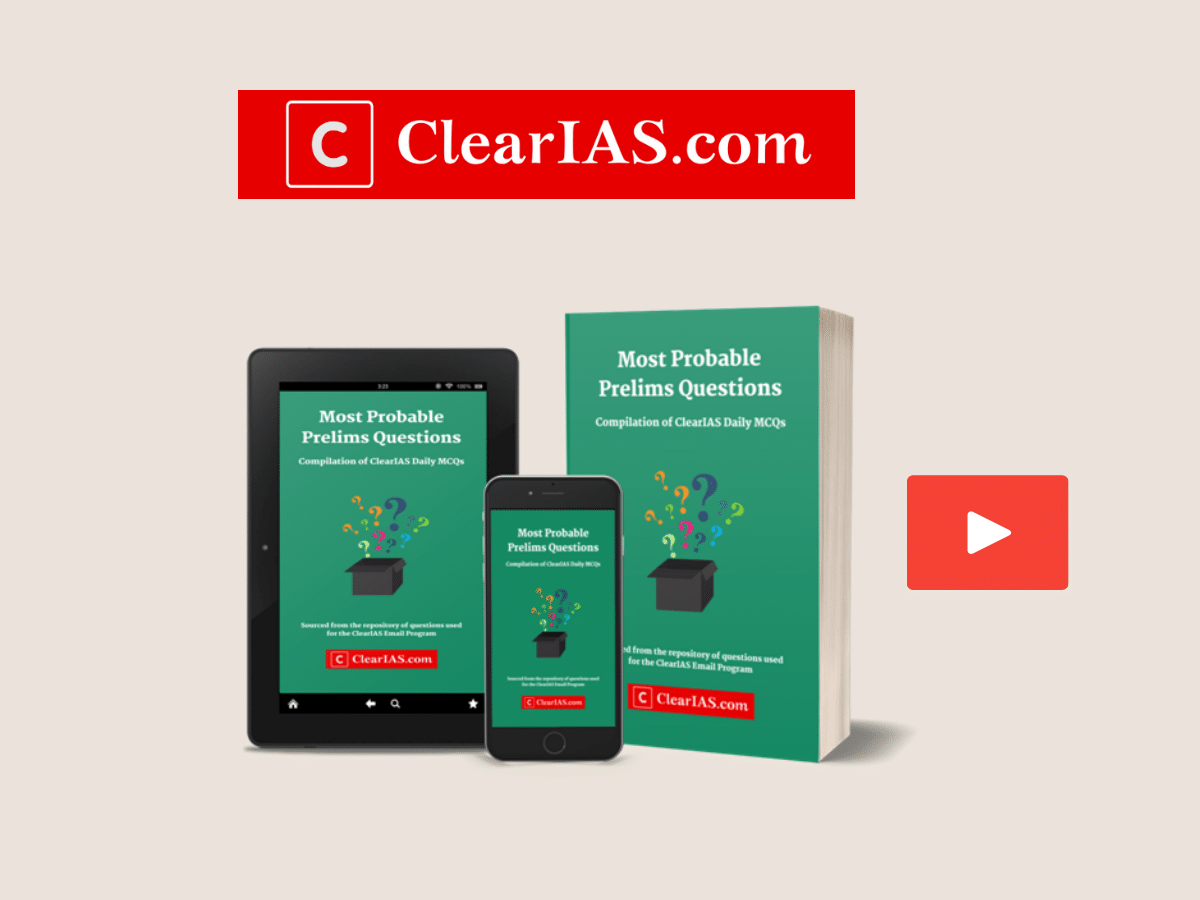 ClearIAS has been a pioneer in coming up with innovative methods of online learning – approaches which make learning simple, easy, and faster.
ClearIAS Most Probable Prelims Questions (CMPPQs) program has been one of our popular initiatives loved by UPSC aspirants across India. In this segment, we used to share important questions – current and conventional – based on recent news items via email.
Now along with text-format, we will also be releasing ClearIAS Most Probable Prelims Questions in video-format. Daily MCQs can be easily accessed from ClearIAS Learning App as well as ClearIAS Test-Prep App.
Videos of ClearIAS Most Probable Prelims Questions
You can also follow any of the official-handles of ClearIAS in YouTube, Telegram, or Facebook to stay updated with the Most Probable Questions for UPSC CSE Prelims. See the video uploaded.
Click to subscribe ClearIAS Channel not to miss any future uploads.
The Reason for Shift from Email Platform to YouTube, Telegram, and Facebook
As most of you might be aware, ClearIAS has lakhs of email subscribers. Even if we send 2-3 emails per day, that would mean sending around 15,00,000 (15 lakh emails per day). This is a huge volume! Usual email service providers cannot handle this much load. That is one of the reasons why we decide to diverge the options of sharing contents.
The second rationale is that we wish all aspirants to take our emails seriously. We have been paying lakhs of rupees to our email service providers to ensure that our students (free and paid users) get quality study materials and right guidance. However, if aspirants subscribe to too many coaching institutes and other websites, their inbox will be flooded with hundreds of junk email – which mostly go unread.  We don't want our emails to go unread among the junk emails you get. It's a waste of our resources and time.  We hate spam just like you do. We limit and prioritise the emails we send to ensure that aspirants get what is most important for success.
The third reason for the switch is the wide adoption of new-age learning platforms like YouTube and Telegram by aspirants. Videos and presentations offer a better scope of explaining concepts associated with questions (for example, using images). As it's the time when bandwidth for videos is no longer a major concern, we plan to extend our learning programs from text-format to video format as well.
We are NOT completely stopping our email updates
Aspirants should note that ClearIAS is not completely stopping our email updates.
We will continue to send ClearIAS study materials, techniques, tips, guidance articles, exam updates via email too.
What we are temporarily testing is the aspirants' ease-of-learning of CMMPQs if we deliver the MCQs in multiple formats via our channel partners instead of email. We hope our readers will love to get contents in video format along with the text.
Enroll in ClearIAS Prelims Online Mock Test Series: Get 4000 questions to practise
For more questions which can help you clear UPSC Prelims 2020, enroll now in our popular program – ClearIAS UPSC Prelims Online Mock Test Series 2020 – loved by thousands of aspirants. Click this link to join now.
FREE: ClearIAS Most Probable Prelims Questions (PDF sets)
For paid subscribers of ClearIAS Prelims Online Mock Test Series, we provide many value additions.
All premium users of ClearIAS will get discount code to download 'ClearIAS Most Probable Prelims Questions' PDF sets (worth more than Rs.1500) for FREE.
Also, many of the ebooks (PDF) available on ClearIAS Store – like '100 Important MCQS from Economic Survey and Budget 2020′, 'Budget Summary' and 'Economic Survey Summary' are offered at FLAT 50% OFF – exclusive only for premium users.
To explore ClearIAS ebooks, check ClearIAS online store.