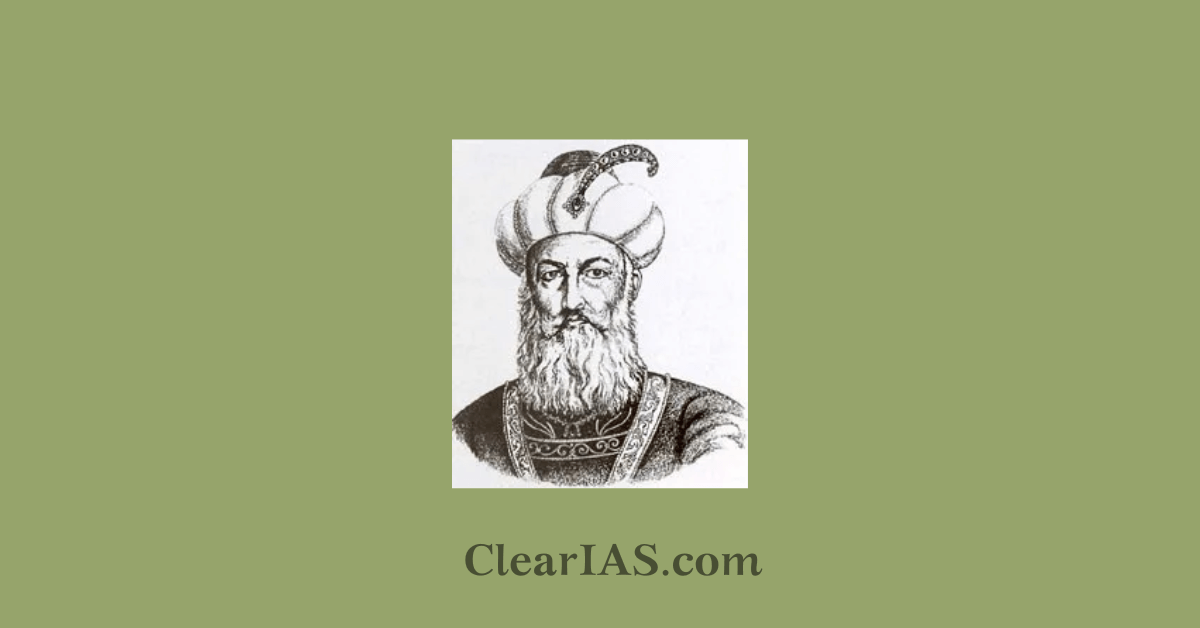 Muhammad Ghori was a Turko-Islamic invader from Afghanistan whose conquests led to the establishment of Islamic sultanates in India. Read here to know more about his life.
The Ghurids were centered in the Ghor of present-day central Afghanistan, where they initially started as local chiefs and vassals of the Ghaznavid empire.
They gradually converted to Sunni Islam from Buddhism after the conquest of Ghor by the Ghaznavid Sultan Mahmud of Ghazni in 1011 CE.
The dynasty ultimately overthrew the Ghaznavid Empire when Muhammad of Ghor conquered the last Ghaznavid principality of Lahore in 1186 CE from Khusrau Malik.
At their zenith, the Ghurid empire encompassed Khorasan in the west and reached northern India as far as Bengal in the east.
Their first capital was Firozkoh in Mandesh, Ghor, which was later replaced by Herat and finally Ghazni.
The Ghurids were patrons of Persian culture and heritage. Abu Ali ibn Muhammad (1011–1035 CE) was the first Muslim king of the Ghurid dynasty to construct mosques and Islamic schools in Ghor.
The Ghurids were succeeded in Khorasan and Persia by the Khwarazmian dynasty, and in northern India, former Ghurid generals formed the Mamluk dynasty of the Delhi Sultanate.
Muhammad Ghori, or Shihabud Din Muhammad Ghori, was the true founder of the Muslim Empire in India.
Though it was the Muslim invader Muhammad bin Qasim who first invaded India, followed by Mahmud of Ghazni, neither of them was able to establish a true Muslim empire in India.
After a series of invasions, Muhammad Ghori was successful in establishing a secure and powerful Muslim kingdom in India. He is credited with being the true founder of Muslim rule in India.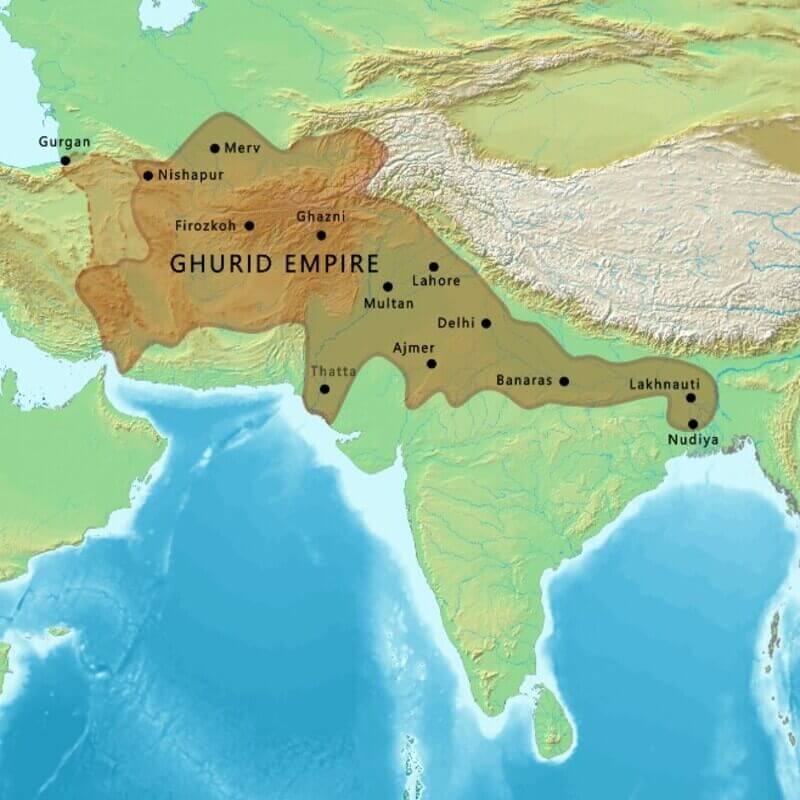 Muhammad Ghori
Muiz-ud-din Muhammad bin Sam, also known as Muhammad of Ghur, Muhammad Ghori, or Shihabud Din Muhammad Ghori was born in 1149 CE in Ghor.
The Ghurid power increased under Sultan Alauddin who was also known as Jahan-soz (the world burner).
He ravaged Ghazni and burnt it to the ground in the middle of the 12th century.
In 1173, Shahabuddin Muhammad (a.k.a. Muizzuddin Muhammad bin Sam) or Muhammad Ghori took the throne of Ghazni, while his elder brother ruled from Ghur.
However, the powerful Khwarizmi Empire of Iran conquered Central Asia forcing the Ghurids to expand toward India.
India during the medieval period
The political conditions of India were in utter chaos which made the subcontinent an attractive target for foreign invaders.
Nearly 150 Years had lapsed after the last invasion of Mahmud of Ghazni in 1027.
But Indians did not develop the necessary processes and protections to meet the new challenges from outside.
Politically India was divided into many kingdoms both in the North and South. Northern India witnessed the rule of many Rajput princes and the chief among them were:
Prithviraj Chauhan was ruling over Delhi and Ajmer
Jayachandra was the ruler of Kanuaj
The Solanki king Bhima II was ruling over Gujarat
The Sena king Lakshmanasena was ruling over Bengal
They indulged in constant warfare with each other which ultimately weakened all the Rajput states.
Invasions by Muhammad Ghori
Muhammad Ghori's first invasions were on the Multan and fortress of Uch in 1175 and conquered areas ruled by old Ghaznavid governors.
In 1178, he attacked on Anhilwara in Gujarat but was defeated by its king Bhima II of the Solanki dynasty.
Then came the most important battles of Tarain.
First Battle of Tarain or Thaneshwar (1191 CE):
In 1191, Muhammad attacked and captured Tabarhind or Bhatinda, a part of Prithviraj Chauhan's dominion. This led Ghori to come into direct clash with Prithviraj Chauhan who was one of the most powerful Rajput rulers.
The enemies met each other on the battlefield at Tarain, 80 miles from Delhi.
Muhammad Ghori was defeated in the battle but managed to escape; the battle was completely won over by the Rajputs.
Second Battle of Tarain (1192 CE):
Muhammad Ghori went back to Ghazni and prepared his army for the next attack to avenge his defeat with more strategy and power this time.
Prithviraj also organized the Hindu confederacy to resist Muhammad Ghori, but it was weaker this time.
In 1192 CE, both armies met again on the same battlefield Tarain. This time Muhammad defeated Prithviraj Chauhan and Ajmer and Delhi were occupied by Muhammad Ghori.
The battles of Tarain are known as the turning point in Indian history as they opened the way for further conquests of India by the Muslims.
After the battle of Tarain, Muhammad appointed Qutubuddin Aibak, one of his slave generals, as the Viceroy of the Indian provinces.
He conquered Meerut, Bulandshahar, Aligarh, etc., and made Delhi the capital in 1193.
Battle Of Chandawar (1194 CE):
In 1194 Muhammad Ghori led another expedition against Jayachandra of Kanuaj. The battle between Muhammad and Jayachandra took place near Chandawar on the river Yamuna between Eatwah and Kanuaj. King Jayachandra was defeated and killed in the battle.
After successful campaigns, Muhammad rested the responsibility of consolidating the conquests in India on his Governor Qutubuddin Aibak.
Conquest of Bengal:
Muhammad-bin-Baktiyar Khilji, another general of Ghori, led a military expedition against Bihar and Bengal.
In between 1202 and1205 he attacked Odantapuri and plundered Buddhist Monastery, destroyed the university of Nalanda and Vikramasila, and defeated Lakshamansena of Bengal.
He wanted to expand eastwards and undertook an expedition into the Brahmaputra valley.
The Magh rulers of Kamrup (Assam) followed a scorched earth policy and allowed Khalji to enter without opposition.
When the tired and hungry armies started retreating, the Assamese ambushed them from the forests and Bakhtiyar Khalji managed to escape with a few followers.
But he was later killed on his sick bed by one of his amirs.
Death of Muhammed Ghori
The Khokhar rebellion of Punjab: In 1206, Muhammad Ghori came for his last campaign into India, to put down the Khokhar rebellion.
Khokhars were a warlike tribe in western Punjab and they cut off communications between Lahore and Ghazni.
Ghori's army carried out a large-scale massacre of Khokhars.
On his way back to Delhi, he was killed by an Arab Muslim fanatic of a rival sect who believed that Turks still stuck to their pagan practices from Central Asia and converted to Islam only for political or financial gains.
This ended the Ghurid dynasty in India, but Ghori's generals who started establishing independent dynasties in India were still left behind, and thus began the Delhi sultanate.
Legacy of Muhammed Ghori
Ghori was the true founder of Muslim rule in India as he conquered a large portion of Hindu lands and also retained them. Qutub-ud-Din Aibak, his slave and viceroy, and his successors were successful in expanding Islam's dominance in India thus establishing a Muslim dynasty in Delhi.
Muhammad Ghori came from humble beginnings than Mahmud Ghaznavi, but he was able to proclaim himself as ruler of Indian lands. He did not have offspring of his own, but he treated his Turkic slaves like his sons and proclaimed them his successors.
He remained loyal to his brother Ghiyasuddin and returned to Ghazni to put down the revolts in the western provinces, which were more strategically important for the Ghori Dynasty's survival.
But the Ghor Dynasty faded into obscurity after he was assassinated. However, his victory in India was not in vain, and it was further solidified under subsequent rulers.
After his assassination, his Empire was divided among his slaves:
Qutb ud-Din Aibak became ruler of Delhi in 1206, establishing the Sultanate of Delhi, which marked the start of the Mamluk dynasty
Nasir-ud-Din Qabacha became ruler of Multan in 1210.
Tajuddin Yildoz became ruler of Ghazni.
Ikhtiyar Uddin Muhammad bin Bakhtiyar Khilji became ruler in parts of Bengal.
-Article written by Swathi Satish