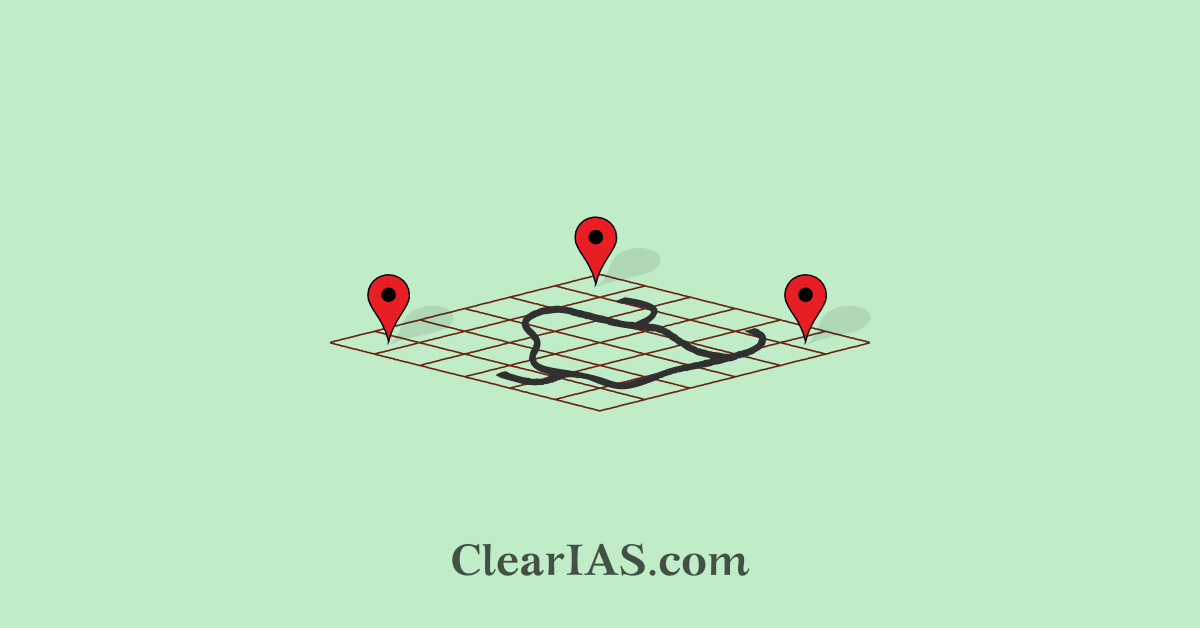 To position India as a global leader in the global geospatial sector, the Ministry of Science and Technology has announced the National Geospatial Policy 2022. Geospatial information describes the physical location of geographic features and their relationship to other features and associated statistical information. Read here to know more.
The recently announced National Geospatial Policy 2022 aims to establish high-resolution topographical survey and mapping by 2030, along with a highly accurate Digital Elevation Model (DEM) for the nation.
This is a dynamic endeavor to support startups and lessen their reliance on foreign entities.
What is Geospatial technology?
The phrase "geospatial technology" is used to refer to a variety of contemporary instruments that help to map and analyze the Earth's geography and human societies. Since the earliest maps were created in the prehistoric era, these technologies have been developing in since then.
Aerial photography joined the historically significant schools of cartography and mapmaking in the 19th century as early cameras were launched into the air on balloons and pigeons, and later on airplanes in the 20th century.
During the Second World War, the science and art of photographic interpretation and map-making advanced, and during the Cold War, the development of satellites and computers gave them new dimensions.
With some restrictions, satellites allowed for photographs of the Earth's surface and human activity there.
The creation of digital software, maps, and data sets on socioeconomic and environmental phenomena, collectively known as geographic information systems as well as the storage and transport of imagery were all made possible by computers (GIS).
A key feature of a GIS is its capacity to compile a variety of geographical data into a layered set of maps that enable the analysis and dissemination of complicated issues to a wider audience.
All of this data includes information about its specific location on the surface of the Earth, hence the term "geospatial," which enables this "layering."
The geospatial information explains the precise locations of geographic features, how they relate to one another, and the statistical data that goes along with them.
It can be displayed using a variety of formats and media, such as maps, photography, databases, models, etc.
The data, when combined with a location and seen about other comparison coordinates, creates a value proposition with an economic multiplier.
Almost every area of the economy has the application of geospatial technology:
Agriculture and industries
development of urban or rural infrastructure
administration of land
economic activities of banking and finance
resources, minerals, and mining
water
delivery services
Today geospatial data is widely accepted as a critical infrastructure and national information resource with a proven societal, economic, and environmental value that enables government systems and services, and sustainable national development initiatives, to be integrated using 'location' as a common and underpinning reference frame.
National Geospatial Policy
The National Geospatial Policy, 2022 is a citizen-centric policy that liberalizes the geospatial sector and democratizes the datasets generated by the use of public funds.
The Policy spells out the vision, and goals and also outlines the approach and strategy for the holistic development of the geospatial ecosystem in our country.
It aims to develop the Geospatial Infrastructures and also seeks to strengthen the national and sub-national arrangements for the generation and management of geospatial information.
It recognizes that the citizens, communities, government, local bodies, businesses, and academia in India need to be empowered with freely available Geospatial data, services, and solutions.
Department of Science and Technology (DST) intends to promote the use/reuse of geospatial data/products/solutions/services by providing open data/services/solutions through a network of Geospatial Platforms at national and sub-national levels.
The Policy seeks to create, nurture and develop a geospatial ecosystem that would enable and encourage spatial thinking, add to geospatial knowledge, strengthen geospatial infrastructure, augment capacity building and promote effective use of Geospatial Data, Products, Services, and Solutions (GDPSS) and boost geospatial entrepreneurship.
Vision and goals of National Geospatial Policy
Vision
India will have a coherent national location data framework by 2030. The framework will assist the country to move towards e-economies, e-service, and eCommerce and improve services to citizens.
Valuable Geospatial data that currently remains locked in silos will be easily accessible and combined securely to create new insights, new services, and new businesses that are almost unimaginable today.
Increased Spatial capabilities and better Geospatial Readiness and Innovation will drive social, economic, and environmental benefits across the country.
Geospatial industries will flourish in an enabling policy and legal framework. The benefits of Geospatial data will reach the common citizens of the country.
Goals
Establish and strengthen an integrative platform for all digital data that have location dimensions for easy access, sharing, use, and reuse of such data.
Develop and strengthen national and sub-national arrangements in geospatial information management and related infrastructures with the participation of government, industry, private, academia, and civil society.
Efficient and effective use of standards-based high quality and reliable geospatial data/information services for achieving sustainable social, economic, and environmental development goals.
Improve availability and access to better location data across organizations and sectors to enable innovations and encourage enterprise.
Put in place an enabling policy and legal framework that will support the liberalization of the geospatial sector and democratization of data for enhanced commercialization with Value Added Services.
Enhance capabilities, skills, and awareness to meet the future needs of the country.
Geospatial sector in India
Geospatial Sector in the country has tremendous potential in creating employment, development of industry, and dissemination of knowledge while contributing to its social and economic progress.
The contribution of the geospatial sector to the Indian economy as per industry estimates is around INR 20,000 crore including INR 7000 crore in terms of export of geospatial services.
India is the second most preferred 2 market for the global geospatial industry. India employs about 250,000 geospatial professionals, which includes about 50,000 professionals associated with government agencies.
The Geospatial sector in India, however, has not realized its true potential and registered around 15% per annum growth whereas it has the potential to grow annually at 25% and more.
It can contribute to the economy to the tune of INR 1,00,000 crore and employ nearly 10 lakh people in this field by 2029-2030 by making optimal use of business capabilities in both the government and private spheres.
The National Geospatial Policy aims to provide an enabling environment in which the Indian Industry can flourish and minimize its dependence on foreign data and products, thereby contributing to an Atmanirbhar Bharat.
Significance of National Geospatial Policy
The focus of the National Geospatial Policy is to make geospatial technology and data agents of transformation for achieving sustainable development goals, bringing efficiency in all sectors of the economy and instilling accountability and transparency at all levels of governance.
Atmanirbhar Bharat: The Policy recognizes the importance of locally available and locally relevant Maps and Geospatial Data in improved planning and management of resources and better serve the specific needs of the Indian population.
IGIF: The National Geospatial Policy seeks to draw on international best practices, such as work by the United Nations Global Geospatial Information Management (UN-GGIM) Committee of Experts and the Integrated Geospatial Information Framework (IGIF), to strengthen national-level spatial information management arrangements across our country.
The Policy seeks to create a conducive business atmosphere and facilitate ease of doing business for a prosperous geospatial sector economy by enhancing the effectiveness of the policies and their implementation.
The Policy will support innovation, creation, and incubation of ideas and start-up initiatives in the Geospatial Sector that will enable leapfrogging of outdated technologies and processes, bridging the geospatial digital divide and capitalizing on the opportunities due to continually evolving Technology.
The National Geospatial Policy will encourage open-source software, open data, and platforms.
All Geospatial Data produced using public funds, except the classified geospatial data collected by security/law enforcement agencies, shall be made easily accessible for scientific, economic, and developmental purposes to all Indian Entities and without any restrictions on their use.
Challenges and way forward
Geospatial data can be thought of as complicated data objects with intricate interrelationships; hence it comes with its set of challenges:
Significant obstacles and hurdles remain to be properly understood and resolved when it comes to protecting this kind of data.
Although there are numerous models and methods for controlling access to and sharing geospatial data, little attention has been given to addressing national security issues, such as access control, security, and privacy policies, the development of secure and particularly interoperable GIS applications in the areas of defense.
There are significant risks of potential data misuse and privacy violations if the complete body of geospatial data were made available by merely combining the data from various sources.
Additionally, "it may also reveal sensitive information, such as building owners.
In the National Geospatial Policy 2022, a clear road map and SOP should be created for the national securities issues for the country, namely for the three services, paramilitary, or critical infrastructure sectors.
-Article written by Swathi Satish