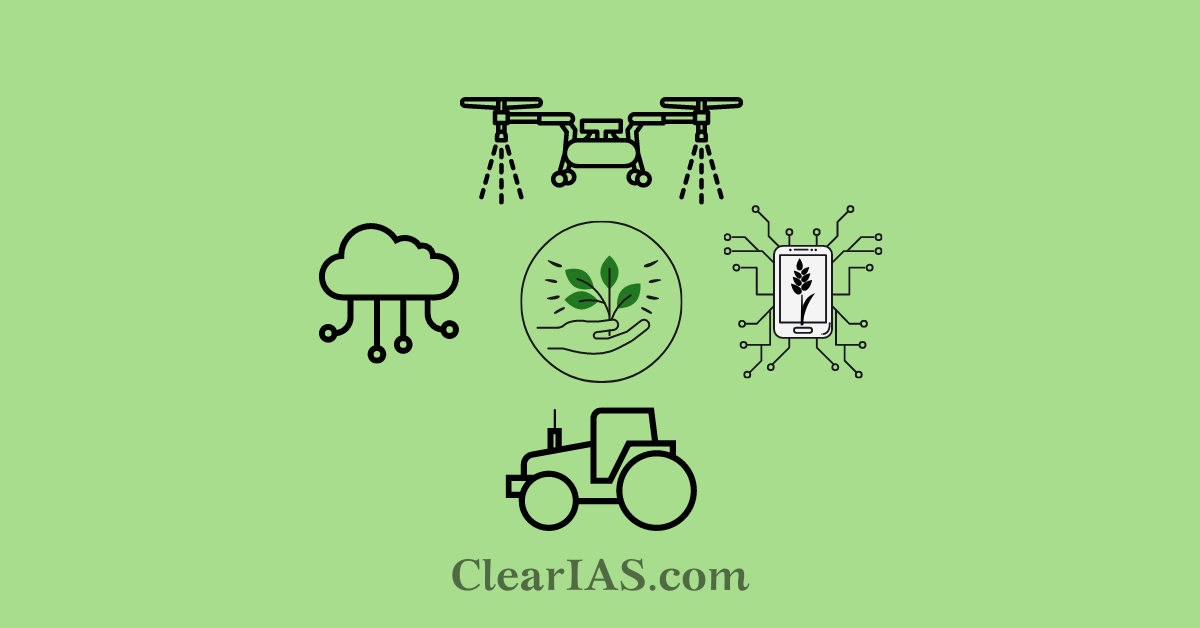 Agriculture is a crucial sector and E-technology in aid of the farmers is trying to enhance the sector. Read here to know more.
Indian Agriculture is a core sector for food security and sustainable development along with poverty alleviation.
Indian farming sector is dominated by small and marginal farmers and increasing their productivity and incomes can make a major contribution to economic advancement while reducing hunger and poverty.
There have been many efforts over the decades to enhance the farming sector on-field by introducing the Green revolution, Blue revolution, White revolution, yellow revolution, etc. Most recently, Biotechnology and Information and communication technology are revolutionizing the sector.
However, the technological changes in Indian agriculture started in the 1960s when access to modern inputs, especially a high-yielding variety of seeds, fertilizers, mechanization, credit, and marketing facilities improved. The central government also introduced an intensive area development program in 1960.
E-technology in aid of farmers
E-technology stands for Electronic Technology. This includes the internet and related information technologies, and digital technologies, used of which have grown rapidly in recent years in all fields.
The impact of information and communication technology in agriculture can be evaluated broadly under two categories.
First, Information technology is a tool for direct contribution to agricultural productivity.
Secondly, as an indirect tool for empowering agriculturalists to make informed and quality decisions, it will have a positive impact on the agriculture and allied activities conducted.
Agricultural biotech and InfoTech together are helping to create new tools to-
tackle the problem of consistent rural poverty
generate employment,
increase farm productivity and production,
improve quality and marketing
Beneficial outcomes of e-Agriculture which enhance the quality of life of farmers include-
bridging the information gap between the farmers and
building a productive and competitive market,
Different IT interventions support rural and under-developed markets to become efficient and pesticides.
Farm animals are fed and monitored by electronic sensors and identification systems.
Access to price information, access to agriculture information, access to national and international markets,
Increasing production efficiency and so on.
Advantages of E-technology in aid of farmers
Some of the benefits derived by the farmers through ICT are given below:
Improved decision making: By having the necessary information, farmers make improved decisions concerning their agricultural activities. The exchange of knowledge from various countries and organizations also helps farmers be more aware of factors to consider before making their decisions.
Planning: IT has paved the way to come up with farming software that determines the best aids to use on the farm. Gaining information from their farm is essential in sustaining growth.
Community participation: When a community adopts modern methods for agriculture, the production of local goods can be increased. With IT, there can be an improved union among local farmers, leading to better income for everyone involved.
Agricultural innovations: When scientists develop new and improved techniques that help grow crops in adversities, a connected agricultural world will promote better reach.
Better outreach: Not only small and medium farmers, but even backyard farmers also play a role in promoting agriculture. USe of e-technology will help in spreading ideas and innovations to all levels of farming sects.
Along with the advantages, e-agriculture has lots of problems like technical feasibility of connectivity in rural areas, cost involved in ensuring services, need for basic computer literacy, etc. Some of those problems are:-
The reach of the technology is still very poor and a large number of farmers are still ignorant about such advancements.
The distribution of technologies is not uniform throughout the country.
The use of technology is being used by the already big-scale farmers is pushing the wealth gap wider. The small and marginal farmers are again being left out in the process of development.
Due to the low literacy rate among farmers and the digital divide, there is a rise of a new class of middlemen, who provide ICT services to farmers.
The rural infrastructure for the use of ICT is also not uniform and a lot of regional disparity persists.
Initiatives by the Central Government for promoting E-technology in aid of farmers
There are many initiatives of the Central Government integrating electronic technology and farming.
National Agriculture Market
The National Agriculture Market (NAM) is a pan-India electronic trading portal that seeks to network the existing APMC and other market yards to create a unified national market for agricultural commodities.
NAM is a "virtual" market, but it has a physical market at the backend.
NAM was announced during the Budget of 2014-15 and is proposed to be achieved through the setting up of a common e-platform to which initially 585 APMCs selected by the states are linked. NAM was launched on 14 April 2016 with 21 mandis from 8 States joining it and the first phase of connecting 250 mandis was over on 6 October 2016.
NAM is implemented as a Centrally Sponsored Scheme through Agri-Tech Infrastructure Fund (ATIF). The Department of Agriculture & Cooperation (DAC), Ministry of Agriculture will set it up through the Small Farmers Agribusiness Consortium (SFAC).
AGMARKNET
Agricultural Marketing Information Network (AGMARKNET) was launched in 2000 by the Union Ministry of Agriculture.
This e-governance portal AGMARKNET, implemented by National Informatics Centre (NIC), facilitates the generation and transmission of prices, commodity arrival information from agricultural produce markets, and web-based dissemination to producers, consumers, traders, and policymakers transparently and quickly.
e-choupal
An initiative by ITC provides alternative marketing channels, information on weather, agricultural practices, input sales, etc.
It is a kiosk located in a village and equipped with computer and internet access, which is managed by a trained sanchalak.
Direct benefit transfer (DBT) Central Agri Portal
Launched in 2013, the DBT Agri Portal is a unified central portal for agricultural schemes across the country
The portal helps farmers adopt modern farm machinery through government subsidies.
Village Resource Centres
Village Resource Centres provide space-based services in rural areas.
They are one of the unique initiatives that use the Satellite Communication (SATCOM) network and Earth Observation (EO) satellite data to reach out to the villages to address the needs of the local people in the villages themselves.
Digital Agriculture Mission
The Digital Agriculture Mission (2021–2025) aims to support and accelerate projects based on new technologies, like AI, blockchain, remote sensing, and GIS technology, and the use of drones and robots
Unified Farmer Service Platform (UFSP):
UFSP is a combination of Core Infrastructure, Data, Applications, and Tools that enable seamless interoperability of various public and private IT systems in the agriculture ecosystem across the country. UFSP is envisaged to play the following role:
Act as a central agency in the Agri ecosystem (like UPI in the e-Payments)
Enables Registration of the Service Providers (public and private) and the Farmer Services.
Enforces various rules and validations required during the service delivery process.
Acts as a Repository of all the applicable standards, APIs (Application Programming Interface), and formats.
Act as a medium of data exchange amongst various schemes and services to enable comprehensive delivery of services to the farmer
AgriStack
The Ministry of Agriculture and Farmers Welfare has planned to create 'AgriStack' – a collection of technology-based interventions in agriculture.
It will create a unified platform for farmers to provide them with end-to-end services across the agricultural food value chain.
Sandesh Pathak
The Sandesh Pathak application was developed jointly by C-DAC Mumbai, IIT-Madras, IIIT Hyderabad, IIT Kharagpur, and C-DAC Thiruvananthapuram will enable SMS messages to be read out loud, for the benefit of farmers who may have difficulty in reading.
State-level initiatives connected with Electronic Technology and Farmers
There are many programs in different states which integrates e-technology with agricultural practices. Some of them are:
eSagu
eSagu provides personalized expert advice promptly from the sowing stage to harvest for small and marginal farmers at their doorstep.
The farm situation is brought to the expert in the form of digital photographs and text information.
The expert advice after analyzing the situation is prepared and is delivered to the concerned farmer on the same day or subsequent day.
Sagu means cultivation in the Telugu-local language of Telangana Andhra Pradesh, the region in which the project started.
AGRISNET
The AGRISNET project was conceptualized with the vision of creating an interconnected technology-enabled network to deliver informational services effectively to the farming community.
The project aimed to integrate cross-functional processes of the Department of Agriculture in Tamilnadu, to effectively and efficiently communicate informational services to the farming community.
Jio Agri(JioKrishi) Platform
A pilot project was initiated at Jalna and Nashik, Maharashtra in 2020.
It digitizes the agricultural ecosystem along the entire value chain to empower farmers
The core function of the platform uses stand-alone application data to provide advisory, the advanced functions use data from various sources, feed the data into AI/ML algorithms, and provide accurate personalized advice.
Conclusion
The Indian agriculture sector has still not been able to overcome the digital divide that is prevalent for so many years in the rural development scenarios. Hence, it is high time to fill the digital gap for farmers.
It is important to adopt a holistic approach to address the challenges faced by Indian agriculture to achieve inclusive growth and sustainable development.
The use of e-technology like remote sensing, and GIS, will enable wide-scale adoption of digital agriculture, ease of access and operations, and easy maintenance of systems with supportive government policies.