A national policy is a course or principle of action adopted or proposed by the state. Aspirants preparing for civil services exam, need to be aware of various national policies.  Some of the major national policies in news include National Health Policy, National Education Policy, National Cyber Security Policy etc.
This post is a compilation of the major national policies of India.
National Health Policy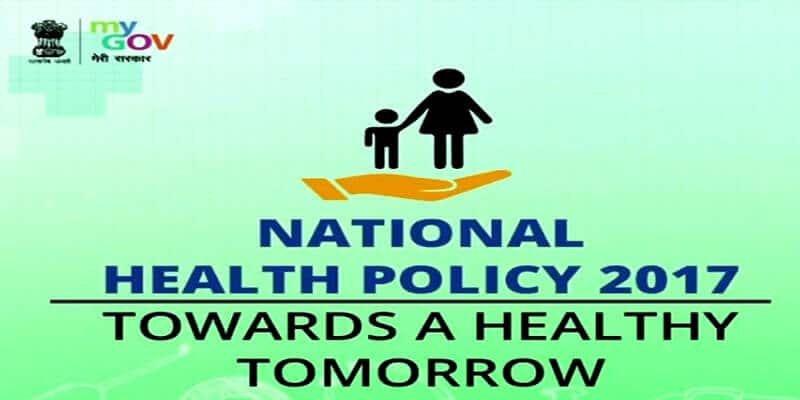 It has been 14 years since the last health policy and the priorities have been changing rapidly since then. The four major changes are:
Growing burden of non-communicable diseases.
The emergence of a robust healthcare industry.
Growing incidence of catastrophic expenditure due to health care costs.
A rising economic growth which enables enhanced fiscal capacity.
Keeping in view of these changes and with the goal of attainment of a highest possible level of health and well being for all, National Health Policy 2017 has been formulated.
Main features:
Increase life expectancy at birth from 67.5 to 70 by 2025.
Reduction of Total Fertility Rate (TFR) to 2.1 at national and sub-national level by 2025.
Reduce under-five mortality to 23 by 2025.
Reduce Maternity Mortality Rate (MMR) to 100 by 2020 and Infant Mortality Rate (IMR) to 28 by 2019.
Elimination of leprosy by 2018, kala-azar by 2017, lymphatic filariasis by 2017.
Increase utilization of public health facilities by 50% from current levels by 2025.
Access to safe water and sanitation to all by 2020.
Increase health expenditure by government as a % of GDP from the existing 1.15% to 2.5% by 2025
Reforming medical education.
Stresses on the provision of free drugs and emergency healthcare services in all public hospitals.
It is thus clear that the chief objective of the government is the provision of universal access to health care services. This can be achieved by sticking to the proposed deadlines and increase in the health expenditure.
National Steel Policy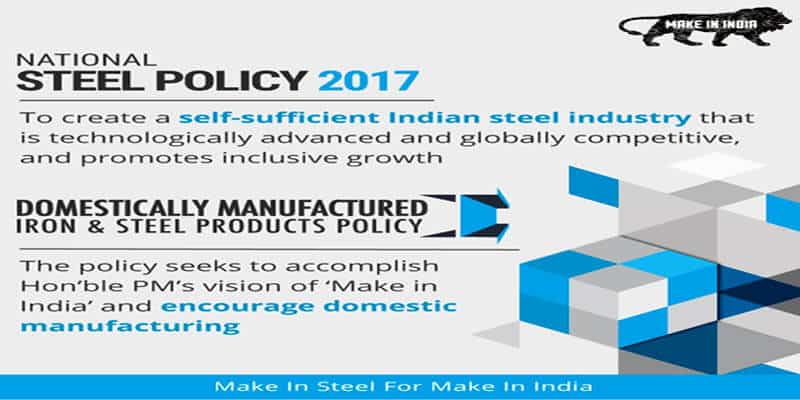 The industrial development of any nation depends upon the presence of a vibrant steel industry. Steel finds its use in a wide range of applications. In India, steel has an output multiplier effect of nearly 1.4X on GDP and employment multiplier factor of 6.8X.
The aim of National Steel Policy, 2017 is to steer the steel industry achieve its full potential as well as enhancing the steel production while being globally competitive.
Main features:
Promoting the use of cost-efficient and competitive Indian Made Steel which will pave the way for infrastructure as well as construction activities in the country.
In order to reduce pollution and decongest transportation infrastructure in mining areas, transportation of iron ore fines to pelletization units will be targeted through slurry pipelines and conveyors.
Impetus will be given to pellet industry as it helps in mineral conservation by acting as a direct feedstock in blast furnace replacing high-grade iron ore.
To ensure long-term availability of coking coal, efforts will be made to facilitate exploration and exploitation of deep-seated coking coal reserves.
Since Ferro-alloy is a power intensive industry, captive power generation in Ferro-alloys plants will be extensively supported.
Achievement of crude steel capacity of 300 million tons (mt), production of 255mt and per capita consumption of 158kg finished steel. The current consumption is 61kg.
To increase domestic availability of washed coking coal so as to reduce the import dependence on coking coal from 85% to 65% by 2030-31.
Preference to domestically manufactured iron and steel products in all the government tenders.
Promotion of Research and Development (R&D) in the steel sector through the establishment of Steel Research and Technology Mission of India(SRTMI).
Thus, the policy envisages achieving self-sufficiency in the steel sector and encourages the industry to be a world leader in steel production in a sustainable manner.
National Policy for Women (Draft)
Empowerment is a process which helps women to realize their full potential through the access to opportunities and choices along with the freedom of decision making both within and outside home.
Nearly a decade and a half has passed since the National Policy for the Empowerment of Women (NPEW), 2001 was formulated. Since then, significant changes have taken place impacting the women in particular thereby necessitating a new policy.
Main features:
Prioritizing maternal and prenatal mortality to bring down the high rates of MMR and IMR.
Other than maternal health, the other health problems of women including communicable and non-communicable diseases like cancer, cardiovascular diseases, HIV/AIDS will be given prioritized attention.
The sexual and reproductive health needs of adolescents will get a special focus.
Traditional knowledge of women will be promoted for indigenous treatment in remote areas.
Preschool education at the Anganwadi centres will be strengthened and efforts to improve access to pre-primary education for girl children will be made.
Efforts will be made to effectively implement the RTE Act, 2001 by using education cess in addressing the infrastructure gap, availability of well-trained teachers and promoting a safe environment in remote areas.
Priority will be accorded to increase enrolment as well as retention of adolescent girls by promoting gender friendly practices like functional girls' toilets and higher recruitment of female teachers.
Innovation transportation models like cluster pooling of minibuses, differently abled transport will be developed since the distance from schools is one of the important factors that impact enrolment and retention of girls in schools.
For encouraging entrepreneurship among women, platforms like Mahila E-Haat will be supported.
One stop centres, women helpline, Mahila police volunteers, panic buttons in mobiles and surveillance mechanisms in public places will be created and made use of for enabling safety and security of women.
Efforts to reduce the child sex ratio will be taken.
No society can truly move forward by leaving more than half of its population behind and thus making women equal partners in every sphere is necessary. The policy envisages this goal.
National Civil Aviation Policy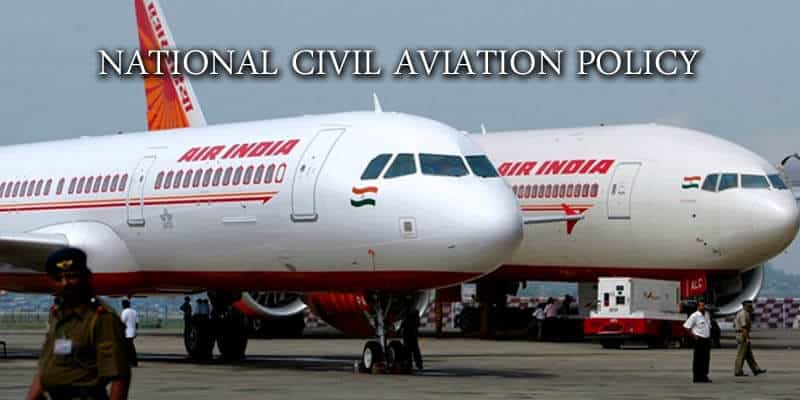 Despite having the advantages of an ideal geographical location between the eastern and western hemisphere, a strong middle class and a rapidly growing economy, the Indian aviation sector has not achieved the position it should have. A study of International Civil Aviation Organization (ICAO) says that the output multiplier and employment multiplier are 3.25 and 6.10 respectively and thus India wants to promote the growth of aviation sector.
The growth in aviation will create a large multiplier effect in terms of investments, tourism and employment generation and the National Civil Aviation Policy (NCAP 2016) is a step to achieve this growth.
Main features:
Make India the third largest civil aviation market by 2022.
Replaced the 5/20 requirement. All the airlines can now commence international operations provided that they deploy 20 aircraft or 20% of total capacity, whichever is higher.
The government will enter into open sky policy on a reciprocal basis with SAARC countries and countries located beyond 5000kms from Delhi.
Through the Regional Connectivity Scheme, airfare of about Rs 2500 per passenger for a one hour flight has been fixed. For this, Regional Connectivity fund has been created.
Incentives to Maintenance, Repair and Overhaul (MRO) sector so as to develop India as a hub for South Asia.
Promote Make In India.
Thus, the policy aims to provide safe, secure, affordable and sustainable air travel for passengers and air transportation of cargo with access to various parts of India and the world.
National Energy Policy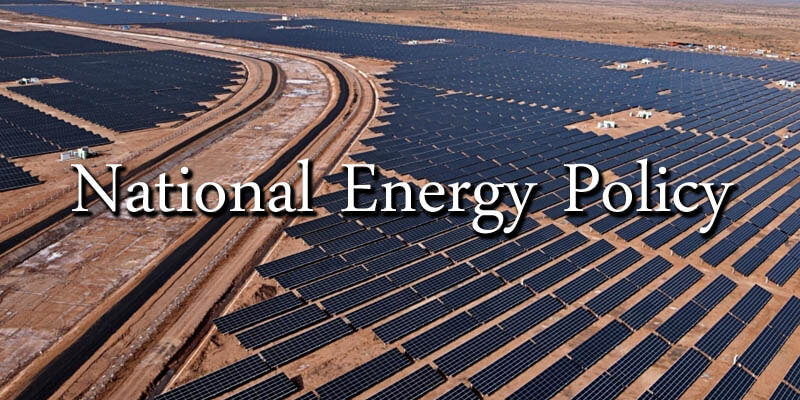 It is evident from the correlation between per capita electricity consumption and Human Development Index, energy is considered as a key input towards raising the standard of living of the citizens. The National Energy Policy (NEP) aims to build on the achievements of the previous energy policy- Integrated Energy Policy (IEP) and set a new agenda.
Objectives:
Access at affordable prices
Improved security and independence
Greater sustainability
Economic growth
Main features:
Aims to provide 24*7 hours power to all.
Aims to produce 175GW energy from renewable sources by 2022.
Rural electrification has been given high priority.
Suggests early completion of Turkmenistan- Afghanistan- Pakistan- India (TAPI) pipeline.
Estimates that coal-fired power capacity will grow to 330-441 GW by 2040.
The energy demand of India is going to further increase in future. Thus, a policy which is able to meet the twin objectives of meeting the energy demand and India's commitment to renewable energy is the need of the hour.
National Pharmaceutical Policy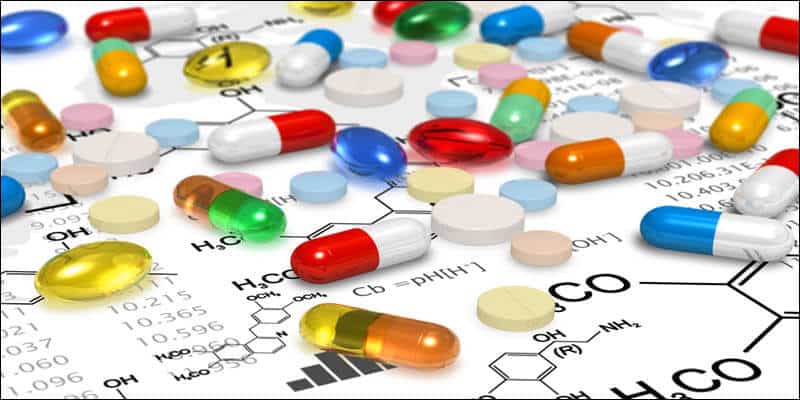 The Indian Pharmaceutical sector is robust and thriving. It is largely fuelled by exports and is the 3rd largest foreign exchange earner for India. For the reason of providing high-quality drugs at competitive prices, India is called as the 'pharmacy of the world'.
However, in the recent times, there are few concerns regarding adherence to the quality standards, dependence on imports for key starting materials, lack of R&D and growing competition from other countries. To set right the deficiencies of the previous policies and considering the developments in the pharmaceutical sector, a new policy was framed.
Main features:
Proposed that the formulations produced from indigenously produced active pharmaceutical ingredient (API) be given preference in government procurements.
Discontinuation of loan licensing which is no more beneficial in the current scenario.
Encouragement of e-pharmacy by framing detailed guidelines which would help in attracting Foreign Direct Investment (FDI).
Designing a skilling programme for pharmacists.
Strengthening of the existing National Institutes of Pharmaceutical Education and Research (NIPERs).
For ensuring ease of doing business, all the regulators/ commissions pertaining to the pharmaceutical sector will be brought within the ambit of a single department.
Strengthening of National Pharmaceutical Pricing Authority (NPPA).
The policy concerns itself with making essential drugs accessible at affordable prices to all and also for achieving self-reliance in the end to end indigenous drug manufacturing.
National Offshore Wind Energy Policy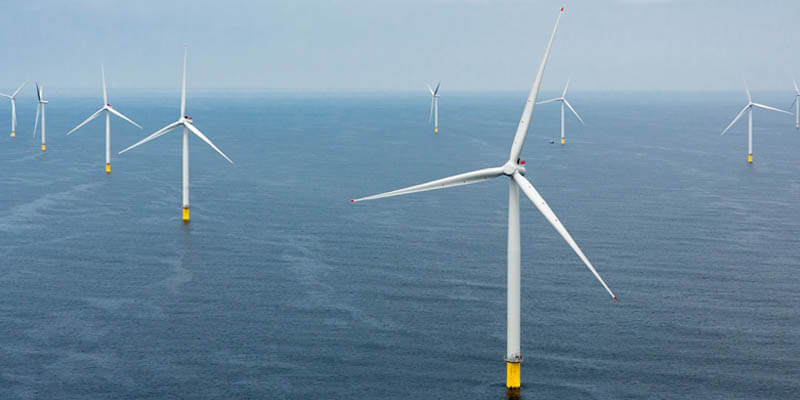 To meet the increasing electricity demands in a sustainable manner, wind energy is considered as one of the most cost-effective renewable energy technologies in the world. While the onshore wind energy technologies have become highly developed and deployed for the production of electricity, exploitation of offshore wind energy is still in its nascent stage.
With this policy, the government is trying to replicate this success in offshore wind energy too.
Main features:
National Institute of Wind Energy (NIWE) is the nodal agency for the development of offshore wind energy policy in India.
Ministry of New and Renewable Energy (MNRE) has been authorized as the nodal ministry for use of offshore areas within the Exclusive Economic Zone (EEZ).
National Institute of Wind Energy has been given the power to allocate blocks to project developers through an open international competitive bidding and also reserves the right to refuse the participation of entities on the grounds of national security.
If the commercial production doesn't start within a specified time, the winners of the blocks lose their contracts.
Challenges that exist in offshore wind power deployments like grid interconnection, subsea cabling, coastal security during construction and operation are acknowledged and dealt with.
The policy shows the commitment of India to achieve energy security in a sustainable manner by developing renewable energy sources.
National Policy on Skill Development and Entrepreneurship


India is on the verge of a demographic opportunity. The country's population pyramid is expected to bulge across the 15-59 age groups over the next decade. In the next 20 years, the labour force in the industrialized world is expected to decline by 4% whereas in India it will increase by 32%. This demographic dividend poses both a challenge and a threat. To reap its benefits, India needs to equip its workforce with employable skills. To meet the dual challenges of lack of skilled labour and non-employability of large sections of the workforce, skill development is to be accorded high priority.
Another key aspect which needs to be given priority is entrepreneurship which can be a source of employment generation and economic development. National Skill Development and Entrepreneurship policy of 2015 supersedes the previous policy of 2009 so as to make room for the changes taken place in the skilling ecosystem lately.
Main Features:
Integration of skilling in the formal education by introducing vocational training classes from class nine onwards in at least 25% of the schools.
Instituting of National Skill Awards.
Leveraging of existing infrastructure for skill training and targeting a tenfold increase in apprentice opportunities in the next five years.
Special attention to the youth residing in the border, hilly and difficult areas, including North Eastern states, Jammu and Kashmir and the hilly forested areas of central and eastern India.
Promotion of skilling, as well as entrepreneurship among women, has been given high importance.
National Skill Development Fund will be utilized for the implementation of skilling efforts.
Companies will be encouraged to spend at least 25% of their Corporate Social Responsibility (CSR) funds on skill development.
Encouraging entrepreneurship among the underrepresented groups.
The policy aims to bridge the demand-supply gap of skilled workforce and increasing the participation of women and underrepresented groups in entrepreneurship.
National Agroforestry Policy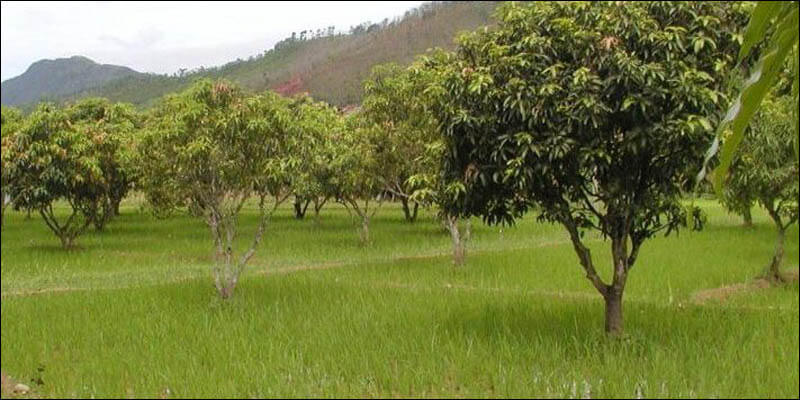 Agroforestry is defined as a land use system which integrates trees and shrubs on farmlands and rural landscapes to enhance productivity, profitability, diversity and ecosystem sustainability (as stated in the policy).  Agroforestry has a huge potential to provide employment opportunities and is widely practised in both irrigated and rainfed conditions. As envisaged in the National Forest Policy (1988), to meet the target of increasing forest or tree cover to 33 percent from the present level, agroforestry is perhaps the only alternative.
The mandate of agroforestry falls under various departments, ministries, agencies etc and thus a dedicated policy to pursue agroforestry in a systematic manner was necessary.
Main features:
The policy aims to simplify the rules under various acts like Forest Rights Act (FRA), PESA act etc.
Stresses on computerization of land records and using satellite imagery for finding the existing trees in a farmland.
Setting up of a National Institute of Agroforestry.
Promotion of PPP for agroforestry.
The inclusion of agroforestry in the school syllabus.
Department of Agriculture and Cooperation is designated as the nodal agency.
Agroforestry serves the dual purposes of increasing the farm income as well as reducing the climate risk. This policy thus aims to promote agroforestry.
National Urban Transport Policy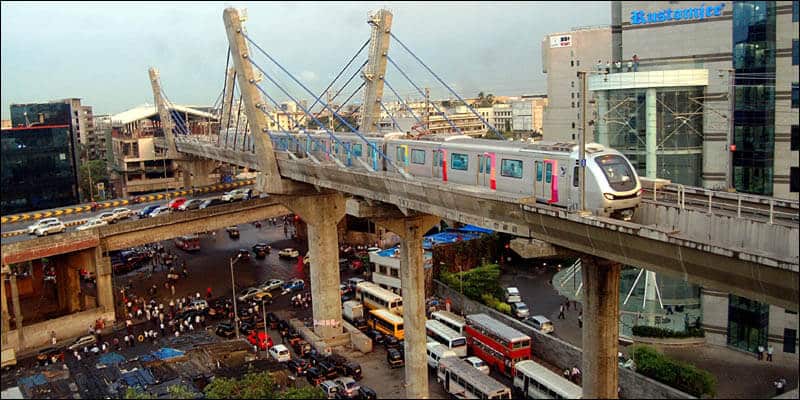 The previous National Urban Transport Policy was framed in 2006 with the motto of moving people rather than vehicles. Many years have passed since then and there was a need to control the growing pollution and to conserve energy. Thus, planning and management of urban transport services require immediate attention.
Main features:
Encouraging Transit Oriented Development (TOD) which means a congregation of housing, jobs, shops and other activities around Public Transport tops.
Transportation Demand Management (TDM) which constitutes a set of policies to determine why, where, when and how people travel so as to provide alternate modes of travel.
Growing use of personalized vehicles is one of the major reasons for air pollution and so to control this, public transportation systems need to be augmented.
Steps like high parking charges, no-emission zones, car limited zones and park and ride facilities etc will be taken to reduce the use of personalized transport.
Multi-level parking complexes would be made as a mandatory requirement in city centres that have several commercial complexes.
Promoting investments in Mass Rapid Transit (MRT) since it occupies less space and also causes less air pollution per passenger-km than personal vehicles.
Encouraging cities to take up the development of waterways and its related infrastructure due to it being fuel efficient, environment-friendly and cost-effective mode of transport.
Cities would be encouraged to adopt green e-rickshaws like Battery Operated Low Capacity Vehicles as a part of the urban transport.
Encouraging Non-Motorized Transport through financial measures.
Safety and security are accorded high priority and road safety audits for hot spots will be conducted at regular intervals.
Creating awareness among the people about the ill effects of growing urban transport systems and thereby encouraging them to adopt public transport and non-motorized transport.
Thus, the government aims to plan for the people rather than the vehicles and promote the use of public transport by making it more reliable, user-friendly and safe.
National Policy on Biofuels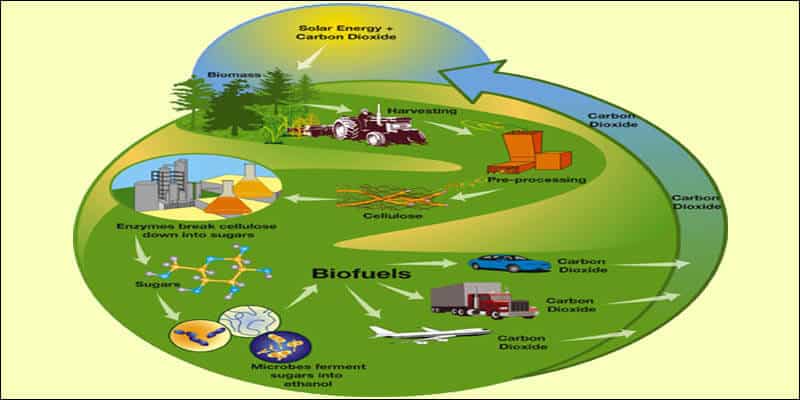 India is one of the fastest growing economies and the energy needs of the country are bound to increase in the future. Although fossil fuels would continue to play a dominant role in the energy scenario in the coming decades, the non-renewability and polluting nature of them must be considered. India is endowed with renewable energy resources and they must be used so as to mitigate the effects of climate change.
Biofuels are derived from renewable biomass resources and hence their use could be encouraged to promote sustainable development. The Indian approach to biofuels is based on non-food feedstocks thus avoiding a conflict of fuel vs. food security.
Main features:
Defines biofuels as a liquid or gaseous fuels produced from biomass resources and used in place of or in addition to diesel, petrol or other fossil fuels for transport, stationary, portable and other applications.
Government wastelands, degraded or fallow lands in the forest and non-forest areas will be used for plantation of trees bearing non-edible oilseeds.
Employment in such plantations will be brought under the coverage of National Rural Employment Guarantee Programme (NREGP).
100% foreign equity through automatic approval route would be allowed in biofuel technologies and projects.
Research and Development in the field of biofuels would be given a major thrust.
Establishing international scientific and technical cooperation in the field of biofuel production.
National Biofuel Coordination Committee would be responsible for deciding the extent of import of biofuels.
Export of biofuels will be permitted only after meeting the domestic requirement.
Creation of awareness about the role of biofuels in the energy sector.
Prime Minister will act as the chairman of the National Biofuel Coordination Committee.
Thus the policy aims to ensure the availability of minimum levels of biofuel in the market to meet the demand at any given time.
Article by: Pullela Ujwala