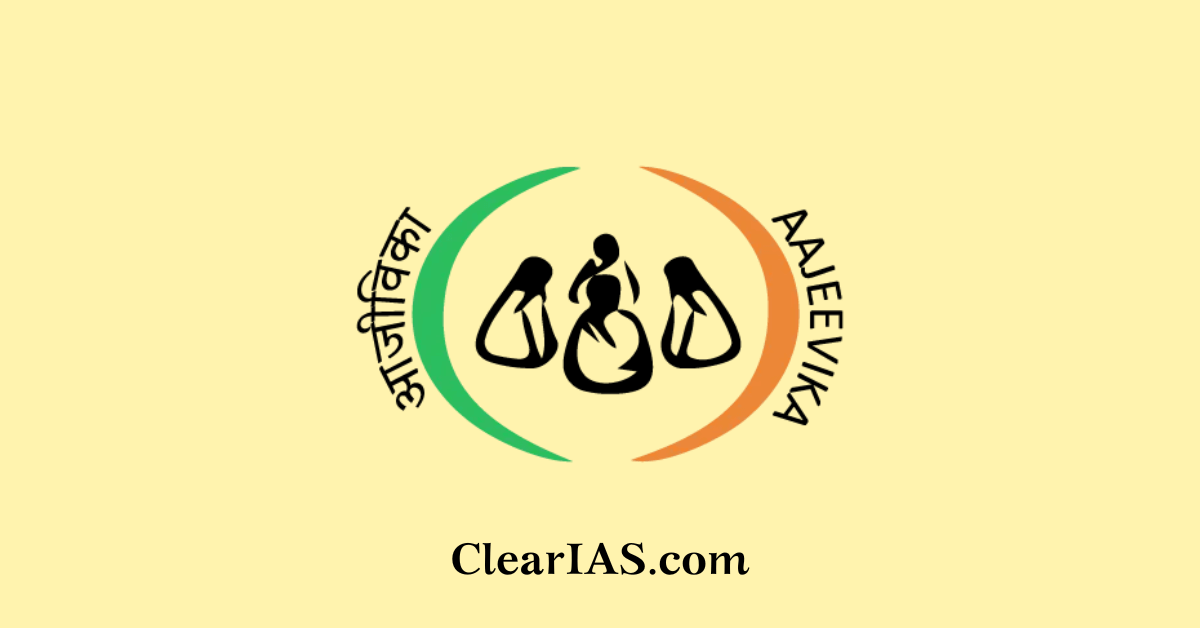 The National Rural Livelihood Mission (NRLM) is a flagship program of the Ministry of Rural Development, Government of India. It is for promoting poverty reduction through building strong institutions for the poor, particularly women, and enabling these institutions to access a range of financial services and livelihoods. Read to learn more.
Recently, Deendayal Antyodaya Yojana – National Rural Livelihood Mission (DAY-NRLM) under the Ministry of Rural Development and the Small Industries Development Bank of India (SIDBI) signed a historic Memorandum of Understanding (MOU) that marks a significant milestone in the journey of women-led enterprises in India.
The primary focus of this collaboration is to demonstrate on-the-ground activities that establish a reliable and sensitive support structure for the capacity enhancement of women entrepreneurs.
Furthermore, it aims to institutionalize standard protocols, systems, and procedures for streamlined access to formal finance, as well as the development of a comprehensive framework for new financial products and schemes.
National Rural Livelihood Mission
It was launched in June 2011 and is now known as the Deendayal Antyodaya Yojana – National Rural Livelihood Mission (DAY-NRLM) in honor of Pandit Deendayal Upadhyaya, a noted philosopher and politician.
The primary objective of NRLM is to reduce poverty by promoting diversified and gainful self-employment and wage employment opportunities for rural households, especially women.
Key features and components of the National Rural Livelihood Mission include:
Self-Help Groups (SHGs): NRLM places a strong emphasis on organizing rural poor into Self-Help Groups (SHGs).
These SHGs act as a primary unit for development activities and serve as a platform for social and financial empowerment.
Village Organizations (VOs) and Cluster Level Federations (CLFs): SHGs are federated into Village Organizations (VOs), and these VOs are further federated into Cluster Level Federations (CLFs).
This hierarchical structure enhances the collective strength of the groups, enabling them to access financial resources, build social capital, and implement livelihood projects effectively.
Livelihoods Promotion: NRLM focuses on promoting livelihoods through a variety of activities, including skill development, access to credit, agricultural interventions, non-farm enterprise promotion, and marketing linkages.
Financial Inclusion: The program aims to enhance financial inclusion by promoting community-based institutions and linking them with the formal banking sector. This includes facilitating access to credit and financial services for rural households.
Social Mobilization and Capacity Building: NRLM emphasizes social mobilization and capacity building at the grassroots level. This involves building the skills and capabilities of the rural poor, particularly women, to enable them to take charge of their development.
Aajeevika – National Rural Livelihoods Mission (DAY-NRLM): In 2015, the program was renamed DAY-NRLM to honor Pandit Deendayal Upadhyaya and to reflect a broader focus on livelihoods.
Aided in part through investment support by the World Bank, the Mission aims at creating efficient and effective institutional platforms for the rural poor, enabling them to increase household income through sustainable livelihood enhancements and improved access to financial services.
Key benefits of the Scheme
One member (preferably a woman) from each rural poor household would be brought under the Self-Help Group (SHG) network. Women SHG groups would have bank-linkage arrangements.
SHGs would be federated at the village level and higher levels to provide space, voice, and resources and to reduce dependence on external agencies.
The Mission consists of four components, viz., (i) social mobilization, community institution, and capacity building; (ii) financial inclusion; (iii) livelihood promotion; and (iv) convergence.
The participatory social assessment would be organized to identify and rank all households according to vulnerability. The ranking would concern the poorest of the poor, single women and woman-headed households, disabled, landless, and migrant labor and they would receive special focus.
Training and capacity building of the poor, particularly about managing the institutions, livelihoods, credit absorption, and creditworthiness.
The Mission also supports the development of skills for rural youth and their placement, training, and self-employment through rural self-employment institutes (RSETIs), innovations, infrastructure creation, and market support.
Provision of Revolving Funds as support to SHGs to strengthen their institutional and financial management capacity and build a good credit history.
Provision of Community Investment Support Fund (CIF) in the intensive blocks to the SHGs through the Federations to advance loans and/or undertake common/collective socio-economic activities.
Introduction of financial inclusion model, loaning from banks, association and coordination with banking/financial institutions, and coverage from loss of life, health, etc.
Provision of Interest Subvention on loans availed by SHGs to cover the difference between the lending rate of the banks and 7%.
Convergence with various ministries and agencies dealing with poverty reduction of rural poor.
With highly decentralized planning; States will have liberty in developing their action plan for poverty reduction.
NRLM to have suitable linkages at the district level with District Rural Development Agencies (DRDAs) and Panchayat Raj Institutions (PRIs).
Importance of DAY-NRLM
NRLM works towards the convergence of various government programs and schemes at the grassroots level. This ensures a holistic approach to addressing the multi-dimensional aspects of rural poverty.
NRLM recognizes the central role of women in poverty reduction and places a special focus on women's empowerment. It encourages the formation of women-centric SHGs and ensures their active participation in decision-making processes.
NRLM provides training and skill development opportunities to enhance the employability of rural youth. This includes both farm and non-farm skills to diversify livelihood options.
The program incorporates robust monitoring and evaluation mechanisms to assess the impact of interventions and ensure accountability and transparency in the implementation process.
DAY-NRLM supports the formation and strengthening of Self-Help Groups (SHGs) and their federations to promote livelihood activities. These activities include agriculture, livestock management, cottage industries, and other income-generating enterprises.
The mission aims to provide financial services to rural households, especially those belonging to marginalized communities. This includes facilitating access to credit, promoting savings, and integrating rural communities into the formal banking system.
DAY-NRLM focuses on enhancing the skills and capacities of rural households, particularly women, to enable them to manage and sustain their livelihoods effectively. Training and capacity-building programs are conducted to improve technical, entrepreneurial, and managerial skills.
The mission places a strong emphasis on social inclusion, targeting the poorest and most vulnerable sections of society. Special efforts are made to include Scheduled Castes (SCs), Scheduled Tribes (STs), and other marginalized groups in the development process.
DAY-NRLM follows a community-driven approach, empowering local communities to identify and address their specific needs. This approach ensures that development interventions are aligned with the aspirations and priorities of the community.
The mission supports the establishment and strengthening of rural institutions, including SHGs and their federations. These institutions play a crucial role in promoting collective action, resource pooling, and community development.
Recent development
In a strategic partnership, the expertise of DAY-NRLM and SIDBI have been brought together to create a transformative initiative aimed at promoting women-led enterprises among experienced members of Self-Help Groups (SHGs).
Key outcomes expected from this collaboration are:
Enhanced capacity and ability of State Rural Livelihood Missions (SRLM) teams to promote the graduation of seasoned SHG members into micro-entrepreneurs
The establishment of a reliable and sensitive support architecture for women-led enterprises, involving a network of field cadres, mentors, and experts
The implementation of standardized protocols within DAY-NRLM to support women-led enterprises
The formation of partnerships with financial institutions and a network of financiers
The design and implementation of new financial schemes, such as credit guarantees and interest subventions
The creation of clear, scalable models for promoting women-led enterprises that can be replicated nationwide
This strategic partnership reflects the Government's commitment to women's economic empowerment and entrepreneurship, focusing on making the entrepreneurial landscape more inclusive and supportive of women-led businesses.
By combining the strengths of DAY-NRLM and SIDBI, this initiative seeks to open up new avenues for women entrepreneurs, ultimately contributing to the economic growth and prosperity of the nation.
Read: Women in Workforce; Role of women and women's organizations in Indian Society; Women's Reservation bill
Conclusion
The National Rural Livelihood Mission plays a crucial role in poverty alleviation and rural development in India by promoting sustainable livelihoods, fostering financial inclusion, and empowering communities at the grassroots level.
-Article by Swathi Satish