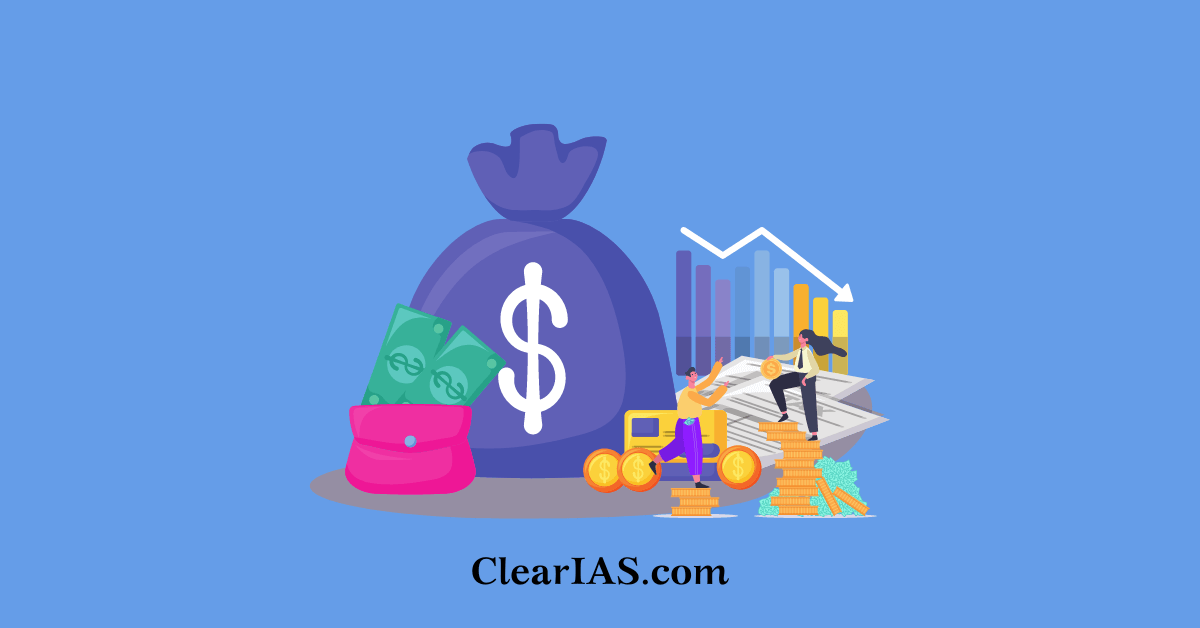 What is Economic and Social Development? Read to know more about Sustainable Development, Poverty, Inclusion, Demographics, Social Sector Initiatives etc.
India now stands at the crossroads of its development journey.
The twin pillars of economic and social progress have become central to its transformation.
For all learners of the Indian Economy and Indian Society, understanding the nuanced interplay between these two dimensions is crucial. Now, the accepted vision is that India should not only grow as a rich nation, but the development should penetrate all sections of the people. Further, the growth and development should be sustainable.
This blog post delves into India's evolving narrative of economic and social development, offering readers a comprehensive perspective on the challenges, achievements, and potential strategies that can shape the nation's future.
Economic Development: From Marginal to Global Player
The first concept is about growth ie. Economic Development.
In economics, growth means an increase in the production of goods and services. This means an improvement in the Gross Domestic Product (GDP).
India's economic transformation is a testament to its resilience and adaptability. From being considered a 'developing country' for decades, India has emerged as one of the world's fastest-growing major economies. The journey has been characterized by landmark reforms, robust GDP growth, and a shift from agrarian dominance to a diversified economy.
When we study the economic development of India, we need to grasp the complexities of India's economic evolution. The 1991 economic liberalization marked a turning point, dismantling the License Raj and opening doors to foreign investment. This period underscores the significance of pragmatic policymaking, as it laid the foundation for subsequent growth.
However, challenges such as poverty, unemployment, and income inequality persist. We must engage ourselves with evolving strategies to address these issues, such as the 'Make in India' initiative, the Goods and Services Tax (GST), and initiatives for financial inclusion like the Pradhan Mantri Jan Dhan Yojana.
Social Development: Empowering India's Diversity
While economic progress is vital, sustainable development is incomplete without social inclusivity. We need to understand the intricacies of India's diverse social fabric is paramount.
Inclusive Governance
The Indian Constitution's emphasis on social justice has paved the way for transformative policies. Social development initiatives like the Mahatma Gandhi National Rural Employment Guarantee Act (MGNREGA) have provided a safety net for rural citizens, tackling both poverty and unemployment. Moreover, the Scheduled Castes and Scheduled Tribes (Prevention of Atrocities) Act underscores the commitment to protecting marginalized communities.
Gender Equality
Promoting gender equality is an integral part of India's social development narrative. Initiatives like the Beti Bachao, and Beti Padhao campaign aim to bridge gender gaps in education and employment. Additionally, the representation of women in local governance through Panchayati Raj Institutions showcases the role of grassroots democracy in empowering women.
Synergy Between Economic and Social Development
The intricate interplay between economic and social development is undeniable. A growing economy provides the necessary resources to fund social welfare programs, while an empowered populace becomes a potent driver of economic growth.
Administrators must focus on improving the education system and skill development initiatives. The 'Digital India' campaign, coupled with the National Skill Development Mission, aligns with this vision, aiming to equip the youth with 21st-century skills.
Healthcare forms the bedrock of a productive society. Schemes like Ayushman Bharat exemplify the integration of economic and social priorities, offering financial protection during medical emergencies while improving the overall health index of the nation.
Sustainable Development
Sustainable development is the compass guiding the nation's journey towards a future that balances economic progress with environmental stewardship and social inclusivity.
At its core, sustainable development is about meeting the needs of the present without compromising the ability of future generations to meet their own needs.
In India's context, it's an approach that seeks to balance economic growth with environmental protection and social equity.
Environmental Conservation: A Prerequisite for Progress
India's natural beauty and biodiversity are invaluable assets. Sustainable development recognizes the need to preserve these resources for current and future generations. Initiatives like afforestation, wildlife conservation, and renewable energy adoption reflect the nation's commitment to reducing its carbon footprint.
Social Inclusivity: Leaving No One Behind
Sustainability isn't just about protecting the planet; it's also about uplifting people. Inclusion lies at the heart of this endeavour. Programs that ensure access to education, healthcare, and economic opportunities for all segments of society contribute to a more equitable future.
Economic Growth with a Green Tint
India's economic aspirations are intertwined with sustainability. The push for green technologies, clean energy, and circular economy practices is not just environmentally responsible; it's economically prudent. It opens doors to innovation, job creation, and enhanced global competitiveness.
Challenges on the Road to Sustainability
The journey to sustainable development is marked by hurdles:
Population Pressure: A large population places strain on resources and infrastructure, necessitating sustainable consumption patterns.
Urbanization: Rapid urban growth demands sustainable urban planning, waste management, and infrastructure development.
Climate Change: India faces the impacts of climate change, including erratic weather patterns and rising sea levels. Mitigation and adaptation strategies are essential.
Government Initiatives: A Transformative Vision
The Indian government has taken several steps to embrace sustainability:
National Action Plan on Climate Change (NAPCC): A comprehensive strategy that outlines measures to address climate change impacts through adaptation and mitigation efforts.
Swachh Bharat Abhiyan: A nationwide campaign to promote cleanliness and proper waste management.
National Solar Mission: A commitment to increasing solar energy capacity to reduce dependency on fossil fuels.
Individual and Community Role
Every citizen plays a part in sustainable development. Small actions like conserving water, reducing waste, and supporting eco-friendly products contribute to the larger goal.
Sustainable development isn't a luxury; it's a necessity. India's path to prosperity is intricately linked with its commitment to preserving its environment, uplifting its people, and embracing responsible growth. By fostering a holistic approach that weaves together economic, environmental, and social well-being, India is sowing the seeds for a future where development thrives without compromising the planet or leaving anyone behind.
Read more about sustainable development…
Poverty
Amidst the vibrant colours, rich culture, and dynamic progress, India grapples with a persistent challenge: poverty.
There are families struggling to make ends meet, children missing out on education, and individuals lacking access to basic healthcare. Poverty transcends mere economics; it impacts human dignity and potential.
Causes and Complexity
Poverty rates are generally higher in rural areas compared to urban areas. Rural poverty is often linked to factors such as limited job opportunities and inadequate access to education and healthcare.
Poverty's roots are deep and intertwined with various factors:
Unemployment: Lack of job opportunities, especially in rural areas, leads to income instability.
Underemployment: Many are trapped in low-paying, unstable jobs that fail to provide a decent living.
Lack of Education: Illiteracy perpetuates poverty by limiting access to better job prospects.
Healthcare Disparities: Poor health leads to decreased productivity and increased medical expenses.
Social Discrimination: Marginalized communities face limited opportunities due to societal biases.
Impacts on Society
The impact of poverty extends beyond individual lives:
Education Gap: Poverty often denies children access to education, perpetuating the cycle.
Healthcare Challenges: Poor living conditions and inadequate nutrition lead to health issues.
Crime and Unrest: Poverty can contribute to social unrest and criminal activities.
Inequality: The gap between the rich and the poor widens, affecting social cohesion.
Government Initiatives: A Ray of Hope
The Indian government recognizes the urgency of addressing poverty and has introduced several initiatives to tackle the issue:
National Rural Employment Guarantee Act (NREGA): Provides employment opportunities in rural areas, aiding income stability.
Pradhan Mantri Awas Yojana (PMAY): Aims to provide affordable housing for urban and rural poor.
Jan Dhan Yojana: Financial inclusion program to ensure access to banking services.
Mid-Day Meal Scheme: Provides nutritious meals in schools, boosting attendance and health.
Civil Society and Non-Governmental Efforts
Numerous NGOs and grassroots organizations work tirelessly to combat poverty. Their efforts include education programs, vocational training, healthcare initiatives, and community development projects.
Towards a Brighter Future
The road to eradicating poverty is challenging, but progress is evident:
Economic Growth: India's growing economy can create more jobs and opportunities.
Education Focus: Emphasis on education can break the cycle of poverty.
Social Programs: Effective implementation of social welfare programs can uplift marginalized communities.
Poverty is a complex issue that requires multidimensional solutions. India's journey towards prosperity involves addressing unemployment, inequality, and access to basic services. By weaving social and economic safety nets, fostering education, and supporting inclusive policies, we can create a society where every individual has the opportunity to escape the clutches of poverty and live a life of dignity and promise.
Read more about poverty in India…
Inclusion
Inclusion is the act of ensuring that every individual, regardless of their background, enjoys equal rights and opportunities.
The concept of inclusion forms the bedrock of India's ethos.
In this post, we delve into the concept of inclusion in the Indian context, exploring its significance, challenges, and strides forward.
Equal Access to Opportunities
In a truly inclusive economy, everyone has an unobstructed path to opportunities. From education to entrepreneurship, access must be unrestricted by gender, caste, religion, or socio-economic background. When barriers are dismantled, a more diverse and skilled workforce emerges, propelling innovation and economic growth.
Financial Inclusion
Inclusion in the economic realm extends to financial accessibility. Programs like the Jan Dhan Yojana have brought millions into the formal banking system, giving them a chance to save, invest, and plan for the future. This empowerment contributes to poverty reduction and economic stability.
Social Cohesion
Inclusion in society fosters a sense of belonging and shared purpose. When individuals from different walks of life interact, understanding deepens, and prejudices weaken. This kind of cohesion is crucial in a country as diverse as India, where unity amidst diversity is a national strength.
Empowerment of Marginalized Communities
Inclusion takes on a transformative role when it empowers marginalized communities. Affirmative action policies and targeted programs uplift those historically left behind, creating a more equitable social landscape. Empowerment through education, skill development, and access to resources bridges gaps and drives social progress.
Gender Disparities
Despite progress, gender disparities remain a challenge. Women's access to education, employment, and decision-making roles is often limited. Inclusive policies that promote gender equality are vital to harnessing the full potential of society and the economy.
Rural-Urban Divide
The rural-urban divide in India reflects uneven access to opportunities and services. Inclusive development means bridging this gap, ensuring that the benefits of progress reach every corner of the nation.
Education for All
Inclusion starts with education. Every child, regardless of background, deserves access to quality education. This prepares them to be active contributors to the economy and informed citizens in society.
Employment Opportunities
Promoting inclusion in the economy involves creating job opportunities that accommodate diverse skill sets. Inclusive workplaces that value diversity foster innovation and productivity.
Inclusion isn't just a concept; it's a commitment to building a society and economy that leaves no one behind. As India marches towards its goals of economic growth and social progress, the thread of inclusion must be woven through every policy, program, and initiative.
Inclusion ensures that every voice matters, every talent is nurtured, and every dream is achievable. It's not just about unity in diversity; it's about unity in progress.
Demographics
India, a land of unparalleled diversity and cultural richness, is equally fascinating when it comes to its demographics.
Demographics, the study of a population's composition, characteristics, and trends, unveils a vivid tapestry of people, languages, religions, and aspirations. In this post, we'll journey through India's demographics, exploring its unique features and the transformative shifts that shape its future.
Population Diversity: Unity in Multiplicity
India's population is a melting pot of various ethnicities, languages, religions, and traditions. With over 1.3 billion people, it's the world's second-most populous country. The term "unity in diversity" is exemplified in India's demographics, where a multitude of identities coexist harmoniously.
Languages and Linguistic Diversity
India is a linguistic wonderland, with an estimated 22 officially recognized languages and thousands of dialects. Hindi, in its various forms, serves as a link between different regions, but states also embrace their native languages with pride. Each language is a window into unique cultures, traditions, and ways of life.
Religious Plurality
Religious diversity is a defining aspect of India's demographics. Hinduism, Islam, Christianity, Sikhism, Buddhism, and various other faiths are practised here. The nation's commitment to secularism is a testament to its respect for all religions, fostering a harmonious coexistence.
Demographic Transitions: A Changing Landscape
India's demographics are in a constant state of flux due to various factors, including birth rates, death rates, and migration. Over the years, the country has undergone significant demographic transitions that have far-reaching implications.
Youthful Population
One striking feature is India's youthfulness. The median age is around 28 years, making it one of the youngest nations globally. This "youth bulge" offers immense potential for the workforce, innovation, and economic growth.
Urbanization and Migration
Urbanization is reshaping India's demographic landscape. People from rural areas are moving to cities in search of better opportunities, resulting in the growth of urban centers. This migration brings cultural exchange, increased demand for infrastructure, and challenges related to housing and services.
Demographics and Development
Understanding demographics is crucial for policymaking and development strategies. By analyzing the age distribution, literacy rates, and income levels, authorities can tailor interventions to meet specific needs.
Healthcare and Aging
India's demographics also hold insights into healthcare requirements. As the population ages, healthcare systems must adapt to address age-related ailments and ensure a healthy elderly population.
Education and Employment
The youth-dominated demographic structure calls for investment in education and skill development. Empowering the youth with quality education and job opportunities is a key step toward reaping the demographic dividend.
India's demographics are a vibrant mosaic that reflects its cultural richness, historical legacy, and evolving aspirations. It's a story of unity within diversity, where countless identities coalesce into a shared destiny. As India navigates its demographic transitions, understanding and harnessing this diversity will be critical for shaping a future that benefits all citizens, preserves traditions, and embraces progress.
Read more about India's demographics…
Social Sector Initiatives
India has implemented a range of major social sector initiatives to address various challenges and improve the well-being of its citizens. These initiatives cover areas such as education, healthcare, women's empowerment, rural development, and more. Here are some of the significant social sector initiatives in India:
1. Mahatma Gandhi National Rural Employment Guarantee Act (MGNREGA): This landmark initiative aims to provide employment opportunities to rural households, ensuring livelihood security and reducing rural unemployment. It guarantees 100 days of wage employment per year to each household, promoting inclusive growth and rural development.
2. Pradhan Mantri Jan Dhan Yojana (PMJDY): This financial inclusion program aims to provide access to banking services to every household, especially those in rural and remote areas. It encourages people to open bank accounts, avail insurance services, and benefit from direct subsidy transfers.
3. Swachh Bharat Abhiyan (Clean India Campaign): Launched to promote cleanliness, hygiene, and sanitation across the country, this initiative focuses on building toilets, ensuring proper waste management, and improving the overall cleanliness of both rural and urban areas.
4. Beti Bachao, Beti Padhao: This initiative aims to address gender bias and improve the status of the girl child in Indian society. It focuses on preventing female infanticide, promoting education for girls, and empowering them to lead successful lives.
5. Pradhan Mantri Ujjwala Yojana: This scheme provides free LPG connections to women from below-poverty-line households, reducing indoor air pollution from traditional cooking methods and promoting better health and safety.
6. Ayushman Bharat – Pradhan Mantri Jan Arogya Yojana (PM-JAY): Commonly known as the Ayushman Bharat scheme, it is one of the world's largest government-sponsored health insurance initiatives. It provides health coverage to economically vulnerable families, ensuring they have access to quality healthcare without facing financial strain.
7. National Rural Health Mission (NRHM) and National Health Mission (NHM): These initiatives focus on improving healthcare services in rural and remote areas by upgrading health facilities, training healthcare workers, and enhancing maternal and child health services.
8. Digital India: This initiative aims to transform India into a digitally empowered society by promoting digital literacy, providing access to various digital services, and enhancing online governance and service delivery.
9. Skill India: This program seeks to provide skill development and vocational training to millions of Indian youth, enabling them to acquire job-relevant skills and increase their employability.
10. Pradhan Mantri Awas Yojana (PMAY): This scheme aims to provide affordable housing to urban and rural poor households. It focuses on ensuring "Housing for All" by constructing pucca houses with necessary amenities.
11. National Mission for Empowerment of Women (NMEW): This mission focuses on empowering women economically, socially, and politically. It promotes gender equality, addresses violence against women, and supports their overall well-being.
12. Atal Pension Yojana (APY): This pension scheme targets unorganized sector workers and provides them with a pension after their retirement age. It aims to ensure social security and financial stability for individuals in the informal sector.
These are just a few examples of the many social sector initiatives that India has undertaken to uplift its citizens' quality of life and promote inclusive development. Each of these initiatives addresses specific challenges while contributing to the overall progress of the nation.
Read more about the social sector initiatives in India…
How to study Economic and Social Development?
Readers may note that this article on Economic and Social Development is just an overview of the topic. There is a lot more to learn about Economic and Social Development.
We recommend the below sources to learn the subject.
Conclusion
We must recognize that the journey of economic and social development in India is intertwined with their role.
Understanding the dynamics, challenges, and success stories of this journey is essential for crafting policies that bring holistic progress.
The youth hold the potential to shape India's future by harnessing the power of inclusive economic growth and equitable social development.