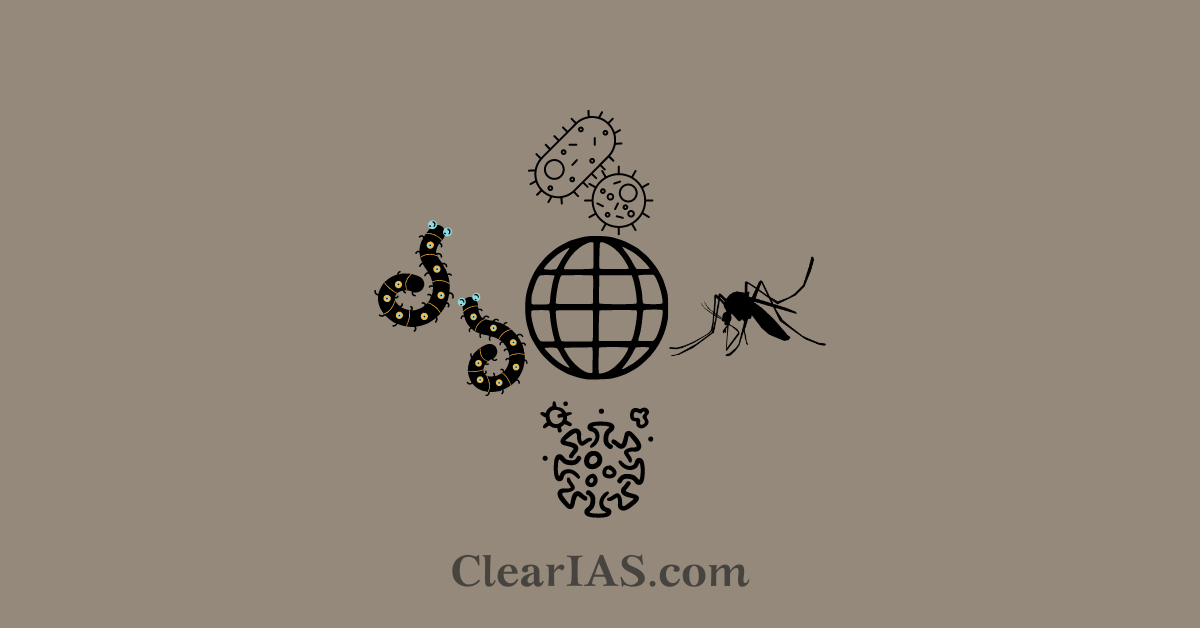 Neglected Tropical Diseases are prevalent in marginalized countries of Asia, Africa, and the Americas. Read here to know more about them.
Neglected tropical diseases (NTDs) are a diverse group of 20 conditions that are mainly prevalent in tropical areas, where they mostly affect impoverished communities and disproportionately affect women and children. These diseases cause devastating health, social and economic consequences to more than one billion people.
Neglected tropical diseases (NTDs)
The epidemiology of NTDs is complex and often related to environmental conditions. Many of them are vector-borne, have animal reservoirs, and are associated with complex life cycles. All these factors make their public-health control challenging.
NTDs include:
Buruli ulcer
Chagas disease
Dengue and chikungunya
Dracunculiasis (Guinea worm disease)
Echinococcosis
Foodborne trematodiases
Human African trypanosomiasis (sleeping sickness)
Leishmaniasis
Leprosy (Hansen's disease)
Lymphatic filariasis
Mycetoma
Chromoblastomycosis and other deep mycoses
Onchocerciasis (river blindness)
Rabies, scabies, and other ectoparasites
Schistosomiasis
Soil-transmitted helminthiases
Snakebite envenoming
Taeniasis /cysticercosis
Trachoma
Yaws and other endemic treponematoses.
January 30 has been designated as World NTD Day and was informally observed for the first time in 2020.
World NTD Day commemorates the simultaneous launch of the first NTD road map (2012-2020) and the London Declaration on NTDs on 30th January 2012.
London Declaration on NTDs:
It was adopted on 30th January 2012 to recognize the global burden of NTDs.
The officials from the World Health Organization (WHO), the World Bank, the Bill and Melinda Gates Foundation, representatives from leading global pharmaceutical companies as well as representatives of several national governments met at London's Royal College of physicians to pledge to end the diseases.
Latest developments in fighting the NTDs
December 2020:  Sanofi, a pharmaceutical company is going to provide support to WHO's for its global program for the elimination of Human African trypanosomiasis – Sleeping sickness and Leishmaniasis.
The collaboration will also look into Chagas disease and Skin NTDs
January 2021: The Ghanaian medicines are in the news for the treatment of NTDs like schistosomiasis, onchocerciasis, and lymphatic filariasis.
Ending the neglect to attain the Sustainable Development Goals: A road map for neglected tropical diseases 2021–2030 is a document of WHO which has been recently released:
From measuring process to measuring impact.
From disease-specific planning and programming to collaborative work across sectors.
From externally driven agendas reliant on programs that are country-owned and country-financed.
The roadmap is built on three foundational pillars that support global efforts to control, eliminate and eradicate neglected tropical diseases:
Pillar 1- Accelerate programmatic action: Reduce incidence, prevalence, morbidity, disability, and death
Pillar 2. Intensify cross-cutting approaches: Integrate interventions, mainstream services, and coordinate action
Pillar 3. Change operating models and culture to facilitate country ownership: Clarify stakeholders' roles, understand cultures, and align to reach 2030 targets
India and Neglected Tropical Diseases
As per WHO data, India ranks on top in the number of cases for many major NTDs in the world. India carries the largest burden of at least 11 of these diseases, with parasitic illnesses like kala-azar and lymphatic filariasis affecting millions of people throughout the country, often the poorest and most vulnerable.
According to the World Health Organization report of 2017, India was able to eliminate Leprosy in 82% of the cities and districts.
The Ministry of Health and Family Welfare also mentioned that India has eradicated Infectious Trachoma and chronic disease Yaws from the country. Similarly, leprosy has ceased to be a public health concern in the country, and mass treatment coverage has also been achieved for people susceptible to Filaria.
As of now the most common Neglected Tropical Diseases in India are Lymphatic Filariasis, Visceral Leishmaniasis, Rabies, Leptospirosis, Dengue, and Soil-Transmitted Helminthic Infections (STH).
However, India has made tremendous progress in controlling many such neglected tropical diseases in recent years.
Initiatives by the government against Neglected Tropical Diseases:
The Accelerated Plan for Elimination of Lymphatic Filariasis (APELF) was launched in 2018, as part of intensifying efforts towards the elimination of NTDs.
The WHO-supported regional alliance was established by the governments of India, Bangladesh, and Nepal in 2005to expedite early diagnosis and treatment of the most vulnerable populations and improve disease surveillance and control of sandfly populations (Kala-azar).
National Rabies Control Programme: It provides vaccination to stray dogs and free vaccines through Government Hospitals all over the country.
National Vector Borne Disease Control Programme (NVBDCP): It is a program for the prevention and control of vector-borne diseases namely Malaria, Filaria, Kala-azar, Japanese Encephalitis (JE), Dengue, and Chikungunya.
National Leprosy Eradication Programme: The program was launched to eliminate leprosy as a public health problem. In 2005, it was officially declared eliminated as a public health concern in India. This was when the new cases fell to less than 1 per 10,000. Yet, India accounts for the largest number of leprosy-affected people in the world.
The National Health Policy: Established in 2017, the National health policy sets an ambition to stimulate innovation to meet the health needs and ensure that new drugs are affordable for those who need them most, but it does not specifically tackle neglected diseases.
The National Policy on Treatment of Rare Diseases: Mostly focuses on identifying and researching treatments for rare diseases and infectious tropical diseases.