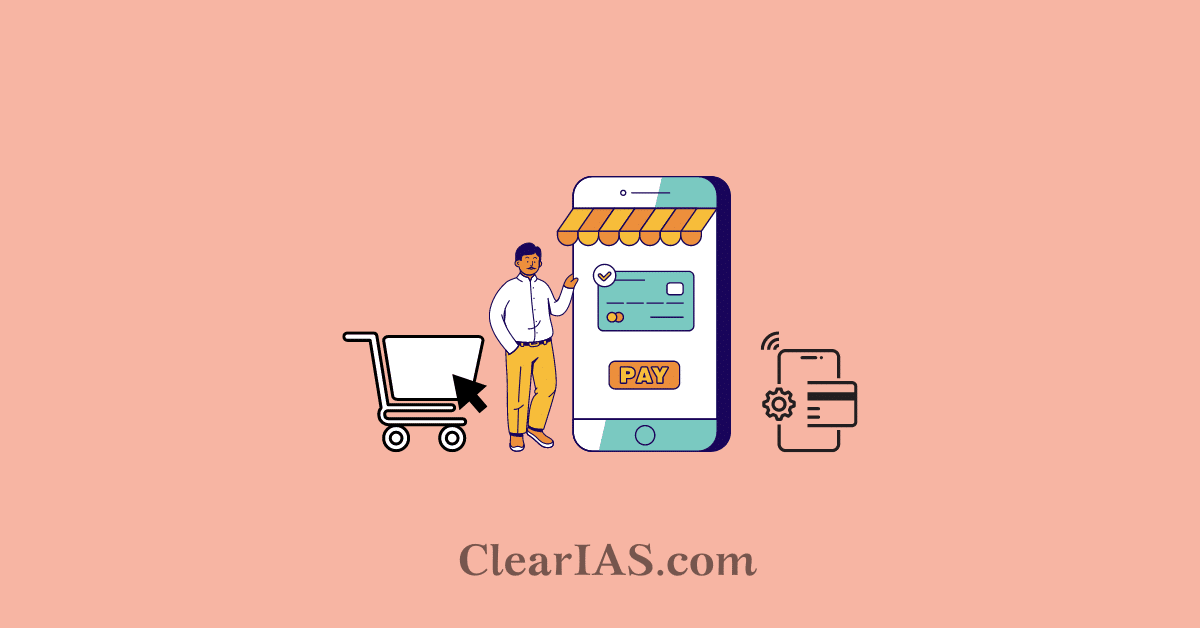 Open Network for Digital Commerce (ONDC): What is this initiative? How does it work? What challenges does it aim to address? Read here to know more.
The Open Network for Digital Commerce (ONDC) is a government-backed project which is aimed at enabling small merchants and mom-and-pop stores in parts of the country to access processes and technologies that are typically deployed by large e-commerce platforms.
It is an initiative aiming at promoting open networks for all aspects of the exchange of goods and services over digital or electronic networks.
ONDC is to be based on open-sourced methodology, using open specifications and open network protocols independent of any specific platform.
ONDC is a private non-profit Section 8 company established by the Department for Promotion of Industry and Internal Trade (DPIIT) of the Government of India to develop open e-commerce.
The foundations of ONDC are to be open protocols for all aspects of the entire chain of activities in exchange for goods and services.
It will be similar to hypertext transfer protocol (HTTP) for information exchange over the internet, simple mail transfer protocol (SMTP) for the exchange of emails, and unified payments interface (UPI) for payments.
Also read: Inter-State Trade and Commerce
What is open-source?
Open source software is code that is designed to be publicly accessible, that is, anyone, can see, modify, and distribute the code as they see fit.
For example, Google's Android operating system is open-source. It can be modified by different smartphone manufacturers for their hardware.
On the other hand, the operating system of Apple's iPhones (iOS) is closed source, meaning it cannot be legally modified or reverse engineered.
ONDC has been rolled out in 5 cities – Delhi NCR, Bengaluru, Bhopal, Shillong, and Coimbatore.
The operations are presently focused on retail and restaurants and facilitating real-time transactions.
The open network will, later on, extend to other categories like travel and mobility.
Significance of ONDC
ONDC is a global first-of-its-kind initiative to democratize the digital commerce marketplace.
These open protocols would be used for establishing public digital infrastructure in the form of open registries and open network gateways to enable the exchange of information between providers and consumers.
Providers and consumers would be able to use any compatible application of their choice for the exchange of information and carrying out transactions over ONDC.
Thus, ONDC goes beyond the current platform-centric digital commerce model where the buyer and seller have to use the same platform or application to be digitally visible and do a business transaction.
ONDC protocols would standardize operations like cataloging, inventory management, order management, and order fulfillment.
Thus, small businesses would be able to use any ONDC-compatible applications instead of being governed by specific platform-centric policies.
This will provide multiple options for small businesses to be discoverable over the network and conduct business.
It would also encourage easy adoption of digital means by those currently not on digital commerce networks.
Also read: Sectors of the Economy: Primary, Secondary, Tertiary, Quaternary and Quinary
Benefits of Open Network for Digital Commerce (ONDC)
ONDC is expected to make E-Commerce more inclusive and accessible for consumers.
Consumers can potentially discover any seller, product, or service by using any compatible application or platform, thus increasing freedom of choice for consumers.
It will enable the consumers to match demand with the nearest available supply. This would also give consumers the liberty to choose their preferred local businesses.
Thus, ONDC would standardize operations, promote inclusion of local suppliers, drive efficiencies in logistics and lead to enhancement of value for consumers.
The digital market will be widened to accommodate more Micro, Small, and Medium Enterprises (MSMEs) and small traders in the country.
The monopolies of large e-commerce companies will be broken leading to improvement in access, innovation, and variety of businesses.
The transparent rules will attract more investments into businesses in the e-commerce space.
Concerns related to ONDC
The smaller businesses may still find it hard to compete with the number of resources available to e-commerce giants like Amazon and Flipkart.
The possibility of mismatch in payment gateways of different platforms will compromise the aim of a seamless transaction.
The legal aspects of the functioning of ONDC and its association with other e-commerce platforms are still unclear.
The liability of issues faced by consumers concerning the quality of products, payments, services, etc is also not specified.
The lack of digital education among a large section of small business owners may hamper the objectives of the initiative.
Future of Open Network for Digital Commerce (ONDC)
The ONDC aims to raise e-commerce penetration in the next two years to 25% of India's consumer purchases, from nearly 8% now, in a country of 1.35 billion people.
It aims to sign up 900 million buyers and 1.2 million sellers on the shared network within the next five years while achieving a gross merchandise value of $48 billion.
It aims to bring in logistics firms and others who can collaborate with sellers to deliver products to customers.
ONDC aims primarily to tap millions of small businesses that often lack technological expertise, so the government will have to run a massive awareness campaign to get them on board.
The role of the Competition Commission of India (CCI) will be crucial in the success of ONDC as smaller businesses with low volumes lack the resources to match the discounts offered by heavyweights like Amazon and Flipkart. Their integration and sustenance could be done only when big players are effectively stopped from indulging in anti-competitive practices.
The government also needs to make sure that ONDC complies with the Information Technology Act and related laws.
Recent news on ONDC
Recently, Microsoft has become the first big tech company to join the government-backed Open Network for Digital Commerce.
Companies like Paytm, and Phonepe have already joined hands with ONDC.
Way forward
The lack of digital education needs to be addressed foremost with help of different digital literacy missions of government. It is important to accommodate various languages and user-friendly interfaces for both consumers and sellers.
The initiative should be promoted more extensively to include more small times sellers which will help enhance their livelihoods.
A single window Grievance redressal mechanism needs to be established to deal with both demand and supply issues.