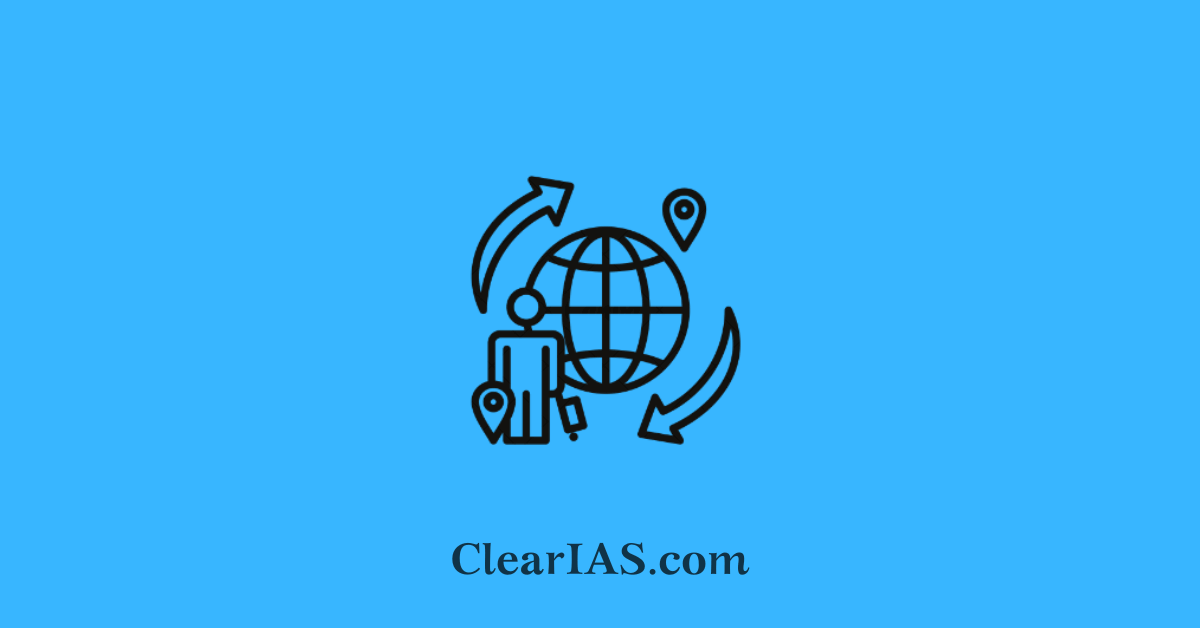 The International Migration Outlook is an annual publication by the OECD that provides a comprehensive analysis of international migration trends and their impact on the economies and societies of OECD member countries and selected non-OECD countries. Read here to learn more about migration within and outside India as well.
The 2023 edition of International Migration Outlook analyses recent developments in migration movements and the labor market inclusion of immigrants in OECD countries.
It also monitors recent policy changes in migration governance and integration in OECD countries.
This edition includes two special chapters on the labor market integration of migrant mothers and fertility patterns among migrant populations in OECD countries.
International Migration Outlook
The International Migration Outlook is an annual publication by the Organisation for Economic Co-operation and Development (OECD) that provides a comprehensive analysis of international migration trends and their impact on the economies and societies of OECD member countries and selected non-OECD countries.
Migration Trends and Patterns: The report presents an overview of international migration trends, including the number of migrants, their countries of origin and destination, and the reasons for migration. It also examines the impact of various factors, such as conflict, economic disparities, and family reunification, on migration patterns.
Labor Migration: The report focuses on labor migration, assessing the role of migrant workers in different economies. It analyzes the demand for foreign labor in OECD countries, the skills and qualifications of migrants, and the challenges and opportunities they face in the labor market.
Immigration Policies: The International Migration Outlook provides insights into immigration policies and practices in OECD and non-OECD countries. It examines changes in visa regulations, residency permits, and the criteria for entry and stay of migrants.
Integration and Inclusion: The report addresses the integration and inclusion of migrants in host countries, emphasizing the importance of policies and programs that support their successful social, economic, and cultural integration.
Refugee and Asylum Issues: The report explores the challenges related to refugee and asylum policies, focusing on the protection of refugees and the response to forced displacement crises. It also examines the role of the international community in providing humanitarian assistance and durable solutions.
Remittances: Remittances sent by migrants to their countries of origin are an important part of the report's analysis. It assesses the impact of remittances on the economies and development of sending countries.
Skills and Education: The International Migration Outlook evaluates the education and skills of migrants, highlighting the recognition of foreign qualifications and the need for skill mobility to meet labor market demands.
Health and Well-being: The report examines the health and well-being of migrants, including access to healthcare, mental health, and the challenges faced by vulnerable migrant populations, such as irregular migrants and refugees.
Gender and Migration: It addresses gender-related aspects of migration, including the experiences of migrant women, family reunification, and gender-specific challenges faced by migrants.
Data and Research: The report relies on data and research to provide evidence-based analyses of migration trends and policies. It highlights the importance of accurate and comprehensive data on international migration.
Policy Recommendations: The International Migration Outlook often includes policy recommendations for governments and stakeholders to address the challenges and opportunities associated with international migration.
Also read: Refugee crisis in India; European refugee crisis
International Migration Outlook 2023
Migration to OECD countries is at unprecedented levels. With more than 6 million new permanent immigrants (not including Ukrainian refugees), permanent migration to OECD countries reached a record level in 2022.
This was driven by increases in humanitarian and managed labor migration, along with accompanying family members.
More than one in three OECD countries registered their highest levels in at least 15 years, with several countries, such as Canada and the United Kingdom, reporting the highest figures on record.
Temporary labor migration, especially of the seasonal kind, also registered a strong increase.
The number of admissions of international students neared 2 million for the first time.
As of June 2023, there were around 4.7 million displaced Ukrainians in OECD countries. Germany, Poland, and the United States host the highest number of refugees from Ukraine in absolute terms, while Estonia, the Czech Republic, and Lithuania have received the highest number as a share of the population.
India has emerged as the top country of origin of new citizens in OECD countries in 2021 with 4 lakh new migrants (excluding students).
The report sheds light on the increasing focus on policy responses to climate-induced displacement in recent years. Few OECD countries have explicit policies to address this issue.
Immigrant mothers face disproportionate disadvantages, both compared with immigrant women without children and vis-à-vis their native-born peers.
While migrant women tend to have more children than their native-born peers, their total fertility rate is still below the replacement rate (2.1 children per woman) in most OECD countries.
The gap in employment rates between immigrant and native-born mothers is 20 percent.
Individual preferences and cultural factors are the main barriers to maternal employment.
Migrant mothers are often trapped in inactivity due to childcare responsibilities.
Summary of the report 2023
Permanent-type migration to OECD countries increased by 26% in 2022 compared with 2021. Preliminary figures for 2023 suggest a further increase.
Family migration remained the primary category of entry for new permanent-type migrants, representing 40% of all permanent-type migration, while managed labor migration and free mobility both accounted for 21% each.
The top origin countries for asylum applicants within the OECD in 2022 were Venezuela (221 000), Cuba (180 000), Afghanistan (170 000) and Nicaragua (165 000).
In more than half of OECD countries, the employment rate of migrants is at the highest in more than two decades.
Immigrant mothers face a disproportionate disadvantage, both compared with immigrant women without children and vis-à-vis their native-born peers. On average across the OECD, the gap in employment rates between immigrant and native-born mothers is 20 percentage points.
Labor Migration Within and Outside India
Labor migration within and outside India is a significant and complex phenomenon driven by economic, social, and demographic factors. India has one of the world's largest migrant populations, both within the country and in various international destinations.
Internal Labor Migration:
Internal labor migration in India is primarily driven by economic factors. Individuals and families often move from rural areas to urban centers or industrial regions in search of better job opportunities and higher wages.
Both skilled and unskilled labor migrate within India. Skilled labor often includes professionals, such as information technology (IT) workers, engineers, and healthcare professionals, who move to major cities for better career prospects. Unskilled labor comprises those who work in construction, agriculture, and other labor-intensive sectors.
Seasonal or cyclic migration is common, particularly in agriculture. Workers may travel to different regions for short periods to engage in seasonal activities such as planting and harvesting.
Internal migration often reflects regional economic disparities. People from economically disadvantaged states in the north and east of India often migrate to more prosperous states in the south and west.
Internal migrants face various challenges, including inadequate housing, social discrimination, and limited access to healthcare and education. Many live in informal settlements and have insecure employment.
The Indian government has introduced policies and programs to address internal labor migration, such as the One Nation, One Ration Card scheme, which aims to provide portability for food subsidies for migrants.
Labor Migration Outside India:
Indian labor migration to foreign countries includes both skilled and unskilled workers. Skilled professionals, particularly in the IT and healthcare sectors, often move to countries in North America, Europe, and the Middle East. Unskilled laborers may find work in construction, domestic work, or other low-wage industries in the Middle East and Southeast Asia.
The Gulf Cooperation Council (GCC) countries are significant destinations for Indian labor migrants, particularly from Kerala and other southern states. Workers in these countries often face challenging working conditions.
International migrants from India send substantial remittances back to their families, contributing significantly to the Indian economy.
Indian migrant workers in some regions face challenges such as exploitation, poor working conditions, and human rights abuses. The government has taken steps to improve the welfare and protection of these migrants.
The Indian government has established various programs and initiatives to support its overseas citizens, including the Pravasi Bharatiya Divas and the eMigrate system for overseas employment.
India has an Emigration Act to regulate the recruitment and conditions of migrant workers traveling to certain countries to protect their rights and ensure their well-being.
Many Indian migrants eventually return to India, bringing their skills and experiences. Return migration can contribute to the country's development.
Labor migration is a complex and multifaceted issue in India, with both internal and international dimensions. The Indian government, along with various state governments, is actively engaged in addressing the challenges and opportunities associated with labor migration to ensure the welfare and protection of its citizens.
Also read: Brain drain-the great Indian migration
Conclusion
The International Migration Outlook is a valuable resource for policymakers, researchers, international organizations, and civil society groups interested in understanding and managing international migration. It offers insights into the complex and evolving dynamics of migration and provides a basis for informed decision-making on migration-related issues.
Previous year Questions
Q. "Refugees should not be turned back to the country where they would face persecution or human rights violation". Examine the statement concerning the ethical dimension being violated by the nation claiming to be democratic with an open society. (2021)
Q. Rehabilitation of human settlements is one of the important environmental impacts that always attract controversy while planning major projects. Discuss the measures suggested for mitigation of this impact while proposing major developmental projects. (2016)
Q. Discuss the changes in the trends of labor migration within and outside India in the last four decades. (2015)
-Article by Swathi Satish