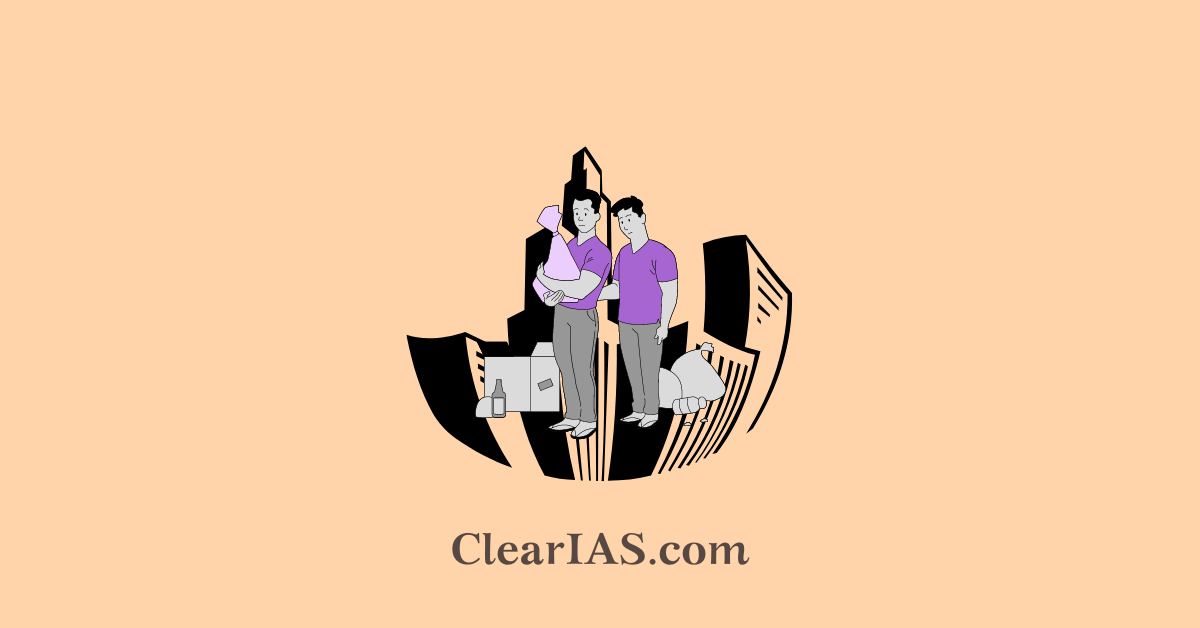 Urban poverty is complex and multidimensional and it extends beyond the deficiency of income or consumption. Urbanization has added newer problems like urban slums blossoming in congested cities. Is the weight of the world's enormous poverty problem, historically a predominantly rural concern, shifting to urban areas? Is urbanization good or bad from the point of view of fighting poverty? Read here to know more.
The developing world is becoming more urban. Some observers see this as the unwelcome precursor to new poverty problems, such as urban slums blossoming in congested cities.
Yet others see it as a force for poverty reduction, as economies shift gradually out of agriculture to more remunerative activities, such as better-paid jobs in other sectors.
Is the weight of the world's enormous poverty problem, historically a predominantly rural concern, shifting to urban areas?
Urban Poverty
Urban poverty, in contrast to rural poverty, is complex and multifaceted, going beyond a lack of resources for consumption or income.
Its many facets are related to the vulnerability of the poor due to their lack of access to land and housing, physical infrastructure and services, sources of income and work, health and education facilities, and social security networks, as well as their lack of voice and empowerment.
In most developing nations, urbanization has been accompanied by slums and shelter deprivation, informality, worsening of living conditions, and increasing risks due to climate change and exclusionary urban forms.
According to the UN-HABITAT, Asia has 60% of the world's total slum population, and much more live in slum-like conditions in areas that are officially designated as non-slums.
Working poverty and informality are high in Asian cities and towns.
Recent years have witnessed, almost universally, increasing urban inequalities and stagnating consumption shares of lower-percentile households.
Causes of urban poverty
Rural-Urban Migration: Large-scale migration from rural to urban areas in search of better livelihood causes overcrowding in the cities.
Rapid urbanization acts as a pull for the rural poor, but they, unfortunately, become part of the urban poor when they migrate.
Lack of opportunities: The lack of opportunities and skills training for most of the working-age population is a major problem.
A shortage of adequate investment in quality education and basic services like health, sanitation, waste management, and skill training has had its consequences.
It has led to generations of malnourished, uneducated, unaware, and unskilled or semi-skilled people who find it difficult to find decent-paying jobs.
Lack of affordable housing: People are unable to afford nominal housing hence they settle wherever they can. As the numbers increase, these develop into a community of slum dwellers.
This further complicates the procedure of accessing basic services like electricity, water, sanitation, etc. as the authorities and public utilities can only serve those registered on paper.
Economy: The ups and downs in the economic conditions of a nation also add to urban poverty.
The plight of lower-income people in metropolitan areas is made worse by a sharp increase in the cost of food and other necessities.
Urbanization: Sometimes, urbanization affects regions at the edges of big cities, often benefiting them because they become more connected to municipal life.
The fast pace of urban life becomes too expensive for the villagers, they don't have the skill sets required for higher-paying jobs so find themselves pushed into the informal economy to survive.
Issues of the urban poor
Overcrowding is a major factor in informal settlements. There is often just one bathroom for many people in each illegal building.
A lack of awareness of personal hygiene practices pushes families further into the waiting arms of diseases and infections.
The low income of these communities means that standard medical help is often a far-fetched dream, not to mention unaffordable.
Education is inaccessible to most of the children in the urban slums. Even if they start school, they usually drop out due to financial constraints.
There is always the fear of eviction as they are occupying the lands illegally.
Urban poverty in India
In India, the causes of urban poverty can be linked to the lack of infrastructure in rural areas, forcing inhabitants of these regions to seek out work in India's mega-cities.
As more and more people make this migration, the space left to accommodate them becomes less and less.
Urban development can't keep up with the growing numbers of informal settlers and no one wants to be held accountable for the slums or their residents.
The nature of urban poverty poses distinct challenges for housing, water, sanitation, health, education, social security, livelihoods, and the special needs of vulnerable groups such as women, children, and aging.
The issue of urban poverty was recognized over two decades ago in India and the reports then proposed solutions to urban poverty including greater equity in the provision of basic services, targeted subsidies for vulnerable sections of the population, and special government assistance to strengthen the economic bases of small and medium towns.
Government efforts to alleviate urban poverty
Deendayal Antyodaya Yojana – National Urban Livelihoods Mission (DAY-NULM)
The Ministry of Housing & Urban Affairs (MoHUA) is implementing DAY-NULM, in statutory towns to reduce poverty and vulnerability of urban poor households.
The aim is to enable them to access gainful self-employment and skilled wage employment opportunities, to improve their livelihoods on a sustainable basis, through building strong grassroots-level institutions for the urban poor.
The mission also aims at providing shelters equipped with essential services to the urban homeless.
The mission also addresses the livelihood concerns of the urban street vendors by facilitating access to suitable spaces, institutional credit, social security, etc.
Other major schemes for urban poverty alleviation are:
Jal Jeevan Mission Urban has been designed to provide universal coverage of water supply to all households.
Light House Projects is an initiative of the Ministry of Housing and Urban Affairs
Members of Parliament Local Area Development Scheme (MPLADS)
Pradhan Mantri Awas Yojana (Housing for All – Urban)
Scheme to Augment City Buses & Urban Green Mobility
Self-Employment Programme of urban poor
Towns of Export Excellence
Way forward
The poor are gravitating to towns and cities, but more rapid poverty reduction will probably require a faster pace of urbanization, not a slower one, and development policymakers will need to facilitate this process, not hinder it.
Because slum communities are not recognized by the government, the majority of aid and benefits do not reach residents.
Urban poverty is significantly impacted by the lack of adequate social security programs for informal employees. New methods of urban planning and efficient government are so urgently needed.
Priority should be given to providing the slum regions with essential services such as clean water, sanitary facilities, and electricity.
India is taking the right step in promoting small and medium-scale industries (MSME) in rural areas, as well as promoting other income-generating opportunities. However, more investment into satisfying the demand for more jobs, equal pay, and more career and movement opportunities in the tertiary or agriculture sector, could ease the increasing pressure on urban infrastructure services.
-Article written by Swathi Satish