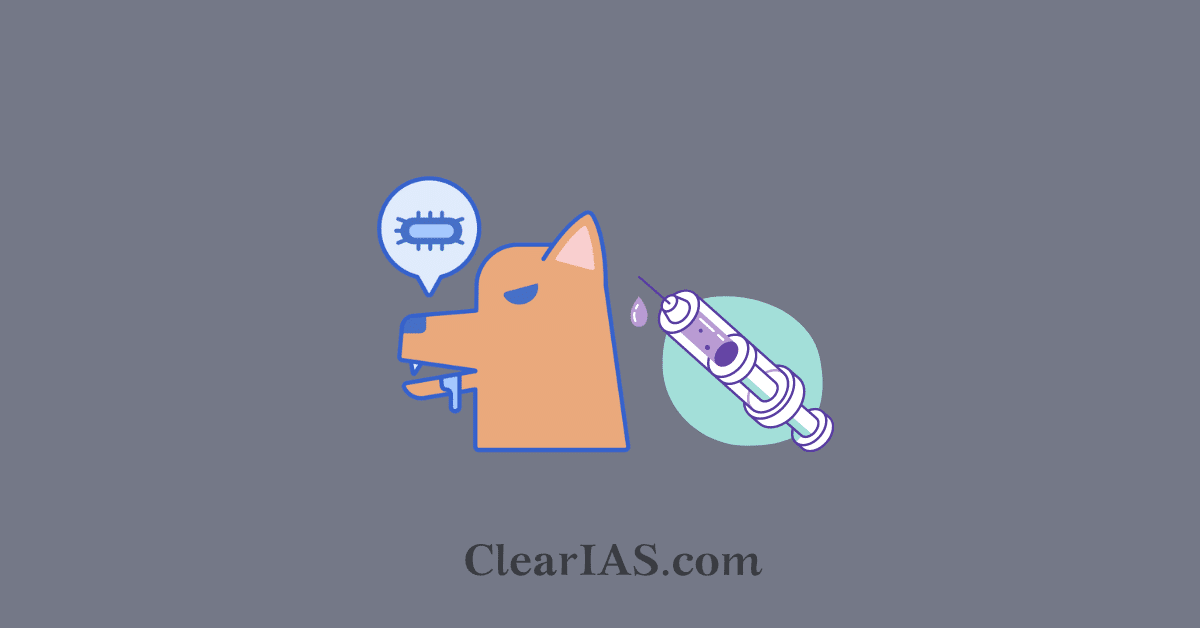 Every year on September 28, World Rabies Day is held to increase awareness of the deadly and infectious illness. The day signifies the need to strengthen global prevention and control efforts. Read here to learn about the causes, prevention, and treatment of the disease.
The first rabies vaccine was created by French chemist and microbiologist Louis Pasteur, who died on September 28th.
The Rabies Control Alliance (ARC) and Atlanta's Centers for Disease Control and Prevention (CDC) are the two founding partners who organized the first World Rabies Day in 2007.
The theme of World Rabies Day 2022 is: "One Health, Zero Death".
The theme will highlight the connection of the environment with both people and animals.
What is Rabies?
It is a vaccine-preventable viral disease that occurs in more than 150 countries and territories except in Antarctica.
The central nervous system is infected by the rabies virus.
The virus can create a disorder in the brain that will ultimately lead to death if the right medical care is not given to a person following a possible rabies exposure.
Dogs are the main source of human deaths due to infection, contributing up to 99% of all viral transmissions to humans. It is spread to people and animals through bites or scratches, usually via saliva.
It is one of the Neglected Tropical Diseases (NTD) that predominantly affects poor and vulnerable populations who live in remote rural locations.
Although effective human vaccines and immunoglobulins exist for the infection, they are not readily available or accessible to those in need.
Globally, deaths are rarely reported and children between the ages of 5–14 years are frequent victims.
Prevention:
It is a vaccine-preventable disease. Vaccinating dogs is the most cost-effective strategy for preventing rabies in people. Dog vaccination reduces deaths attributable to dog-mediated infection and the need for PEP as a part of dog bite patient care.
Awareness of the disease and preventing dog bites
The same vaccine is used to immunize people after exposure or before exposure to the virus (less common).
Symptoms:
Initial symptoms of the disease include:
fever with pain and unusual or unexplained tingling,
pricking, or burning sensation (paraesthesia) at the wound site.
As the virus spreads to the central nervous system, progressive and fatal inflammation of the brain and spinal cord develops.
A week to a year may pass during the incubation period for rabies, depending on variables like the site of virus entry and viral load.
There are two forms of the disease:
Furious rabies results in signs of hyperactivity, excitable behavior, hydrophobia (fear of water), and sometimes aerophobia (fear of drafts or fresh air). Death occurs after a few days due to cardio-respiratory arrest.
Paralytic rabies accounts for about 20% of the total number of human cases. This form of rabies runs a less dramatic and usually longer course than the furious form. Muscles gradually become paralyzed, starting at the site of the bite or scratch. A coma slowly develops, and eventually, death occurs. The paralytic form of rabies is often misdiagnosed, contributing to the under-reporting of the disease.
Treatment:
Pet vaccinations, avoiding contact with wildlife, and seeking medical attention immediately after probable exposure before symptoms appear can all help prevent the disease.
It is crucial to remove the virus from the site as soon as possible. To do this, wash the incision with water and soap right once, then apply an antiseptic to lessen or eliminate the possibility of a nerve infection.
Indian Initiative for Rabies
In India, human rabies is reported throughout the country except in Andaman & Nicobar and Lakshadweep Islands. In up to 99% of cases, domestic dogs are transmitting the infection to humans.
National Rabies Control Programme was implemented in India during the 12th FYP for rabies control.
National Action Plan for Dog Mediated Rabies Elimination by 2030:
This multifaceted approach is based on the One Health Approach.
The concept of One Health recognizes that the health of people is closely related to the health of animals, plants, and their shared environment.
In the One Health approach, multiple sectors communicate and work together at the local, regional, national, and global levels to achieve optimal health outcomes.
The Mission is "To achieve zero human deaths due to dog-mediated Rabies by 2030."
Principles:
Prevention: Introduce cost-effective public health intervention techniques to improve accessibility, affordability, and availability of post-exposure prophylaxis to all people in need.
Promotion: Improve understanding of rabies through advocacy, awareness, education, and operational research.
Partnership: Provide coordinated support for the anti-rabies drive with the involvement of community, urban and rural civil society, government, private sectors, and international partners.
WHO Response
Rabies is included in WHO's new 2021-2030 road map. As a zoonotic disease, it requires close cross-sectoral coordination at the national, regional, and global levels.
WHO, FAO (Food and Agriculture Organization), and OIE (World Organisation for Animal Health), have prioritized rabies under a One Health approach and have launched the 'United Against Rabies Forum' (UAR), a multi-stakeholder platform.
WHO works with partners to guide and support countries as they develop and implement their national elimination plans
WHO regularly updates and disseminates technical guidance on rabies, for example on epidemiology, surveillance, diagnostics, vaccines, safe and cost-effective immunization, control and prevention strategies for human and animal rabies, operational program implementation; and palliative care for human rabies patients
Mexico was the first country to have been validated by WHO in 2019 for eliminating human deaths from rabid dog bites.
In 2019 Gavi included human rabies vaccines in its vaccine investment strategy 2021-2025 which will support scaling up rabies PEP in Gavi-eligible countries.
The latest news on Rabies
Recently, the state of Kerala has been seeing an increase in the number of animal bite cases.
There has also been controversy regarding the quality of rabies vaccines provided to patients.
The rabies vaccine administering clinics of Kerala are proposed to be made model clinics.
Also read: Nipah Virus: Cause and Prevention
Way forward
Rabies deaths in humans are 100% preventable through prompt and appropriate medical care. Vaccinating dogs is the most cost-effective strategy for preventing infection in people.
Adequate and sustained investments are required for the eradication of the disease. It has been demonstrated that inspiring community pride and educating people about rabies are excellent ways to develop and sustain political will.
-Article written by Swathi Satish