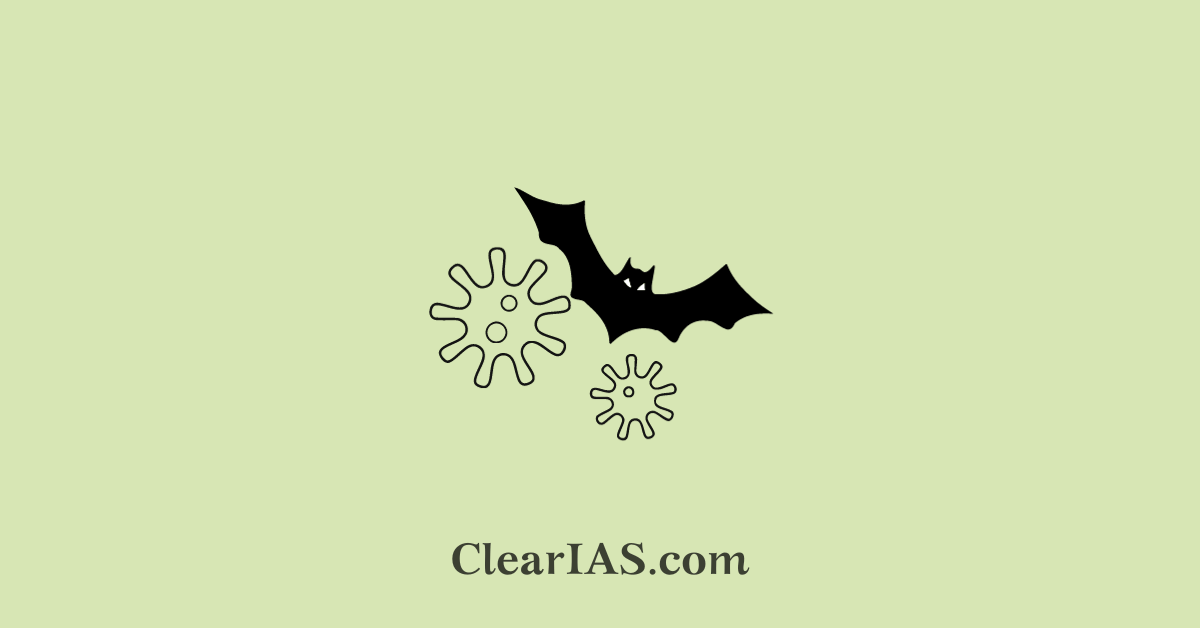 Nipah virus (NiV) is a zoonotic virus that can be transmitted from animals to humans and can cause severe respiratory and neurological illnesses. There have few deadly outbreaks in India, hence making it important to know the details. Read here to learn more about the virus, its transmission, and prevention.
Nipah cases have been confirmed in Kerala which is the first outbreak after the 2021 resurgence of the infection.
Kerala had experienced a deadly outbreak of NiV in 2018 causing widespread panic in the state.
Hence, the question is crucial, how prepared are the states and central government to tackle such viral disease outbreaks?
Nipah Virus
Nipah virus (NiV) is a zoonotic virus causing a range of illnesses from asymptomatic infection to acute respiratory illness and fatal encephalitis.
The virus was first identified in 1999 during an outbreak in Malaysia.
Nipah virus is believed to originate in fruit bats (flying foxes), which are natural hosts of the virus. Infected bats can shed the virus in their saliva, urine, and feces.
Transmission:
Human infections typically occur through direct contact with infected bats or their excreta.
Consumption of fruits or fruit products that have been contaminated by bat saliva or urine can also lead to infection.
Human-to-human transmission of the Nipah virus has been reported, primarily through close contact with infected individuals. This transmission can occur via respiratory secretions, saliva, or other bodily fluids.
Symptoms:
Nipah virus infection can cause a range of symptoms, including fever, headache, muscle pain, vomiting, and sore throat.
In severe cases, the virus can lead to encephalitis (inflammation of the brain), characterized by drowsiness, confusion, seizures, and coma. Encephalitis is often fatal.
Nipah virus outbreaks have occurred in several countries in South and Southeast Asia, including Malaysia, Singapore, Bangladesh, and India.
Outbreaks often involve clusters of cases, particularly in areas where there is close contact with bats or consumption of contaminated fruits or date palm sap.
Diagnosis and Treatment:
Laboratory tests, including polymerase chain reaction (PCR) and serologic tests, can be used to confirm Nipah virus infection.
There is no specific antiviral treatment for Nipah virus infection. Supportive care, including respiratory and neurological support, is crucial for patients with severe disease.
Experimental treatments and vaccines are under development but have not yet been widely deployed.
Prevention of Nipah virus
Prevention measures include avoiding contact with bats and their excreta, not consuming fruits that may have been contaminated by bats, and practicing good hand hygiene.
Healthcare workers should take strict infection control precautions when caring for Nipah virus patients.
Vaccines for the Nipah virus are being researched and could play a role in future prevention efforts.
Based on the experience gained during the outbreak of Nipah involving pig farms in 1999, routine and thorough cleaning and disinfection of pig farms with appropriate detergents may be effective in preventing infection.
Re-emerging Viral infections in India
India, like many other countries, has faced several emerging viral infections and outbreaks over the years.
COVID-19 (SARS-CoV-2): The COVID-19 pandemic, caused by the novel coronavirus SARS-CoV-2, had a significant impact on India and the world. India experienced multiple waves of infections, with the first wave in early 2020 and subsequent waves in 2021. The government implemented various measures, including lockdowns, testing, vaccination campaigns, and travel restrictions, to mitigate the spread of the virus.
Nipah Virus Outbreaks: Nipah virus outbreaks have occurred in parts of India, particularly in the southern state of Kerala. Nipah virus is a zoonotic virus that can be transmitted from animals to humans. The outbreaks prompted public health responses, including isolation of infected individuals and surveillance of potential cases.
Zika Virus Outbreaks: Zika virus cases were reported in several states in India, including Rajasthan and Gujarat. Zika virus can cause birth defects in unborn children. Measures were taken to control the spread of the virus, including vector control and public awareness campaigns.
Dengue Fever: Dengue fever is endemic in many parts of India. Outbreaks occur during the monsoon season when the Aedes mosquito population increases. Preventive measures include vector control, public education, and medical care for affected individuals.
Chikungunya: Chikungunya outbreaks have occurred in various states, with symptoms including high fever and joint pain. Vector control and public health campaigns have been used to combat the spread of the virus.
Avian Influenza (Bird Flu): India has experienced sporadic outbreaks of avian influenza, affecting poultry. Measures such as culling infected birds, surveillance, and monitoring of poultry farms have been implemented to prevent the spread of the virus to humans.
Swine Flu (H1N1 Influenza): Swine flu outbreaks have occurred in India, with the H1N1 influenza virus causing respiratory illness. Public health campaigns and vaccination efforts have been used to manage outbreaks.
The Indian government, along with international and regional health organizations, continuously monitors and responds to emerging infectious diseases to protect public health.
Also read: Diseases caused by microorganisms
Infection prevention and control in India
India, like many countries, faces challenges related to healthcare-associated infections in hospitals and healthcare facilities.
Infection prevention and control (IPC) in India, is a critical aspect of healthcare and public health. Effective IPC measures are essential for preventing the spread of infectious diseases in healthcare settings and the community.
National Guidelines for Infection Prevention and Control in Healthcare Facilities, MoHFW 2020
Antimicrobial Resistance (AMR) has emerged as a global crisis that requires urgent action.
Excessive antimicrobial use in human and animal medicine has selected multidrug-resistant microorganisms, which have led to untreatable infections, more in vulnerable patient populations.
Healthcare facilities are high-risk environments for the development and spread of drug resistance and frequently have the highest burden of multidrug-resistant organisms.
Strengthening Infection Prevention and Control (IPC) is the 3rd strategic priority under India's National action plan on AMR which was launched in April 2017.
As a part of the implementation of this strategic priority, National Guidelines for Infection Prevention and Control in Healthcare Facilities (NGIPC) have been developed by the National Center for Disease Control (NCDC), MoHFW in collaboration with WHO Country Office India.
The guidelines were released in January 2020 and shared with various stakeholders across the country.
Way forward
The Nipah virus is considered a serious public health concern due to its potential to cause large outbreaks with high mortality rates.
Early detection, surveillance, and public health interventions are essential for controlling and preventing the spread of the virus during outbreaks.
As Nipah virus outbreaks have involved pigs and/or fruit bats, establishing an animal health/wildlife surveillance system, using a One Health approach, to detect Nipah cases is essential in providing early warning for veterinary and human public health authorities.
In the absence of a vaccine, the only way to reduce or prevent infection in people is by raising awareness of the risk factors and educating people about the measures they can take to reduce exposure to the Nipah virus.
Health-care workers caring for patients with suspected or confirmed infection, or handling specimens from them, should implement standard infection control precautions at all times.
WHO is supporting affected and at-risk countries with technical guidance on how to manage outbreaks of the Nipah virus and how to prevent their occurrence.
Also read: Virus- Definition, structure and types
-Article by Swathi Satish