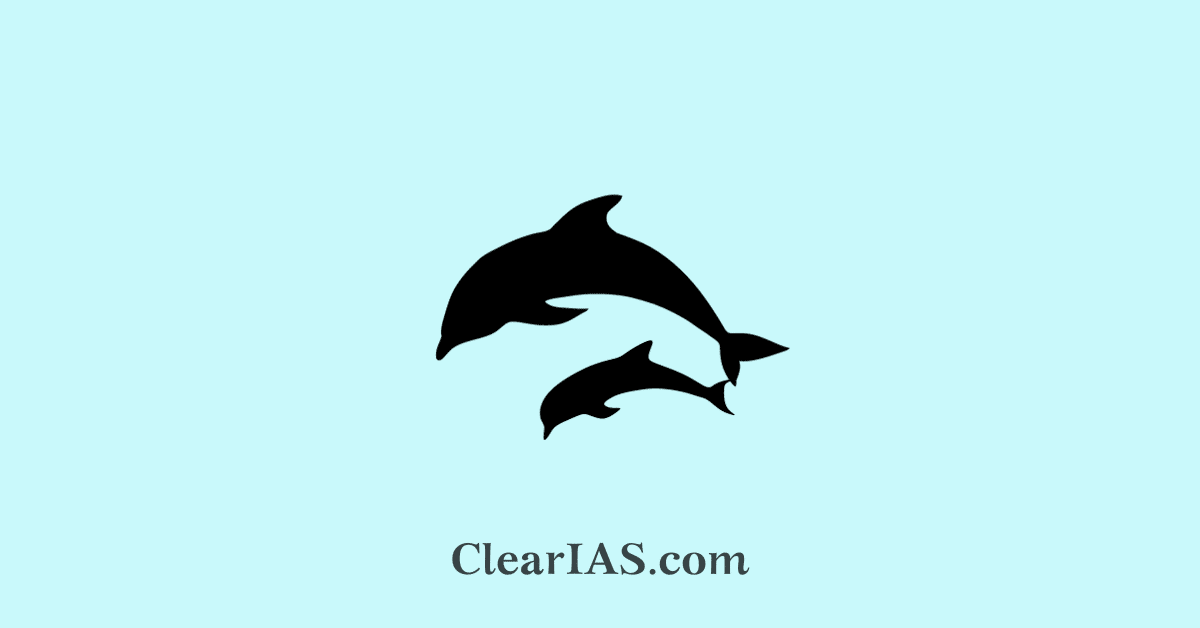 River dolphin populations have plummeted by 73% due to a barrage of threats since the 1980s. All six species of river dolphin in Asia and South America are threatened with extinction. Finally, a global declaration has been signed to save the world's six surviving species from extinction. Read here to know more about the species and the declaration.
After decades of seemingly irreversible decline in global river dolphin numbers, 11 Asian and South American countries have signed a landmark deal in Bogotá to save the world's six surviving species of river dolphins from extinction.
Since the 1980s, river dolphin populations have plummeted by 73% due to a barrage of threats, including unsustainable fishing practices, hydropower dams, pollution from agriculture, industry and mining, and habitat loss.
The recent deaths of over 150 river dolphins in the Amazon's drought-ravaged Lake Tefé show that climate change is becoming an increasingly severe threat to their survival.
River Dolphin
River dolphins are a group of freshwater cetaceans, or marine mammals, that have adapted to live in rivers and freshwater ecosystems.
They are distinct from their ocean-dwelling counterparts and have evolved unique characteristics to thrive in freshwater environments.
They are found in various parts of the world, and they are known for their social behavior and unique physical features.
They typically have a flexible, elongated body shape that is adapted to maneuver in river currents.
They have unfused neck vertebrae, allowing them to turn their heads freely.
They have reduced eyesight, as their underwater habitat does not require highly developed vision. They primarily rely on echolocation for navigation and hunting.
They are known for their social behavior and can be found in small groups or pods.
They are often solitary or in smaller groups, which may join together for feeding and socializing.
They are known for their playful and acrobatic behavior, including leaping out of the water.
River dolphins act as indicators of river health in the basins where they live. If their population in a river is thriving, then the overall state of that freshwater system is also likely flourishing. But if that population is on the decline, then it's considered a red flag for the ecosystem as a whole.
Species of River Dolphins
Amazon Dolphin (Inia geoffrensis): Also known as the boto or pink river dolphin, they are found in the Amazon and Orinoco River basins in South America.
It is known for its pink coloration and is the largest of the species.
IUCN Status: Endangered
Ganges River Dolphin (Platanista gangetica): The Gangetic dolphin, is found in the Ganges-Brahmaputra-Meghna and Karnaphuli river systems of India, Bangladesh, and Nepal.
It is one of the most endangered freshwater dolphins.
IUCN Status: Endangered
Indus River Dolphins (Platanista minor): They are native to the Indus River in Pakistan.
It is one of the rarest and most endangered dolphin species, primarily due to habitat degradation and water pollution.
The Bhulan, also called the Bhulan dolphin, is found in the Sutlej River in Pakistan and the Beas River in India. It is closely related to the Indus dolphin.
IUCN Status: Endangered
Irrawaddy Dolphin (Orcaella brevirostris): Irrawaddy dolphins are found in coastal areas in South and Southeast Asia and three rivers i.e., Ayeyarwady (Myanmar), Mahakam (Indonesian Borneo), Mekong and Chillika Lake (India).
They are known for their unique behavior, such as "spy-hopping," where they rise vertically out of the water to observe their surroundings. They are often seen near the water's surface.
IUCN Status: Endangered
Tucuxi Dolphin (Sotalia fluviatilis): The Tucuxi dolphin are freshwater dolphin species that lives in the Amazon River system in Brazil, Colombia, Ecuador, and Peru.
These are known for their acrobatic behaviors, including leaping and riding the bow waves created by boats.
IUCN Status: Endangered
Yangtze River Dolphin (Lipotes vexillifer): The Yangtze River dolphin, or baiji, was found in China's Yangtze River.
Sadly, it is considered functionally extinct since 2006, as there have been no confirmed sightings since the early 2000s.
The Yangtze finless porpoise lives in the Yangtze River, the longest river in Asia. At one point, this porpoise shared the waters with the Baiji.
The Yangtze finless porpoise is known for its mischievous smile.
IUCN Status: Critically Endangered
La Plata River Dolphin (Pontoporia blainvillei): These are also known as the Franciscans, inhabit the coastal waters and estuaries of South America, primarily in the La Plata Basin, which includes Brazil, Uruguay, and Argentina.
Another species- the Chinese river dolphin – was declared 'probably extinct' in 2007.
Threats and Conservation
River dolphins are threatened by a range of factors, including habitat loss due to dam construction, water pollution, overfishing, and entanglement in fishing gear.
Dredging, pollution, and boat strikes from shipping and transportation on the river threaten the dolphins.
Sand mining and illegal fishing also impacted the species.
Many dolphin populations are listed as endangered or critically endangered by conservation organizations.
Conservation efforts aim to protect river dolphin habitats, mitigate human impacts, and raise awareness about the importance of these unique species in freshwater ecosystems.
While the overall global picture is bleak, conservation efforts have proven successful in halting the decline of some river dolphin species, including in some of the most densely populated river basins in the world, such as the Indus and Yangtze.
In Pakistan, the population of endangered Indus dolphins has almost doubled over the last 20 years due to collective action by the government, communities, and NGOs, including WWF.
However, there are still only around 2,000 Indus dolphins and WWF is working with communities to reduce pollution, release dolphins entangled in fishing gear, and rescue dolphins trapped in irrigation canals.
The number of critically endangered Yangtze finless porpoises – the only freshwater porpoise in the world – has increased by 23% over the past five years.
This is the first increase since records began and is a result of strict protection measures and conservation efforts. Despite this, there are still only 1,249 Yangtze finless porpoises.
The South American River Dolphin Initiative has also demonstrated the power of partnerships, by bringing organizations together to advance science, satellite tag river dolphins to discover more about their movement and behavior, and raise awareness about the role of river dolphins – and the threats to their survival.
Also read: Major Rivers of the World
Global Declaration of River Dolphins
The Global Declaration for River Dolphins aims to halt the decline of all river dolphin species and increase the most vulnerable populations.
It will scale up collective efforts to safeguard the remaining river dolphin species, by developing and funding measures to eradicate gillnets, reduce pollution, expand research, and increase protected areas.
It also aims to enhance the health of rivers, which are the lifeblood of many communities and economies as well as sustaining critical ecosystems from rainforests to deltas.
The eight pillars of the Declaration are:
Creating a network of protected areas
Enhancing management of river dolphin sites
Expanding research and monitoring
Engaging local communities and Indigenous Peoples
Eradicating unsustainable fishing practices
Improving water quality and quantity
Celebrating World River Dolphin Day to raise awareness
Increasing resource allocation and partnerships
River dolphin range states that adopted the Global Declaration for River Dolphins include Bangladesh, Bolivia, Brazil, Cambodia, Colombia, Ecuador, India, Nepal, Pakistan, Peru, and Venezuela. There was also a representative from the regional government in Indonesia that was responsible for the Mahakam River.
India's Efforts for Conservation of Dolphin
As per studies conducted on river dolphin, the population of Gangetic dolphin in the mainstream Ganga are known to be stable, although there has been a decline in tributaries.
The important steps taken by the Government for the conservation of the Gangetic dolphin include:
Gangetic river dolphin is listed in Schedule –I of the Wild Life (Protection) Act, 1972, according to the highest degree of protection.
Gangetic river dolphin has been designated as the National Aquatic Animal of India.
The Ministry has included the Gangetic River dolphin as one of the 22 critically endangered species for providing financial assistance to States under the Centrally sponsored scheme 'Development of Wildlife Habitats'.
Important habitats of Gangetic River dolphins along the Ganges River have been notified as Protected Areas, such as Vikramshila Dolphin Sanctuary, Bihar.
A comprehensive action plan (2022-2047) has been developed to ensure the well-being of the river dolphin and aquatic habitats, the role of various stakeholders and line Ministries have been identified.
Project Dolphin is an Indian government initiative to conserve both riverine and oceanic dolphin species launched in 2021.
Read: Wildlife Conservation Projects
Way forward
Protecting river dolphins, which are among the world's most endangered cetaceans, requires a combination of conservation measures, research, and community engagement.
Habitat Conservation: Protect and restore the natural habitats of the species, which often include river systems and their associated ecosystems. This includes efforts to reduce pollution and preserve freshwater ecosystems.
Water Quality Management: Implement strict water quality standards to reduce pollution, including the discharge of industrial and agricultural chemicals into rivers. This will help maintain healthy habitats for them.
Bycatch Mitigation: Develop and implement bycatch reduction strategies to prevent accidental entanglement in fishing gear. Education and training of local fishers are essential.
Conservation Legislation: Enact and enforce laws and regulations that protect the species and their habitats. This includes designating critical habitats, regulating fishing practices, and imposing penalties for illegal activities that harm them.
Monitoring and Research: Conduct research and long-term monitoring of populations to better understand their behavior, biology, and the threats they face. This data is essential for informed conservation decisions.
Eco-Tourism and Sustainable Livelihoods: Promote eco-tourism as a means of generating income for local communities while raising awareness about the species. This can provide economic incentives for conservation.
Hydropower Development: Implement hydropower projects with a focus on minimizing environmental impacts on river ecosystems and ensuring safe fish passage. It's important to balance energy development with conservation goals.
International Collaboration: Collaborate with neighboring countries to protect river dolphins that migrate across borders. International cooperation can be critical for the conservation of transboundary species.
Awareness and Education: Raise public awareness about the importance of the species and their conservation. Education programs in schools and communities can help change attitudes and behaviors.
Red List and Conservation Status: Ensure that the species are appropriately categorized on the International Union for Conservation of Nature (IUCN) Red List. This classification can influence funding, legal protection, and conservation priorities.
Conservation Funding: Secure funding for targeted conservation initiatives through grants, donations, and government support. Funding is crucial for research, monitoring, and conservation activities.
Climate Change Mitigation: Address climate change, which can affect river ecosystems and freshwater resources. Efforts to mitigate climate change can indirectly benefit the species.
Legal Frameworks: Advocate for the inclusion of their conservation in international agreements and conventions, such as the Convention on Migratory Species and the Convention on International Trade in Endangered Species of Wild Fauna and Flora.
Translocation and Rescue: In extreme cases, consider translocating or rescuing individuals to establish or reinforce populations in safer habitats. However, this should be a last resort and based on a thorough scientific assessment.
-Article by Swathi Satish