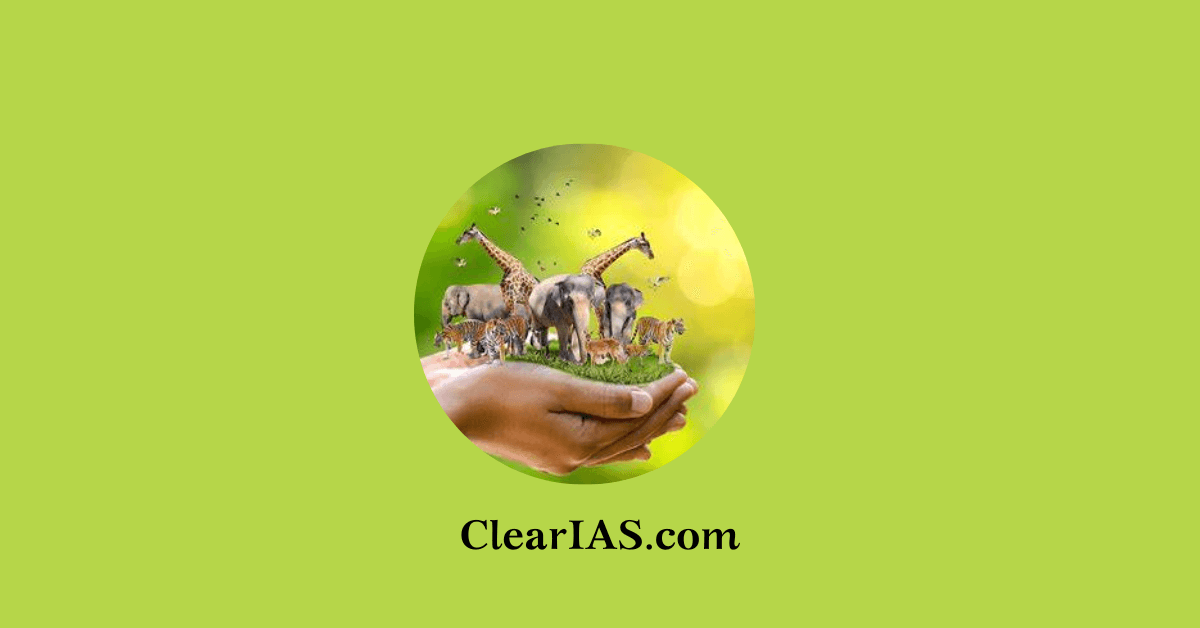 Which are the main Wildlife Conservation Projects of the government of India? Which are the protected areas under Project Leopard? What is the conservation status of tigers?  Read further to know more.
Wildlife is defined by Section 2(37) of the Wildlife Protection Act, 1972 to include any animal, either aquatic or terrestrial, and vegetation that forms a part of any habitat.
Wildlife is extremely important to the ecosystem. It plays an important function in environmental balancing. The significance also extends to the domains of economic relevance, investigative importance, gene bank, biological diversity conservation, cultural significance, and so on.
There are many laws in India that protect and conserve wildlife, as well as general biodiversity. The Wildlife Protection Act of 1972 is a law that was enacted to safeguard wild animals, birds, and plants in order to ensure India's ecological and environmental security.
A Wildlife Crime Control Bureau has also been established to combat illegal wildlife trafficking, particularly the trade of endangered species.
Wildlife Conservation Projects
Conservation is not specifically defined in Indian statutes, although it generally refers to the 'maintenance, protection, or restoration of the natural environment and animals.
Nature, the environment, and wildlife are being destroyed at an alarming rate in this era of climate change. Natural resources are being depleted irreversibly as a result of industrialization and globalization.
Wildlife Conservation projects aim to preserve and use natural resources in a sustainable manner. This is done to ensure that future generations can benefit from these resources. Wildlife is an essential element of nature, so it must be protected.
Conservation programs are designed to bridge the gap between evolutionary theory and environmental realities. This assists in forecasting how wildlife will respond to current and future environmental changes. It was designed to ensure their survival because global warming, farming, population increase, pollution, and hunting pose significant threats to them.
Also read: Elephant Reserves in India 
Various Wildlife Conservation Projects
The government of India has initiated many wildlife conservation projects like Project Snow Leopard, Project Tiger, Indian Rhino Vision 2020, Project Hangul, Crocodile Conservation Initiative, etc.
Project Snow Leopard
Snow Leopards can be found in the Himalayan region as well as in states such as Jammu & Kashmir, Uttarakhand, Arunachal Pradesh, Sikkim, and Himachal Pradesh. The species is listed in CITES and CMS, indicating that they have the greatest conservation status both nationally and internationally.
Every year on October 23rd, International Snow Leopard Day is observed. The Indian government issued the "First National Protocol on Snow Leopard Population Assessment" in 2019. This entails using technology such as camera traps and scientific surveys.
Conservation status
The IUCN-World Conservation Union's Red List of Endangered Species classifies the snow leopard as Vulnerable.
It is also included in Appendix I of the Convention on International Trade in Endangered Species (CITES).
The Indian Wildlife (Protection) Act of 1972 includes it in Schedule I.
It is also included in the Convention on Migratory Species (CMS), giving the species the highest conservation status both globally and in India.
This program was created as part of the Global Snow Leopard and Ecosystem Protection Program's global protocol. This programme is a collaboration of 12 snow leopard range countries: India, Pakistan, Nepal, Russia, China, Bhutan, Afghanistan, Tajikistan, Uzbekistan, Kazakhstan, Kyrgyzstan, and Mongolia. Several countries collaborated in the Population Assessment of the World's Snow Leopard (PAWS).
The Protected Areas include:
The Sacred Himalayan Landscape
Kibber Wildlife Sanctuary
Great Himalayan National Park
Hemis National Park
Dibang Wildlife Sanctuary
Pin Valley National Park
Project Tiger
The population of Indian Tigers was rapidly dropping at the end of the twentieth century. As a result, a nationwide Tiger Census was conducted in 1972 to estimate the tiger population.
Large-scale development operations like as dams, mines, railway projects, and the construction of enterprises resulted in deforestation and increased habitat loss. Tigers were slaughtered in large numbers because their body parts are employed in traditional Chinese medicine. All of these factors combined to cause a drop in the tiger population.
Project Tiger was established in the Palamau Tiger Reserve, Jim Corbett National Park, Uttarakhand, in 1973. This is a Ministry of Environment and Forests-sponsored initiative. It is primarily governed by the Wildlife Act of 1972. The National Tiger Conservation Authority, which was founded in December 2005, oversees the project.
The project's goal is to save tigers from extinction by ensuring that the animal has a viable population in its native habitat. The Project began with nine reserves in 1973-74 and has now expanded to fifty reserves. The Initiative has had tremendous success in restoring the habitat and population of tigers in the protected regions.
Conservation Status of Tiger
Indian Wildlife (Protection) Act, 1972: Schedule I
International Union for Conservation of Nature (IUCN) Red List: Endangered.
Convention on International Trade in Endangered Species of Wild Fauna and Flora (CITES): Appendix I.
Tiger Task Force
It is critical that a legislative authority with sufficient legal backing be established for proper Project implementation. The National Board for Wildlife suggested the formation of a Task Force to investigate problems encountered during the execution of tiger conservation projects across the country. The Tiger Task Force was formed as a result of this. The TTF proposed the formation of the National Tiger Conservation Authority (NTCA).
Project Elephant
Project Elephant is a federally funded program that began in 1992. Elephants are threatened with attrition rather than extinction like Tigers are. The project intends to help with elephant management and protection in states with free-roaming wild elephant populations.
The Elephants' Protection Act of 1879 was also drafted to safeguard elephants throughout the country. Although India has approximately 27,000 elephants dispersed over 26 elephant reserves, only 65% of the elephant corridors are protected.
The protection of elephants is particularly crucial because it has been classified as a national heritage of the country.
The Government of India did this in 2010, following the recommendations of the Standing Committee on the National Board of Wildlife. This step was done to raise awareness about the elephant's diminishing number so that people would actively engage in its protection.
Protection Status of Asian Elephant
IUCN Red List: Endangered.
Wildlife (Protection) Act, 1972: Schedule I.
CITES Appendix I
The project's goals are as follows:
Preservation of elephants, elephant corridors, and their habitats; prevention of man-animal conflicts; and protection of domesticated elephants.
This initiative is critical because it protects elephants from poachers and hunters, hence reducing illegal ivory trade.
Elephant Corridors
Elephant Corridors are short swaths of forested terrain that serve as a link between bigger elephant habitats. This conduit is critical for elephant migration and increasing the species' survival rate in the wild.
The corridors are divided into two categories: high ecological priority and medium ecological priority.
The classification is based on the frequency with which elephants move, the size of the population, the area of habitats connected, and the presence of other routes nearby. The corridors are also rated for conservation feasibility.
Indian Rhino Vision 2020
Indian Rhino Vision 2020, which was launched in 2005, was an ambitious initiative to achieve a wild population of at least 3,000 larger one-horned rhinos scattered throughout seven protected areas in the Indian state of Assam by the year 2020.
Kaziranga, Pobitora, Orang National Park, Manas National Park, Laokhowa Wildlife Sanctuary, Burachapori Wildlife Sanctuary, and Dibru Saikhowa Wildlife Sanctuary are the seven protected places.
Wild-to-wild translocations were a crucial aspect of IRV2020 – relocating rhinos from densely inhabited parks like Kaziranga NP to ones in need of more rhinos, like Manas NP.
The International Rhino Foundation, Assam's Forest Department, the Bodoland Territorial Council, World Wide Fund – India, and the US Fish and Wildlife Service are among the organisations involved.
Asia has three rhino species: Greater one-horned (Rhinoceros unicornis), Javan, and Sumatran.
Poaching for rhino horns and habitat destruction are the two most serious risks to Asia's rhinos' survival.
The five rhino range countries (India, Bhutan, Nepal, Indonesia, and Malaysia) have signed the 'New Delhi Declaration on Asian Rhinos 2019' for species conservation and protection.
Protection Status of Rhino
According to the IUCN Red List, the Javan and Sumatran rhinos are severely endangered, while the Greater one-horned (or Indian) rhino is vulnerable.
All three are listed in Appendix I. (CITES).
The Larger One-Horned Rhinoceros is protected in Schedule I of the Wildlife Protection Act of 1972.
Project Hangul
The Jammu and Kashmir governments, in collaboration with the International Union for Conservation of Nature (IUCN) and World Wildlife Fund (WWF), developed a program in the 1970s to protect and conserve the Kashmir Red Stag and its habitat. This initiative was dubbed Project Hangul.
The Hangul, also known as the Kashmir Red Stag, is a subspecies of the Central Asian Red Deer that is native to northern India. It is typically found in the deep riverine forests of Kashmir Valley, Himachal Pradesh, Sindh Valley, Dachigam National Park, and the Kishtwar forests.
The effort began after Hanguls were added to the IUCN's list of severely endangered species. The species is spread across 141 square kilometers of Dachigam National Park.
It has been considered one of the most endangered mammal species in the Indian subcontinent since the 1950s.
The Hangul has been designated as a protected species under Schedule I of the Wildlife (Protection) Act of 1972.
 The project's goal was to build enclosures for the species' artificial breeding.
Crocodile Conservation Initiative
Crocodilians were threatened in India because of an increase in indiscriminate kills. They were poached for commercial interests, causing their population to plummet dramatically. Aside from that, there has been a loss of habitat due to increased development and industrialization.
In response to this scenario, Project Crocodile was launched in 1975. The primary emphasis was on captive breeding and rearing. The initiative was launched by the Indian government in collaboration with the Food and Agricultural Organization and the United Nations Development Fund. Crocodile populations have increased as a result of the project's implementation, saving them from extinction. National Chambal Sanctuary and Katerniaghat are two of the protected sites.
Crocodiles are classified into three types:
Gharial or Gavialis Gangeticus
IUCN Red List- Critically Endangered
CITES- Appendix I
Wildlife Protection Act, 1972 Schedule I
Mugger or Crocodylus Palustris
IUCN Red List- Vulnerable
CITES- Appendix I
Wildlife Protection Act, 1972 Schedule I
Saltwater Crocodile or Crocodylus Porosus
IUCN Red List- Least Concern
CITES -Appendix I
Wildlife Protection Act, 1972 Schedule I
The technique selected for the rehabilitation of these species was to offer them protection in their original habitats. Captive rearing was used, and the animals were eventually freed. The 'grow and release' and rear and release' strategies were used.
This initiative aims to safeguard the species' remnant population, promote research that will aid in better management, promote habitat reconstruction, and stimulate local public participation.
The project spared the species from extinction, as it was designated as critically endangered on the IUCN Red List. It has also aided in the establishment of wetland sanctuaries, which has resulted in the active management of other species.
Also read: Wildlife Sanctuaries in India
The Manipur Brow-antlered Deer Project
This was started in Manipur in 1981 to conserve the brow-antlered deer (Cerevus eldi eldi), which is on the verge of extinction.
The ecosystem consists of 35 square kilometres of park and sanctuary. The deer population has expanded from 18 to 27.
The brow-antlered deer, or sangria, is the state animal of Manipur.
The animal's coat is a dark reddish brown in the winter and a much lighter tint in the summer.
These animals, which are native to Cambodia, China, India, Laos, and Myanmar, were previously widely distributed over ecosystems in south and southeast Asia.
Depending on the country, deer habitat can range from shrubland and grassland to dry forests and wetlands.These animals can only be found in Manipur's renowned Loktak Lake.
While habitat degradation has been a major worry in the conservation of this deer worldwide, hunting poses an additional challenge in Manipur.
Protection Status of Manipur Brow-antlered Deer
Endangered according to the IUCN Red List.
WPA 1972: Schedule-I
CITES Appendix I
Project Himalayan Musk Deer
This was started in 1981 to conserve the endangered musk deer, which is on the verge of extinction. Captive breeding has shown positive effects.
The musk deer, which was previously abundant throughout the Himalayas, has been persecuted by man for its musk used in the manufacture of perfumes and medicine. This, combined with habitat degradation, resulted in a significant drop in its population. With the collaboration of the Government of India, a conservation project was initiated at the Kedarnath sanctuary in Uttar Pradesh (now Uttarakhand) under the International Union for Conservation of Nature (IUCN) and Natural Resources' Endangered Deer Programme.
Protection Status of Musk Deer
It is under lower risk (near threatened) status of the IUCN Red List of threatened species
Appendix I of Convention on International Trade of Endangered flora and fauna (CITES)
Protected species of National Parks and Wildlife Conservation Act, 1973, Nepal (HMG/Nepal 2002).
Lesser Cats Project
The project was initiated in 1976 with the aid of WWF in India for the protection of four species of smaller cats found in Sikkim and the northern portion of West Bengal, namely, Felis bengalensis Kerr, Felis marmorta Martin, Felis lemruinki Vigors Horsfield, and Felis viverrine Bennet.
The Gir Lion Sanctuary Project
The Asiatic lion, which previously roamed the northern and central Indian subcontinents, is now confined to Gujarat's Gir forest. This last remaining habitat of the species sustains roughly two hundred Asiatic lions which were under great threat due to over-grazing by domestic livestock, depletion of prey species, etc. The Gujarat State Government created a management system for the Gir lion sanctuary in 1972, complete with conservation rules. The Central Government gives help for habitat protection and enhancement.
Protection Status of Asiatic Lion
IUCN Red List: Endangered
CITES: Appendix I
Wildlife (Protection) Act 1972: Schedule I
Sea Turtle Project
Every winter, a major fraction of the world's Olive Ridley Turtle population migrates to Indian coastal waters to breed, primarily along the eastern coast.
With the goal of conserving olive ridley turtles and other endangered sea turtles, the MoEF launched the Sea Turtle Conservation Project in 1999 in conjunction with UNDP, with the Wildlife Institute of India, Dehradun serving as the implementing agency.
The project is being carried out across ten coastal states of the country, with a particular emphasis on the state of Orissa.
The project assisted in the creation of an inventory map of sea turtle breeding locations, the identification of nesting and breeding habitats along the beach line, and the formulation of guidelines to protect and minimize turtle mortality.
One of the significant accomplishments has been the demonstration of the use of Satellite Telemetry to locate the migratory route of Olive Ridley Turtles in the sea, as well as sensitizing fishermen and the State Government to the use of Turtle Exclusion Devices (TED) in fishing trawlers to reduce turtle mortality in fishing nets.
Olive Ridley Sea Turtle status
Olive ridley turtles are the smallest and most numerous sea turtles on the planet. The name of these carnivorous turtles comes from their olive-colored carapace.
Protection Status Wildlife Protection Act of 1972 Schedule I
IUCN Red List -Vulnerable
CITES Appendix I
Ganges Dolphin
The Ganges River Dolphin has been designated as the National Aquatic Animal by the Ministry of Environment and Forests.
The Ganges-Brahmaputra-Meghna and Karnaphuli-Sangu river systems of Nepal, India, and Bangladesh are home to the River Dolphin.
The Ganges Dolphin is one of the world's four "obligate" freshwater dolphins, the others being the 'baiji' of the Yangtze River (China), the 'bhulan' of the Indus (Pakistan), and the 'boto' of the Amazon River (Latin America).
Although most marine dolphin species have ranges that include some freshwater habitats, these four species only reside in rivers and lakes.
Conservation Status
Indian Wildlife (Protection), Act 1972: Schedule I.
International Union for the Conservation of Nature (IUCN): Endangered.
Convention on International Trade in Endangered Species (CITES): Appendix I (most endangered).
Convention on Migratory Species (CMS): Appendix II (migratory species that need conservation and management or would significantly benefit from international cooperation).
The Ganges River Dolphin is threatened in India by river water pollution and siltation, unintentional entanglement in fishing nets, and oil poaching. Furthermore, river modifications such as barrages and dams are isolating populations.
Conclusion
It can be concluded that animal protection is critical to maintaining ecological stability. The extension of human activities into the habitats of these species has resulted in substantial damage to the ecosystem.
Wildlife legislation must be enforced more strictly. Wildlife conservation projects aim to preserve and use natural resources in a sustainable manner to ensure that future generations can benefit from these resources.
Through these Wildlife conservation projects, an attempt has been made to mitigate the damage and prevent future interruptions. Being the most intellectual species on the planet, we must ensure that our actions and omissions do not harm nature.
Extinction of species can pose serious threats to the entire world. When one critical component of the ecosystem is removed, the entire planet suffers.
Article Written By: Atheena Fathima Riyas