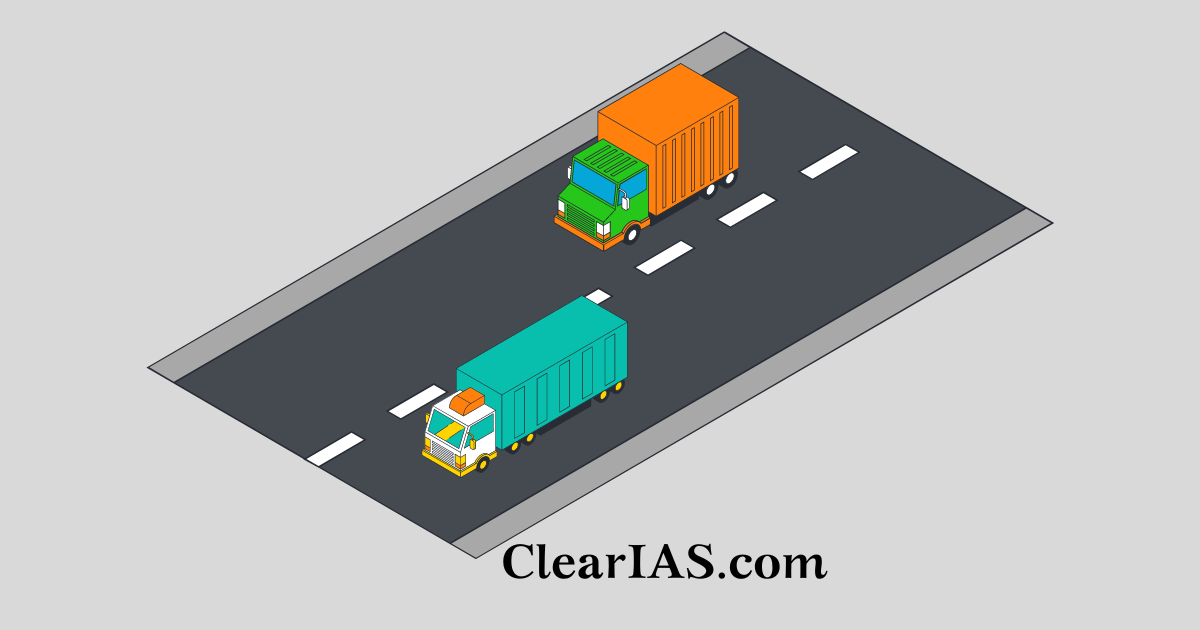 Why Road Infrastructure holds so much significance? What are the different categories of roads? And what are the challenges associated with it? Are there any Government Initiatives? To answer these questions, read further.
India has one of the world's largest road networks. Every year, roads carry about 85% of all people and 70% of all freight. Roads are divided into four categories: National Highways (NH), State Highways (SH), Major District Roads, and Rural Roads.
National Highways
The National Highways are the major roadways built and maintained by the central govt.
These roads are meant for interstate travel as well as the transportation of military personnel and equipment to key locations.
Additionally, these link state capitals, significant cities, vital ports, railway intersections, etc.
State Highways
State governments create and maintain these roadways.  They connect the district offices, key towns, and state capitals.
These routes are linked to the National Highways.
District Roads
The District highways serve as a link between District Headquarters and the other significant roads in the district.
Rural Roads
These roads are essential for connecting rural areas.
Because rural roads are influenced by regional factors, there is regional variations in their density.
Significance
Roadways provide the connections for feeder roads to significant rail lines and ports, which are crucial for the growth of domestic and international trade.
It aids in integrating underdeveloped areas, such as rural, tribal, LWE-affected, J&K, and North East
It provides door-to-door and last-mile connectivity. It is an addition to rail transportation and also a gateway for passengers and cargo.
Road networks help the efficient movement of resources between villages and towns, which encourages urbanization.
This is essential for the nation's economy because it allows the transportation industry to contribute 4.7% of India's GDP.
They are less expensive. The building and maintaining of highways costs little.
Unskilled workers may be able to find work in the road construction industry. For instance, the Bharatmala Pariyojana is employing a large number of unskilled people.
In India, the logistics cost is quite high compared to the world's developed economies. Hence, it will be a step towards ease of doing business.
It will help in achieving the maximum utilization of the resources and thereby will enhance the market competition. Therefore, it will remove the barriers to economic growth.
Defense and border highways are vital. It will help in improving national security.
Agricultural and mining districts are effectively connected to ports, airports, and other transportation hubs by freight roads.
They are more adaptable and flexible. Unlike trains, which only stop at certain stations, buses and trucks can be stopped anywhere and at any time for passengers and cargo.
Compared to railroads, highways are easier and faster for the transportation of perishable goods like milk, fruit, and vegetables.
Challenges
Construction of roads is more straightforward and less expensive in plain locations, while it is challenging and more expensive in hilly and plateau areas, depending on the type of terrain and the amount of economic development.
In high-altitude, wet, and forested areas, the quality of the roads is substantially worse. Climate plays a very important role.
There are regional variations in road density. Compared to cities and towns, rural areas have fewer roads. Road density is higher in places with higher industrial concentrations than in areas with lower industrial concentrations.
State and national highways, which carry more than 65% of all traffic, are subjected to the problem of excess loads.
India has a low intra-city vehicle speed because of its heavy traffic. The country's average road speed is between 30 and 40 km/h. The standard road speed across the globe is 60 to 80 km/h.
The road density per thousand people is low, which raises traffic and fuel use. It leads to increased air pollution.
The logistics bottlenecks also impact the GDP of the country.
40% of the roads are unsurfaced, making them only usable in good weather and impractical for travel when it rains.
There is widespread corruption due to the connections between contractors, bureaucrats, and politicians.
India lacks adequate funding for road maintenance, leaving thousands of villages without access to all-weather roads.
Economic gains take time to materialize. It is unclear whether the return from competitively priced tolls will result in profits in the initial years or not.
Although there is a trend of going away from gasoline and diesel in favor of electric cars (EVs), the rate of adoption is modest
The motor vehicle population is expanding quickly.
It leads to construction hazards and unforeseen delays before the project even starts.
Road accidents in India result in fatalities each day. Hence there are concerns about accidents and safety.
There is large-scale land acquisition, especially on toll roads with restricted access. It leads to long legal battles.
Government Initiatives
Golden Quadrilateral: The 5,846 km long, high-density traffic corridor known as the "golden quadrilateral" connects India's four largest megacities of Delhi, Mumbai, Chennai, and Kolkata.
The Bharat Mala Project is envisioned to span 5300 kilometers and 13 states. It has a strategic element that includes preventing the expansion of the Chinese network across the border and facilitating access to the border-hugging districts.
Pradhan Mantri Gram Sadak Yojana (PMGSY): To connect all villages in India with good all-weather roads.
SARATHI (for licensing) and VAHAN (a car registration ICT solution) to stop fraud in the registration of vehicles and the issuance of licenses.
Infrastructure Investments Trust (InviTs): By monetizing the assets of the National Highways that have been constructed and are in use, Infrastructure Investment Trusts (InvITs) are used as a mechanism to raise money for the construction of road infrastructure.
The National Infrastructure Pipeline (NIP) is a five-year plan that will invest in highways.
The Build Operate Transfer (BOT), Hybrid Annuity Model (HAM), and Toll Operate Transfer are examples of various PPPs (TOT)
Way Forward
Explore alternative funding sources to increase public spending on roads and infrastructure and attract private sector investment.
There is a need for utilizing resources effectively while pursuing a sustainable policy. To make sure that money flows from internal accruals, borrowings, state financing, and private funding.
Ensure proper compensation and rehabilitation to win the support of the community for the projects.
We need big Data Analytics and Trend Analysis to create predictive analysis, as well as the application of robotics in warehouse management and cargo aggregation.
Artificial intelligence and machine learning greatly increase productivity and enhance user value creation.
The right choice of bituminous mixes should be made while building and resurfacing roads, only dense bituminous mixes should be utilized.
Roads should be built properly, including space for pavement, transit stops, and smoother bends.
Road safety education to assist with navigating challenging circumstances.
A sound road network will be one of the key building blocks of India's quick economic revival. To meet the goals of SDG 9, the government's budgetary commitment to improving road infrastructure should be supported by inviting private investment possibilities in the sector.
Article written by Chetna Yadav.