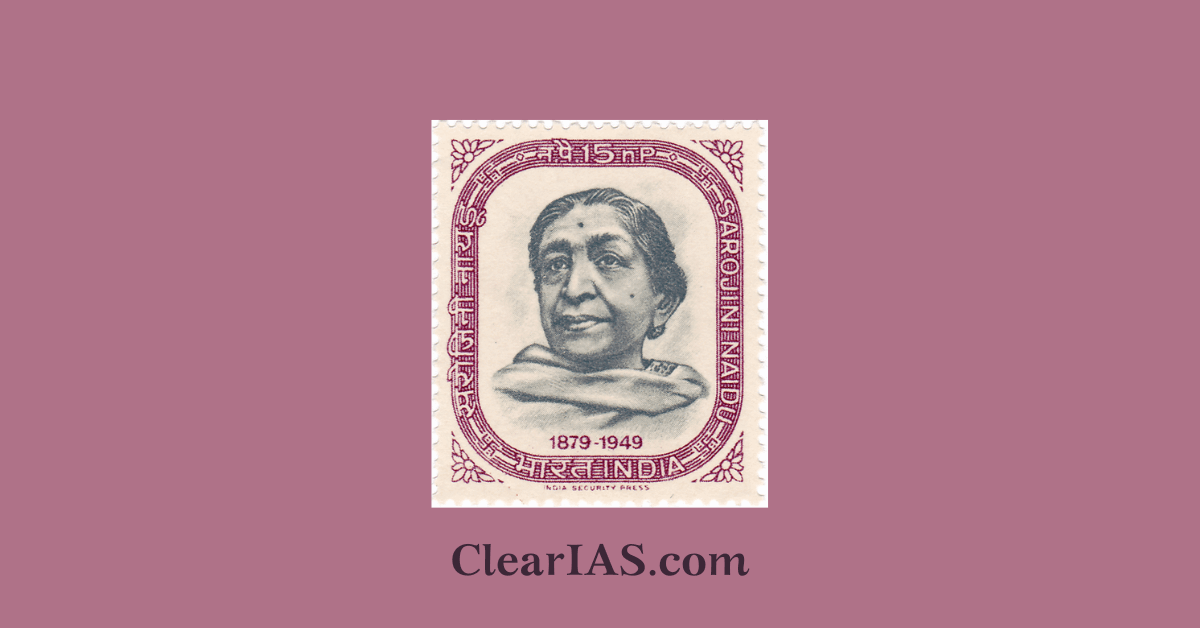 Sarojini Naidu was a renowned Indian freedom fighter, political leader, and poetess. She was one the leading women figures in India's struggle for independence. Read here to know more about her life on her 144th birth anniversary.
The independent nation of India owes the feat to the many women freedom fighters who took up the mantle and led the way even when the men were imprisoned. Some of the eminent women freedom fighters are Sarojini Naidu, Kasturba Gandhi, Rani Lakshmibai, Aruna Asaf Ali, Begum Hazrat Mahal, etc.
Sarojini Naidu was a feminist, poet, and political activist from India. She played a significant role in India's fight for independence from colonial control as a supporter of civil rights, women's emancipation, and anti-imperialist beliefs.
She was also the first Indian woman to be selected as governor of an Indian state and to serve as president of the Indian National Congress (United Provinces).
The early life of Sarojini Naidu
Sarojini Naidu was born in Hyderabad on 13 February 1879 to Aghorenath Chattopadhyay and Varada Sundari Devi.
Her father was a Bengali Brahmin and the principal of Nizam College. He held a doctorate of Science from Edinburgh University. Her mother wrote poetry in Bengali.
She was the eldest of eight siblings. Her brother Virendranath Chattopadhyay was a revolutionary, while another brother Harindranath was a poet, a dramatist, and an actor.
Sarojini finished her matriculation in 1891. She went on to study in England at King's College, London, and then Girton College, Cambridge, with a scholarship from the Nizam of Hyderabad till 1898.
In 1898, she married Govindaraju Naidu, a physician,-whom she met during her stay in England. They had five children, one of them, Padmaja Naidu was also active in the freedom movement.
Political career
1904: Naidu became an orator promoting Indian independence, women's rights, and women's education.
1906: She addressed the Indian National Congress and the Indian Social Conference in Calcutta.
1911: Her social work for flood relief earned her the Kaisar-i-Hind Medal, which she later returned in protest over the April 1919 Jallianwala Bagh massacre.
1914: She met Mahatma Gandhi, and was instrumental in organizing the non-violent resistance movement against British rule.
1917: She met Muthulakshmi Reddy and helped establish the Women's Indian Association.
Later that year, Naidu accompanied Annie Besant, who was the president of the Home Rule League and Women's Indian Association, to advocate universal suffrage in front of the Joint Select Committee in London, United Kingdom.
1924: Naidu represented the Indian National Congress at the East African Indian National Congress.
1925: Sarojini Naidu was the first Indian woman to be elected as the President of the Indian National Congress in 1925. (Annie Besant was the first woman to hold the position in 1917).
1930: Sarojini Naidu was jailed first for her participation in the Salt Satyagraha where the protesters were subjected to brutal repression by the British.
1931: She participated in the second round-table conference with Gandhi and Madan Mohan Malaviya.
She was later arrested again in 1932 and 1942 for participation in Quit India Movement when she spent 21 months in jail.
She was appointed the governor of Uttar Pradesh after India achieved independence in 1947.
She was India's first woman governor and remained in that position till her death in 1949.
Sarojini Naidu was a staunch supporter of Hindu-Muslim harmony and opposed India's partition. She was against the division, but she was very important in making sure it was a calm and orderly process. Throughout the turbulent and tense time of the division, she worked valiantly to prevent community violence and contributed to keeping things calm.
Sarojini Naidu, the poetess
As a poet, Naidu was known as the "Nightingale of India". She began writing at the age of 12.
Her writing style was inspired by English romanticism and involved the vivid use of rich sensory imagery.
Her famous published works include:
1905: The Golden Threshold, London
1915: The Bird of Time: Songs of Life, Death & the Spring, London
1919: The Broken Wing: Songs of Love, Death, and the Spring
1919: "The Song of the Palanquin Bearers", lyrics by Naidu and music by Martin Shaw, London
1920: The Speeches and Writings of Sarojini Naidu, Madras
1948: The Sceptred Flute: Songs of India, New York
1961: The Feather of the Dawn, edited by Padmaja Naidu, Bombay
Role in women's empowerment
Sarojini Naidu was a key figure in India's fight for women's emancipation. She was a fervent supporter of women's rights and strove to advance their political participation and emancipation.
Naidu was a fervent advocate for women's education and held the view that educating women was essential to their empowerment. She exhorted women to get involved in politics and the independence movement.
Naidu was a founding member of the Women's India Association and was actively involved in several other women's organizations. She advocated for women's right to participate in politics and worked to elevate their status in Indian society.
Legacy
Naidu died of cardiac arrest on 2 March 1949 at the Government House in Lucknow.
Sarojini Naidu's contributions to the women's empowerment movement in India were significant and continue to inspire many to this day.
Her birthday, 13 February, is celebrated as National Women's Day in India. It is a day to honor the achievements and contributions of women to the nation and society.
She believed in the Gandhian philosophy of non-violence and was instrumental in disseminating Gandhian principles to the rest of the world.
Sarojini Naidu devoted her entire life to the cause of India's independence. She was a multitalented woman who truly inspired everyone who knew her. She was passionate and committed to the cause of independence, as seen by the poetry and speeches she wrote and delivered.
Sarojini Naidu continued to remain involved in politics after India gained its independence, and in 1947 she was named governor of the United Provinces (today's Uttar Pradesh), becoming the country's first female governor. She held this role until 1949 when she passed away.
Sarojini Naidu was a trailblazer for women's rights and female empowerment. She was a lady ahead of her time. She was an inspiration to many young ladies of her era and a steadfast supporter of women's education. She actively promoted women's empowerment and inspired them to join the independence movement.
­-Article written by Swathi Satish