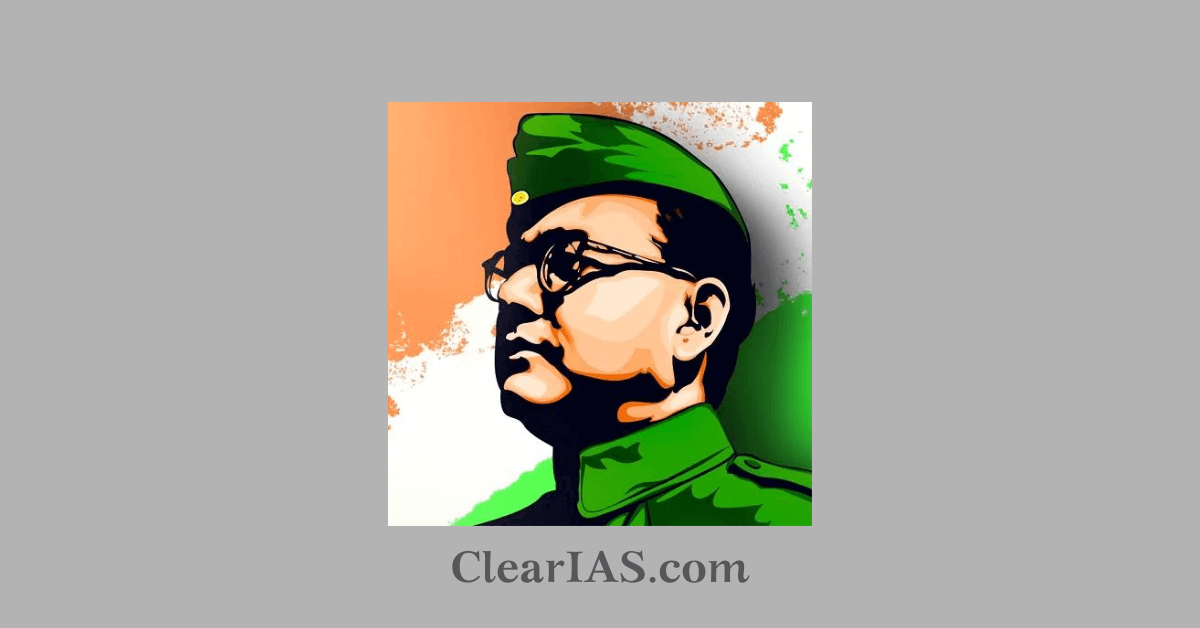 Subhas Chandra Bose was an Indian Nationalist, great leader, thinker, and fighter, who defied British authority. His political activities and ideologies are marred by controversies but the legacy he left behind motivates each Indian to date.
Subhas Chandra Bose was born into a Bengali family in Orissa (1897).
In 1920 he passed the civil service examination. But he resigned his candidacy and hurried back to India after hearing of the nationalist turmoils in India.
Subhas' devotion and zeal to make the country free from the colonial rule were comparable to none and he lived and died working towards the goal of independent India. Subhas Chandra Bose is popularly known by the name 'Netaji'.
The early life of Netaji Subhas Chandra Bose
Birth and family:
Subhas Chandra Bose was born on January 23, 1897, in Cuttack, Orissa.
His father Janaki Nath Bose was a famous lawyer and his mother's name was Prabhavati Devi.
He was the ninth child among fourteen siblings.
Education:
Subhas Chandra Bose topped the matriculation examination of Calcutta province and graduated with a First Class in Philosophy from the Scottish Churches College in Calcutta.
He was very patriotic and deeply influenced by Swami Vivekananda's teachings as a student.
He went to England in 1919 to compete for Indian Civil Services. In England, he appeared for the Indian Civil Service competitive examination in 1920 and came out fourth in order of merit.
However, Subhas Chandra Bose left his Civil Services apprenticeship midway to return to India in 1921 as he was deeply disturbed by the Jallianwalla Bagh massacre.
The political life of Netaji Subhas Chandra Bose
On his return to India, he came under the influence of Mahatma Gandhi and joined the Indian National Congress.
On Gandhiji's instructions, he started working under Deshbandhu Chittaranjan Das, whom he later acknowledged as his political guru.
1923: Subhas Chandra Bose was elected the President of All India Youth Congress and also the Secretary of Bengal State Congress. He was also the editor of the newspaper 'Forward', founded by Chittaranjan Das.
1924: He also served as the CEO of the Calcutta Municipal corporation when Das was the mayor of Calcutta.
1925: He was arrested and sent to prison in Mandalay, where he contracted tuberculosis.
1927: He was released from prison, and later became the general secretary of the Congress party.
1928: The Motilal Nehru Committee appointed by the Congress declared in favour of Domination Status, Subhas Chandra Bose and Jawaharlal Nehru opposed it. They both asserted that only complete independence for India was acceptable.
Bose also announced the formation of the Independence League.
1930: Subhas Chandra Bose was jailed during the Civil Disobedience Movement. He later became the Mayor of Calcutta.
1931: Bose was released after the Gandhi-Irwin pact was signed. He protested against the Gandhi-Irwin pact and the suspension of the Civil Disobedience movement especially when Bhagat Singh and his associates were hanged.
He travelled through Europe after this, establishing centres in different European capitals to promote politico-cultural contacts between India and Europe.
1937: He returned to India and was released after Congress won the general elections.
Subhas Chandra Bose as President Of Indian National Congress Sessions
1938: He was elected President of the Haripura Congress Session (Gujarat), during this term as Congress President; he talked of planning and setting up a National planning Committee in October that year.
1939: He also won the presidential election to the Tripuri Congress session, defeating Dr. Pattabhi Sitaramayya who had been backed by Mahatma Gandhi and the Congress Working Committee.
This led to the Tripuri Crisis in Congress due to ideological differences between Bose, who had strong leftist thinking and older leaders who were more right-wing thinkers.
As a result, Bose resigned and formed the 'Forward Bloc', the left-wing party within the Congress at Unnao in U.P.
1940: When INC organized Individual Satyagraha, Subash Chandra Bose organized an 'Anti-Compromise Conference' at Ramgarh, Bihar.
He was arrested by the British shortly afterwards for organizing a protest for the removal of the Holwell Monument (Memorium for Blackhole tragedy of Calcutta). He was later released and placed under House arrest in Calcutta.
Netaji's Escape from India
1941: Bose escaped house arrest in disguise and travelled out of India. He started garnering support from Nazi Germany and even met Adolf Hitler.
He founded the Free India Center in Berlin and created the Indian Legion (consisting of some 4500 soldiers) out of Indian prisoners of war who had previously fought for the British in North Africa before their capture by Axis forces.
Bose was given the honorific title of Netaji in Germany in 1942 by the Indian soldiers of the Indian Legion and officials of the Special Bureau for India in Berlin.
1942-43: World War II was underway, Nazi Germany was losing footing in the west. In the east Japanese were advancing rapidly. In India, Bengal Famine and Quit India movement were raging.
1943: Bose went to Japan after disappointment from Germany.
Bose and Indian National Army (INA)
INA was the brainchild of Japanese Major (and post-war Lieutenant-General) Iwaichi Fujiwara, head of the Japanese intelligence unit. His mission was "to raise an army which would fight alongside the Japanese army.
He first met Pritam Singh Dhillon, the president of the Bangkok chapter of the Indian Independence League, and through Pritam Singh's network recruited a captured British Indian army captain, Mohan Singh, on the western Malayan peninsula in December 1941.
The First Indian National Army was formed as a result of a discussion between Fujiwara and Mohan Singh.
Rash Behari Bose, another expatriate nationalist leader was also associated with the INA.
1943: Rash Behari Bose handed over control of the INA to Subhas Chandra Bose. Bose was able to reorganize the fledgling army and organize massive support among the expatriate Indian population in southeast Asia, who lent their support by both enlisting in the Indian National Army, as well as financially in response to Bose's calls for sacrifice for the independence cause.
INA had a separate women's unit, the Rani of Jhansi Regiment (named after Rani Lakshmi Bai) headed by Capt. Lakshmi Swaminathan is seen as a first of its kind in Asia.
Bose was able to maintain support for the Azad Hind movement throughout. Bose's most famous quote was "Give me blood, and I shall give you freedom!" was spoken as a part of a motivational speech for the Indian National Army at a rally of Indians in Burma on 4 July 1944, In this, he urged the people of India to join him in his fight against the British Raj.
1944: An Indian tricolour was raised for the first time in the town of Moirang, Manipur by the INA troops during their support of the Japanese to thrust towards Eastern Indian frontiers.
1945: The United States allied aerial bombing resulted in losses for the Japanese. The Japanese retreat left cut-off INA. Many INA troops were captured in the Battle of Imphal and Kohima.
Japan's surrender at the end of the war also led to the surrender of the remaining elements of the Indian National Army. The INA prisoners were then repatriated to India and some were tried for treason.
Death of Subhas Chandra Bose
18th August 1945: As the INA forces were being captured or surrendering, Bose travelled to Tokyo via Taiwan when his plane crashed.
Subhas Chandra Bose was reportedly killed in an air crash over Taipeh, Taiwan (Formosa) on August 18, 1945.
Though it is widely believed that he was still alive after the air crash, not much information is available regarding this.
The ideology of Subhas Chandra Bose
He was influenced by Bhagavad Gita and believed Gita to be a source of inspiration for the struggle against the British.
Swami Vivekananda's teachings of universalism, nationalistic thoughts also greatly influenced bose since his young days.
He was attracted to concepts of socialism and communism during his days in the Congress party. But he believed it will work in India if a synthesis between national socialism and communism is established.
He supported the empowerment of women, secularism, and other liberal ideas; but didn't believe that democracy was the best for India.
Quotes by Subhas Chandra Bose
Bose gave the most famous quote "Give me blood and I will give you freedom".
Another famous quote was Dilli Chalo (On to Delhi), the call he used to give the INA armies to motivate them.
Jai Hind or, Glory to India was another slogan given by him and which was later adopted by the Government of India and the Indian Armed Forces.
He also coined was "Ittihad, Etemad, Qurbani" (Urdu for Unity, Agreement, Sacrifice).
INA also used the slogan Inquilab Zindabad, coined by Maulana Hasrat Mohani
Statue of Netaji at India Gate
The government has decided to install a grand statue of Netaji Subash Chandra Bose at India Gate to commemorate his 125th birth anniversary and as part of the year-long celebrations. The PM inaugurated a hologram at India gate which will be replaced by a statue later on.