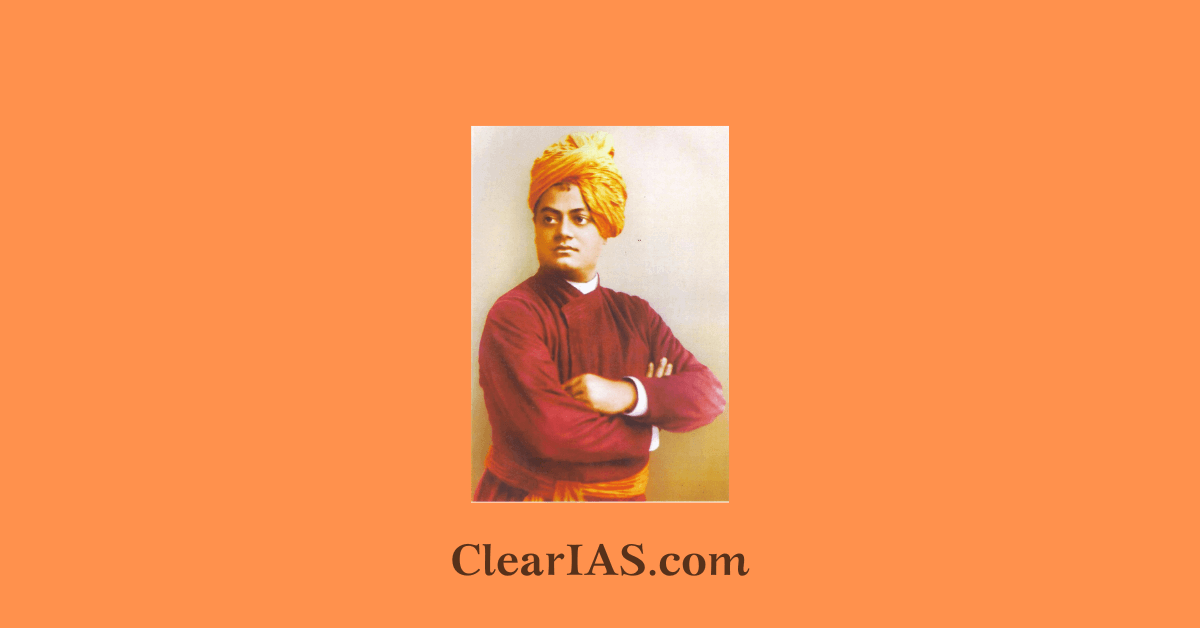 To honor the birth anniversary of Swami Vivekananda, one of India's most important spiritual figures and intellectuals, National Youth Day, also known as Swami Vivekananda Jayanti, is observed throughout India on January 12. Read here to learn more about the life of Swami Vivekananda.
Swami Vivekananda was one of India's most influential spiritual leaders and thinkers.
A major figure in the Indian independence movement and the revival of Hinduism in India, he was also a philosopher, monk, and teacher. Along with his contributions to the realm of education, he is well renowned for his work to empower Indian youth. The youth of India are greatly impacted by his teachings on nationalism, education, and spirituality.
Since 1985, Vivekananda's teachings have been honored and recognized on Swamiji's birth anniversary, which the Indian government designated as National Youth Day in 1984. The topic for National Youth Day 2023 is "Viksit Yuva-Viksit Bharat" this year.
The early life of Swami Vivekananda
On January 12, 1863, Vivekananda was born Narendranath Datta into a Bengali family in his ancestral home in Calcutta, the capital of British India.
He was one of nine siblings and came from a conventional family. Vishwanath Datta, his father, worked as a lawyer at the Calcutta High Court. Sanskrit and Persian scholar Durgacharan Datta, Narendra's grandfather, abandoned his family at age 25 to become a monk. Bhubaneswari Devi, his mother, was a devoted housewife.
Narendra's father had a progressive, logical outlook, while his mother had a devout temperament, both of which influenced his way of thinking and personality.
In Swami Vivekananda's words, "I am indebted to my mother for the efflorescence of my knowledge."
He was enrolled in Ishwar Chandra Vidyasagar's Metropolitan Institution, at the age of 8. He was the sole student to pass the Presidency College admission exam with first-division grades.
He was a voracious reader who loved philosophy, theology, history, social science, art, and literature, among many other topics. He also had a keen interest in the Vedas, Upanishads, Bhagavad Gita, Ramayana, Mahabharata, and Puranas, among other Hindu texts.
Narendra received training in Indian classical music and routinely engaged in organized events, sports, and physical activity.
At the General Assembly's Institution, Narendra studied Western logic, Western philosophy, and European history (now known as the Scottish Church College). He passed the Fine Arts test in 1881, and in 1884 he earned a Bachelor of Arts degree.
Foray into spiritualism
In 1880, Narendra joined Keshab Chandra Sen's Nava Vidhan, which was established by Sen after meeting Ramakrishna.
Around 1884, Narendra became a member of a Freemasonry lodge and the Sadharan Brahmo Samaj in his twenties, a breakaway faction of the Brahmo Samaj led by Keshab Chandra Sen and Debendranath Tagore.
From 1881 to 1884, he was also active in Sen's Band of Hope, which tried to discourage youths from smoking and drinking.
In 1881 Narendra met Ramakrishna Paramahamsa who became his guru after the former's father's death in 1884.
Narendra first learned about Ramakrishna when he heard Professor William Hastie discussing William Wordsworth's work The Excursion in a literature lesson at General Assembly's Institution. Hastie advised his students to visit Ramakrishna of Dakshineswar to better comprehend the meaning of the word "trance" when he was defining it in the poem.
Some of his pupils, including Narendra, decided to go see Ramakrishna as a result.
Initially, he opposed Ramakrishna's ideas, but was attracted by his personality and hence began to frequently visit him at Dakshineswar.
Narendra initially saw Ramakrishna's ecstasies and visions as mere figments of imagination and hallucinations.
As a member of Brahmo Samaj, he opposed idol worship, polytheism, and Ramakrishna's worship of Kali. He even rejected the Advaita Vedanta of "identity with the absolute" as blasphemy and madness and often ridiculed the idea.
Ramakrishna encouraged Narendra to see the truth from all angles.
In 1886, Ramakrishna died of throat cancer, before which he formed his first monastic order with Narendra as its leader.
Later, Narendra and other disciples founded the Ramakrishna math in Baranagar where they practiced meditation and religious austerities.
Narendranath took his monastic vows late in 1886 and took the name Swami Vivekananda.
Swami Vivekananda's monastic life
From 1888 to 1893, Swami Vivekananda traveled all over India as and wandering monk visiting several centers of learning.
In 1893, Vivekananda left for Chicago from Bombay via China, Japan, and Canada to take part in the "Parliament of Religions".
Swami Vivekananda's speech at the parliament made him popular as a great orator and influential figure from India. After the Parliament of Religions, he toured many parts of the US as a guest.
Vivekananda spent nearly two years lecturing in the eastern and central United States, primarily in Chicago, Detroit, Boston, and New York.
He founded the Vedanta Society of New York in 1894.
By spring 1895 his busy, tiring schedule had affected his health.
He visited the UK in 1895 and 1896 for lectures, where he also met with Margaret Elizabeth Noble, an Irish woman who later became Sister Nivedita.
In 1896, Vivekananda met Max Müller, a noted Indologist from Oxford University who wrote Ramakrishna's first biography in the West.
Vivekananda's success led to a change in mission, namely the establishment of Vedanta centers in the West.
An important element in his adaptation of Hindu religiosity was the introduction of his "four yogas" model, which includes Raja yoga, his interpretation of Patanjali's Yoga sutras, which offered a practical means to realize the divine force within which is central to modern western esotericism.
He returned to India in 1897 and gave his first lecture on the east in Colombo, and later in several cities of southern India during his travel to Calcutta.
Founding of the Ramakrishna Mission
In 1897 in Calcutta, Vivekananda founded the Ramakrishna Mission for social service. Its ideals are based on Karma Yoga, and its governing body consisted of the trustees of the Ramakrishna Math.
Vivekananda founded two other monasteries: one in Mayavati in the Himalayas (near Almora), the Advaita Ashrama, and another in Madras (now Chennai).
He also founded two journals – Prabuddha Bharata in English and Udbhodan in Bengal.
Swami Vivekananda again visited the west between 1899 and 1900, for more religious lectures and the establishment of more Vedanta societies.
Death
His health was declining due to asthma, diabetes, and insomnia, hence he restricted his travels and activities after 1900.
On July 4, 1902, Swami Vivekananda died while meditating in Belur math.
Teachings and Philosophy of Swami Vivekananda
Swami Vivekananda was one of the most celebrated spiritual leaders of India. He was a prolific thinker, great orator, and passionate patriot. He carried on the free-thinking philosophy of his guru, Ramakrishna Paramhansa forward into a new paradigm.
Vivekananda propagated that the essence of Hinduism was best expressed in Adi Shankara's Advaita Vedanta philosophy. Nevertheless, following Ramakrishna, and in contrast to Advaita Vedanta, Vivekananda believed that the Absolute is both immanent and transcendent.
He worked tirelessly towards betterment of the society, in servitude to the poor and needy, dedicating his all to his country. He was responsible for the revival of Hindu spiritualism and established Hinduism as a revered religion on the world stage.
His message of universal brotherhood and self-awakening remains relevant, especially in the current backdrop of widespread political turmoil around the world.
Nationalism was a prominent theme in Swami Vivekananda's thoughts. He believed that a country's future depends on its people, and his teachings focused on human development.
Even though he only lived for two years of the 20th century, Swami Vivekananda made the highest ideals of the Vedantic faith relevant to it and left his mark on both the East and the West.
Vivekananda was one of the intellectuals who gave the Indian freedom movement its greatest impetus. Great leaders like Mahatma Gandhi, Aurobindo Ghosh, Hemchandra Ghosh, and Netaji Subhas Chandra Bose all looked up to him as a source of inspiration. Netaji Subhas Chandra Bose had called Vivekananda the "maker of modern India".
­-Article written by Swathi Satish