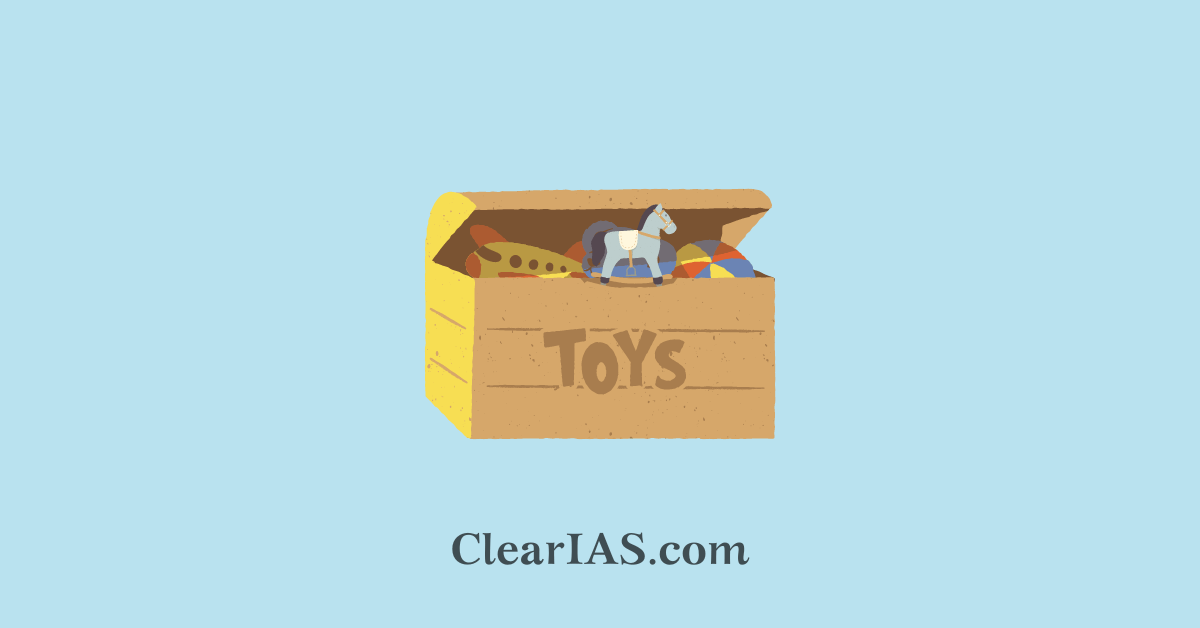 The toy industry in India has ended decades of import dominance by becoming a net exporter of toys during 2020-21 and 2021-22. Toys have been recognized as one of the champion sectors with significant export potential. The Indian toy industry is among the fastest-growing globally. Read here to know more about the toy industry.
The Indian toy industry is expanding its global presence, with increased high-value exports to Middle East and African countries.
The import duty on toys was increased from 60% to 70% in Budget 2023. The Toys Quality Control Order (QCO) was implemented in 2021 to enhance standardization in toy production and import, ensuring product safety.
Toys have been recognized as one of the champion sectors with significant export potential. The Indian toy industry is among the fastest-growing globally, projected to reach $ 3 Bn by 2028, growing at a CAGR of 12% between 2022-28.
Toy industry in India
The invention of toys in India took place during the Indus Valley Civilization, approximately 8,000 years ago.
The original toys comprised whistle-shaped parrots, toy monkeys with long hands to slide down a rope or stick, and miniature farm carts.
All these toys were made from natural materials such as bamboo sticks, hay, natural clay-like soil, rocks, and fiber cloth.
Today the advent of progressive technology and mechanism has stimulated companies to produce fresh and inventive toys.
Soon, owing to the new revolution of 'Local se Vocal', India is anticipated to become the global hub by 2025-2030.
Labor-intensive toy categories like dolls, soft toys, and board games offer significant manufacturing potential in India due to inherent cost competitiveness and growing demand.
The sector is dominated by small & medium-sized manufacturers. Over 4,000 toy units in the MSME Sector significantly contribute to both manufacturing and exports to large global & domestic brands.
The major advantages for India to lead in this sector are:
Availability of Raw Material: India is the world's 2nd largest producer of polyester and related fibers, accounting for 8% global share for plush toys; availability of plastics, paper boards, and textiles at competitive prices
Customized State Incentives: Multiple states have announced incentives for toy manufacturers subsiding nearly 30% of the cost of manufacturing.
Large Cluster Ecosystem: The Government of India has established 60+ toy clusters to encourage domestic and global toy manufacturers to set up operations in India. 400-acre cluster set up by Aequs in Koppal, Karnataka; 100-acre facility being developed in Uttar Pradesh.
100% FDI is allowed under the automatic route in the toy sector.
India has recently concluded Free Trade Agreements with geographies such as UAE and the Middle East, providing zero-duty market access opportunities for India-made toys.
Indian-made toys enjoy zero-duty market access under the recently concluded India-UAE CEPA (Comprehensive Economic Partnership Agreement) and India-Australia ECTA (Economic Cooperation and Trade Agreement).
Challenges for the toy industry in India
The Indian toy industry is still incredibly fragmented, with 90% of the market being unorganized. This also prevents us from having a decent supply chain.
The majority of domestic toy producers employ antiquated equipment, which has an impact on the aesthetics and functionality of the toys.
Another issue for the Indian toy business is the high GST charges on toys. Currently, non-electronic toys are subject to 12% GST, while electronic toys are taxed at 18%.
The sector's expansion is hampered by a lack of end-to-end production facilities and poor infrastructure. The Indian toy business lacks sufficient testing facilities, toy parks, clusters, and logistical support.
Another difficulty for the Indian toy business is competition from imports that are inexpensive and of low quality from nations like China. India imports 80% of its toys from China, which hurts the country's native toy makers.
A closer look at what has held India back from making it big in this sector reveals an important flaw-labor law. Indian laws do not permit recruitment or retrenchment based on demand if the organization grows beyond a certain size in terms of employee strength.
Government initiatives
Government of India's initiatives towards building a world-class toy ecosystem in India.
Start-ups are being urged to venture into the toy industry, and support for local toys and reducing reliance on foreign goods is being promoted.
The government has made toy quality certification mandatory to revive our indigenous industry. India has begun enforcing quality control for imported toys since September 1, 2020, to ensure that only products conforming to standards enter the country.
The government is planning a Phased manufacturing programme (PMP) for toys to build a robust indigenous manufacturing ecosystem.
India's domestic toy industry comprises 4,000 micro, small and medium enterprises (MSMEs) and is primarily in the unorganized sector, a key area of focus for the Government.
The government has chalked out a plan to promote traditional toys manufactured in the country by creating Toy Labs, a national toy fair for innovative Indian-themed toys.
A plan to establish networks of toy labs such as Atal Tinkering Lab is also in the works to provide support for physical toys and for children to learn, play and innovate.
The Department for Promotion of Industry and Internal Trade (DPIIT) has reached out to large-scale manufacturers in a round table for investments in the US$ 1.75 billion toy industry.
India has also invited top global toy makers to invest and a round table with major manufacturers is being planned to discuss Indian-themed toys.
The government is gradually introducing a new norm in the minds of consumers to purchase safe and good-quality 'Made in India' toys as against cheap and poor-quality imported toys.
A 'Team Up for Toys' campaign proposal is in process, which aims to educate consumers on the harmful effect of addiction to online gaming in children.
The campaign also aims to encourage toys to promote physical activity, Indian ethos, and national values in children. The tentative action plan has tasks for nine ministries to enhance India's share in the global toy market and usher in behavioral changes in people to choose Indian toys over imported ones.
The government has invited the Ministries of Education, Textiles, I&B, Commerce, Women and Child Development, Culture, Tourism, Railways, Urban Development, Science and Technology, and IT to give their inputs for the betterment of the toy sector.
The Government of India is planning to provide comprehensive support to promote 'Vocal for Local' in toys through National Action Plan for Toys (NAPT) by bringing together 20+ Ministries/ Departments.
GI tagged toys of India
Channapatna Toys: They received the GI tag in 2005. Made in the Karnataka town of Channapatna, these toys are traditionally made using wood from the Wrightia tinctoria tree, also commonly known as ivory wood.
Kondapalli Bommallu: The Kondapalli Bommallu toys are made in the town of Kondapalli, Krishna district in Andhra Pradesh. These toys were given the GI tag in 1999. The Bommallu or Toys colony is where these toys are created and manufactured within the town. These wooden toys have been made for more than 400 years now and the artisans who create them are called Aryakhastriyas.
Thanjavur doll: Made from terracotta, the Thanjavur doll is an actionable doll that wobbles or is a bobblehead. The doll vibrates or moves when pushed as the weight of the doll and its center of gravity is located at the bottom of the toy. It received a GI tag in 2008-09.
Ganjifa cards: Unlike wooden toys and dolls, Ganjifa cards are a card game and were certified a GI tag in 2008. Ganjjifa the card game is believed to have originated in Persia. But in the 19th century, this card game found its place in India. It was in Mysore under the rule of Krishnaraja Wodeyar III that the game truly developed and several complex games were invented using the Ganjifa cards.
Kathputlis: The puppets or Kathputlis from Rajasthan are a delight to watch. Children enjoy watching puppet shows and puppets as toys are a creatively smart way to engage children in storytelling. Agricultural laborers called Bhats were amongst the first to introduce the kathputlis in the Marwar district of Rajasthan.
Nirmal toys: The wooden toys from Nirmal town in Telangana are made from softwood and received the GI tag in 2009. It is believed that the art of toy-making flourished during the rule of Nimma Naidu in the 17th century.
Kinhal toys: The Kinhal toys are wooden toys that are made in Kinhal in North Karnataka. It was awarded the GI tag in 2012. The Chitragara are the artisans who create these toys using lightweight wood. Just like the other wooden toys, the wood is cut and then pasted to each other using a local paste or glue made from different indigenous local materials.
Some of the other toys that are GI tagged include the leather toys of Indore, leather puppets of Andhra Pradesh, etc., and more recently the Etikoppaka toys (wooden) from Andhra.
Also read: Indian Power Sector
Way forward
The Indian toy industry has advantages in the form of a skilled workforce, a diverse range of toys, specialization in innovation and creativity, and an emphasis on learning & education.
Besides the strong economic growth that has fuelled the significantly altered spending patterns, India also has a booming online retail sector that is supporting the sector in many ways.
The government's push for domestic manufacturing and renowned global toy companies looking to India as a manufacturing destination has raised positive hopes for the toy industry.
Key developments in the year have sought to promote the growth of toy manufacturing in India through proposed import duty hikes, higher certification standards for the import of foreign toys, and allotment of manufacturing plots and investment zones.
Toy manufacturing is an ideal sector to revive a struggling economy. It offers large-scale employment to semiskilled/unskilled workers and especially, women.
-Article written by Swathi Satish