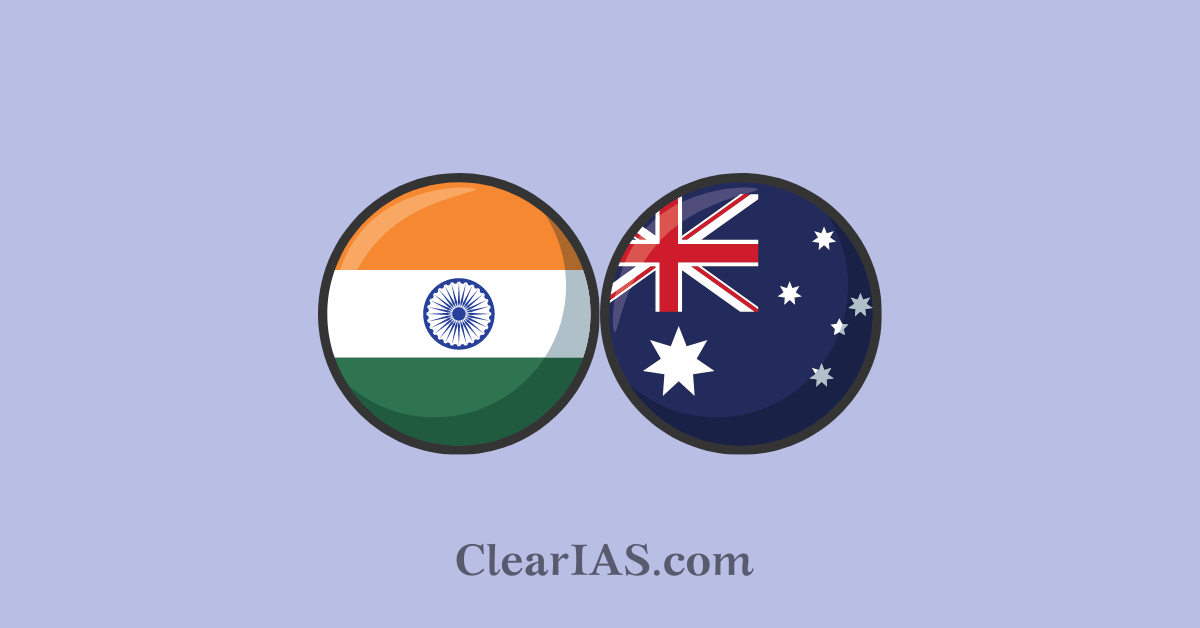 India-Australia has a very strategic partnership with each other in terms of trade, security, education, and so on. Read here to know more.
Recently, India signed a historic trade agreement with Australia, the India-Australia Economic Cooperation and Trade Agreement (Ind- Aus ECTA).
India-Australia ECTA
It is a Free Trade Agreement (FTA) that India has signed with a major developed country in over a decade.
The Agreement encompasses cooperation across the entire range of bilateral economic and commercial relations between the two countries and covers areas like:
Trade-in Goods, Rules of Origin.
Trade-in Services.
Technical Barriers to Trade (TBT).
Sanitary and Phytosanitary (SPS) measures.
Dispute Settlement, Movement of Natural Persons.
Telecom, Customs Procedures.
Pharmaceutical products and Cooperation in other Areas.
India and Australia have several commonalities, which serve as a foundation for closer cooperation and multifaceted interaction, on lines similar to what India has developed with other Western countries.
Both are strong, vibrant, secular, and multicultural democracies. They both have a free press and an independent judicial system; the English language is an important link.
Cricket, and now the large numbers of Indian students coming to Australia for education, is a significant element in awareness at the popular level.
The relationship has grown in strength and importance since India's economic reforms in the nineties and has made rapid strides in all areas of trade, energy, and mining, science & technology, information technology, education, and defence.
History of India-Australia relations
India and Australia have commercial ties dating back to the 18th century when India played a central role in nourishing the young colony.
Trade with Australia came to be an important element in the operations of the East India Company in Bengal.
For the next half-century, Australia's most immediate and direct links were with India rather than London, as bureaucrats, merchants, chaplains, and judges moved between the two colonies.
India was an important source of food and provisions for Australia; by 1840 a ship was leaving Sydney for India roughly every four days, and merchants in Calcutta grew rich from supplying the new outpost.
At the beginning of the 19th century, several British colonial families from India made a life for themselves in the new Australian colonies.
Australia and India established diplomatic relations in the pre-Independence period when the Consulate General of India was first opened as a Trade Office in Sydney in 1941.
India's first High Commissioner to Australia arrived in Canberra in 1945. In March 1944, Lieutenant-General Iven Mackay was appointed Australia's first High Commissioner to India.
The Consulate General of India in Melbourne was opened in 2006. The Consulate General of India in Perth was inaugurated in October 2011.
Political relations between India-Australia
While there has been a regular exchange of visits at the Ministerial level, bilateral visits at the Head of Government/Head of State level have been limited.
At the level of EAM, there have been visits in June 2001 and the CHOGM Summit in March 2002.
The Foreign Ministers' Framework Dialogue in 2011 and pre-CHOGM Foreign Ministers' meetings at Perth in 2011 were also attended by India.
From the Australian side, there have been visits to India several times in the period 1989-1995 and 1996-2005 respectively.
Australian Foreign Minister visited Bengaluru in November 2011 to attend the IOR-ARC Council of Ministers' meeting.
India and Australia co-operate in various multilateral forums:
Australia supports India's candidature in an expanded UN Security Council.
Both India and Australia are members of the G-20, Commonwealth, IOR-ARC, ASEAN Regional Forum, Asia Pacific Partnership on Climate and Clean Development, and have participated in the East Asia Summits.
Both countries have also been cooperating as members of the Five Interested Parties (FIP) in the WTO context.
Australia is an important player in APEC and supports India's membership in the organization.
In 2008, Australia became an Observer in SAARC.
India-Australia Defence cooperation
Defence Cooperation between India and Australia has expanded significantly in recent years. An MoU on Defence Cooperation has been signed as well as a Joint Declaration on Security Co-operation was signed.
There are frequent exchanges of visits including at the level of Service Chiefs, regular Naval, Air Force, and Army Talks; joint naval exercises; regular exchanges at each other's training institutes and seminars.
The Defence Minister of Australia visited India in December 2011 for Defence Ministers' Dialogue.
The India-Australia defence relationship now encompasses almost every major function of the military: strategic dialogues, coordination, and information exchanges; military exercises involving ground, air, and maritime forces; exchanges and training; and defence scientific and technological cooperation.
(1) IFC-IOR
The Information Fusion Centre – Indian Ocean Region in Gurugram is an Indian initiative to boost maritime security and response through the exchange of information related to the ships in the Indian Ocean Region.
(2) Strategic Dialogue
In June 2020, Australia and India decided to upgrade their Secretaries 2+2 dialogue (Defence and Foreign Affairs) to the Ministerial level.
Ministers from the two countries will meet at least every two years to engage in the Comprehensive Strategic Partnership.
The two leaders of the countries have established a Comprehensive Strategic Partnership.
(3) Exercise Malabar
Australia participated in the MALABAR naval exercise in October 2020, joining India, the United States, and Japan.
The exercise brought together four regional defence partners and democracies, demonstrating a collective resolve to support an open and prosperous Indo-Pacific.
High-end military exercises like MALABAR are also key to enhancing all the countries' maritime capabilities and building interoperability with close partners.
(4) AUSINDEX
Engagement between the Royal Australian Navy and the Indian Navy has advanced significantly through the key bilateral exercise, AUSINDEX.
The third edition of the biennial exercise saw Australia send its largest-ever defence deployment to India, including four ships, Australian Army forces, and RAAF aircraft, comprising more than 1000 Australian personnel.
(5) Pitch Black
For the first time, the Indian Air Force participated in Exercise Pitch Black in Darwin in 2018.
Australia's multilateral exercise involves air forces from several Australian allies and partner countries.
India's participation was additionally significant for staging the first mid-air refueling of an IAF combat aircraft (Su-30MKI) by a RAAF aircraft (KC-30A), revealing a degree of coordination not previously demonstrated.
(6) Mutual Logistic Support Arrangement (MLSA) and Defence Science & Technology Implementing Arrangement (DSTIA)
Australia and India concluded the Mutual Logistic Support Arrangement (MLSA) in 2020 during the virtual summit between Prime Ministers Scott Morrison and Narendra Modi.
The agreement facilitates more sophisticated operational cooperation, enabling increasingly complex military engagement, and greater combined responsiveness to regional humanitarian disasters.
The Defence Science and Technology Implementing Arrangement (DSTIA) facilitates interaction between our defence research organizations, both of which have made important contributions to addressing the COVID-19 pandemic.
(7) Shared Military Platforms
Australian and Indian militaries have become increasingly interoperable through the growing number of shared platforms, thereby increasing opportunities for joint training.
These include C-17 strategic transport aircraft, C-130 tactical transport aircraft, P-8 maritime reconnaissance aircraft, and Chinook heavy-lift helicopters.
(8) Training exchanges
Australia and India build links between our defence forces through regular personnel and training exchanges, such as short specialist courses and longer-term positions.
Every year, Australia sends officers to attend India's premier military educational institutions: India's Defence Services Staff College, and it's National Defence College.
India also sends three officers to study in Australia annually, at Australia's Command and Staff College and the Defence and Strategic Studies course.
(9) Australia-India Council
The Australia-India Council (AIC) broadens the relationship between Australia & India raising awareness & promoting exchanges.
India-Australia: Trade & Investment
Australia is India's eighth-largest trading partner and India is Australia's fifth-largest.
India's ranking among Australia's export destinations has risen from twelfth to fourth in the period 2003-04 to 2009-10.
India's main service exports to Australia are computer and information services and tourism.
The main Australian service exports to India are education, education-related travel, and tourism.
India is Australia's largest export market for gold and chickpeas, the second-largest market for coal and copper ores, and the third-largest market for lead and wool.
Four products – coal, non-monetary gold, copper ores & concentrates, and petroleum – accounted for over 80 percent of India's imports from Australia, with coal and gold being the dominant imports in 2010-11.
India's major exports to Australia in 2010-11 were pearls and gems, jewelry, medicaments, and passenger motor vehicles.
The India-Australia Joint Ministerial Commission was established in 1989 and has held thirteen meetings to date, the last one in Canberra on 12 May 2011.
After the JMC, the two sides agreed to commence negotiations for a Comprehensive Economic Cooperation Agreement (CECA), which has now begun.
The signing of five Action Plans in 2008, in the areas of coal, mining, power, petroleum & natural gas and new & renewable energy is significant, underlining the importance of the natural resources sector in the bilateral engagement.
Indian investment in Australia:
India's Oswal Group (ammonia plant)
Sterlite Industries (copper mines;
Aditya Birla Group (copper mines);
Gujarat NRE Co. (coal mines);
Asian Paints;
Reliance has entered into a partnership agreement with Uranium Exploration;
IFFCO and Legend Holdings of Australia have entered into an agreement
TATAs have enhanced their investment in a mining joint venture (led by Vale of Brazil) in Queensland.
Tata Power and Australian company Geodynamics have agreed.
The Adani Group of India, owners of the country's largest private port have acquired a coal mining prospect from Linc Resources in the Galilee Basin in Queensland.
All the major Indian IT companies have a presence in Australia and are rapidly growing. These include Infosys; Satyam Mahindra; TCS; HCL; Polaris Software Lab Ltd; Birlasoft; NIIT; ICICI Infotech; Wipro; Mahindra-British Telecom Ltd; i-Flex; gate; among others. Satyam Mahindra has the largest product development center outside India in Melbourne.
At present, there are no direct flights from Australia to India. Tourism is growing rapidly; 1,65,500 Australian tourists visited India in 2010 and 1,38,700 Indian tourists visited Australia in 2010.
Science and Technology
An Inter-Governmental Agreement on S&T was concluded in 1986, under which MOUs have been entered into in the areas of space, meteorology, S&T research, and educational and scientific training. There are Joint Working Groups on S&T and Biotechnology.
In 2006, the two Governments set up the Australia-India Strategic Research Fund. It covers several areas including agriculture, astronomy and astrophysics, environmental sciences, microelectronics, and nanotechnology, and has identified several collaborative research projects.
The Research Projects and Case Studies cover critical areas such as oncology, marine science, water management, climate change drive evolution, and Ocean color.
Education
India-Australia see a lot of academic exchange hence a Joint Working Group on Education & Training between the two countries has identified several key areas for cooperation, including collaborative research in education policy, research student exchange programs, capacity building in vocational education, and distance learning in higher education
The number of Indian students studying in Australia rapidly increased and Australia overtook the UK as the second-largest destination for Indian students.
However, following the tightening of student visa regulations, changes in the general skilled migration rules, the negative impact of the string of student attacks in 2009-10, and the rising cost of the Australian Dollar, the number of student enrolments from India declined significantly.
Indian community in Australia
There is a rapidly growing Indian community of nearly in Australia. In addition, there are a sizeable number of people of Indian origin from countries such as Fiji, Malaysia, Kenya, and South Africa.
They are contributing significantly to the Australian economy as teachers, doctors, accountants, engineers, and I.T. professionals. India is now the third-largest source of immigrants to Australia, after the UK and New Zealand, and the second-largest source of skilled professionals.
Indian missions and posts in Australia
Besides the High Commission in Canberra, India has Consulates in Sydney, Melbourne & Perth, and an Honorary Consul in Brisbane.
Government of India offices and PSUs in Australia include the Tourist Office; State Bank of India branch; New India Assurance Co Ltd (in Australia since 1955); and Air India (offline station). Bank of Baroda, Union Bank of India, and Punjab National Bank have their representative offices in Sydney.
Way Forward
The cooperation and coordination between the two countries have seen exponential momentum in recent years. The shared values, interests, geography, and objectives are the foundation of deepening India-Australia relations.
Both India and Australia share a vision of a free, open, inclusive, and rules-based Indo-Pacific region.
India and Australia believe in cooperative use of the seas by following international law including the United Nations Convention on the Law of the Sea (UNCLOS) and peaceful resolution of disputes rather than through unilateral or coercive actions.
The India-Australia ECTA will enhance the already close and strategic relations between the two countries.
It will also significantly increase bilateral trade in goods and services, create new employment opportunities, raise living standards, and improve the general welfare of the people of the two countries.
-Article written by Swathi Satish