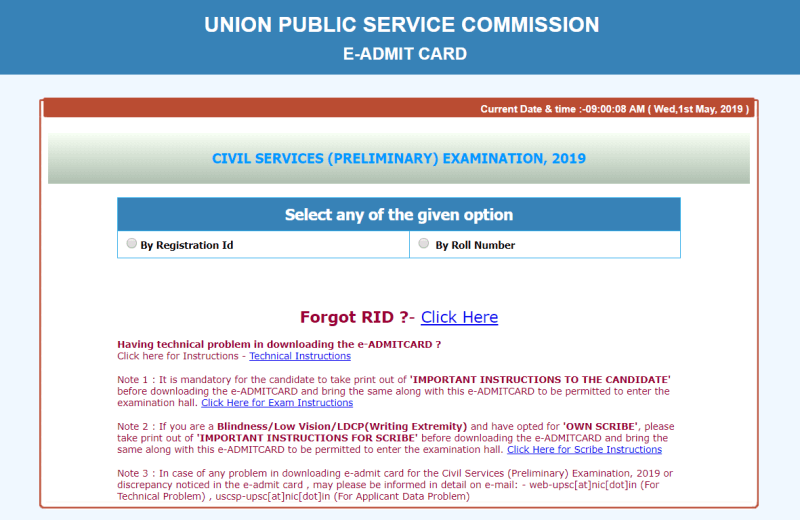 Candidates who had applied for Civil Services Preliminary Exam 2019 can now download the UPSC Admit Card 2019 (Hall Ticket). UPSC has also published important instructions to be followed while downloading the e-admit card.
How to download the Admit Card for UPSC Civil Services Preliminary Exam 2019?
All aspirants who had registered for UPSC Prelims 2019 can enter their Registration ID (or Roll Number, if available) to download the hall ticket. Take the print out of the admit card and be ready for the UPSC preliminary exam, which is scheduled on June 02, 2019.
Link – Download the e-admit Card for UPSC Civil Services Preliminary Exam 2019
Note: No paper Admit Card will be issued for this Examination. The candidates are advised to take a printout of the e-Admit Card well in advance to avoid the last minute rush. "Important Instructions to the candidates" must be read carefully by the candidates.
About UPSC Civil Services Prelims 2019 Exam:
Date of Examination: June 02 2019.
Paper 1: 09.30 A.M. to 11.30 A.M.
Paper 2: 02.30 P.M. to 04.30 P.M.
Candidates are advised to bring a black ballpoint pen to the examination hall for all objective type papers. Answers other than those made by Black Ball Point Pen would not be evaluated.
Enter the Examination Hall 20 minutes before the scheduled commencement of the examination.
You will not be admitted to the examination if you report 10 minutes after the scheduled commencement of the examination.
There will be penalty (Negative Marking) for wrong answers marked by a candidate in the objective type Question Papers.
You need to bring the Original of Photo Identity Card mentioned in your Prelims Application
Remember, you have mentioned the details of your identity card while applying for UPSC Prelims 2019. You need to bring the original of the same photo id card to take the exam.
Bring the e-Admit Card (print out) along with the (original) Photo Identity Card, whose number is mentioned in the e-Admit Card, in each session to secure admission to Examination Hall.
Note: E-Admit Card must be preserved until the declaration of the final results of the Civil Services Examination, 2019.
If your photo on the UPSC Hall Ticket 2019 is not clear, you need to bring these!
Candidates who do not have clear photographs on the e-admit card will have to bring a photo identity proof viz. Adhar Card, Driving Licence, Passport, Voter I Card etc. and two passport size photographs one for each session for appearing in the examination with an undertaking.
No Mobile Phones, Pen Drives or Calculators allowed in the Exam Hall
Mobile phone, (even in switched off mode), pager or any electronic equipment or programmable device or storage media like pen drive, smart watches etc. or camera or Bluetooth devices or any other equipment or related accessories either in working or switched off mode capable of being used as a communication device and calculator are banned inside the Examination Hall.
Any infringement of these instructions shall entail disciplinary action including ban from future examinations.
Candidates are advised not to bring any valuables/costly items and bags to the Examination Halls, as safe-keeping of the same cannot be assured. The Commission will not be responsible for any loss in this regard.
Smartwatches not permitted; use normal wrist watches
Use of normal or simple wristwatches by candidates is allowed inside the Examination Rooms/ Halls.
However, the use of watches fitted with any special accessory that might be used as a communication device or smartwatches is strictly prohibited and candidates are not allowed to take such watches into the Examination Rooms/ Halls.
UPSC Admit Card 2019 – Important Instructions for Candidates
Check the e-Admit Card carefully and bring discrepancies, if any, to the notice of UPSC immediately.
Bring the e-Admit Card in each session to secure admission to Examination Hall.
Candidates are advised to carefully read all the ' important instructions to the candidate', which they have downloaded with this e-admit card from the Commission's website.  Read, download and print important instructions to candidates for UPSC CSE Prelims.
Read the "Special Instructions for candidates admitted to the examination" given in "Rules for the Examination" available in Examination Notice and "Poster" containing instructions displayed outside the Examination Hall.
Candidates should note that any omission/mistake/discrepancy in encoding / filling in details in the OMR answer sheet, especially with regard to Roll Number and Test Booklet Series Code, will render the answer sheet liable for rejection.
Make sure you appear at the same centre indicated by the Commission
If you appear at a centre / sub-centre other than the one indicated by the Commission in your e-Admit Card, your answer scripts will not be evaluated and your candidature is liable to be cancelled.
Orthopedically /Visually Impaired candidates: Need a separate e-admit card, in case you opt for your own scribe
Orthopedically /Visually Impaired candidates, who have opted for their own scribe, may note that their own scribe will be allowed for the exam only with a separate e-Admit Card for such scribe. The e-Admit Cards for the own scribes will be issued separately.
Candidates belonging to Persons with Benchmark Disability (only blindness and low vision subcategory) should not attempt such questions in Paper II, where data interpretation (charts, graphs, tables, data sufficiency, etc.,) is required. Questions numbers of such questions are highlighted in the Paper II [e.g. if Question No.1 is highlighted question, it would look like 1.]. Marks of these questions will be distributed equally amongst the remaining questions for such candidates.
Did you face any problem downloading the admit card?
In the case of any problem in downloading e-admit card for the Civil Services (Preliminary) Examination, 2019 or discrepancy noticed in the e-admit card, may please be informed in detail on e-mail: – [email protected] (For Technical Problem), [email protected] (For Applicant Data Problem).
UPSC Allows Representation on the Questions Asked!
Candidates may submit representations, if any, on the questions asked in the Question Papers of this Examination to the Commission through the "Online Question Paper Representation Portal (QPRep)" only by accessing the This URL.
Are you short of time to cover all topics before Prelims?
If you are time-crunched, read this article. ClearIAS has covered a strategy which would be extremely useful in the coming days. All the best!