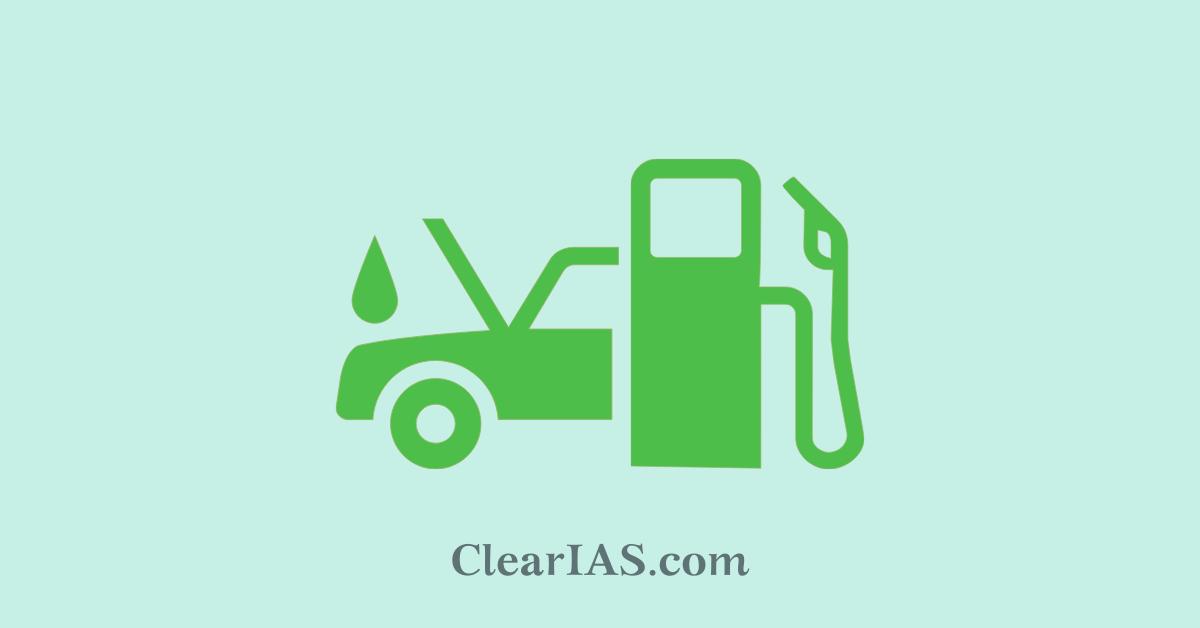 What are flex-fuel vehicles? What are BS-6 norms? Why is the Indian government promoting flex-fuel vehicles? Know more here.
Indian Minister for Road Transport and Highways has asked automobile manufacturers to manufacture flex-fuel vehicles complying with BS-6 norms within six months.
The government has also advised carmakers to start making Flex Fuel Strong Hybrid Electric Vehicles (FFSHEV).
When FFV is integrated along with strong hybrid electric technology, it is referred to as FFV-SHEVs.
What are flex-fuel vehicles?
Flexible fuel vehicles (FFVs) have an internal combustion engine and are capable of operating on gasoline and any blend of gasoline and ethanol.
FFVs are capable of running on 100 percent petrol or 100 percent bio-ethanol or a combination of both.
Strong Hybrid (Full Hybrid) Vehicles
Strong hybrid is another term for full hybrid vehicles, which can run solely on either electric or petrol modes. In contrast, mild hybrids cannot run purely on one of these modes and use the secondary mode merely as a supplement to the main mode of propulsion.
BS-VI Fuel Norms
The Bharat Stage (BS) is the mission standard instituted by the Government of India to regulate the output of air pollutants from motor vehicles.
India directly shifted from BS-IV to BS-VI norms which were to happen in 2022 but due to the poor air condition, the move was advanced by four years.
Difference between BS-VI and IV:
In BS-VI fuel, the volume of particulate matter 2.5 ranges from 20 to 40 micrograms per cubic metre whereas in BS-IV fuel it is up to 120 micrograms per cubic metre.
BS-VI fuel will bring down sulphur content by 5 times from the current BS-IV levels. It has 10 ppm of sulphur as against 50 ppm in BS-IV.
With BS-VI fuel, for every one kilometer, a car will emit 80% less particulate matter and nearly 70% less nitrogen oxide.
Air pollutants in BS-VI fuel are much less as compared to BS-IV fuel.
BS-VI norms also seek to reduce the level of certain harmful hydrocarbons in the emissions that are produced due to incomplete combustion of fuel.
Why is the government of India pushing for Flex Fuel Vehicles?
India's oil import bill stood at $62.7 billion in FY21, which was matched in just the first seven months (April-October) of this year.
To pile on the stress, the rupee is at its weakest level in the last three financial years. Hence, the government is desperate to bring down the oil import bill by creating fuel substitutes like ethanol, hydrogen, and electricity.
This is possible only if flex-fuel vehicles are made available in the market. Also, FFVs will also help the government meet its commitments when it comes to reducing emissions.
A litre of petrol sold in India has an average of 8 percent ethanol content even though oil marketing companies have clearance to do even 10 percent (E10) blending.
To accelerate the introduction of FFVs, the PLI scheme has included automobile and auto components of flex-fuel engines.
The use of ethanol or methanol as fuel will lead to the creation of an additional revenue stream for farmers. This will provide direct benefits to farmers and help in doubling their income.
It is also in line with the Prime Minister's vision of Atma Nirbhar Bharat and the government's policy on promoting ethanol as a transport fuel.
Adopting this will help to reduce greenhouse gas emissions from vehicles on a well-to-wheel basis hence helping India to comply with its commitment made at COP26 to reduce the total projected carbon emissions by one billion tonnes by 2030.
Ethanol blending
E10 is a low-level blend composed of 10% ethanol and 90% gasoline
E15 is a low-level blend composed of 10.5% to 15% ethanol and gasoline.
E85 (or flex fuel) is an ethanol-gasoline blend containing 51% to 83% ethanol,
All vehicles manufactured in India are tuned for E10.
To what extent will FFVs help in cutting emissions?
According to a report by the expert committee formed by the Ministry of Petroleum and Natural Gas, by just hitting E20, carbon monoxide emissions were observed to be 50 percent lower in two-wheelers and 30 percent lower in four-wheelers compared to petrol.
Hydrocarbons were lower by 20 percent. The report also mentioned that E20 blending will result in a drop in fuel efficiency by nearly 6-7 percent in 4 wheelers designed for E0 and calibrated to E10.
What has been the auto industry's reaction to FFV?
The higher blending of ethanol will mean higher manufacturing costs which translate to pricier vehicles.
Certain auto parts, especially those that come in contact with higher ethanol content, will have to be replaced with a compatible product to avoid corrosion.
Automotive companies say that they are ready to move with government regulations on ethanol blending of E20 by 2025.