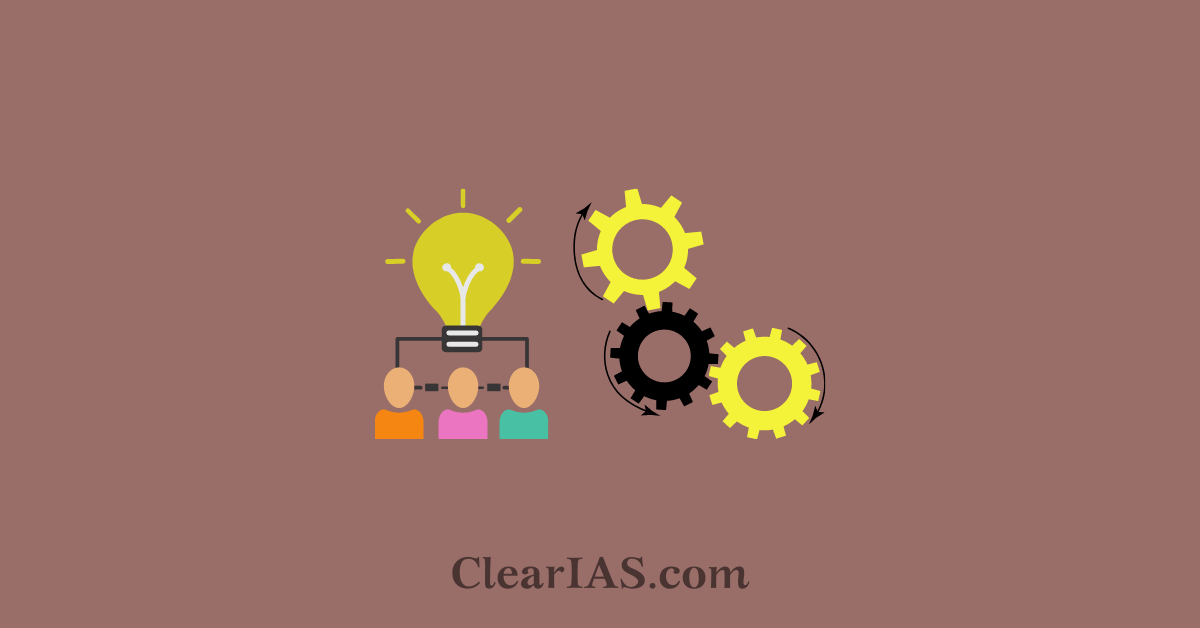 Atal Innovation Mission (AIM) is the Government of India's flagship initiative to promote a culture of innovation and entrepreneurship in the country. Read here to know about the latest developments.
Atal Innovation Mission launched phase 1 of the second edition of the Atal New India Challenge (ANIC 2.0).
Atal Innovation Mission (AIM) is the Government of India's flagship initiative to promote a culture of innovation and entrepreneurship in the country.
It was set up in 2016 under NITI Aayog.
Towards this end, AIM has taken a holistic approach to ensure the creation of a problem-solving innovative mindset in schools and creating an ecosystem of entrepreneurship in universities, research institutions, and private and MSME sectors. AIM is also currently having its programs reviewed by third-party agencies for ensuring continuous improvements.
Objectives of AIM:
to develop new programs and policies for fostering innovation in different sectors of the economy,
provide platform and collaboration opportunities for different stakeholders,
create awareness and create an umbrella structure to oversee the innovation ecosystem of the country
Initiatives of Atal Innovation Mission
Atal tinkering labs- at the school level
Over the last 4 years, AIM has launched the Atal Tinkering Lab (ATL) program.
ATL is a state-of-the-art space established in a school to foster curiosity and innovation in young minds, between grades 6th to 12th across the country through 21st-century tools and technologies such as the Internet of Things, 3D printing, rapid prototyping tools, robotics, miniaturized electronics, do-it-yourself kits and many more.
The aim is to stimulate a problem-solving innovative mindset within the children of the ATL and nearby communities.
To date, AIM has selected 10,000 schools in 680+ districts of the country for the establishment of ATLs. More than 7000 schools are funded till now and over 2 million students have access to ATLs.
Atal Incubation centers – an ecosystem of start-ups and entrepreneurs
To create an ever-evolving ecosystem of start-ups and entrepreneurs, AIM has been establishing world-class incubators called Atal Incubation Centres (AICs) at universities.
Institutions and corporates among others. These Centres aim to foster and support world-class innovation, and dynamic entrepreneurs who want to build scalable and sustainable enterprises.
To date, AIM has successfully operationalized more than 68 Atal Incubation Centres with universities/institutions / private players and each of the AIC believes to foster the creation and nurturing of about 50 world-class Startups every four years.
The AIC supports the incubated startups by providing technical facilities, resource-based support, Mentorships, funding support, partnerships and networking, co-working spaces, and lab facilities among others. So far around1800 operational startups have been supported by these AICs of which more than 500 startups are women-led and have created more than15,000 jobs in the ecosystem.
Atal Community Innovation Centres- serving unserved and under-served regions of India
To promote the benefits of technology-led innovation to the unserved/underserved regions of India including Tier 2, Tier 3 cities, aspirational districts, tribal, hilly, and coastal areas.
AIM is setting up Atal Community Innovation Centres with a unique partnership-driven model wherein AIM would grant up to Rs 2.5 crores to an ACIC subject to a partner proving equal or greater matching funding.
Over 650 applications have been received from across the country and 50 ACICs will be established during the next two years.
Currently, 24 ACIC applications are undergoing due diligence and upon clearance, they shall be established by March 2021.
Atal New India Challenges- Product and service innovations with National Impact
To create product and service innovations having a national socio-economic impact, AIM has launched over 24 Atal New India Challenges in partnership with five different ministries and departments of the central government.
52 applicants were shortlisted for grant in aid support and handholding by Incubators/mentors of AIM out of 950 applications received for the same.
13 innovations have been supported with grant-in-aid to date and others are undergoing due diligence process.
ARISE ANIC challenges- to stimulate startup/MSME industry innovation
To promote innovation in a phased manner in the MSME/Startup sector AIM has launched 15 ARISE-ANIC challenges along with partner Ministries (Ministry of Housing and Urban Affairs, Ministry of Health and Family Welfare, Indian Space Research Organisation, Ministry of Defence, and Ministry of Food Processing Industries) to improve research capabilities in the startup and MSME ecosystem.
As part of this deserving ideas will be converted to viable innovative prototypes followed by product development and commercial deployment.
160 applicants have been shortlisted and are currently undergoing evaluations.
Mentor of Change (Mentorship and Partnerships-with Public. Private sector, NGOs, Academia, Institutions)
To enable all the initiatives to succeed AIM has launched one of the largest mentor engagement and management programs "Mentor India – The Mentors of Change".
To date, AIM has over 10000 registrations nationwide on the AIM INNONET portal with 4000 of them allocated to ATLs and AICs.
ANIC- Atal New India Challenge
To incentivize innovations in areas critical to India's development and growth – Education, Health, Water and Sanitation, Agriculture, Food Processing, Housing, Energy, Mobility, Space Application, etc.
To address the Commercialization Valley of Death (Gap between the research and commercialization) – supporting innovators scale over the risks associated with access to resources for testing, piloting, and market creation.
ANIC 1.0:
ANIC 1.0followed an open innovation challenge format where challenge statements were put out in the public domain and a call for application was made.
The winning start-ups / individual innovators are supported through a tranche-based grant-in-aid of up to Rs.1 crore and AIM's innovation network.
ANIC 2.0:
The 1stphase of ANIC 2.0 will see 18 challenges being thrown open from 7 sectors-
E-mobility, Road Transportation, Space Technology and Application, Sanitation Technology, Medical Devices and Equipment, Waste Management, Agriculture.
Atal Innovation Mission- iCRESt (Incubator Capabilities enhancement for a Robust Ecosystem for high performing Startups)
Atal Innovation Mission (AIM), over the last few years, has created a network of incubators that energize the innovation value chain in India. Within this ecosystem, AIM is conscious of the team-related challenges faced by incubators as they strive to produce viable, successful businesses.
Keeping this in mind, AIM, designed iCRESt – a first-of-its-kind, remotely conducted, program that aims to become a growth hack for incubators as they strive to become World Class Incubators and reach greater heights.
For this program, AIM has joined hands with Bill & Melinda Gates Foundation and Wadhwani Foundation – organizations that can lend credible support and expertise in the entrepreneurship and innovation space. These partnerships will provide global expertise and showcase proven best practices to the AIM's incubator network.
AIM iCREST has been designed to enable the incubation ecosystem and act as a growth hack for AIM's Atal and Established incubators across the country.
Under the initiative, the AIM's incubators are set to be upskilled and provided requisite support to foster the incubation enterprise economy, which will help them significantly enhance their performance.
Through this program, AIM will enable incubators and their teams to gain deep insights about incubation and acceleration, learn about the best practices of about 200 incubators and accelerators globally, and use tools, templates, and frameworks to close the existing gaps and uncover the magic behind successful incubation.
This capacity-building program for the incubators will be complemented by providing training to entrepreneurs, also through technology-driven processes and platforms.
For the first time in the Government, AIM iCRESt is being extended to the entire portfolio of AIM-supported incubators. Even with the constraints caused by COVID 19 pandemic, the core program teams have worked out means to deliver this program in a contactless and digital manner via interactive online sessions.
This program leverages technology in a big way to convert the art of incubation into science by providing logical, structured, self-learning modules on a digital platform.
Objectives:
AIM believes that incubators and accelerators have a tough, yet critical, role to play in creating high-potential start-ups. There is a strong need for creating disruptive solutions for the socio-economic challenges within the country. This need is more pronounced post the COVID-19 pandemic that has brought along with it a new world order.
AIM has launched the iCrest program to enable and empower its incubators so that they can nurture and hand-hold to next-gen disruptive startups that shall provide transformative solutions for India and the world and this is aligned with the clarion call of Atmanirbhar Bharat as well.
The core objective of this structured capacity-building program is to enable the incubators to design and implement world-class entrepreneurship programs, make their institution sustainable, and build credibility.
The Program has been designed keeping the following main objectives in view:
Enable Incubators to design a world-class entrepreneur support program that covers all aspects of incubation:

Sourcing & selection
Incubation & startup building
Community engagement and collaborations
Monitoring progress & tracking growth
Mentor onboarding & management

Enable incubators to develop sustainable business models for themselves
Enable incubators to provide requisite support infrastructure and training for startups
Create a robust network of mentors, investors, and other ecosystem stakeholders and encourage a collaborative ecosystem
Create a process to produce viable, investable startups and attract investors
Elements of AIM iCRESt:
Incubator structured training
Structured Training Sessions & Workshops delivered digitally
Open House Sessions
Pre-Read and Post-Read Material on the LMS
Progress tracking through LMS
Digital Toolkits, Templates, and Frameworks
Pitch Event
Interaction with Industry Veterans
Startup training
Training for Startup Cohorts through a digital platform
Workshops
Digital Toolkits, Templates, and Frameworks
Check-ins with Trained Fellows
Multiple Networking Opportunities
Incubation success e-handbook
Ready-Recknor for all aspects of a successful incubation program
Toolkits, templates, frameworks, worksheets available for instant use and implementation
SoPs and Standard agreements and contracts for Incubators and Startups
Case Studies & Success Stories
Global best practices study
Incubator Success Metrics
Best global practices
Data backed analysis
Case studies
Benchmarking of AIM incubators against the best practices
Super mentors
Tailored implementation of the study modules
Personalized sessions with incubators to build an individual strategy
Support in solving their operational challenges
Post-program support
Networking and Collaboration opportunities
Previous year question
Q. Atal Innovation Mission is set up under the (2019)
(a) Department of Science and Technology
(b) Ministry of Labour and Employment
(c) NITI Aayog
(d) Ministry of Skill Development and Entrepreneurship