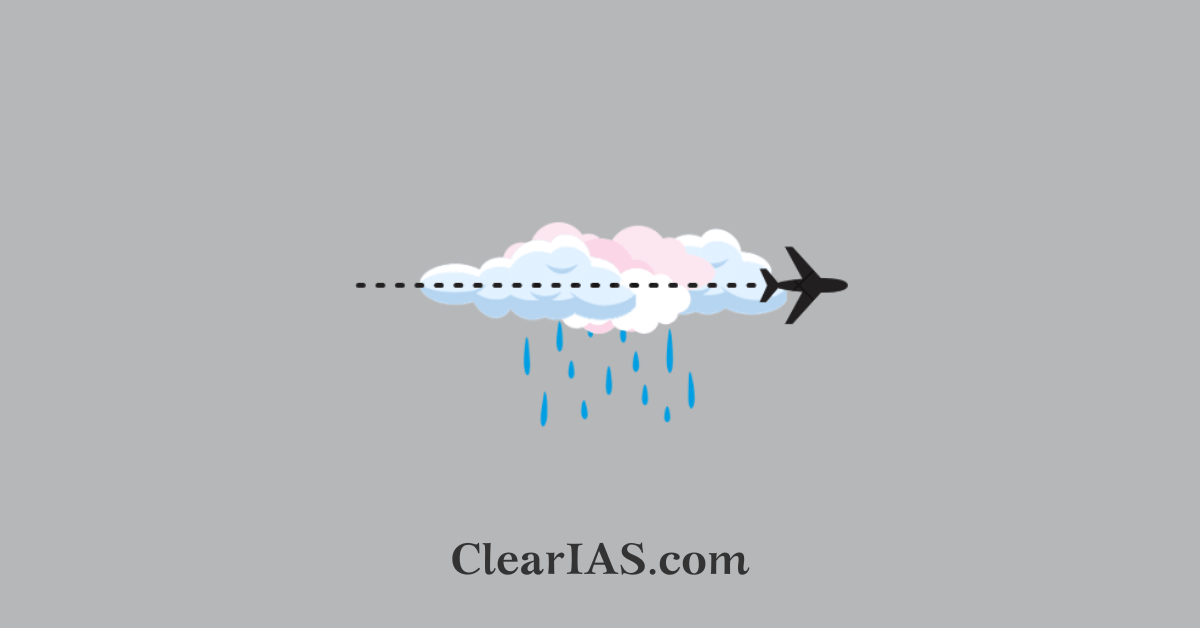 Cloud seeding is a weather modification technique that involves the introduction of certain substances into clouds to encourage precipitation, typically in the form of rain or snow. Read here to learn more about the technique.
An 18% relative enhancement in rainfall, or about 8.67 mm more, was achieved in a cloud seeding experiment conducted in Solapur city, which is located on the leeward side of the Western Ghats and receives low rainfall (384 mm and 422 mm of total rainfall during the period June to September 2018 and 2019, respectively).
Two hours after seeding the clouds, the relative augmentation of collected rainfall was seen. 867 million liters of water were made more available overall as a result of the cloud seeding trials.
Cloud seeding
Cloud seeding is a weather modification technique that improves a cloud's ability to produce rain or snow by introducing tiny ice nuclei into certain types of subfreezing clouds.
The primary goal of it is to enhance precipitation in areas facing water shortages, droughts, or where water resources are critical for agriculture, hydroelectric power generation, or other purposes.
Here's how cloud seeding works:
Selection of Clouds: It typically targets clouds that are rich in supercooled water droplets, which are water droplets that remain in a liquid state at temperatures below freezing.
Seeding Agents: There are two common seeding agents:
Silver Iodide: Silver iodide is the most widely used seeding agent for enhancing snowfall in cold clouds. It has a crystalline structure similar to that of ice, making it effective for promoting the formation of ice crystals.
Calcium Chloride: Calcium chloride is used for seeding in warmer clouds to encourage raindrop formation.
Other chemicals: Potassium iodide, dry ice, propane, calcium carbide, ammonium nitrate, sodium chloride, and urea compounds.
Dispersion: Seeding agents are dispersed into the clouds using various methods, such as aircraft, ground-based generators, or rockets. These agents provide a nucleus for ice crystal or raindrop formation, allowing precipitation to occur.
Also read: Clouds
Types of cloud seeding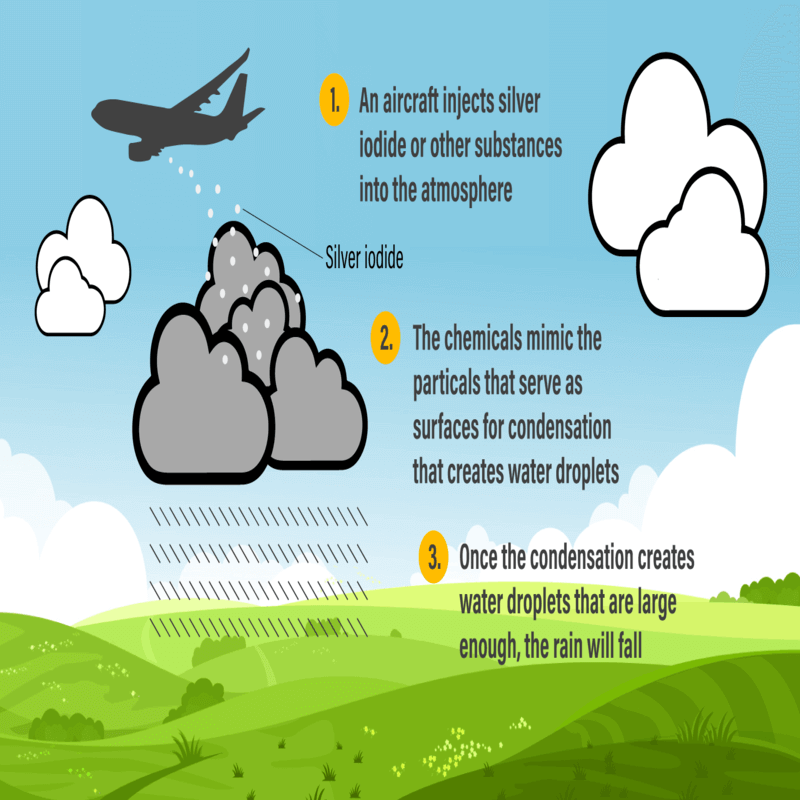 Dynamic Cloud Seeding: This method aims to stimulate the formation of ice crystals within supercooled water droplets in clouds, particularly in cold cloud systems.
In this, substances known as cloud seeding agents, such as silver iodide or potassium iodide, are released into clouds. These substances act as ice nuclei, providing a surface for water droplets to freeze onto. Supercooled water droplets that collide with the ice nuclei freeze and grow, forming ice crystals. These ice crystals eventually become large enough to fall as snow or rain.
It is most effective in cold cloud systems where temperatures are below freezing but not too cold for ice crystal growth.
It is often used in regions that experience water scarcity or where snowpack augmentation is critical for water resource management.
Static Cloud Seeding: It aims to enhance rainfall from warm clouds, which are typically not cold enough for natural ice crystal formation.
In this, hygroscopic cloud seeding agents, such as calcium chloride or sodium chloride, are dispersed into warm clouds. These substances attract and absorb moisture, increasing the size of cloud droplets. As the droplets grow larger, they coalesce and become heavy enough to fall as rain.
It is suitable for warm cloud systems with high humidity levels but lacks sufficient droplet size for precipitation formation.
It is used to increase rainfall in agricultural regions, enhance water resources, and mitigate drought conditions in areas where warm clouds predominate.
Hygroscopic Flares: Hygroscopic flares release hygroscopic (water-absorbing) chemicals, such as calcium chloride, into clouds. These chemicals absorb moisture and lead to the growth of cloud droplets into raindrops.
Acoustic Cloud Seeding: It is an experimental technique that uses ground-based or airborne acoustic generators to produce sound waves in clouds. These sound waves can encourage the coalescence of cloud droplets, leading to increased precipitation.
Electric Cloud Seeding: It involves releasing charged particles, such as silver iodide or calcium chloride, into clouds to alter the electrical charge distribution within the clouds. This can influence the collision and coalescence of cloud droplets, leading to enhanced precipitation.
Bio-Cloud Seeding: Some researchers have explored the use of bacteria as seeding agents. Certain bacteria can serve as ice nuclei and potentially enhance precipitation when introduced into clouds.
Applications
Drought Mitigation: It is used to combat drought conditions by increasing precipitation. It is particularly valuable in arid and semi-arid regions.
Water Resource Management: It is used to augment water resources for agricultural and municipal use. It can help refill reservoirs and aquifers.
Snowpack Enhancement: In regions that rely on snowmelt for water supply, this method can be used to increase snowfall in mountains, contributing to higher snowpack levels.
Air Quality Improvement: In some cases, cloud seeding can be employed to reduce air pollution by encouraging precipitation that washes pollutants from the atmosphere.
Challenges and Concerns
The effectiveness of cloud seeding can vary depending on several factors, including cloud type, temperature, humidity, and the choice of seeding agents. It is not a guaranteed solution and is subject to natural meteorological conditions.
The technique has faced some controversies and concerns, including questions about its environmental impact and the safety of the chemicals used.
Some critics argue that the environmental effects and long-term consequences of cloud seeding are not fully understood.
Environmental Impact: Cloud seeding typically involves the release of substances into the atmosphere, such as silver iodide or potassium iodide. These substances can have environmental impacts, including concerns about potential toxicity and accumulation in ecosystems.
Health and Safety: There are concerns about the health and safety of people exposed to the substances used as seeding agents. While they are typically released at high altitudes, some of these particles may eventually reach the ground.
Unintended Consequences: It can have unintended consequences. Altering weather patterns in one region can affect weather patterns in neighboring areas, potentially causing droughts or excessive rainfall in unintended places.
Regulatory Challenges: Regulations and oversight of cloud seeding activities can be inconsistent, leading to concerns about the accountability and transparency of such programs.
Effectiveness: The effectiveness of the method can vary depending on meteorological conditions and the type of cloud-seeding materials used. It is not always a reliable or predictable method for increasing precipitation.
Lack of Scientific Consensus: While some studies suggest that cloud seeding can be effective in enhancing precipitation, there is not a universal consensus on its efficacy. The scientific community continues to study and debate its effectiveness.
Ethical and Legal Issues: There can be ethical concerns about artificially modifying weather patterns, as it may affect the natural balance of ecosystems and disrupt the environment. Legal issues related to liability and compensation for potential damages can also arise.
Cost-Effectiveness: Such programs can be costly to implement, and their cost-effectiveness is a subject of debate. Weighing the benefits against the expenses is a crucial consideration.
Public Concerns: Public perception of cloud seeding programs can vary. Some may support such efforts to address drought conditions, while others may have concerns about the environmental and health impacts.
Transboundary Issues: Weather systems do not adhere to political borders. Cloud seeding in one region can affect weather patterns in neighboring countries, leading to potential diplomatic and international concerns.
Long-Term Impact: The long-term impact of cloud seeding on ecosystems, including water resources, air quality, and climate, remains a topic of research and concern.
Conclusion
Cloud seeding is a valuable tool for increasing precipitation in regions where water resources are limited, but it is not a standalone solution to address long-term water scarcity.
It is typically used in conjunction with other water resource management strategies. Additionally, cloud seeding programs often require careful monitoring and regulation to ensure they are conducted safely and responsibly.
In light of these concerns, proponents of cloud seeding argue that it can be a valuable tool in managing water resources, particularly in regions facing water scarcity. Critics, however, emphasize the need for rigorous scientific assessments, responsible regulation, and transparent communication with the public to address these concerns and challenges associated with cloud seeding.
Related article: E-Technology in the aid of farmers
-Article by Swathi Satish