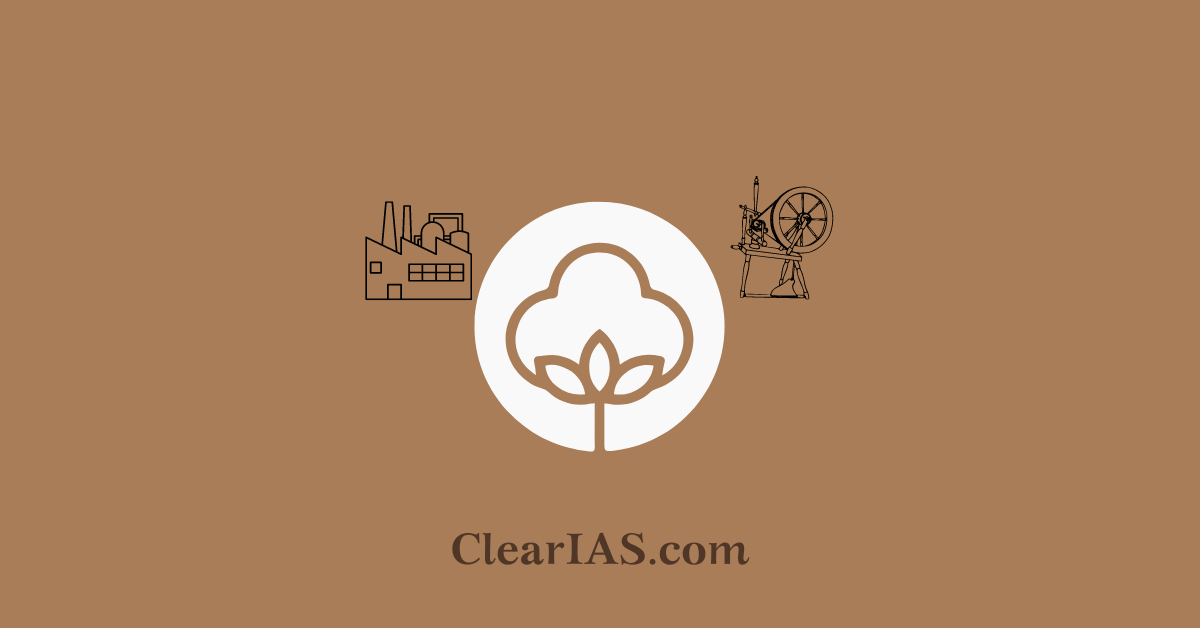 The cotton industry in India is considered the second most developed sector in the Indian textile industry after man-made fibers. India is the world's largest producer of cotton hence cradling a rich history related to the textile as well. Read here to learn more about the cotton industry in India.
Cotton is one of mankind's great discoveries, and it is a commodity that is virtually available everywhere. It is a testament to its utility, as well as huge impact the capitalism has had on its production and consumption by humans.
Cotton production in India has focused on textiles for over thousands of years, generating significant employment for both skilled and unskilled labor thus helping strengthen the country's economy.
The cotton sector in India is considered the second most developed sector in the Indian textile industry after man-made fibers. At 18% of the global total, India is the world's largest producer of cotton.
It also has the largest area under cotton cultivation in the world, representing about 25% of the world's area under cultivation. The states of Gujarat, Maharashtra, Andhra Pradesh, Haryana, Punjab, Madhya Pradesh, Rajasthan, Karnataka, and Tamil Nadu are the major cotton-producing areas in India.
History of the cotton industry in India
The history of the cotton industry in India dates back millennia. India held a global monopoly over the manufacturing of cotton textiles for about 3,000 years – from 1500 BCE to 1500 CE.
It served as an ideal medium of exchange in the barter economy during the ancient period.
During the Middle Ages, it was exported to Eastern and European markets.
This was followed by the establishment of cotton mills by imperial powers in the modern period.
The first cotton mill in India was established in 1818 at Fort Gloster near Kolkata but was a commercial failure.
The second cotton mill in India was established by KGN Daber in 1854 and was named Bombay Spinning and Weaving Company.
This mill is said to mark the true foundation of the modern cotton industry in India.
In Ahmedabad – also referred to as the 'Manchester of India' – the opening of the Shahpur mill in 1861 and the Calico mill in 1863 marked the city's spectacular rise as one of the world's prime cotton manufacturing locales.
However, the real expansion of the cotton textile industry in India took place in the 1870s.
During this period, the number of mills rose to 47, of which over 60 % were in Mumbai.
The First and Second World Wars, the Swadeshi Movement, and the grant of fiscal protection rapidly propelled the growth of this industry.
As a result, the number of mills increased from 334 in 1926 to 389 in 1939, and to 417 in 1945.
Production of cotton cloth also increased from 4,012 million yards in 1939-40 to 4,726 million in 1945-46.
Growth of the cotton industry
Cotton production in India increased from 119 lakh bales in 1991-92 to 345 lakh in 2016-17, a growth of 190%.
Nearly two-thirds of cotton production in India comes from the states of Maharashtra, Gujarat, Andhra Pradesh, and Telangana – collectively known as the Cotton Basket of India.
Within the country, Maharashtra has the highest area under cultivation, at 41.2 lakh ha, followed by Gujarat at 27.1 lakhs and Telangana at 17.9 lakh.
Together, these three states account for 72% of the total cotton acreage in the country.
Approximately 62% of India's cotton is produced in rainfed areas, and 38% is on irrigated lands.
India grows all four known species of cultivated cotton.
The cotton industry in India leans towards apparel exports, contributing approximately 51% to overall apparel exports. Approximately 74% of the apparel exported from India is made of cotton.
Cotton is freely exportable from India, with major export destinations being the US, Bangladesh, China, Vietnam, Pakistan, Indonesia, Taiwan, and Thailand, among others.
Bangladesh has been the largest importer of Indian cotton since FY 2015. India's cotton exports are expected to jump more than 43% due to strong overseas demand, especially from China.
India is the second largest exporter after the USA and the second largest consumer after China.
Export trends
In 2020, India stood as the third highest exporter of raw cotton globally, accounting for about 10.2% of the total global exports.
As per estimates provided by Committee on Cotton Production and Consumption (COCPC), India's total cotton exports are estimated to be 4 million bales in 2021-22.
Bangladesh, China, and Vietnam were India's major cotton importers between April 2021-February 2022.
Despite the COVID-19 pandemic, the export of cotton and cotton yarn from India has not stopped.
China is the second largest importer of cotton from India after Bangladesh together accounting for over 80% of cotton imports from India.
Vietnam and Indonesia are among the largest importer of cotton from India making over 15% of the total cotton exports.
Challenges faced by the cotton industry
There has been a significant decline in cotton production which has also resulted in a significant decline in the closing stock of the cotton market in India.
The major issues faced by the cotton sector in India can be listed below:
India's cotton fields are vulnerable to insect infestation, which lowers both output and quality.
Many factors, including lack of crop rotation, monoculture, adverse weather, poor soil quality, inadequate pest control, etc., contribute to pest infestation in cotton crops.
India produces less cotton per hectare than other significant cotton-producing nations. This is mostly caused by the employment of out-of-date farming techniques, insufficient irrigation systems, and subpar seed quality.
Small-scale cotton farmers in India struggle to make ends meet due to the high cost of inputs including seeds, fertilizer, and insecticides.
The success of India's cotton crop is primarily dependent on the monsoon rains, which may be inconsistent and unexpected.
There are a lot of indebted cotton farmers in India, which might result in a vicious cycle of debt and poverty.
As they have no access to markets, many Indian cotton producers are compelled to sell their products to intermediaries for poor rates.
Government initiatives for the cotton sector
The government has been implementing various policy initiatives and schemes to encourage cotton-spinning millers in the country, including the announcement of key reforms under a Special Package.
Under the Market Access Initiative (MAI) Scheme, the government offers rebates on state and central taxes and levies that are integrated into production, as well as aid to exporters.
Schemes like SAMARTH (Scheme for Capacity Building in the Textile Sector) aim to address the shortage of skilled workers in the textile sector with a target of training 10 lakh people.
The government of India has launched Mega Investment Textiles Parks (MITRA) during the Union Budget for 2021-22 under which seven textile parks will be established over three years.
Confederation of Indian Textile Industry (CITI), one of the leading industry chambers of the textile sector in India is working across 1700 villages of Rajasthan, Madhya Pradesh, and Maharashtra in association with about 90,000 farmers for improving yield and production of cotton sustainably.
Cotton Corporation of India (CCI)
The Cotton Corporation of India was established in July 1970 under the administrative control of the Ministry of Textiles, the Government of India as a Public Sector Undertaking under the Companies Act 1956.
Initially, CCI served as a canalizing agency for cotton imports and raw cotton purchases to provide required pricing support to enterprising planters and to procure raw cotton for textile mills.
CCI's role now however is to stabilize prices by enforcing price support measures whenever the market prices fall below the government-decided price supports.
CCI also conducts commercial purchasing operations to meet the domestic textile industry's raw material requirements, particularly during the lean season.
Way forward
The Government of India along with the export promotion council has set a long-term target of US$ 100 billion for textiles industry exports by 2025-26 and growing productivity from the current level of around 450 Kg lint per hectare to at least 800-900 Kg lint per hectare.
The focus continues to adopt the latest innovative technologies and global best farming practices to enhance productivity and achieve sustainable quality cotton output.
For achieving these goals, the emphasis remains to motivate cotton farmers through awareness meetings, timely advisories, and transfer of technology from the lab to the field in the most effective manner by using natural methods and adopting modern scientific farm practices.
There needs to be a fundamental change in cropping pattern to the pricing of seeds, along with a host of policy measures to revive as well as to make the cotton industry profitable.
-Article written by Swathi Satish