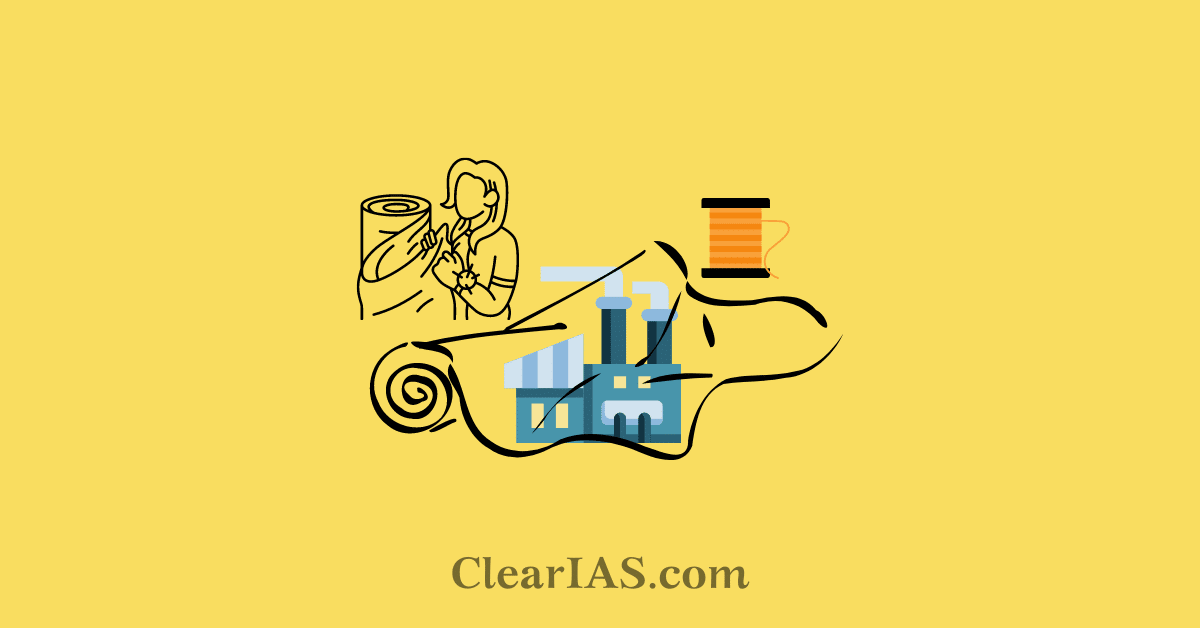 PM Mega Integrated Textile Region and Apparel (PM MITRA) Scheme has been in news for some time. Read here to know the importance of the scheme.
National Conference on the PM MITRA scheme was organized by the Ministry of textiles, where many states gave presentations on setting up textiles parks in their respective states.
The textile sector has been accorded focus area status in the free trade agreements India is negotiating with countries.
Recently it has negotiated zero-duty access for textile exports with the UAE and Australia, a move that will help boost domestic production.
Similar negotiations with larger markets like UK and EU as well for FTAs.
Ministry of Textiles is planning to set up 7 Mega Integrated Textile Region and Apparel (PM MITRA) Parks with a total outlay of Rs. 4,445 crore.
These are aimed at helping India to achieve the United Nations Sustainable Development Goal 9: "Build resilient infrastructure, promote sustainable industrialization, and foster innovation".
It is hoped that the PM MITRA Parks will have world-class industrial infrastructure which would attract cutting-edge technology and boost FDI and local investment in the textiles sector.
Key features of PM MITRA
The PM MITRA scheme is inspired by the 5F vision – Farm to Fibre to Factory to Fashion to Foreign. It aspires to fulfill the vision of building an Aatmanirbhar Bharat and to position India strongly on the Global textiles map.
PM MITRA Parks will offer an opportunity to create an integrated textiles value chain right from spinning, weaving, processing/dyeing, and printing to garment manufacturing at 1 location
An integrated Textile Value chain at 1 location will reduce logistics costs of the Industry
Intended to generate ~1 lakh direct and 2 lakh indirect employment per park
Sites for PM MITRA Parks will be selected by a Challenge Method based on objective criteria.
Proposals of State Governments having ready availability of contiguous and encumbrance-free land parcels of 1,000+ acres along with other textiles related facilities & ecosystems are welcome
Several states such as Tamil Nadu, Punjab, Odisha, Andhra Pradesh, Gujarat, Rajasthan, Assam, Karnataka, Madhya Pradesh, and Telangana have expressed interest.
PM MITRA park will be developed by a Special Purpose Vehicle which will be owned by the Central and State governments and in a Public-Private Partnership (PPP) Mode.
Each MITRA Park will have an incubation centre, a common processing house, a common effluent treatment plant, and other textile-related facilities such as design centres and testing centres.
The Master Developer will not only develop the Industrial Park but also maintain it during the concession period.
Challenge method for site selection
In the first stage, expenditure on the constitution of SPV, planning of the parks, project management agency selection, model Request for Qualification/Request for Proposal Development, Concession Agreement, and Selection of Master Developer will be permitted.
The second stage involves the development of the park once the first installment of the grant to the selected sites is released.
The sites for the parks will be selected based on five metrics-
connectivity to the site,
existing ecosystem for textiles,
availability of utility services at the site,
state industrial /textile policy, and
environmental and social impact.
The nearest highway from the site, distance from air cargo, airport/railhead, distance from seaport/inland waterway/dedicated freight corridor, and distance from multi-modal logistic park /will have a weightage of 25%.
Similarly, the existing ecosystem for textiles like distance from the existing textile cluster, availability of raw materials and skilled manpower suitable for the textiles industry, and availability of skill development institutes/research associations/institutes will also have a 25% weightage.
Funding in PM MITRA
The centre will provide development capital support for the development of a common infrastructure of Rs 500 crore for each greenfield MITRA park and up to Rs 200 crore for each brownfield park.
Greenfield describes a completely new project that has to be executed from scratch, while a brownfield project has been worked on by others.
Incentives
An additional Rs 300 crore will be provided as Competitiveness Incentive Support for the early establishment of textiles manufacturing units in each of these parks.
The CIS will be fund limited and will be available on a first-come-first-serve basis.
Investors who set up anchor plants that employ at least 100 people will be eligible for incentives of up to Rs 10 crore every year for up to three years.
The incentives will only be available to those manufacturing companies who are not availing benefits of the Production Linked Incentive (PLI) for the textile schemes.
Importance of PM MITRA
It will reduce logistics costs and strengthen the value chain of the textile sector to make it globally competitive.
High logistics costs are an issue faced by India's textile exports.
India had witnessed disruption in the supply of key raw materials from China in the recent past as global supply chains got affected during the pandemic.
Each MITRA park is expected to directly generate 1 lakh jobs and indirectly generate a further 2 lakh jobs.
The parks are crucial to attracting Foreign Direct Investment (FDI).
From April 2000 to September 2020, India's textile sector received Rs 20,468.62 crore of FDI, which is just 0.69% of the total FDI inflows during the period.
The parks will also attract cutting edge technology and boost local & foreign investment in the textiles sector
Way forward
PM MITRA will boost and support other Textile related initiatives like-
The Production Linked Incentive Scheme for man-made fiber segment (MMF) apparel, MMF fabrics, and ten products of technical textiles for five years has been approved.
A National Technical Textiles Mission has already been launched to promote research and development in that sector