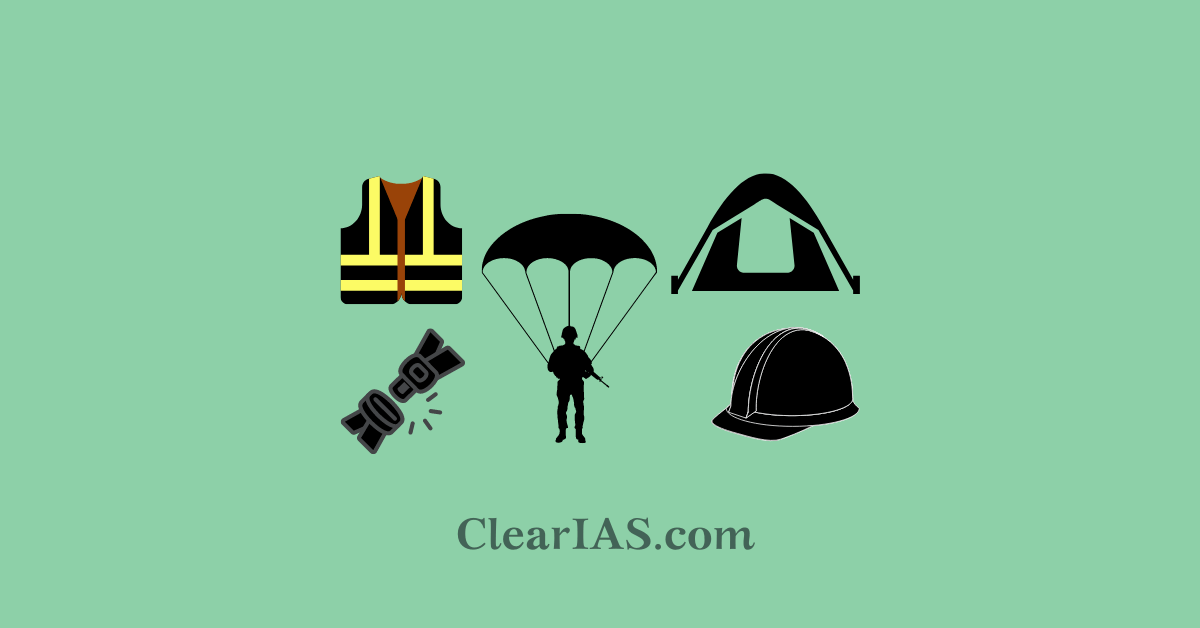 Technical textiles are a fast-growing sector in India. Read to know about the National Technical Textiles Mission (NTTM) launched by the government.
Ministry of Textiles cleared 20 strategic research projects worth INR 30 crores in the areas of Specialty fibres and Geotextiles.
These strategic research projects fall under the Flagship Programme's National Technical Textiles Mission (NTTM).
Amongst the 20 Research projects, 16 projects of Specialty fibres were cleared including 5 projects in Healthcare, 4 projects in Industrial and Protective, 3 projects in Energy Storage, 3 projects in Textile waste recycling, & 1 in Agriculture, 4 projects in Geotextiles (Infrastructure) were cleared.
Various leading Indian Institutes, Centres of Excellence, and Government Organizations participated including IITs, DRDO, BTRA, among others.
The session cleared projects strategic for the development of the Indian economy and a step in the direction of Atmanirbhar Bharat, especially in the Healthcare, Industrial and Protective, Energy Storage, Textile Waste Recycling, Agriculture, and Infrastructure.
What are technical textiles?
Technical textiles are engineered products with definite functionality.
They are manufactured using natural as well as man-made fibres such as Nomex, Kevlar, Spandex, Twaron that exhibit enhanced functional properties such as higher tenacity, excellent insulation, improved thermal resistance, etc.
They are functional fabrics with applications across multiple industries including automobiles, civil engineering, construction, agriculture, healthcare, industrial safety, personal protection, etc.
There are 12 technical textile segments based on application:
Meditech: Diapers, Sanitary napkins, disposables, contact lenses, artificial implants.
Mobiltech: Airbags, Helmets, nylon tire cords, airline disposables
Oekotech: recycling, waste disposal. Environmental protection.
Packtech: Wrapping fabrics, polyolefin woven sacks, leno bags, jute sacks.
Protech: Bulletproof jackets, fire retardant apparel, high visibility clothing.
Sportech: Sports net, artificial turf, parachute fabrics, tents, swimwear,
Agrotech: Shadenets, fishing nets, mulch mats, and hail nets
Buildtech: Cotton canvas tarpaulins, floor, and wall coverings, canopies
Clothtech: Zip fasteners, garments, umbrella cloth, shoelaces
Geotech: Geogrids, geonets, geocomposites
Homech: Mattress and pillow fillings, stuffed toys, blinds, carpets.
Geotech: Conveyor belts, Vehicle seat belts, bolting cloth.
These products derive their demand from development and industrialization in a country.
Indian scenario for technical textiles
India's strengths have been in traditional textiles and natural fibres globally since ancient times. It is the second-largest producer of polyester in the world but now is also emerging as a key player in the technical textiles industry.
This is a fast-growing segment that finds its usage in an array of sectors. The application of such textiles is widespread and seen in industries such as agriculture, construction, sports apparel, healthcare, etc.
India's leap towards modernization and its manufacturing competitiveness are some of the key contributors to the growth of this segment. Now the segment accounts for around 13% of India's total textile and apparel market and 0.7% of GDP.
Availability of raw materials such as cotton, wool, jute, and silk along with a strong value chain, low-cost labour, power, and changing consumer trends are some of the contributing factors to India's growth in this sector.
But India relies heavily on importing speciality fibres owing to increasing demand, but lack of requisite technology, absence of a robust R&D has been a drawback.
But the demand gap is still large in the country for the consumption of technical textiles is still at 5-10 % only. Hence, the National Technical Textile Mission has been set up to increase the domestic market size of technical textiles by the year 2024.
National Technical Textile Mission (NTTM)
The Cabinet Committee on Economic Affairs (CCEA) approved this mission in 2020 intending to lift India as a global leader in technical textiles and increase their use in the market.
It will be implemented in four years from 2020-21 and has four components:
Focus on research, development, and innovation:
Research on fibers and applications in geo, agro, medical, sports, and mobile textiles.
Development of biodegradable technical textiles.
Development of indigenous machinery and process equipment.
Promotion and development of the market for technical textiles.
Focus on export promotion and average growth of 10% every year
Focus on education, training, and skill development
The mission will promote technical education at engineering and technology levels for technical textiles and application areas.
Schemes:
Scheme for Integrated Textile Park (SITP): To boost entrepreneurship by providing financial support and state-of-the-art infrastructure, the scheme was launched in 2005 and has recently been extended for the period between 2017-20.
SITPs dedicated to technical textiles, namely, Pallavada Technical Textiles Park (Tamil Nadu), Vraj Integrated Textile Park Ltd. (Gujarat), Mundra SEZ Integrated Textile, and Apparel Park Pvt. Ltd (Gujarat), Gouthambudha Textile Park Pvt. Ltd (Andhra Pradesh) and Great Indian Linen & Textile Infra Structure Co. (P) Ltd (Tamil Nadu) are functional in the country.
Centers of Excellence Ministry of Textiles had launched Technology Mission on Technical Textiles (TMTT) with two mini-missions for five years from 2010-15 which entailed the creation of the following eight Centres of Excellence to provide infrastructure support, lead research, and conduct tests of various technical textiles.
Amended technology up-gradation fund scheme: To improve exports and indirectly promote investments in textile machinery.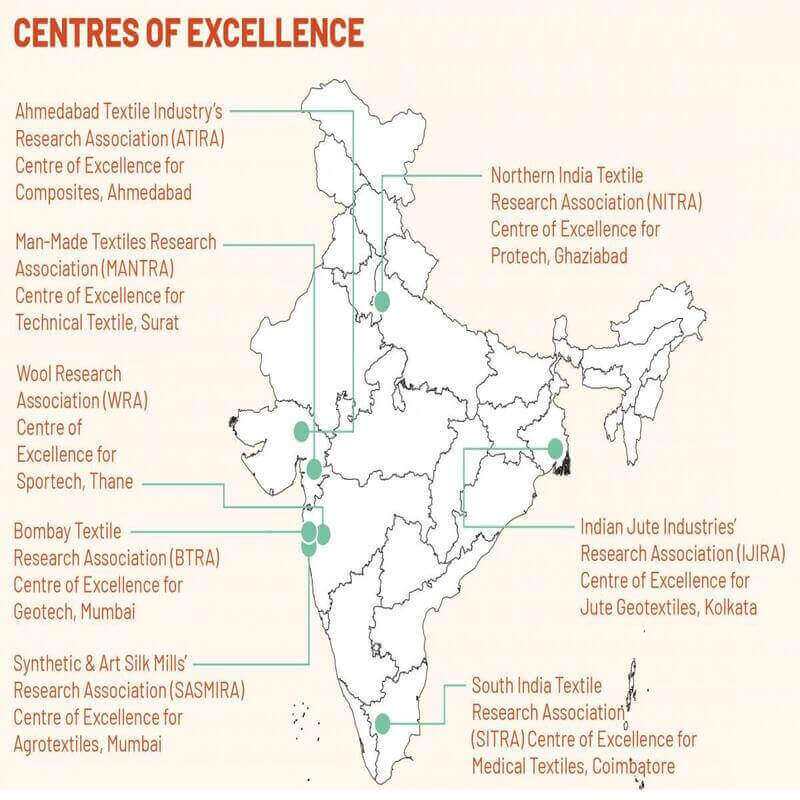 Significance of NTTM
Technical textiles are a sunrise sector whose relevance has increased during the COVID-19 crisis when global manufacturing has come to a halt. The ban on the export of critical medical equipment like N95 face masks and protective gears made imports to India impossible and India entirely imported the PPE kits.
But eventually, the country rose from manufacturing 0f PPE kits in March to manufacturing 2.5 lakh a day in 60 days, thus becoming the second largest manufacturer after China. Today, India produces around 4.5 lakh PPEs and more than 1.5 crore masks a day.
Other government initiatives to boost the technical textiles market:
Harmonized System of Nomenclature (HSN) Codes for Technical Textile: In 2019, the Ministry of Textiles, Government of India dedicated 207 HSN codes to technical textiles to help in monitoring the data of import and export, in providing financial support and other incentives to manufacturers.
100% FDI under Automatic Route the Government of India allows 100% FDI under automatic route.
Technotex India: It is a flagship event organized by the Ministry of Textiles, in collaboration with the Federation of Indian Chambers of Commerce & Industry (FICCI), and comprises exhibitions, conferences, and seminars with the participation of stakeholders from across the global technical textile value chain.
Production linked Incentive (PLI) scheme for the textiles sector: It aims to promote the production of high-value Man-Made Fiber (MMF) fabrics, garments, and technical textiles.
Related Posts