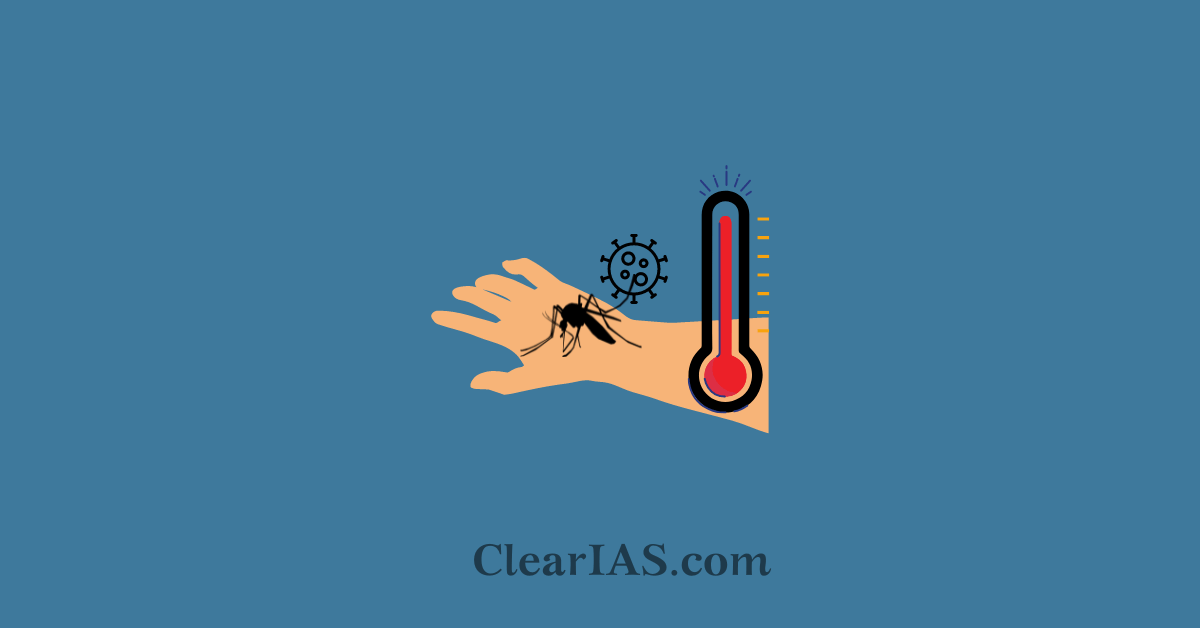 Dengue is a viral infection transmitted to humans through the bite of infected mosquitoes. India sees a rise in cases of dengue, especially in rainy seasons. It is one of the most rapidly spreading viral tropical diseases. Dengue is found in tropical and sub-tropical climates worldwide, mostly in urban and semi-urban areas. Read here to know the causes, symptoms, and preventive measures for dengue.
Dengue is a mosquito-borne viral disease that has rapidly spread to all tropical regions.
Dengue virus is transmitted by female mosquitoes mainly of the species Aedes aegypti and, to a lesser extent, Ae. albopictus.
Dengue is widespread throughout the tropics, with local variations in risk influenced by climate parameters as well as social and environmental factors.
A recent study published in 2022 projected how the distribution of these mosquitoes will evolve with climate change.
Currently, Aedes Aegyptus is prevalent in the southern peninsula, eastern coastline, north-eastern states, and the northern plains.
Aedes albopictus dominates the eastern and western coastlines, north-eastern states, and the lower Himalayas.
The study projected the expansion of Aedes aegypti in the hot arid regions of the Thar Desert and Aedes albopictus in the cold upper Himalayas as a result of future climatic changes.
Historical reference of dengue
In a Chinese medical encyclopedia from the Jin Dynasty published in 992, dengue disease was initially described as "water poison" related to flying insects (265-420 AD).
The Swahili word Ka-dinga pepo, which translates to "cramp-like seizure," is where the English word "dengue" originates.
In the 1780s, the first dengue outbreaks to be clinically identified occurred practically concurrently in Asia, Africa, and North America.
Because of the symptoms of myalgia and arthralgia, Benjamin Rush, who popularised the term "break-bone fever," wrote the first clinical case report of the 1780 pandemic in Philadelphia in 1789.
The term dengue fever came into general use only after 1828.
Causes and symptoms of Dengue
Dengue virus belongs to the family Flaviviridae, having four serotypes that are spread by the bite of infected Aedes mosquitoes.
There are four dengue virus serotypes and it is possible to be infected four times.
These mosquitoes are also vectors of chikungunya, yellow fever, and Zika viruses.
The ideal conditions for this species of mosquitos are usually between the latitudes of 35° North and 35° South with an elevation of 1000 meters (3300 ft).
They usually bite during the early morning and in the evening, though it does not mean that they will specifically bite at these hours.
A single bite is more than enough to be a cause for infection.
A female mosquito that bites an infected person with dengue becomes infected during the initial 2-10-day febrile period.
After 8-10 days, the virus spreads to other tissues including the mosquito's salivary glands and is subsequently released into its saliva.
It causes a wide spectrum of illnesses from mild asymptomatic illness to severe fatal dengue hemorrhagic fever/dengue shock syndrome.
Severe dengue is a leading cause of serious illness and death in some Asian and Latin American countries. Severe dengue was first recognized in the 1950s during dengue epidemics in the Philippines and Thailand.
There is no specific treatment for dengue/severe dengue. Early detection of disease progression associated with severe dengue, and access to proper medical care lowers fatality rates of severe dengue to below 1%.
Dengue should be suspected when a high fever (40°C/104°F) is accompanied by two of the following symptoms during the febrile phase (2-7 days):
severe headache
pain behind the eyes
muscle and joint pains
nausea
vomiting
swollen glands
rash
Transmission of the virus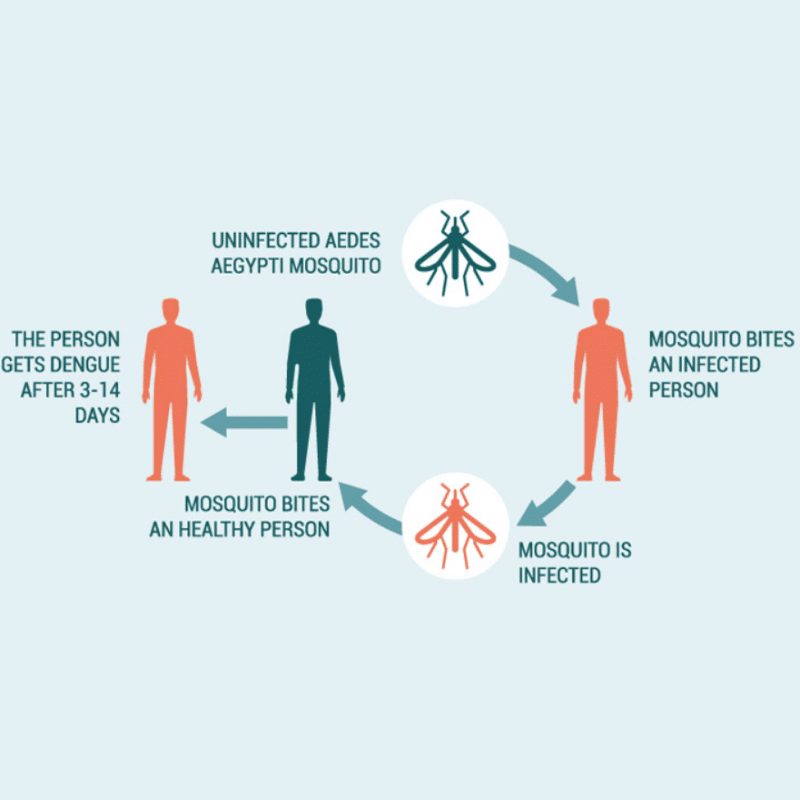 There are several routes of transmission of the dengue virus-
Transmission through the mosquito bite
The virus is transmitted to humans through the bites of infected female mosquitoes, primarily the Aedes aegypti mosquito.
After feeding on a Virus-infected person, the virus replicates in the mosquito midgut, before it disseminates to secondary tissues, including the salivary glands.
The time it takes from ingesting the virus to actual transmission to a new host is termed the extrinsic incubation period (EIP).
The EIP takes about 8-12 days when the ambient temperature is between 25-28°C.
Human-to-mosquito transmission
Mosquitoes can become infected by people who are viraemic with the virus.
This can be someone who has a symptomatic dengue infection, someone who is yet to have a symptomatic infection (they are pre-symptomatic), but also people who show no signs of illness as well (they are asymptomatic).
Human-to-mosquito transmission can occur up to 2 days before someone shows symptoms of the illness, up to 2 days after the fever has resolved.
Maternal transmission
The primary mode of transmission of Viruses between humans involves mosquito vectors.
There is evidence, however, of the possibility of maternal transmission (from a pregnant mother to her baby).
While vertical transmission rates appear low, the risk of vertical transmission is seemingly linked to the timing of the dengue infection during pregnancy.
When a mother does have a DENV infection when she is pregnant, babies may suffer from pre-term birth, low birth weight, and fetal distress.
Treatment and Vaccination
There is no specific treatment for viral fever. Patients should rest, stay hydrated and seek medical advice.
Supportive care such as fever reducers and painkillers can be taken to control the symptoms of muscle aches and pains, and fever.
The first dengue vaccine, Dengvaxia® (CYD-TDV) developed by Sanofi Pasteur was licensed in December 2015 and has now been approved by regulatory authorities in ~20 countries.
Global burden of dengue
The incidence of dengue has grown dramatically around the world in recent decades. A vast majority of cases are asymptomatic or mild and self-managed, and hence the actual numbers of dengue cases are under-reported. Many cases are also misdiagnosed as other febrile illnesses.
The total number of cases seemingly decreased during the years 2020 and 2021, as well as for reported deaths. However, the data is not yet complete and the COVID-19 pandemic might have also hampered case reporting in several countries.
Before 1970, only 9 countries had experienced severe dengue epidemics.
The disease is now endemic in more than 100 countries in the regions of Africa, the Americas, the Eastern Mediterranean, South-East Asia, and the Western Pacific.
The Americas, South-East Asia, and Western Pacific regions are the most seriously affected, with Asia representing ~70% of the global burden of disease.
Local transmission was reported for the first time in France and Croatia in 2010 and imported cases were detected in three other European countries.
Prevention and Control of Dengue
The proximity of mosquito vector breeding sites to human habitation is a significant risk factor for dengue.
At present, the main method to control or prevent the transmission of the dengue virus is to combat the mosquito vectors. This is achieved through:
Prevention of mosquito breeding.
Personal protection from mosquito bites.
Educating the community on the risks of mosquito-borne diseases.
Active mosquito and virus surveillance.
Vector surveillance can be combined with clinical and environmental surveillance
The integration of vector management approaches is encouraged by the WHO to achieve sustainable, effective locally adapted vector control interventions.
The government of India has a National Centre for Vector Borne diseases under the Ministry of Health, which updates guidelines and preventive measures for numerous vector-borne diseases like dengue, chikungunya, and malaria.
-Article written by Swathi Satish