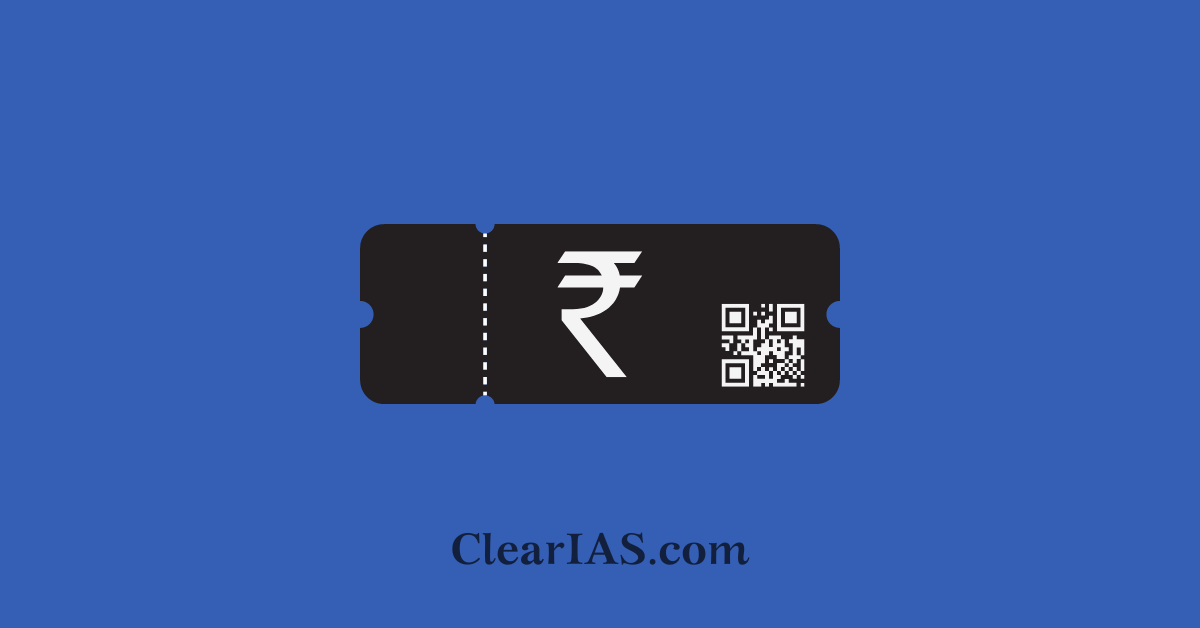 e-RUPI, a digital payment instrument was launched in India in 2021. Recently the RBI has expanded the scope and reach of e-RUPI vouchers. It was one of the important initiatives by the government for fintech growth in India. Read here to learn more about e-RUPI.
The Indian government has developed a plan to use digital infrastructure to ensure that its social programs are delivered without error.
Prepaid vouchers for specific applications are a straightforward idea that is used in the US, Hong Kong, and many other nations.
India is undertaking a similar initiative by introducing a new payment system as a pioneer in the fintech industry and light of its propensity for techno-solutionism.
National Payments Corporation of India (NPCI) in association with the Department of Financial Services (DFS), National Health Authority (NHA), Ministry of Health and Family Welfare (MoHFW), and partner banks, has launched an innovative digital solution – 'e-RUPI'.
e-RUPI
e-RUPI is a completely cashless and no-contact electronic payment instrument that will be sent to recipients' mobile devices as either a QR code or an SMS-based e-voucher.
This includes mobile devices that are neither Android nor iOS. Simply put, it works like a voucher that may be used to access certain services without the need for further confirmation or paperwork.
Given that a sizable portion of the Indian population lacks banking services or has restricted internet connection, e-RUPI offers a simple and practical way for beneficiaries to access government services.
Without a card, without installing a digital payment app, and even without having a bank account, you may use the e-RUPI coupon.
The pre-allocated amount will be connected to the QR codes or SMS vouchers, which can only be used once by the person in whose name they were issued.
Importantly, the beneficiary must first use the appropriate service or services before the payment may be finalized.
Even the private sector can leverage these digital vouchers as part of their employee welfare and Corporate Social Responsibility (CSR) programs.
NPCI has partnered with 11 banks for e-RUPI transactions.  They are:
Axis Bank, Bank of Baroda, Canara Bank, HDFC Bank, ICICI Bank, Indian Bank, IndusInd Bank, Kotak Mahindra Bank, Punjab National Bank, State Bank of India, and Union Bank of India.
Services That e-RUPI Covers
For example, if the Government wants to cover a particular treatment of an employee in a specified hospital, it can issue an e-RUPI voucher for the determined amount through a partner bank.  The employee will receive an SMS or a QR Code on his feature phone/smartphone.  He/she can go to the specified hospital, avail of the services and pay through the e-RUPI voucher received on his phone.
How is e-RUPI Different From UPI?
The electronic rupee (e-Rupee) is a type of government money, however alternative ways to transmit money or payment instruments include UPI programs like PhonePe, Google Pay, NEFT, and IMPS.
The main difference between the two is that UPI transactions are fully guaranteed by real money, whereas the digital rupee is a kind of legal cash that is not backed by real money.
Bank intermediation is a part of every UPI transaction. Your bank account gets debited when you use a UPI app, and money is then transferred to the recipient's bank.
When using paper money, you may take out a set amount from the bank, save it in your wallet, and use it anyplace without the bank knowing.
The digital money will be withheld in e-RUPI similarly, and you will store it in your mobile wallet.
The funds travel from your digital wallet to the recipient's when you send a transfer to an organization or another person. There is no intermediation by banks or routing.
Benefits of e-RUPI
The e-RUPI transfer does not need the use of money, credit or debit cards, online banking, or a mobile app for making payments.
Every e-RUPI transaction is one-time only since the transfer is person- and purpose-specific. As a result, it is unusual to worry about benefits being stolen.
Additionally, queues, middlemen, and touts are avoided. The intended beneficiary will mostly continue to be in control because an OTP will be required to advance with the e-RUPI payment at the moment of use.
Security encryption is better since the beneficiary is not needed to submit any personal information.
The recipient can perform financial transactions using the e-RUPI payment system even if they don't have an account. This system's flexibility might lead to higher take-up in rural areas and among those who are financially vulnerable.
There is also a great chance for small enterprises to gain directly from different government programs. This would help the poor achieve their long-term economic goals and means of subsistence.
It will facilitate the country's citizens' financial integration. Additionally, it will guarantee that public services are delivered to lists-mile customers effectively, openly, and without leakage.
The e-RUPI system is user-friendly addition to being secure. As a consequence, this technology will be helpful to illiterate individuals.
Benefits for Corporates
Corporates can enable the well-being of their employees by distributing the UPI Prepaid Vouchers
It is an end-to-end digital transaction and does not require any physical issuance (card/voucher) hence leading to cost reduction
Visibility for voucher utilization – Voucher redemption can be tracked by the issuer
Quick, safe & contactless voucher distribution
Benefits for Hospitals
Easy & Secure – The voucher is authorized via a verification code shared by the beneficiary
Hassle-free & Contactless payment collection – Handling of cash or cards is not required
Quick redemption process – The e-voucher can be redeemed in a few steps and lesser decline due to the pre-blocked amount.
Benefits for End-users
Contactless – Beneficiary need not carry a printout of the e-voucher
Easy redemption – It is a 2-step redemption process
Safe and Secure – Beneficiaries do not need to share personal details and hence their privacy is maintained
Only mobile phone and e-voucher required – Users redeeming the voucher need not have a digital payment app or a bank account
In News
RBI has expanded the reach and scope of the e-RUPI by:
Permitting non-bank Prepaid Payment Instrument (PPI) issuers to issue e-RUPI vouchers.
Enabling issuance on behalf of individuals.
Facilitating more use by reloading vouchers, authentication process, issuance limits, etc.
Way forward
The e-RUPI Digital Payment Solution is a wise government initiative that offers many opportunities for success to the receivers.
In India, a sizable portion of the population lacks access to banking services, but with the implementation of e-RUPI, all of these citizens will also be able to benefit financially from all of the government's programs in the areas of health, medications, fertilizers, child welfare, subsidiaries, and other things.
The government is already working on creating a Central Bank Digital Currency, and the introduction of e-RUPI may serve to highlight the infrastructural gaps in digital payments that must be filled for the future digital currency to succeed.
-Article written by Swathi Satish