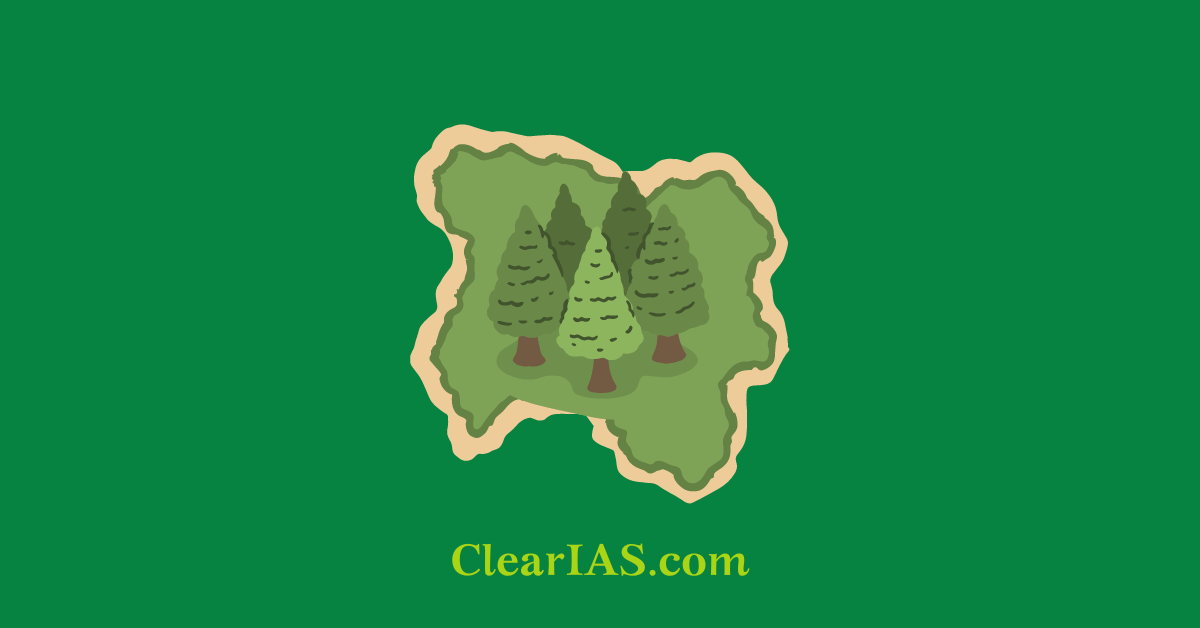 Eco-Sensitive Zones (ESZs) or Ecologically Fragile Areas (EFAs) are areas around Protected Areas, National Parks, and Wildlife Sanctuaries. The purpose of declaring ESZs is to create a shock absorbers space in the protected areas by regulating and managing the activities around such areas. Read here to know more about ESZ.
The Supreme Court ordered in June 2022 that an eco-sensitive zone (ESZ) be required to extend for at least one mile from all national parks, wildlife sanctuaries, and protected forests across the nation.
Over the years there have numerous protests against eco-sensitive zones arguing that enforcement of the Environmental Protection Act of 1986 and the Wildlife Protection Act of 1972 has caused government officials to violate the rights of forest communities and adversely damage their way of life and livelihood.
Eco-sensitive zones
Ecologically Sensitive Zones (ESZ) are places reserved to preserve certain species' natural habitats and safeguard biodiversity.
It seeks to lessen ecological imbalances and the conflict between humans and the natural world.
Declaring ESZs aims to create protected areas by regulating and limiting specific activities, particularly in the vicinity of natural parks and wildlife sanctuaries.
It covers regions that are deemed eco-fragile zones and are subject to regulations within 10 kilometers of the borders of national parks and wildlife sanctuaries.
Ecologically Sensitive Zones are notified by the Central Government through the Ministry of Environment Forests and Climate Change under the Environment Protection Act 1986.
India has more than 600 Ecologically Sensitive Zones declared across different states.
Some of India's major Eco-Sensitive Zones are Uttar Pradesh, Haryana, West Bengal, Andhra Pradesh, Maharashtra, and Karnataka.
The Environmental Protection Act of 1986 requires state governments to designate land within 10 kilometers of the borders of national parks and wildlife sanctuaries as eco-fragile zones or Eco-Sensitive Zones (ESZs)
This was notified according to the National Wildlife Action Plan (2002-2016) of the Ministry of Environment, Forest and Climate Change (MoEFCC).
Although the 10-km rule is applied as a general guideline, its exact scope can vary. If areas exceeding 10 km contain bigger ecologically significant "sensitive corridors," the Union government may additionally declare those areas to be ESZs.
Procedure for Declaring Ecologically Sensitive Zones (ESZ)
A Committee is made of wildlife experts, ecologists, revenue department officials, and officials from local administration to study the activities happening around protected areas.
This committee prepares an audit report based on the study of land use patterns, different types of activities, and industrial operations around protected areas and wildlife corridors.
Chief Wildlife Warden then categorizes the activities under prohibited, restricted, or permissible categories.
The final proposals of the committee are sent to the Ministry of Environment, Forest, and Climate change for further consideration, processing, and issuing notification for implementation.
Finally, the Ministry of Environment, Forest, and Climate change declares Ecologically Sensitive Zones.
Activities in Eco-Sensitive zones
The establishment of industries, the use of commercial timber, mining, and tourism are prohibited in these Zones.
Additionally, it is completely forbidden to produce dangerous substances, release solid or liquid waste, or engage in any activity that results in pollution of any type.
The lands around forests and animal corridors are frequently essential for preserving biological relationships and should be protected as a result.
By doing so, the loss of biodiversity and the organic expansion of flora and wildlife would be avoided.
Prohibited Activities: Commercial mining, sawmills, industries causing pollution (air, water, soil, noise, etc), the establishment of major hydroelectric projects (HEP), and commercial use of wood.
Regulated Activities: Felling of trees, the establishment of hotels and resorts, commercial use of natural water, erection of electrical cables, drastic change of agriculture system, e.g., adoption of heavy technology, pesticides, etc, widening of roads.
Permitted Activities: Ongoing agricultural or horticultural practices, rainwater harvesting, organic farming, use of renewable energy sources, and adoption of green technology for all activities.
Need for Eco-sensitive zones
The establishment of ecologically sensitive zones aims to preserve biodiversity and ecological balance in various parts of the nation where the rapid expansion of various development projects, such as the establishment of industry, mining, the construction of dams, and the building of roads, pose a threat to the natural environment and animal habitat.
Due to rising pollution, these development efforts have resulted in the depletion of forest lands and hampered their natural expansion.
The regions designated for the survival and development of native plants and animals must be shielded from human interference by erecting a barrier around them.
The impact of human-made activities, such as industrialization and other developmental activities, would be reduced in areas designated as ecologically sensitive zones.
By providing a sustainable environment, creating ecologically sensitive zones helps to avoid the loss of forestland, preserve biodiversity, stop soil deterioration, and lessen human-animal conflict.
These areas were established to safeguard the environment while taking the socio-economic development of nearby populations into account.
Improving the local environment helps the people living in around the zones as well.
The creation of the ESZ around protected places like national parks and wildlife sanctuaries serves as a safeguard to lessen the detrimental effects of pollution and the generation of hazardous waste.
These are site-specific, based on local characteristics, and deal with the preservation of a particularly endangered species through safeguarding their natural environment.
Concerns
The Eco-sensitive Zones regulations outline the 10 km perimeter around protected areas that, in many jurisdictions, fall inside habitat zones and have an impact on development activities.
The limits may impact the locals' ability to go about their daily lives, therefore they have generated some concerns.
The locals' traditional customs have been negatively impacted by the current restrictions, which has raised concerns that it may worsen their socioeconomic situation.
Execution of The Environmental Protection Act 1986 and the Wildlife Protection Act 1972 makes the authorities ignore forest communities' rights and impact their life and livelihood.
In 2022, MoEFCC removed the clauses requiring recognition of forest rights and gram sabha's consent as preconditions for proposals under the forest rights act 2006.
Tourism is being encouraged in ESZ which if not regulated will tend to environmental degradation and displacement of the local population from the area.
Way forward
To deal with these challenges, the government proposed that the boundary of ESZs had to be determined based on region-specific requirements.
A team of representatives from the forest department, revenue department, and Panchayat should discuss together to decide on the zone selection considering the interest and concerns of local groups.
It is important to involve local communities in the decision-making process for the management of ESZs.
By preserving biodiversity and the organic development of flora and fauna, natural parks and wildlife refuges provide a substantial contribution to the ecological balance.
Therefore, it is essential to safeguard these places from the negative effects of human involvement and to maintain the ideal ecological equilibrium.
Also, it is pertinent that the livelihood of local people dependent on the eco-sensitive zines should be protected and alternate options should be made available to them.
­-Article written by Swathi Satish