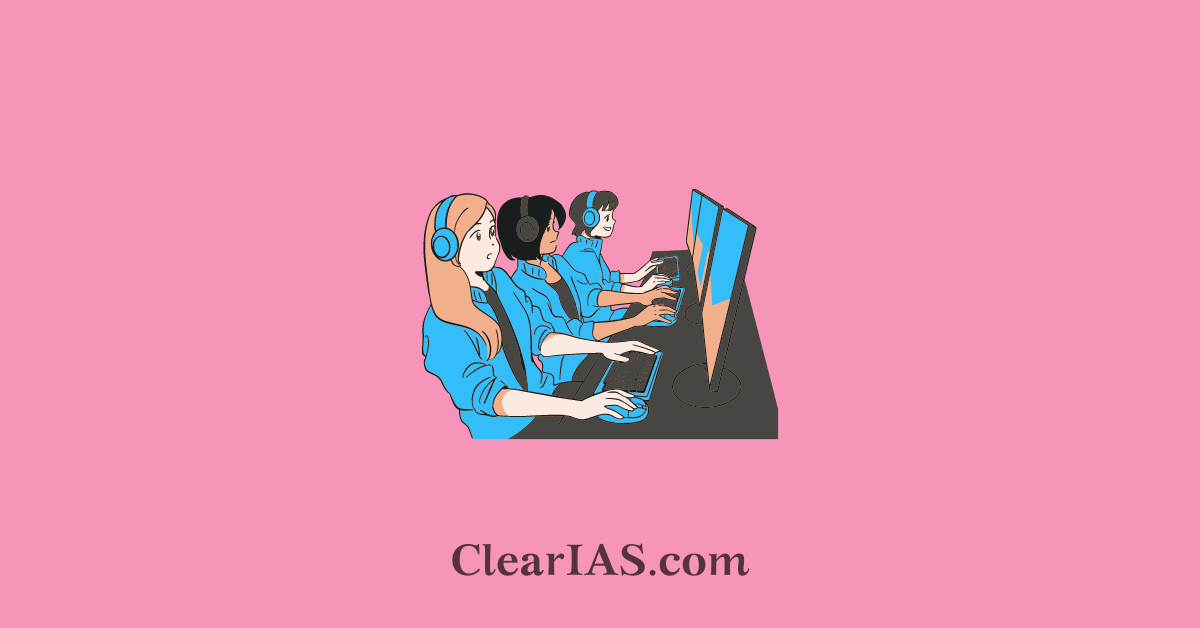 Esports or Electronic Sports have been recently recognized as part of multi-sport events in India. It is a form of competition using video games and is slowly being recognized globally as part of various competitive arenas. Read here to know more.
Esports received a big boost from the Indian government when it was incorporated into the nation's traditional sports.
The President of India changed the Electronic sports regulations by the authority "conferred by clause (3) of Article 77 of the Constitution" and requested that Esports be included as part of multi-sports events" from the Ministries of Electronics and Information Technology and Sports.
Electronic sports will be taken care of by the Department of Sports under the Ministry of Youth Affairs and Sports. While 'Online Gaming' will be overseen by MEITY (Ministry of Electronics and Information Technology).
Esports
Electronic sports are a form of competitive gaming where players compete in certain video game genres in a virtual, online setting.
These electronic sports video game titles are multiplayer games where esports athletes compete against one another or create teams to compete.
They can be played across electronic platforms (PC, Mobile, Consoles, Unmanned Vehicle, Unmanned Aerial Vehicle, Robot, Simulation, etc.).
Electronic sports tournaments can take place online or offline (physical). Video games that use virtual reality and augmented reality are also included in esports.
Note that electronic sports are not casual video games like Fantasy, Teen Patti, Rummy, Poker, betting, or gambling.
Global recognition of Esports
Electronic sports have received sporting recognition from the International Olympic Committee (IOC), which is the apex body of sports along with the Olympic Council of Asia (OCA), Commonwealth Games, etc.
IOC organized Virtual Olympic Series (Esports Tournament), before the Tokyo Olympics 2020;
Esports has been included in OCA events since 2007. Esports is a medal sport in Asian Games 2022 and in the Asian Indoor & Martial Arts Games 2021 (Postponed) scheduled to be held in 2023;
Esports has been a medal sport in South East Asian Games in 2019,2021 & 2022.
India won a bronze medal in the 2018 Asian Games, where esports was included as a demonstration title.
Commonwealth Games organized the "Commonwealth Esports Championship 2022" alongside Commonwealth Games 2022 and India won a Bronze in the DOTA game title;
French President Mr. Emmanuel Macron made a public statement that he wants electronic sports to be included in the 2024 Paris Olympics;
Additionally, around 46 countries like Korea, Thailand, Finland, Italy, Brazil, Nepal, Indonesia, Turkmenistan, Macedonia, Sri Lanka, Pakistan, South Africa, Serbia Uzbekistan, Kazakhstan, Malaysia, Vietnam, and Georgia have also recognized electronic sports as a regular sport.
History of Esports
The earliest known video game competition took place in 1972 at Stanford University.
Competitive face-to-face arcade video game events are the ancestors of modern electronic sports.
Televised esports events aired from 1982 to 1984.
Large esports tournaments in the 1990s include the 1990 Nintendo World Championships, which toured across the United States. During this time many games benefitted from internet connectivity.
After the 1997 Asian financial crisis, there was a significant uptick in the construction of broadband Internet networks, which is thought to have contributed to the emergence of esports in South Korea.
Esports had rapid growth in the 2010s, leading to significant increases in prize money and viewership. The number and size of tournaments have considerably expanded, ranging from approximately 10 tournaments in 2000 to about 260 in 2010. This is even though huge tournaments were formed before the 21st century.
The expansion of esports during the present time has been aided by the popularity and advent of internet streaming services, which are now the most popular way to watch competitions.
The first specialized esports facility in the United States opened its doors in Santa Ana, California, in 2015.
The 2007 Asian Indoor Games was the first notable multi-sport competition including esports as an official medal-winning event, alongside other traditional sports.
The International Olympic Committee (IOC) meeting in October 2017 recognized the growing appeal of esports and concluded that Competitive 'esports' might be classified as a sporting activity.
China announced a rule in 2021 that prohibited adolescents from spending more than three hours per week playing video games, which they referred to as "spiritual opium." The law sparked questions about the future of esports in China, a significant market.
Criticisms against electronic sports
Ethical concerns: Electronic sports competitors are typically expected to act morally, abiding by both the specific guidelines provided by competitions, associations, and teams as well as basic standards of good sportsmanship. In several esports, there have been flagrant violations of the regulations.
Doping: Performance-enhancing drug use is reportedly frequent in esports. Drugs that dramatically improve concentration, response time, and fatigue prevention are frequently used by athletes.
Mistreatment of players: There has been some concern over the quality of life and potential mistreatment of players by organizations.
Injuries: Due to the high activity rate of esports games, some players may experience repetitive strain injuries that cause hand or wrist pain. Sports medicine and gaming-related injuries were neglected by players and organizations in the early years of the esports sector, which caused several professionals to retire early.
Gambling: Esports betting has historically been prohibited or uncontrolled in major markets. As a result, a black market using digital money was developed. Match-fixing by players or outside parties has occurred in jurisdictions where esports gambling is not recognized as legal, and difficulties with underage gambling have arisen as a result of the appeal of video games.
Addiction: Some addiction specialists are speculating that electronic ports and gaming, in general, maybe the next addiction epidemic as eSports continues to develop into a lucrative industry for its athletes and conglomerates.
Way forward
There are several advantages to electronic sports being declared a multi-sporting event. If the rules and regulations are carefully crafted and implemented, the criticisms of esports can be dealt with.
Innovative gaming is a good exposure and learning platform for students, especially in the field of cyber.
Because of esports, certain colleges and universities have developed new educational initiatives, degrees, and continuing education courses in entrepreneurship, video game design, and esports administration.
Esports is a major driver for careers in STEM and entrepreneurship because it draws on competencies that are highly valued in the technology sector.
Also read: Online Gaming
-Article written by Swathi Satish