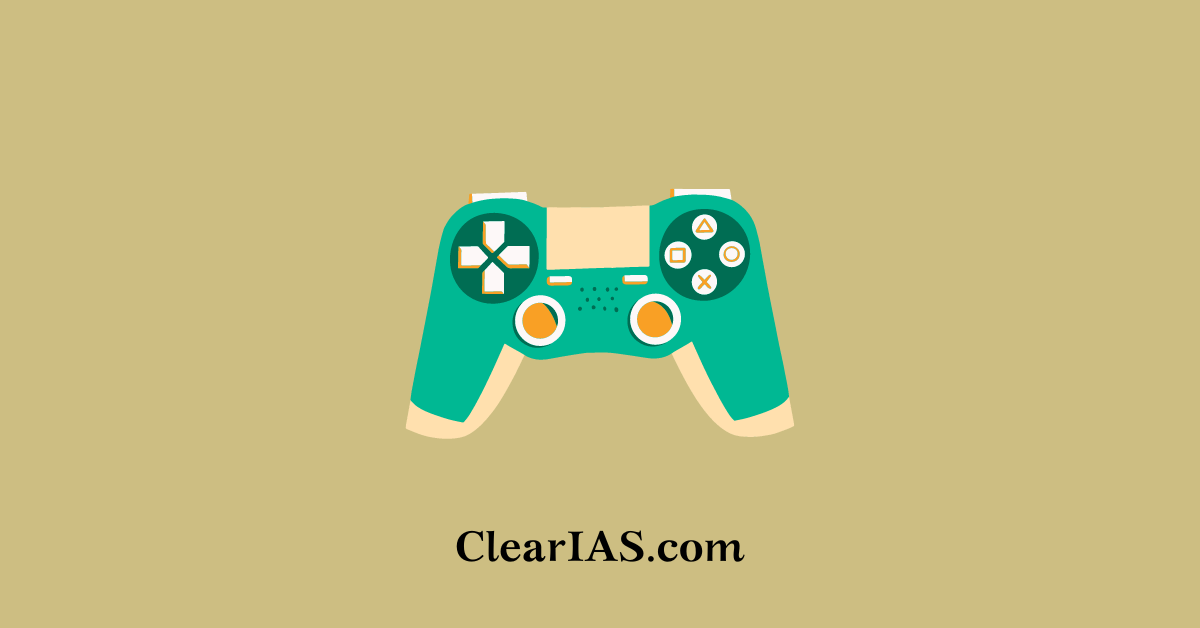 What is Online Gaming? What are the different categories of the Online Gaming? What are the benefits and issues related to the Online Gaming? To answer these questions, read further.
India has the second largest number of gamers after South Korea. China has put restrictions on the number of hours for children less than eighteen years to three hours per week.
The Indian government has announced the formation of a committee to control internet gambling and designate a Ministry to be in charge of it. The committee's objective is to research international best practices and recommend an online gambling regulatory framework.
Recently, the Rajasthan government unveiled a draft bill to control internet games, particularly fantasy games. In states like Tamil Nadu, Telangana, Andhra Pradesh, and Karnataka, online game restrictions have already been implemented. However, state high courts overruled them because a total ban would be unfair to games of skill.
During the budget session, the Online Gaming (Regulation) Bill, 2022 was presented in Lok Sabha as a Private Member's Bill.
In today's technological era, games have shifted from the backyards to the online space. Online Gaming has witnessed a spurt in demand in recent times.
Online Gaming
Online gaming refers to those games which require an internet connection for playing them. This is a part of the sunrise industry and these days there is increasing demand for access to different types of games. For example poker, rummy, and other artificial intelligence games based on augmented reality.
With more than 13 crore players across more than 200 platforms, the nation is the largest fantasy sport market internationally. The government observed a surge in the number of persons playing online rummy. India divides the games mostly into two broad groups to distinguish them.
The game falls into two categories
Game of chance: All games that are played at random are considered games of chance. These games rely heavily on chance. These games can be played without any prior knowledge or comprehension. Dice games, choosing a number, etc. are a few examples. In India, these games are regarded as unlawful.
Game of skill: Games of skill are many video games that are played depending on the player's prior knowledge or gameplay expertise. A person will need abilities like analytical decision-making, capability, logical thinking, etc. Some games could also need some preliminary practice to succeed. Most Indian states consider these games to be legal.
Factors contributing to the online gaming sector
Because of the Covid 19 restrictions and lockdown, people were struck at their places, there were online schools, work from home, and so on, and also because of the digital payment popularity, the demand for the online gaming sector was on a spike.
There was a development of the gaming sector industry. To fulfill the increasing demands of online games there has been an increase in investments, and as a result, growing tech companies started taking interest in it because of the profitability involved.
Now there are more gaming options available because of technological advancements and cloud computing.
Affordable internet can be another reason for the increased access to these games.
There is an increasingly young population and apart from the different age groups, people are also showing interest in online games resulting in an increased number of users.
The gaming business is expanding quickly, and the recently carried out Digital India efforts have a direct bearing on this development. People now have access to the Unified Payment Interface (UPI) because of digitization, so the sector is expanding not only in terms of user numbers but also in terms of monetization.
The World Economic Forum (WEF) claims that India's gaming business is primarily driven by mobile devices. According to observations, smartphone use is what has led to an expansion in the gaming business. The majority of gaming is mobile-based. The availability of smartphones with better gaming capabilities and higher processing speeds has further increased their adoption.
Benefits of online gaming
It will reduce the incidences of juvenile crimes as now they will be occupied and as a result, will not go into something dangerous and harmful to society. It will also result in reduced illegal activities, for example, games like Dream 11 can result in reduced illegal betting.
Online gaming might result in increased revenue for the government through the taxes on online gaming. And as a result, will help the government in reducing the government deficit and increasing infrastructure.
The educational games will help the children to learn different things in a very simple and lucid way and they will not also get bored.
It will create employment opportunities for many people interested in this sector. For example tech start-ups, animations, and so on.
It might result in global legitimacy of e-sports and it will open a platform for India to win for the country. For example, in the Asian games, 2022 e-sports like pub g will debut as medal events.
It will promote innovation and tech achievement in immersive and interactive technology. For example, augmented reality.
Issues involved in online gaming
It might lead to physical and psychological harm. For example, always being in the gaming mode might result in aggressive behavior, and increased violence. A real-life incident can be a blue whale challenge.
There is limited legal awareness among the citizens. And there is yet another problem of betting and gambling being state list subjects, thus this will lead to different states having different laws.
This can have serious health issues like obesity, vision problems, arm injuries, anxiety, stress, disruption of sleep, and irregular eating patterns which can have long-term consequences. And the gaming addiction might result in disruption in social relationships and along with it financial losses.
This can divert the mind of the younger generation towards gaming and it will duly impact the educational performance of the generation. And as a result, it will result in the loss of social and cultural relationships and moral values of the youth.
The absence of any national regulations and laws on online gaming might increase the chaos and will lead to the rise of illegal apps, posing new challenges for the government and administration to deal with.
Due to the financial losses, it will increase the violence against women and children both inside and outside the home as the person will prioritize games over other things and will continue even after the negative consequences.
It will cause physical, social, and emotional damage. There will be impaired sleep, disrupted career, and no social life. As now the majority of the time they will be spending on gaming, financial distress, and social isolation.
There will be risks of cyber attacks, privacy issues, data mining, identity theft, financial fraud during game transactions, and so on.
Way Forward
The need of the hour is proper regulation on gaming all stakeholders or allowing the center to make laws and regulations using the power under article 252 or the center's residuary powers under article 248.
There is a need for a single regulatory body for the entire online gaming industry to standardize regulations and ensure uniformity in the laws across India.
Parents should also take responsibility and supervise the children on the type of games, hours spent on online gaming, take care of the consequences, if any, or try to persuade the children to play learning outcomes games and so on.
There is a dire need to create awareness of online gaming and its ill consequences of it on the growth and development of the child and its effect on society and the importance of having discipline even if used.
The industry has to be licensed. Numerous safety checks must be developed. Instead of having a policy, the sector needs to be brought in as a self-regulator.
The State and Union Governments should collaborate to develop specific guidelines in cooperation with industry stakeholders to fully realize the potential of the online gaming business.
Article written by Chetna Yadav.