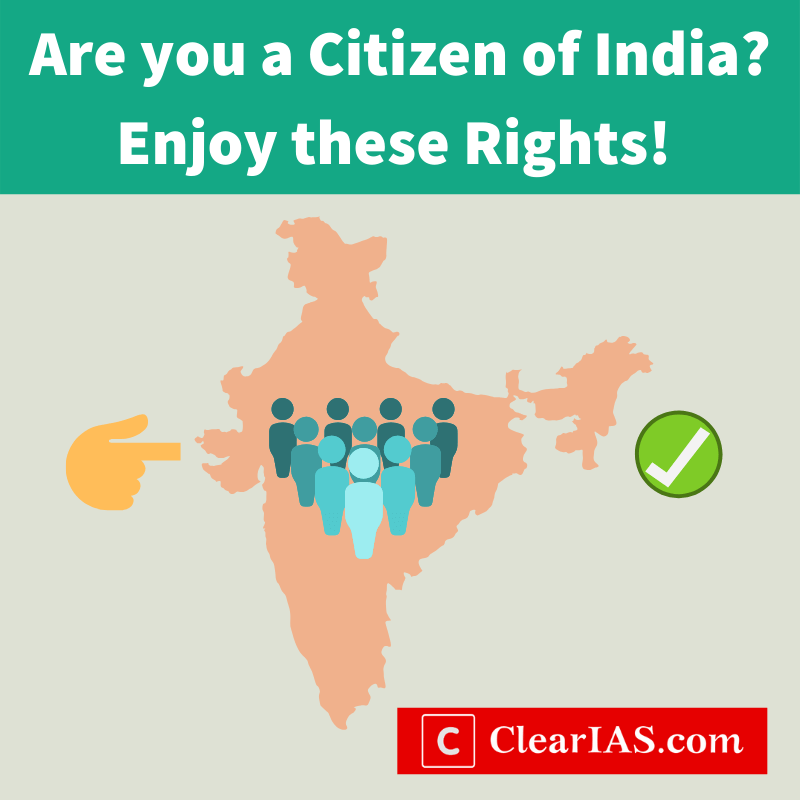 There are Rights. There are Fundamental Rights. There are Fundamental Rights available only to the 'citizens of India'. Know them.
The Fundamental Rights (FR) are named so because they are guaranteed and protected by the Indian Constitution (Article 12 to 35). These rights are 'fundamental' for the all-round development of individuals.
Fundamental Rights uphold the dignity of the individual. Fundamental Rights protects the freedom of the people against the invasion by the state.
If any of your Fundamental Rights are violated, you can directly approach the Supreme Court of India. Thus, these rights limit the tyranny of the executive (government) or abuse of power by the legislature.
Fundamental Rights: Citizen vs Non-Citizen
India was a signatory to the Universal Declaration of Human Rights, therefore great precaution was taken so that Fundamental Rights mentioned in Part 3 of Indian Constitution is concurrent with the provisions of the UN Declaration of Human Rights.
While most Fundamental Rights are available for citizens and foreigners alike (Eg: Article 21), certain rights are exclusive only for Indian Citizens (Eg: Article 19).
Fundamental rights available to both citizens and foreigners except enemy aliens
Article 14 – Equality before the law and equal protection of laws.
Article 20 – Protection in respect of conviction for offences.
Article 21 – Protection of life and personal liberty.
Article 21A – Right to elementary education.
Article 22 – Protection against arrest and detention in certain cases.
Article 23 – Prohibition of traffic in human beings and forced labour.
Article 24 – Prohibition of employment of children in factories etc.
Article 25 – Freedom of conscience and free profession, practice and propagation of religion.
Article 26 – Freedom to manage religious affairs.
Article 27 – Freedom from payment of taxes for promotion of any religion.
Article 28 – Freedom from attending religious instruction or worship in certain educational institutions.
Fundamental Rights Available Only to Citizens of India
Article 15 – Prohibition of discrimination on grounds of religion, race, caste, sex or place of birth.
Article 16 – Equality of opportunity in matters of public employment.
Article 19 – Protection of six rights related to freedom – (a) of speech and expression; (b) to assemble peaceably and without arms; (c) to form associations or unions; (d) to move freely throughout the territory of India; (e) to reside and settle in any part of the territory of India; and (f) to practice any profession, or to carry on any occupation, trade or business.
Article 29 – Protection of language, script and culture of minorities.
Article 30 – Right of minorities to establish and administer educational institutions.
You should be an Indian Citizen to…
vote in Elections.
contest in Elections (connected with Article 16)
hold any constitutional posts of the country, like The President, Vice-President, Governor, ministers, judges etc. (connected with Article 16)
get any benefits from the government given only to the citizens of India.
Regarding Citizenship of India
The conditions for Indian Citizenship at the commencement of the Indian Constitution is provided directly in the Constitution of India itself – Article 5 to 11.
The Citizenship Act of 1955 provides for the acquisition or loss of citizenship after the commencement of the Indian Constitution (ie after 26th January 1950.
The Citizenship Act has been amended multiple times, the latest amendment being the controversial Citizenship Amendment Act 2019.
Conclusion
Rights are the social claims without which, a man cannot give his best to the society.
The Fundamental Rights guaranteed by Articles 14, 20, 21, 21A, 22, 23, 24, 25, 26, 27 and 28 are available to all persons whether citizens or foreigners.
The Fundamental Rights guaranteed by Articles 15, 16, 19, 29, and 30 are available only to citizens of India.