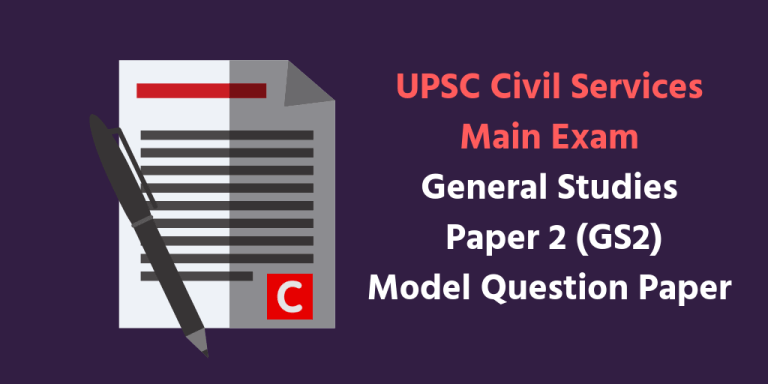 Please find the UPSC Civil Services Main Exam General Studies Paper 2 Model Question Paper (GS2) below. You can download the same as a PDF using the print-pdf button on the bottom.
Question Paper Specific Instructions (General Studies – II; Time Allowed: Three Hours Maximum Marks: 250)
Please read each of the following instructions carefully before attempting the questions:
There are TWENTY questions printed in ENGLISH.
All questions are compulsory.
Answers to questions no. 1 to 10 should be in 150 words, whereas answers to questions no. 11 to 20 should be in 250 words.
Questions no. 1 to 10 carry 10 marks each, whereas questions no. 11 to 20 carry 15 marks each.
Keep the word limit indicated in the questions in mind.
Questions:
1. Distribution of power between center and states in the India constitution provides for more cooperative than a competitive federal framework. Do you agree? Justify your viewpoint. (150 words)
2. Does the Protection of Children from Sexual Offenses (POCSO) Act, 2012 ensure an effective mechanism for protecting the children from sexual abuses? Discuss. (150 words)
3. What are the main functions of the North Eastern Council (NEC)? Discuss its importance in realizing the objective of 'Act East Policy'. (150 words)
4. What do you understand by the term 'Social Audit'? Discuss the importance of social audit in the development of the country. (150 words)
5. Two decades since it was first presented in Parliament, the Women's Reservation Bill has seen many obstacles. Critically examine the grounds on which the bill has been opposed? (150 words)
6. Critically evaluate the role of parliamentary committees in providing the assistance to the parliament. (150 words)
7. Holding simultaneous elections for Loksabha and state assemblies' helps the government to focus more on governance. Critically evaluate. (150 words)
8. With a brief background of the demographic structure in India, introduce the objectives and strategy of the 'Skill India Mission'. (150 words)
9. Despite being a host to a large population of refugees, India has not signed the UN refugee convention or its protocol. What are India's concerns regarding refugee convention? (150 words)
10. Do you agree with the perception that SAARC is important to India only for political reasons and not for economic reasons? Justify your viewpoint. (150 words)
11. "Although the removal of the right to property as a fundamental right helped in achieving the goals of land reforms, it has contributed towards greater inequities in today's neo-liberal environment." Elucidate. (250 words)
12. Inserting the term 'socialist' into the Indian Constitution is more problematic as it limits policy choices that can be made by a democratically elected government. Do you agree with the statement? Justify your viewpoint. (250 words)
13. Explain the salient features of the Trafficking of Persons (Prevention, Protection, and Rehabilitation) Bill, 2018. Do you think it is efficacious enough to prevent trafficking in India? (250 words)
14. The role of legislators is to act as a bulwark against the autocratic actions of the executive. Examine the recent trends that are weakening the separation power between legislature and executive in India. (250 words)
15. Is it possible to curb Left Wing Extremism and address some of the problems faced by tribal people of central India by moving governance of their areas from the Fifth to the Sixth Schedule of the Indian Constitution? Discuss. (250 words)
16. Although the 10th Schedule to the Constitution was inserted to curb horse trading of legislators, it has many unanticipated consequences. Elucidate. (250 words)
17. The National Human Rights Commission (NHRC) is functioning under serious statutory constraints. In the light of this statement critically evaluate the working of NHRC. (250 words)
18. Internet and Social media are giving more power to the government and large capitalist organization to monitor and control people, rather than becoming a force for democratization. Discuss with suitable examples. (250 words)
19. "In the current geopolitics, India needs deeper circumstantial partnership rather than non-alignment." Critically evaluate this statement. (250 words)
20. The rise of Chinese economic power on India's frontier has thrown up opportunities and challenges to India. Critically evaluate this statement. (250 words)
Related posts: